Hoist your sails and raise your colors for adventure and intrigue as TheatreBloom undertakes its first official interview! A new voice is taking the soprano stage scene by storm, though Laura Whittenberger is no stranger to performing. Currently being featured as Mabel in The Pirate of Penzance at Toby's the Dinner Theatre of Columbia; I've taken a moment to sit down with Laura and find out just what this seaworthy experience has been like for her.
Amanda: Thanks for taking the time out of your busy schedule to sit down and talk with the readers of TheatreBloom about all you've been doing lately. You're a relatively new name to the Baltimore and Washington Theatre scene, but you're name is making quite the stir, can you tell us a little bit about yourself?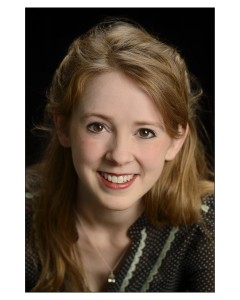 Laura Whittenberger: Well, let's see, I grew up in Ellicott City, right around here, so I grew up coming to Toby's shows. I remember being about 11 or 12 and seeing West Side Story at Toby's. I've told some of the cast of Pirates of Penzance that, and it's amazing because some of them were actually in that show! It's really awesome getting to be a part of this show with them and the rest of the cast. I remember as a kid thinking that it would be a dream to work here someday and now here I am.
My family is very musical. My mom plays the piano for a lot of community theatres, churches, kids' groups, and high schools in the area. It was nice growing up being able to sing with a piano in the house.
What have you done around the area recently where our readers might have had the chance to see you?
Laura: Most recently around the Columbia area I've worked with the Columbia Pro Cantare for the last couple of years as a soloist. They invite me to sing their soprano solos from time to time. I came back to the area a couple years ago after finishing my schooling in Indiana and living in Germany for a while. (Yes, for those wondering, German Opera is a thing.) From 2009-2010 I lived in Germany and I taught English while I studied opera. Then I went back to Indiana to finish my music degree. After that I moved back here for graduate school at Peabody Conservatory of Baltimore. I just finished my graduate program in May, right before Pirates of Penzance opened, actually. I really learned a lot at Peabody. I worked there as much as I studied there; I had a teaching assistantship to pay my way through and it was an incredible experience.
What is it that drives your passion for wanting to sing and perform?
Laura: I guess I've always been interested in it from a very young age. You know, all the way back to watching Gene Kelly and Frank Sinatra in all those old-time musicals. Watching all the dancing and singing I always loved musical theatre. I started acting and singing in high school. I did CCTA, actually, Toby's summer camp program. I did Ragtime and then Aida my junior and senior years of high school. It was a lot of fun to do them. I was in the ensemble, with no solos or anything, and it was still so much fun. I think it was in college that I started doing more solo stuff. I did classical and musical theatre, and always tried to keep up with both.
Do you prefer Classical Opera over Musical Theatre or vice versa?
I really love both so much that I don't think I could just pick one. If I decided to go all classical, like some have advised me to do in the past, I honestly don't think I could. There would be a part of me that would miss musical theatre too much. Similarly, if I decided to just do musical theatre I would still want to sing opera. I love both and they are so different. Luckily, there is nothing saying that you can't do both. People think that you have to choose one or the other, but it doesn't have to be 'either/or'. Pirates of Penzance is perfect because this show has both. As a musical/operetta, it makes fun of opera while still having opera-like melodies and story.
In Pirates, your character Mabel is essentially the 'straight' point of real opera. What's it like getting to be the focal base for the opera of this show?
I love it, I guess. It's really fun to get to use my voice in a lot of different ways with the runs and high notes. I get to sing in an operatic style and still add in those comic elements and the musical theatre-isms – like there are a couple times where I have to growl my voice and a few places where I have to belt a bit. It's really fun to get to add those extras in, because I think it adds a lot more depth to the performance, rather than just singing it in full classical style. Having amplification and the Toby's in-the-round setting allows me to do that.
You mentioned 'runs' what do you mean when you say that, for those reading this interview that may not be familiar with that term?
Do you want me to do one right now?…[laughs] Now that I think about it…Ok, a run is just a lot of fast notes in a certain order, generally going up and then down or down and then up. There are a lot of runs in this role. Runs are usually on a certain vowel too, like "ah" or "ee."
What is the highest note you can hit in your range?
The highest note that would actually be in music? A high F. And I actually don't hit that in this show, but I come close, I sing an E-flat twice. A lot of musical theatre repertoire calls for a belting or mixed voice, and not usually those super high notes, so it's really fun to be able to get to sing both high notes and in a mixed voice in Pirates. Most repertoire tends to favor one or the other, which goes back to why I could never pick exclusively opera or musical theatre.
This is your first experience working at Toby's, what has it been like?
Oh I love it! Toby's is definitely a family. Everybody is super nice, and chill, and very professional. The cast is a dream to work with. There is no weak link. Everyone is strong.
You mentioned family…don't you have some family of your own involved in this show somewhere?
Funny you should mention that because I do! I have a brother, AJ Whittenberger, and he is the swing for the show. Because we didn't say in our program bios that we're related, people automatically assume that he's my husband. I'll be waiting tables and people say to me all the time "Oh, is your husband in this show too?" and I have to quickly say, "No, no! He's my little brother!" People also ask if I'm the younger sister, so that's always a nice compliment to hear because I'm actually the older sibling, by about a year and ten months. AJ has worked at Toby's before – he's done five or six shows, I think. I know recently he did Shrek and Spamalot. He's gone on in Pirates as well, once for Jeffrey Shankle, who plays Samuel, and several times as a couple of the ensemble pirates.
What has working with Director Mark Minnick been like?
Oh, I love working with Mark Minnick. He is a dynamic person. He always has a million ideas and works quickly. It was really nice to jump into working with him and this cast and immediately feel like we were building something together. From day one of rehearsals I have enjoyed this show immensely.
Have you experienced any challenges as far as adapting this classical opera sound to performing in a musical theatre setting in the round?
Well, "in the round" was definitely something I had to get used to at first. This is my first time performing in the round, so that was probably my first challenge with taking on this show and this role. A lot of the other cast members had worked in the round before, but for me, the idea that 100 people at any given time were going to be looking at my back was an interesting realization.
That was pretty much my only concern. That and working with a microphone. I have two solo numbers in the show, "Poor Wandering One" and "Sorry Her Lot." With "Sorry Her Lot" the register is totally different; I'm singing almost completely in my lower register for that number, and it's mostly me and the piano. It's a starker orchestration and everything calms down at that moment – or at least calms down in comparison to the more frantic, comic pace of the rest of the show. During "Sorry Her Lot" I use more of a technique that would not work in an opera house, since I would not have amplification in an opera house. But in the round and at Toby's, it's the type of space where I can use the microphone to its advantage. Softs can be softer, and I don't have to compromise any vocal choices I want to make because of volume. With a microphone, the voice can go down at times to almost a whisper.
You have experience singing in opera houses. Do you find that you prefer singing with a microphone or without one?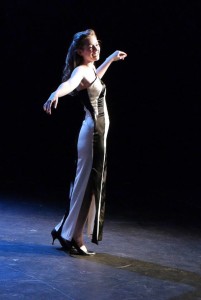 Oh, that depends on the music. I did Die Fledermaus with Bel cantanti, which is a small opera company in Washington DC, back in December. In that performance we did not use any amplification at all, and it was really nice to not have the microphones because the louds could be a little louder.
It is a great thing not working with microphones in the sense that without one you have total control over your own sound. If you want to be louder, you project more, or if you need to be softer you bring your voice back. The singers and the orchestra find balance with each other. Whereas when you use a microphone you have to trust the sound techs. You have to trust that if you make a really soft sound they're going to turn you up, and that if you make a really loud sound they're going to turn you down so you don't destroy everyone's ears in the audience. I trust the sound techs at Toby's so I'm fine with using a microphone there.
You work opposite of area actor Nick Lehan in Pirates, where he plays the dashing Frederic. He's bringing an unusual intelligence to this otherwise vapid ingénue character, what has working with him been like? And how is that helping you to shape Mabel?
Nick really does bring intelligence to Frederic. I like that interpretation. That's sort of how I think of Mabel as well. They can both be played traditionally as shallow ingénues, but we haven't been choosing to play it that way, and Mark's direction supports that. It's really fun to work with Nick because he adds a little something to it every night. I like to do that too and we make it fun. Everyone here at Toby's actually really loves to keep it fresh. I think that's the signature of a Mark Minnick production, it's always alive and the energy is always up.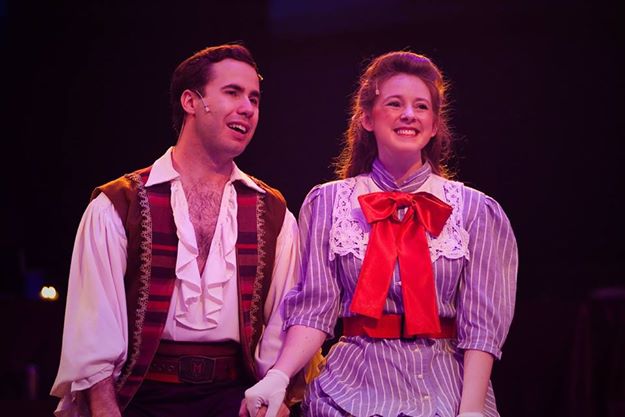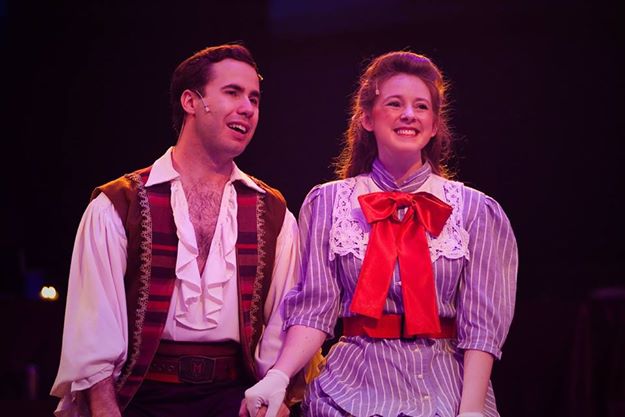 I think for me, the idea that Mabel is something more than just a simple soprano is right in the script. There are moments in the show where she makes very quick but authoritative decisions. As romantic and goofy as she is, she is used to getting what she wants. And she knows how to get it. She knows that Frederic is going to like her right away. She's the Major General's favorite. She's a leader among her sisters, and later she instructs the cops what to do. Even though she isn't the official leader of any group she just makes those authoritative decisions.
Do you have any official acting training?
Um, sort of? I did some acting classes, but my study has mostly been based around musical theatre and opera. I haven't really done a lot of acting in plays. But I would like to go in that direction someday. Maybe, we'll see, you never know. I love getting to perform and maybe that's a new type of performance that I'll really enjoy as well.
Do you wish you were a pirate?
Yes! All the time! And I know I'm the soprano, but come on! Who wouldn't want to be a pirate in this show? They get to swing from the ropes all over the stage! They get to wear all the ruffled shirts! They don't have to wear gloves every single time they go on stage. They get to play with swords!
If you weren't playing Mabel…and if gender wasn't an issue?
Oh, I'd be the Pirate King. He gets a lot of glory. And swashbuckling. And fun. He gets a lot of everything – what's there not to love about that character? His solo is dramatic and he gets to run around the stage. David Jennings does a great job with the role and he makes it look really fun.
Are you a little sad that you don't get to patter in any of the numbers?
Umm….no. Not sad. Not at all. The patter in this show is really intense. I like the patter trio (that Nick Lehan as Frederic, Jane Boyle as Ruth and David Jennings and The Pirate King do) a lot though. I wouldn't mind singing that one. I mean, I like "Major General" as well, but I will never get tired of "My Eyes Are Fully Opened…" there's just something about it and the "Away, away" section that make me want to listen backstage every time.
Do you have any future aspirations in the area?
Oh sure! I'd like to work all throughout Baltimore and Washington DC at all sorts of different theatres. Pretty much if it's the right show, right time, I'm in! Although there a lot of shows that I would like to be in, I feel there are going to be certain shows that will particularly highlight my abilities. I love being able to sing, so I think I gravitate more toward singing-heavy roles. I like roles that feature a character's changes and emotions through their songs.
Do you have any dream roles?
There are so many! In opera? Or Musical theatre? I have a few for both. In opera, someday I'd love to play Lucia in Lucia di Lammermoor. I think it would take more training and more development of my voice, and possibly some more years age-wise, before I would get to play that part. I'd love to play Adina in Elixir of Love. It's a funny show, a comedy, and a beautifully written opera. As far as musical theatre goes? Someday I'd love to play Marian in The Music Man. I know it's familiar, but I love that musical. I think it's funny and the music is beautiful. I think I would like to be in something like Light in the Piazza as well, that would be fun…
There are some roles I've done before that I'd like to do again too. I'd like to redo Sarah Brown in Guys and Dolls, and I would love to do Luisa in The Fantasticks again – that was a lot of fun when I did it before. I've done Carousel a couple of times; I'd love to be Julie again. I feel like a lot of people don't do it because it's intense and it deals with domestic violence, and if it's not done well people can interpret it very wrong. There are just so many!
I noted in that list there that there were not too many "modern" musicals. Are you not a fan of modern musicals?
Oh no, I love the more modern musicals but a lot of them are very belting-heavy and I would not have the advantage. I am not a belter; I mean I wouldn't call myself a belter. I belt when I need to.
So you're not an Idina?
Well, I'd definitely consider myself an Anna, not an Elsa. But when they do make Frozen: The Musical, I would love to play Anna! I do love modern musicals, there just aren't a ton of them that feature soprano voices right now because it hasn't been in vogue.  Sure. I guess a couple more "modern" roles might be in Phantom of the Opera, Sweeney Todd or Les Miserables, but those aren't super modern. Perhaps when the rights become available for A Gentleman's Guide to Love and Murder I could be in that!
Since you're talking about Classic verses Modern musical theatre, I'm wondering if you have a preference for classical vs. modern opera? Is one better than the other?
It's hard to really compare them? They're different animals. You can't beat Verdi. You can't beat Mozart. Not at what they did. Y ou know what I mean? Compositions reflect their time, and modern living composers are doing something completely different from the traditions that existed before. They have all of music history influencing their compositions, from Italian opera to Beethoven to Stravinsky, serial music, jazz, musical theatre, pop, electronic music – all of those. Modern opera is still alive, contrary to what some people suggest, it is just different from the traditional favorite operas that have been performed for the last 200 years.
Do you think that when people sing opera in English, vs. Italian or other languages that you lose some of the story and emotion in translation?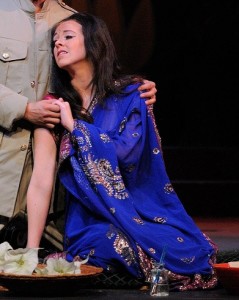 No, I don't think that. The language someone's singing in shouldn't affect the expression of the words and music. A dynamic performer is a joy to experience in any language. Some languages do flow smoother with the music if they're the originals for the pieces, but there are great translations that make shows in other languages approachable to audiences in different parts of the world – for example, I saw a really enjoyable production of Die Fledermaus at the Met in English this past January (the original is in German). But anyway, if you see a wonderful performer really acting a piece, giving it everything it needs, it won't matter what language they're singing in. Opera can be like watching a great foreign film – you can read the supertitles and get lost in the emotional performances. Each language does have its benefits in performing – Italian has really pure vowels, for example. But as for English opera and operetta, there are some great ones and I think there will be more in the future.
Why should people come and see The Pirates of Penzance at Toby's Dinner Theatre?
It's as fresh as it was 100 years ago. And you should see it a few different times! We all have little things that we do differently every night, like I said before, that make it fun and new. I think the more you see the show, the more of the little hidden gems you will notice. There are a lot of little things like that with the policemen. It's all throughout Mark's choreography, and the actors' interpretations. You know, for a show that doesn't normally have a lot of dancing, Mark Minnick has managed to add in a lot of exciting dances to songs. For instance, with all those words during "Modern Major General", it's really important to have everyone in the ensemble engaged in what's happening, and the dance perfectly complements it There are also a ton of earworms. I'll wake up in the middle of the night and be singing one to myself in my head. So, you should come see the show so that you can wake up in the middle of the night singing these songs!
The Pirates of Penzance plays through August 31, 2014 at Toby's the Dinner Theatre of Columbia— 5900 Symphony Woods Road in Columbia, MD. For tickets please call (301) 596-6161 or purchase them online.
To learn more about Laura Whittenberger, please visit her website.