It is extraordinary, the amount of force and pressure a mollusk will exert to do nothing. Surely it would be easier to do something. Don't be a mollusk. Do something. And by something, I mean venture out to Quotidian Theatre Company's production of Hubert Henry Davies' The Mollusc directed by Jack Sbarbori.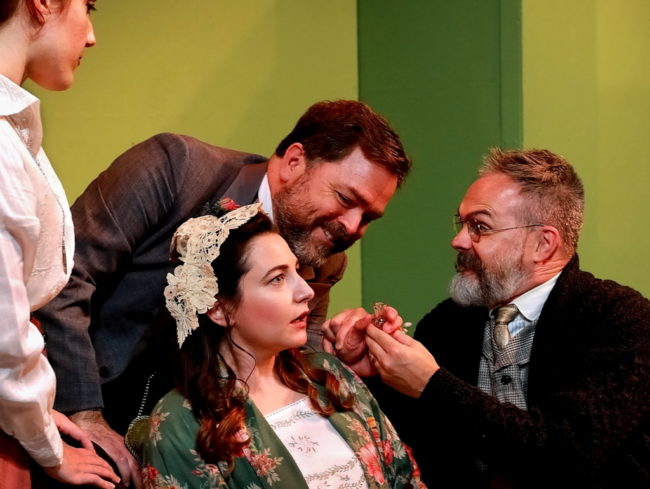 Let Director Jack Sbarbori transport you back to a tranquil sitting room circa 1912 in the British countryside with his quaint scenic design. The mellow walls, gently drenched in seafoam green, the decadently plush lounging sofa painted in a rich chocolate shade of earth, the delicate lacy curtains neatly arranged over the windows, all paint the illusion of an ordinary and becalmed countryside household. Stephanie Mumford's sartorial selection for the affair further cements the play's era into the production's aesthetic, with the rather lavish lounging gowns for the lady of the house. Aesthetically pleasing, not unlike a pretty seashell washed ashore, meant to be looked at and adored for its beauty.
The play itself is a victim of "molluscry" (the fictitious condition that Brother Tom ascribes to his dear sister Dulcie inside the play), stagnating willfully against itself when the natural tendency of things is to progress, grow, and expand. This is no fault of director Jack Sbarbori nor the cast of four, but rather playwright Hubert Henry Davies' dreary writing. The pacing, despite the play's stubborn refusal to hurry up and move along, is swift, despite seeming unending. It's an honest shock when the first act concludes and a mere 45 minutes has passed. Davies' writing is languid, gently congealing in the primordial jelly of its own exposition and character introductions. Despite the sluggish nature of the text, Sbarbori and the cast manage to create an engaging afternoon (or evening, depending upon when you visit) out of The Mollusc and the overall take-home message is to simply not be a Mollusc. Do not let life slip you by whilst you stubbornly resist it's natural course of action.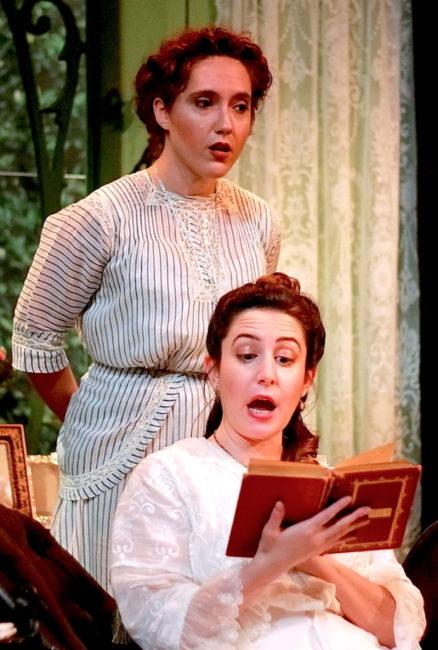 Playing the delicately angelic Miss Roberts, Ms. Emily H. Gilson is a superb fit to the role, slipping into the character's mannerisms, physicality, and overall speech patterns with graceful ease. Gilson does have extreme moments of excitement, typical with ingenue-types of the early 20th century in English drawing room-type dramas. Gilson maintains a steady hand on her Governess sensibilities and her working-class accent, ebbing along with the play's hebetudinous existence. Mr. Craig Houk, as the head of house Mr. Baxter, struggles somewhat with this English accent, though this is really only noticeable because of how effortless Gilson is in maintaining hers. Despite Houk's inconsistency, his character work is respectable and fully engaged in all scenes, regardless of whom he faces opposite.
The jagged and jittering energy that sweeps into the room, a bit like Tock barking his way through the Doldrums in The Phantom Tollbooth, the Tom Kemp character, as played with vigor and gusto by Mr. Brendan Murray, is a force of excitement. The potential for Murray's character to act as an unstoppable force upon Ms. Marnie Kanarek's Mrs. Baxter, who in this equation is the immovable object, is great, but Davies' writing never takes the play in that direction. Instead, the audience is left with rather hilarious interactions between the brother and sister character, much of which are carried with equal comedic burden, however incidental, by both Murray and Kanarek. For as insistent as Murray's Tom is on forcing his dear sister Dulcie out of being a Mollusc is as intent as Kanarek's Dulcie is on staying put and being exactly that.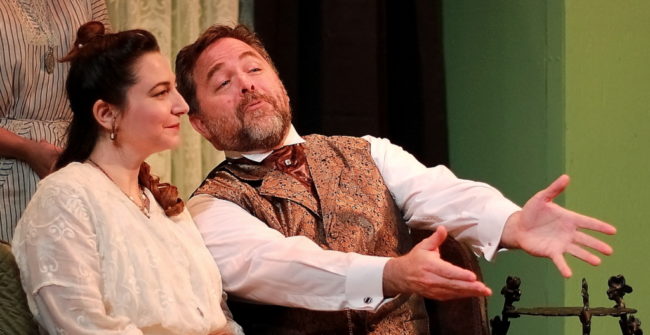 Ms. Marnie Kanarek is a masterful stage force when it comes to her role as Mrs. Baxter. Pushy, subtly manipulative, and wholly a master at molluscry, it becomes hilariously insufferable to watch her delve further and further into the depths of nothingness. Bristling divinely against her brother Tom's rogue, adventurous spirit, Kanarek presents a Mrs. Baxter who is hardly void of life, but rather stalwart in her resistance of it. Wearing the stern cloak of idleness like a security blanket, Kanarek shakes up the character's intensity in the back half of the play, going head to head with the Tom character and adding several instances of, albeit mild, histrionics that are comically ripe.
Despite Hubert Henry Davies' The Mollusc suffering from a malignantly incurable case of molluscry, the performances are strong and the direction is solid; the life lesson is both strong and solid. Be sure to catch Quotidian Theatre Company's production of The Mollusc this summer, unless of course, you're too busy wasting life by being a Mollusc.
Running Time: Approximately 2 hours with one intermission
The Mollusc plays through August 4, 2019 at Quotidian Theatre Company, the Resident Theater of The Writer's Center— 4508 Walsh Street in Bethesda, MD. For tickets call the box office at (800) 838-3006 ext. 1 or purchase them online.