Women are strong. When most people think of war, the first image that comes to their mind is that of a man charging into battle. It wasn't until last year that our military opened the doors for women to serve in combat roles. In spite of this, women serving in and alongside the military have faced the horrors of war just as valiantly men have, and they too have suffered the consequences of such violence. A Piece of My Heart, by Shirley Lauro, explores the experiences lived by six very different women in the Vietnam war and how their service impacted their lives.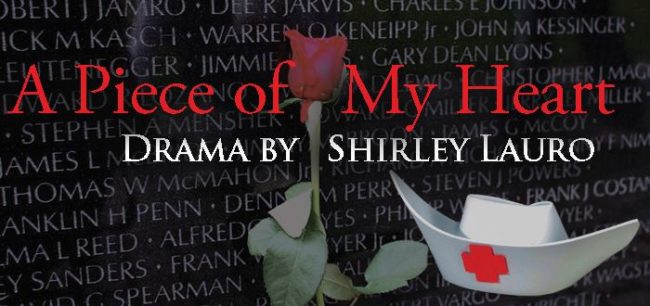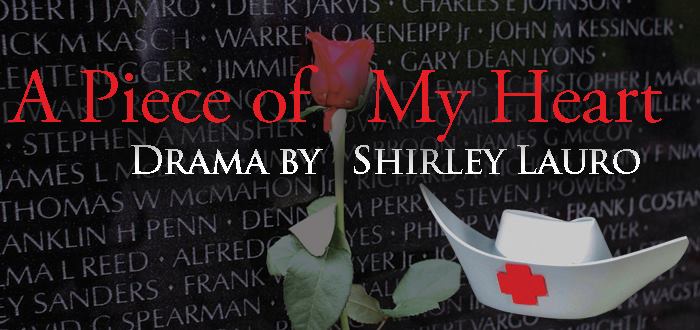 A Piece of My Heart is not for the faint of heart. The play's strongest qualities are its unflinching realism and the diversity of the characters. Each of these women ends up in Vietnam in very different ways (some voluntarily, some reluctantly, and some deceived into it), which effectively represents the various tracks our service members' lives may go during and after service. Although this production is not a musical, the characters do sing to each other and to the audience. This works for most of the play, but it occasionally feels out of place. Often in theatre, it is required for an actor or actress to play multiple characters. However, in this play, there are multiple instances in which it feels like one of the main female characters should be present, but the actress is playing a supporting character instead. On the other hand, this practice works particularly well with the sole male actor playing all of the male characters. This adequately directs the audience's attention back to the female characters.
As a veteran, Director Cody Jones relies on her military background and experience to present A Piece of My Heart with heart-wrenching authenticity. Her vision and direction make use of a simple set and small cast to illustrate the harsh reality of war, and the consequences it imposes on all of those involved. Jones' unique experience as a service member allows her to guide her talented cast into a performance that faithfully reflects the experiences and diversity of all veterans, and the effects their sacrifices can have on their lives post-service, their families, and their comrades. Jones has her cast make excellent use of the space and the set, although a few of the transitions between scenes can feel a bit long. Overall, Jones does a great job at putting together a production to remember.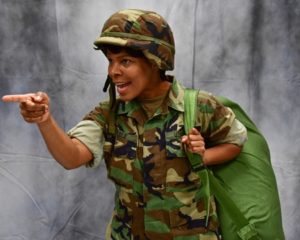 Set Designer Dan Lavanga provides a system of platforms that allow the play to develop with different levels, increasing the quality of storytelling. Jenny Oberholtzer's costumes truly help the audience get a better understanding of the characters and at what point of their lives they are. Roger Paradis and Malia Murray's sound effects, while not overwhelming, dramatically immerse the audience into each ongoing scene, allowing the production to rely significantly less on the suspense of disbelief.
Jennifer L. Franklin plays the motivated Martha. Franklin's enthusiasm at the beginning of the story provides contrast to her character's story arc. She aptly depicts the experience of chasing a goal and what it is to find oneself unprepared for reality. Liv Allen portrays the musically adept Mary Jo. Allen manages to play a character that strives to maintain her motivation as her situation makes her grow increasingly sour. She also isn't afraid to use her voice in a way that conveys her presence.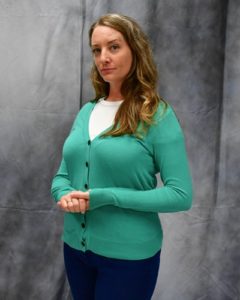 Stephanie Allender's depiction of Whitney perfectly embodies the classy character. Allender is skillful in her representation of the 1960's Red Cross nurse and carries herself with a sharp demeanor while at the same time believably depicting the struggles of the character. Jaharri personifies the character of Steele with an air of intelligence. Jaharri's contrasting displays of superiority and powerlessness are nothing short of an exceptional performance. She certainly knows how to bring the portrayal of her character to a highly professional level.
Malia Murray expertly portrays the hippie, LeeAnn. Murray brings to the stage some of the most heart-wrenching depictions of inner conflict in the play. The evolution of her character is a tricky one because it goes in multiple directions, but Murray's efforts yield excellent results. Diana Hutter does a superb job at driving the character of Sissy. Hutter makes sure that her emotions are seen and felt by the audience for every scene she's in. Her facial expressions, her posture, the tone of her voice, and everything about her performance screams the emotions that the character is feeling.
Bill Bodie acts as a chameleon actor in portraying all of the male characters of the story. The difference he draws between every single one of his characters is extraordinary. Bodie also knows well when to draw the audience's attention to himself, and when to redirect it back to the women. Bowie Community Theatre's rendition of A Piece of My Heart is a must-see for anyone who enjoys war stories, realistic characters, and stories about strong women.
Running Time: Approximately 2 hours and 45 minutes with one 15-minute intermission.
A Piece of My Heart plays through November 18th, 2018 with Bowie Community Theatre at the Bowie Playhouse in White Marsh Park— 16050 White Marsh Park Drive in Bowie, MD. For tickets please call the box office at (301) 805-0219 or purchase them online.