Nubia will never die! And Baltimore's own ArtsCentric is making sure of this is a known fact in their production of Aida, with music by Elton John, Lyrics by Tim Rice, and book by Linda Woolverton, Robert Falls, and David Henry Hwang. Kevin S. McAllister, Cedric D. Lyles, and Shalyce N. Hemby skillfully band together to bring a first-rate rendition of this timeless love story.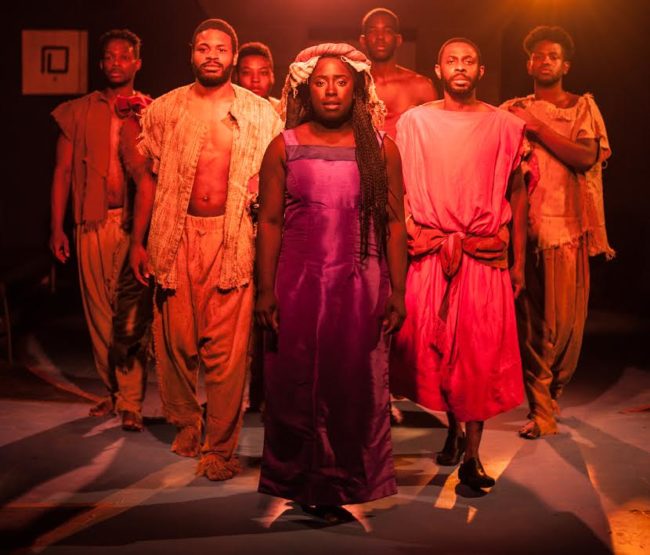 Kevin S. McAllister does a masterful job with his direction of this production. His execution results in a show with seamless transitions, where there isn't a single moment in which the audience is left waiting for the next scene to be prepared. Under his guidance, the ensemble moves as a unit, engulfing hidden characters with subtlety and effectively directing the audience's focus. McAllister's casting choices successfully represent ArtsCentric's color-conscious vision; he accurately portrays a story set in ancient Africa with an extremely talented cast, entirely comprised of actors and actresses of color. The only questionable choice in McAllister's casting is that of Rafaelito Ross as Zoser; this has nothing to do with Ross' talent (which is undeniable as a singer and an actor), but because it is difficult to ignore that he does not look old enough to be Jo'Nathan Michael's father.
This production of Aida makes it clear that Music Director and Conductor Cedric D. Lyles understands how to mentor his cast and guide his musicians towards an outstanding musical delivery. Every solo singer effortlessly follows the music in perfect synchronization, and every group number brings the ensemble's voice together beautifully. On occasion the sound crew struggles with keeping appropriate levels for the singers, letting their voices be drowned by the volume of the band; this is particularly true during Kanysha Williams' emotional rendition of "I Know the Truth".
Undoubtedly, the strongest highlight of ArtCentric's Aida is the amazing choreography by Shalyce "Shae" N. Hemby. Every single group number looks intricate and exact, and the ensemble delivers every movement with the perfect amount of energy. Perhaps the best example of Hemby's genius can be seen during "Dance of the Robe", in which every move is not only difficult to perform, but is delivered in close proximity to the audience and other cast members; the audience's roar at the end of this number couldn't be better deserved. Fight choreographer Sierra Young also deserves great praise for her hard work. She successfully coaches the ensemble into realistic fight scenes keeping them safe, all while handling real and heavy metal props.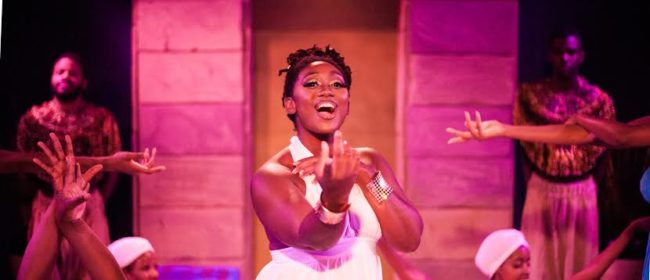 Ryan Haase's set design effectively assists McAllister's vision. From the details on the museum walls to the Ankh (the Egyptian hieroglyphic symbolizing life) on the floor covering the entire stage, Haase's design helps the audience become as intimate as possible with the story. Lynn Joslin has a knack for making beautiful lighting designs; a particular highlight is the starlit night-time scenery that opens Act II. It may be that the only flaw of Joslin's design is due to the layout of the audience, causing the closest audience members to be blinded by the lights in multiple instances. Larry Munsey's costuming compliments the set design delightfully, takes advantage of the lighting, and most importantly, helps the audience understand each character a little better.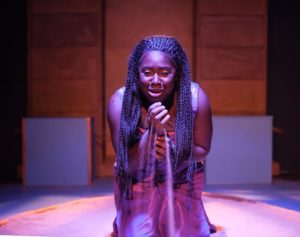 Awa Sal Secka's performance as Aida is nothing short of impressive. She has a booming voice that she knows how to use, delivering every song with clarity and emotion. She effectively shows the strength of her character through her sass and determination, and she makes you root for her through her pain and despair. Her interactions with the ensemble make you believe she cares deeply for them, and that she truly bears the burden of a country at war.
Kanysha Williams wears and owns the crown as princess Amneris. Her comedic timing is on the spot for every one of her jokes, and the tone contrast she uses when first meeting Aida is priceless. Williams brilliantly plays the confidence of a princess that knows her strengths and power, and she expertly tugs at the audience's heart-strings during her song "I Know the Truth". The chemistry between Williams and Sal Secka is the best of the entire show, making their relationship feel authentic and relatable.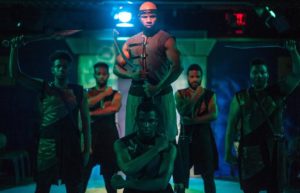 Jo'Nathan Michael plays the Egyptian Captain Radames with admirable professionalism. His portrayal of the lovestruck fool is particularly entertaining to watch, and the real tears rolling down his face when his life falls apart are truly touching. Michael's vocal prowess shows in his contrasting deliveries; his voice sounds clear and effortless every time he sings, but he is not afraid to make it seem like he's struggling in order to convey his character's emotions.
Rafaelito Ross is as intimidating as Radames' greedy father, Zoser, as every villain should be. Every time Ross comes out on stage you can feel his presence in different ways; when he approaches his son Radames you can feel the tension in the air, but when he approaches the Pharaoh or Amneris you can't help but be hypnotized by his cunning. Ross' voice is also on par with the rest of cast, as you can hear him deliver his powerful finishing note during "Another Pyramid".
All of the ensemble of Aida deserves immense acclaim for their professionalism and hard work. From the very first moment you see them come out on stage you can see the results of their hard work. Delivering a choreography as intricate, high-energy, and complicated as they do is not an easy task, and it is truly impressive how effortless they make it look. This ensemble also brings superb acting skills to the table. They are highly engaged at all times when on stage, and you wouldn't catch a single face wondering off while the focus is elsewhere (believe me, I looked).
If you have an affinity for star-crossed lovers, sassy princesses, action-packed stories and dancing, or just good musical theatre, I strongly recommend you come out and see ArtsCentric's Aida. I promise that you will not be disappointed, and you will walk out of their theater wanting to see their performance one more time.
Running Time: Approximately 2 hours and 30 minutes with one intermission.
Aida plays through August 26, 2018 at ArtsCentric on the main stage of The Motor House—120 W. North Ave in the Station North Arts District of Baltimore, MD. For tickets call the box office at (410) 205-5130, or purchase them online.