According to the Oxford Living Dictionary the meaning of Cancer is "A disease caused by an uncontrolled division of abnormal cells in a part of the body". Sounds so simple right? A nicely put definition for a disease that is anything but nice and simple. This is the backbone for Margaret Edson's Wit, a dark comedy that won her the Pulitzer Prize for Drama in 1999, which is currently playing at Silver Spring Stage under the direction of Jeff Mikoni. It follows the treatment of Vivian Bearing, Ph. D. through her treatment for late stage metastatic ovarian cancer, sharing with the audience the ups and downs of the diagnosis.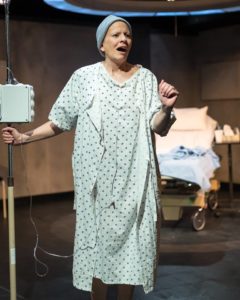 Visually speaking the show is very simply done, simple but effective allowing the words to tell the story. Set Designer Jimmy Stubbs has created a simple hospital set up: bed, IV stand, table, and computer. Other pieces such as tables and desks are brought on and off as needed but remain very simple and not overwhelming to the eye. Steve Deming adds to the hospital feel with the traditional lighting that is cold and shadowy. Hospital rooms rarely feel welcoming, a hard emotion to capture in design, but expertly done by the duo.
The sparse set and simple lighting allow us to focus on what is truly important, the words of Vivian Bearing, Ph.D. who narrates the show and is the main focus. Emily Morrison has taken on Dr. Bearing and the best word to describe her portrayal is exquisite. Morrison, much like her character, is a force on stage, never leaving the stage plus navigating the different stages of her character's treatment and declining health; Morrison never waivers. There are beautiful moments of vulnerability and fear that contrast nicely with her confidence and sass from other parts of the show.
Helping to treat Dr. Bearing is one of her former students Jason Posner, M.D. who is played by Sebastian Leighton. Posner is that jerk from your college classes that had to know everything and tell you about it, his ego was in the room before he was. Leighton perfectly captures that in his portrayal, a research student who is more concerned with learning about cancer than about the actual patient and human interaction. In contrast to him is Katie Wicklund as Susie Monahan, R.N., B.S.N. a kind and caring nurse who just wants the best for her patients. Wicklund is the nurse you always hope that you get at the hospitals, she is friendly and genuinely wants Dr. Bearing to be comfortable and as happy as she can be considering her situation.
The cast is rounded out with a small ensemble that switch between roles as doctors, students, and nurses to help move the story along. As well as three cameo actors Gary Sullivan, Barbara O'Malley, and Joshuah Laird each only joining the narrative for brief moments.

It is worth noting that there is a brief moment of partial nudity, it is extremely brief but does exist so if that is not your thing just be aware. While the show is a dark comedy, tissues will be needed so make sure to put some in your pockets. If you are looking for shows to see this season Wit should absolutely make your list. It is thought provoking and full of heart.
Running Time: Approximately 2 hours with no intermission
Wit plays through February 3, 2018 at Silver Spring Stage located in the Woodmoor Shopping Center— 10145 Colesville Road in Silver Spring, MD. For tickets call the box office at 301-593-6036 or purchase them online.