Cold winter blues got you down? Feeling the urge to "shake it" but don't have a good beat? Would you like to experience a range of emotions, but ultimately leave happy and dancing your way to your car? Wonderful! The John F. Kennedy Center for the Performing Arts has just the cure for you! Right now in their Opera House you can go feel the rhythm of On Your Feet! The Emilio and Gloria Estefan Broadway Musical. Trust me when I say, this one will have you on your feet and singing for days after.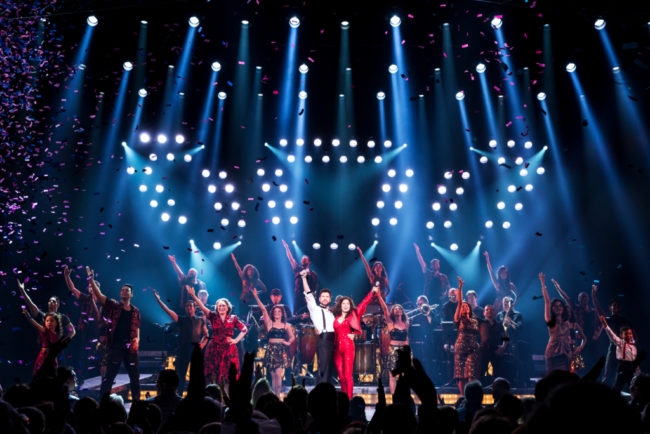 Walking in and looking at the stage you may question if you are going to see a concert or a musical. With a lighting rig arch and iridescent purple curtain, the answer could go either way. The moment the curtain rises you are greeted with a concert setup including a live band on stage. As the show moves on, spinning flats and backdrops are used to transport you through the story. Set Designer David Rockwell has created a set that transforms taking you from Florida to Cuba to a concert venue. Using simple colors and allowing Lighting Designer Kenneth Posner to project images onto the sets to change them from scene to scene. Posner has also designed the amazing traditional concert lighting that lights up the theatre during big numbers! It is a spectacular set up for the story of a pretty special lady.
The orchestra is brought back and forth from being on the stage to being behind it but never losing its volume. The musicians, many of whom are members of the Miami Sound Machine, are on point and deliver a stellar performance under the direction of Jorge Casas. They are at a good level the entire show and never distract from what is going on when they are not the focus, as can be a problem in some shows.
Lighting up the stage as a true diva herself is Christie Prades as Gloria Estefan. From shy teen to confident star, Prades navigates the role flawlessly! Her voice never waivers while belting out Estefan's iconic songs and shaking it at the same time. Her handsome counterpart Mauricio Martinez doesn't disappoint as Emilio Estefan. Martinez has a wonderful voice that is often showcased in duets with Prades, but it is his comedic timing and line delivery that make him stand out. He portrays a caring husband who is also a sharp business man that maybe sometimes pushes too hard. The duo complement each other and really capture the love of the real life couple. Spectacular performances by both.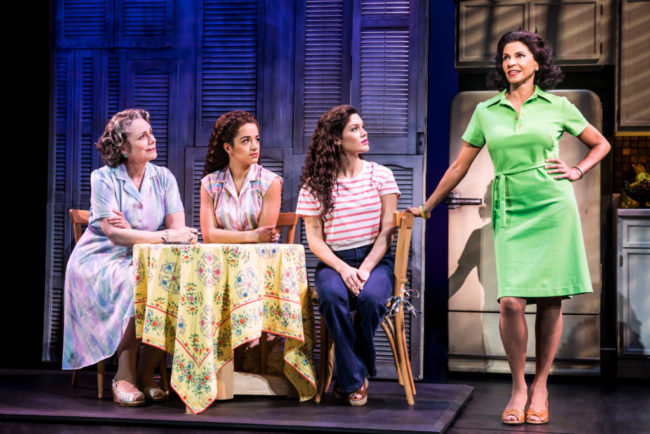 As Gloria's mom Gloria Fajardoa, actress Nancy Ticotin shows what it is to be a matriarch. Stubborn, but caring and letting a little bit of the green-eyed monster seep out. As her husband Jose Fajardoa, a sick veteran, Jason Martinez brings love and authenticity to the role. However, it should be noted that many of his scenes also bring tears so have the tissues ready! Consuelo is played by Alma Cuervo, while a brief role Consuelo is comedic but is one of Gloria's biggest supporters. Cuervo plays the grandma that we all wish we had, ready to fight our moms to let us live our dreams.
The show is rounded out with an incredible ensemble full of beautiful voices and incredible dance skills, shown off with the choreography of Sergio Trujillo. Dances from traditional to modern grace the stage to add movement to the popular hit songs. Ensemble members move through a number of roles telling the story of Gloria and Emilio's lives.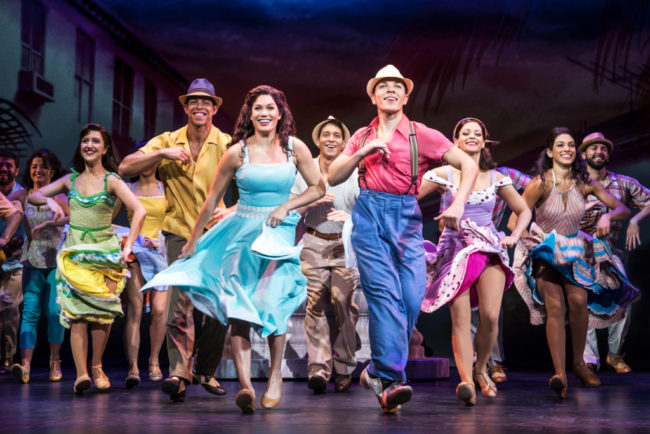 On Your Feet! is truly a show that is not to be missed. From an audience standpoint you leave feeling warm and happy, having just seen an incredible piece of art. From a performer standpoint you leave feeling inspired, ready to take on the world! If you can get your hands on tickets, make sure to head to the Kennedy Center so you can feel the rhythm!
Running Time: 2 hours and 15 minutes with one intermission
On Your Feet! The Emilio and Gloria Estefan Broadway Musical plays through January 28, 2018 on the Opera House Stage at The John F. Kennedy Center for the Performing Arts— 2700 F Street NW in the heart of Washington, DC. Tickets are available for purchase by calling the box office (202) 467-4600 or by ordering them online.