If you love Shakespeare, you are likely to love SHAKESPEARE IN LOVE as a stage production even better than the movie by the same name. There's more Shakespeare in it. In fact, it opens with a song version of a popular sonnet, just in case you don't quite remember all 14 lines. Throughout the show, there are nods and references to a number of The Bard's works, great swaths of quotations, a wink to Marlovians, heroes, villains, fencing, fighting, torture, revenge, chases, escapes, true love… wait, sorry, that last bit's from something else. Well, I'll leave it; it applies. The point being, even if you don't yet love Shakespeare, this lively, lyrical comedy might steal your heart.
You're heading to Calvert Street downtown, in the artsy fartsy area known as Mount Vernon, home of the Peabody Institute, the original Washington Monument, Audrey Herman Spotlighters Theatre and the Baltimore School for the Arts. Parking is available on the street, theoretically, but parking in the Garage at the Southeast corner of Calvert and Monument is easy and cheap at $5, with an option to pay BEORE entering the theatre, to avoid any post-exodus line at the payment machine, which, as of this writing, accepts cash as well as credit.
The recent multi-million dollar renovations at Baltimore Center Stage included painstaking efforts to make the interior resemble an abandoned warehouse, with neon. Structurally, however, there is a great deal of improvement and many updates. Several expensive projectors are mounted outside the 4th floor Head Theatre, creating a moving cloud-filled sky on the curving screens that form the theatre's exterior. Bathrooms are cool- maybe a little TOO cool, as in it takes me several moments of study to figure out the stall door system, and I manage to trigger the paper towel dispenser largely accidentally, by doing interpretive dance in front of it. But it is plenty spacious, at least the ladies' room is. Elevators to the Head Theatre are speedy and silent.
Upstairs, there's a bar, seating, lounge area, all very slick and swanky. The menu is printed on paper flyers rather than displayed on a marquis. Cocktails can be pricy, but a $9 glass of wine is an affordable indulgence. Wine (and other beverages, including coffee) come with sippy lids for taking into the theatre. No food, however, please. It's Baltimore City, and rodents must be discouraged. The wraparound seating of the 4th floor Head theatre, combined with the multi-level stage, suggests there will be few or no obstructed views, though even imaginative blocking sometimes creates blind spots here and there.
It seems I have inappropriately given top billing of the Shakespeare In Love screenplay to Tom Stoppard, author of Rosencrantz and Guildenstern Are Dead, when the story truly is the brainchild of dedicated, little known, and often unsuccessful, Hollywood writer Marc Norman, who wanted to knock The Bard from his pedestal, imagine him before he was anybody, and illustrate why he deserves pedestalization. Stoppard was brought into the project later to… Shakespeareify it. Still later came Lee Hall to translate it for stage production because that's what Disney does. Lee wisely brought in a creative team from Cheek By Jowl Theatre, a touring company with three decades' experience of Renaissance productions. Together, they built a large-scale story of two playhouses, both alike in dignity, who vie for the same audience groundlings, the same noble patrons, the same playwrights, and, perhaps, the same play. Against this backdrop, the fictional romance of Romeo, er, William Shakespeare, is represented as a catalyst for the explosion of Elizabethan theatre. At the same time, they worked into the script some significant and pleasing chunks of Shakespeare's own pages, which brings the piece around full circle. In short, it's theatre about creating theatre, a meta concept which has existed for far longer than the term 'meta'.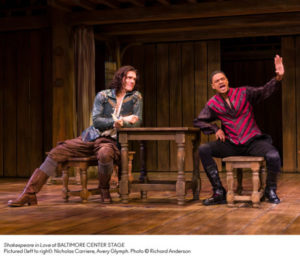 Production values are uniformly high in this production. There is both dance and fight choreography, the former by Diane Lala and the latter by father/son team of Rick Sordelet and Christian Kelly-Sordelet, and both are fairly standard but energetically enacted. Sound quality is near perfect, and includes what sounds like period-accurate music (recorded, not live) and a song version of an important and plot-relevant sonnet. Lighting is accurate, fully imagined and humble in its unobtrusiveness. The set design of Tim Mackabee, which uses a one-set premise, with accessories that transform it to a variety of locations, is clever, rustic, suggestive, and deliciously swift-moving, allowing the quick-paced nature of the show to shine with no blackout lags. There are no obvious special effects, but some period chandeliers descend and levitate from and into the fly space with astonishing alacrity.
Costuming is lush and beautiful, and looks period-accurate, which of course it can't be, as evidenced by several quick-change turnovers. Kathleen Geldard has done a clever job of distinguishing social station and character attributes in a way that unspecialized non-historical-minded audience members will find informative, even if they don't fully realize it as they watch. Samuel French specifies that the cast is 16 men and 6 women, but Director Blake Robison excels with a cast of 20 humans and one dog. His staging unfolds on multiple levels, including some non-crucial but entertaining pre-show activities, and keeps the pacing snappy and fresh.
The ensemble cast is mightily cohesive, moving swiftly from scene to scene even when charged with conjuring the setting, interacting with grace, humor and chemistry with the precision of a well-oiled fly system. Worthy of particular recognition is the phenomena of actors who play featured characters becoming nicely unobtrusive when onstage in other, non-featured roles. The whole production hinges on the skill and interconnectedness of the cast, which happens to be more ethnically diverse than the opening night audience at Baltimore Center Stage.
Naturally I'm going to look favorably on the whole production because the lead actor, in the part of Will Shakespeare, Nicholas Carriere, resembles someone whom I already adore, (yes I absolutely am looking at you, David Darwin http://onemansideshow.com/photo-2.html). Carriere not only delivers a brilliant performance, but grows a head of expressive hair that is practically an additional actor.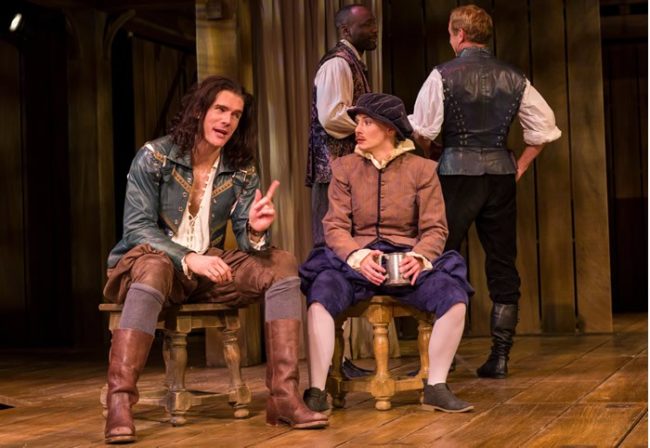 Emily Trask is winsome and on-point as the poetry-loving Viola, Will's love interest. Laura Gordon as Viola's nurse is stalwart with a spicy twist of naughty humor. In the role of Christopher (Kit) Marlowe, Avery Glymph is full of charm and I keep thinking I've seen him in something before, until I realize that he resembles a young Blair Underwood. As the bombastic Burbage, Brent Harris is visibly effusive and hilarious. Naomi Jacobsen is my favorite Queen Elizabeth since Miranda Richardson in Blackadder, and brings a wink-wink nudge-nudge to her other role- see if you can spot her in it. I usually don't say much about young actors because I don't care to say mean things about children, but 11-year-old Clark Furlong, as the urchin who will become John Webster, is only chronologically child-like. He holds his own among the classically-trained cast as a pint-sized pistol of Shakespearean-level talent. Oh, and hello again, Smalltimore: it turns out I know his parents from way back.
This is an extraordinary bit of theatre in that it is well written, beautifully staged, wonderfully acted- in short, evenly superlative in every aspect. Additionally, there is a great deal of actual Shakespeare in this faux-Shakespeare piece (and a nod to Marlovian theory) and for Shakespeareists, will be a familiar and delightful treat.
Running Time: 2 hours and 25 minutes with one intermission
Shakespeare in Love plays through November 26, 2017 in The Head Theatre of Baltimore Center Stage— 700 N. Calvert Street in the Mt. Vernon neighborhood of Baltimore, MD. For tickets call the box office at 410-332-0033 or purchase them online.