Charlene V. Smith bookends Doctor Faustus with two magnificent, and very different, speeches. She begins with arrogance borne of intelligence, full of both wit and ennui, seeking greener pastures beyond this world. She ends broken, despairing, hopeless, crying out to heaven and hell. Her performance as Joan Faustus is insightful and incisive, precise and passionate.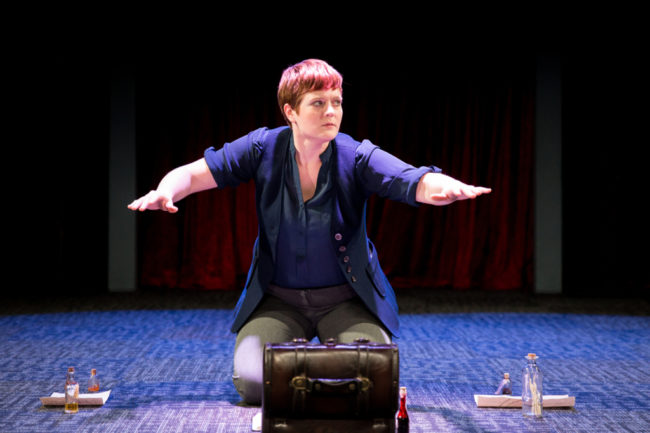 The bridge between the two is Hollis Evey as Mephistopheles, who grants Faustus her every worldly wish in exchange for the immortal soul that Joan doesn't believe she has. (Just how she can fail to believe in Hell, while simultaneously making a deal with it, is oddly unclear in the text— as is why self-professed atheist Christopher Marlowe should write a moralizing fable.) Evey enters with a bun and librarian's glasses, a very restrained and cool version of the usually fiery Mephistopheles. This tamps down opportunities between Evey and Smith for a passionate clash of wills—  until the climax, when Evey finally gets to bring the full power of her Mephistopheles to glorious, burning light.
In between, Faustus gets to enjoy the powers of having a rather docile demonic servant. Mostly, this seems to take the form of humiliating various people, from kings and popes down to various local rustics. The actors of the company are a whirlwind of these roles, most gloriously as a sound-and-light-and-magic-and movement extravaganza of an excommunication by Katie Culligan, Lisa Hill-Corley, Rachel Hynes, Jack Novack, Valerie Adams Rigsbee, and Ian Blackwell Rogers. Jason Aufdem-Brike made fantastic use of the limited lighting instrumentation, while Director Paul Reisman also designed the sound. The magic is brought by consultant Mark Phillips.
Novak and Rogers are especially engaging as Lucifer and Beelzebub, gleeful high-fiving devils with spectacular chemistry. Culligan gets several wonderful scenes as Wagner, Faustus' page, who's nearly as smart as Faustus but considerably wiser. Hill-Corley and Adams Rigsbee are engaging as the Good and Evil Angels of Faustus' conscience. Poor Good never really stood a chance.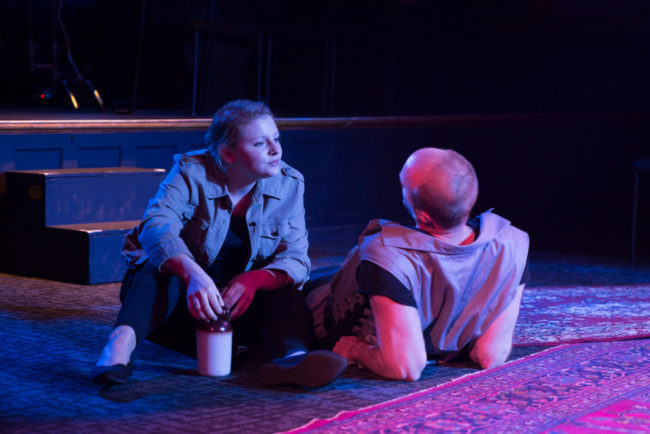 Director Paul Reisman and Brave Spirits have brought enormous stagecraft talent to this very troubling and unsettling play. Quite appropriate for the troubling and unsettling times we live in: even during the run of the show the duality of power and gender have become more and more prominent. Doctor Faustus is no simple allegory, but a struggle in performance.
Running Time: 2 hours and 15 minutes with one intermission
Doctor Faustus plays through November 11, 2017 with Brave Spirits Theatre in The Lab at Convergence— 1819 N. Quaker Lane in Alexandria, VA. Tickets are available for purchase at the door or in advance online.