Can I get an amen? Can I get a hallelujah! Join Baltimore Center Stage for worship starting now through October 8, 2017. Seven times a week, most evenings and Sunday afternoon too, Baltimore Center Stage is bringing to you a powerful message of hope, a powerful message of faith, and a powerful message of love! Making its Baltimore area debut, Lucas Hnath's The Christians gets the 2017/2018 season at Baltimore Center Stage underway downstairs in the Pearlstone Theatre. Directed by Hana Sharif, this evocative, emotional, spiritual journey will take you to church, but not just any church— it's taking you to every church. There is an undeniable sense of fellowship, inclusion, and acceptance in this church that Baltimore Center Stage has created, including everyone from all walks of belief, faith, spirituality, and no particular denomination. This theatrical experience is life-affirming, life-changing, and moving. It'll have you thinking, questioning, wondering, and talking all night long.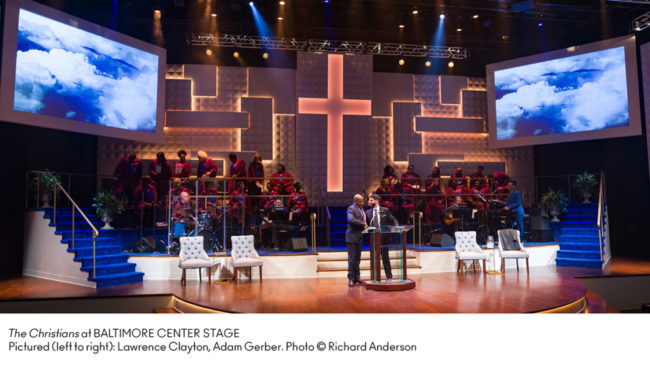 Overwhelmed by the atmospheric beauty and spirituality that welcomes you into The Pearlstone Theatre, there is a reverence and palpable grace present in Scenic Designer Mike Carnahan's layout of the space. The atmosphere radiates that notion of a 'Mega Church' but it's not readily clear as to what type of 'Mega Church' you're entering, which inherently follows the vision of Director Hana S. Sharif and playwright Lucas Hnath that this is meant to be an "everychurch" and not specifically one type of church. The enormous illuminated cross that hangs in the back center of the stage is a reminder that the religious focal practice is Christianity, but beyond that, it could be any sect or denomination. Raising tiers behind the main pulpit, Carnahan creates a space that transforms the theatre into a sanctuary, that evolves the house into the congregation, and invites the audience to go to service with the cast.
Supporting Hnath and Sharif's vision and augmenting Carnahan's scenic constructs, Lighting Designer Jen Schriever and Projection Designer Hana S. Kim fully embrace the notion of serenity and tranquility when it comes to their design work. Kim in particular focuses on tranquility of motion, using idyllic clouds, sunshine, doves in the sky, and other mesmerizingly peaceful imagery that is projected not only on the screens but across the back of the stage around the glowing cross throughout the service. Schriever's lighting plots are most notable during the scenes in the Pastor's home, where her angled use of shadow and slender lighting help create the illusion of darkness, which doubles symbolically as doubt, and falls in line with Sound Designers Nathan A. Roberts and Charles Coes' use of ominous sweeping winds to delineate the passage of time.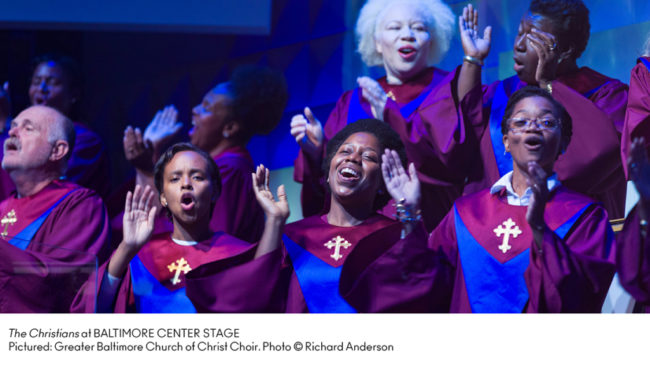 Roberts, Coes, and Musical Director Jaret Landon work together as a team to create original musical compositions and arrangements for the show's choir. Director Hana S. Sharif and Dramaturg Gavin Witt have extended the theatre's outreach into the community of Baltimore and harnessed the energy and enthusiasm of local church choirs (at this performance the Greater Baltimore Church of Christ Choir was featured), even creating their own unique Community Choir of Baltimore Center Stage to further exemplify the universality of faith and belief in the production. Roberts, Coes, and Landon create hymns, songs, and musical arrangements that pull from all styles of faith. And when the choir starts to sing this original compositions and arrangements, the holy ghost and spirit— by whatever name you call it— is rolling through these singers, directly into the ears, hearts, and souls of everyone in the space. It's magnificent and astonishing.
Sharif approaches the work from an organic and open place, augmenting the themes readily available in Hnath's work. Focusing on the notions that this is a piece about believers verses believers and truths that collide in opposition with one another, Sharif brings the emotional weight of the piece forward in all five performers, not just the two pastors. There is fortified emotional depth even in the smallest of roles, like that of Elder Jay (Lawrence Clayton), and an unfathomable sincerity with which these moments are delivered. Sharif sticks closely to the raw, emotional heart line that Hnath has threaded into the dialogue exchanges of these characters and in the quotes of scripture used to defend these opposing truths, making this an evocative and stirring theatrical experience.
Jessiee Datino, playing Jenny, has but one moment in the spotlight toward the center of the show, and starts her segment with great humor. The spastic energy that burbles through Datino excellently showcases the character's nerves in an earnest fashion, exposing her as a raw and rare human being, a person to whom we can all relate. But despite this quirky and amusing start, Datino doesn't hesitate to plunge into the darker recesses of her character's text, unearthing the difficult questions with a hearty severity, changing the overall tone of the moment in the sharp blink of an eye. This is one of the most pivotal moments in the play and Datino handles it superbly.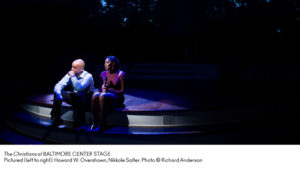 Nikkole Salter, playing Pastor Paul's wife Elizabeth, is a true treat to watch upon the stage. Though her speaking role doesn't come into action until the play is well under way, it's the silent responsive reactions she gives to everything that's happening around her that makes her remarkable as a performer. Watch her facial responses, her body's rigidity and posture, even the way her eyes follow Pastor Paul during his controversial sermon; her silence speaks volumes about her character's conflicted inner monologue. And when Salter's character does find the power of speech, it is deeply gripping and emotionally blindsiding, the way her character and Pastor Paul come to their discourse.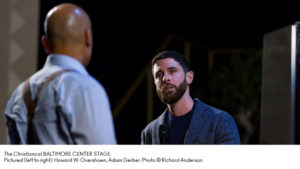 When the tensions in Hnath's script come to a head between Associate Pastor Joshua (Adam Gerber) and Pastor Paul (Howard W. Overshown) there is a jarring ferocity that drives them, particularly in the first face-off between the pair. When Gerber's character first starts questioning Overshown's character, presenting his own voice of opposition, the initial town is edgy, which is deflected with an almost arrogant humor on Overshown's part, but the tension quickly escalates, with both actors holding their own against the other. There is a lively and almost rebellious spirit churning forth from Gerber as he presents his truths, spouting forth just as much energy and conviction as Overshown does when he returns the verbal volley in this showdown of scripture and words.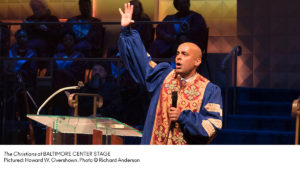 Overshown, as the primary pastor, delivers a stellar performance, calling on every fiber of his performative being to express the deep emotional bench contained within the character of Pastor Paul. There are doubts, there are struggles, there is strife, all readily present in Overshown's portrayal, making Pastor Paul as human as the rest of us and showcasing his flaws to everyone. This is striking way to approach a faith leader, humbling to a point, and serves a great deal of justice not only to the character that Hnath has written but to the overall progression of the play itself.
A life-affirming, belief-confirming, evocative and transporting piece of theatre, The Christians is more than just a play and it is more than just church; it is a powerful reckoning of humanity brought to life before your eyes. A must-see this season, The Christians is a spiritual experience that will leave you transformed, regardless of your faith or beliefs.
Running Time: 100 minutes with no intermission
The Christians plays through October 8, 2017 in the Pearlstone Theatre of Baltimore Center Stage— 700 N. Calvert Street in the Mt. Vernon neighborhood of Baltimore, MD. For tickets call the box office at 410-332-0033 or purchase them online.
To read the interview with Director Hana Sharif, click here.