Little town, Glydon's a quiet village. The Glyndon Area Player's play, a theatrical feast! Little town, filled with talented people…putting on a production…of Beauty and the Beast! And this isn't your run of the mill Disney musical! This fine Disney classic, under the skillful direction of Homero Bayarena, assisted by Teresa Ertel, with Musical Conduction by Andrew Zile and Vocal Direction by Tom Zepp, is magnificence in excelsis! The attention to detail, the remarkable choreography and costumes, the supreme talent guiding this timeless classic through its careworn paces, all of the pieces are in place for a stupendous production. So won't you please, be their guest? Be their guest? BE THEIR GUEST!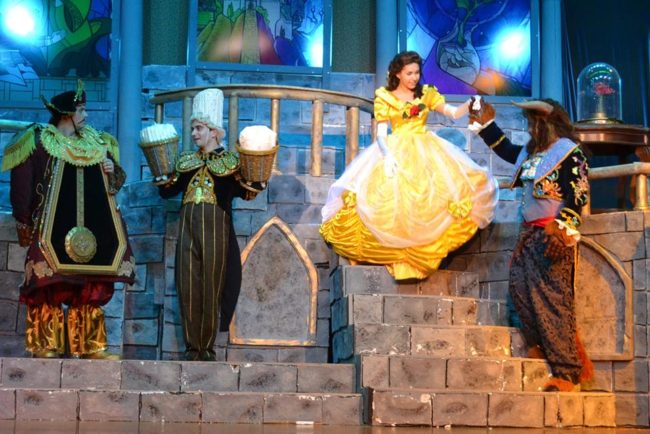 It's a marvel and a wonder the spectacular things that arise to fruition at the Glyndon Area Players for the annual production. Beauty and The Beast marks the company's 20th anniversary season and what better way to celebrate than with a decadent evening of fine musical theatre for everyone in the family? The scenery is grandiose, conceptualized by Director Homero Bayarena and Technical Director Rose Mooney. Beast's castle is breathtaking; it stands as the epitome of a sweeping multi-tiered set piece, complete with radiant stained glass windows featuring replica artwork from the original animated film and storybook, compliments of Scenic Artists Ava Ertel and Lily Ertel. The jaw-dropping beauty and magnificence of this set is beyond compare, and readily one of GAP's most ambitious and well-executed sets in the last handful of years.
Compartmentalizing the castle to further its depth and breadth, Lighting Designer Jim Shomo uses shifting focus lights to pull various locations of the castle steps into the foreground, hinting at the illusion that a great amount of space exists between one point and another. Technical Director Rose Mooney works with Shomo to install an antique chandelier over the audience, using it during "Be Our Guest" and again during the infamous dinner scene to fully envelope the audience in the Disney magic of the show. There are gobos, follow spots, color washes— you name it— short of a disco ball, Shomo has all the lighting tricks in play for this elaborate musical and it enhances the fantasy element of the production.
Homero Bayarena, who wears so many hats for this production he might night a hat-rack when all is said and done, also doffs the cap of Costume Designer, working with Kari O'Donnell and Susan Zepp to perfect that magic and enchantment of this legendary stage show. With so much riding on the hallmark looks conceived by Disney's imagineers in the early 90's, the costuming trio does an exceptional job of capturing the textbook looks of Belle, Beast, Gaston, and various enchanted objects all throughout the castle, while using other characters— like Maurice with his mismatching socks— to showcase their spirited individuality as designers. The enchanted objects' costumes defy description in a fashion most festive and fantastical. Glitter, sequins, and shimmer are all an integral part of these costumes but they are jaw-dropping in their magnificence, which plainly is the word of the show. There's even some creative fun to be had when it comes to the sartorial selection of the show; Bayarena, O'Donnell, and Zepp step outside the box for the plethora of anthropomorphic characters featured during "Be Our Guest" including an adorable set of singing spices: Ginger, Basil, Sugar, Oregano, and Old Bay (rotating actors include Tessa Brinton, Paul Casey, Paige Dryden, Bailey Gomes, Ian Jones, Allison Wallace.)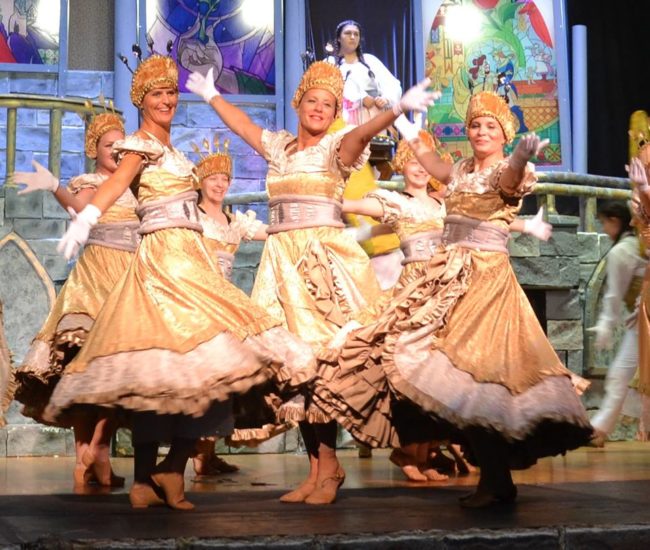 The china plates are stunning; they spin and look like they've been pulled from the queen's royal cabinet for a fancy dinner. The napkins are divine, in their full-bodied fancy skirts, even the cheese grater and vase of flowers are costumes that sparkle with such dazzling decadence that you nearly weep with joy at how truly resplendent everything looks. And once these enchanted objects start dancing their way through "Be Our Guest", with tenacious routines designed by the Choreography Team of Cecelia Lucy and Maia DeBaugh, it's no wonder that that number becomes a show-stopping moment with overwhelming applause and cries for ovations. The DeBaugh Trio delights audiences further still with their mug-clanking choreography featured in "Gaston", a nod of homage to the original Broadway staging of the show. Featured Dancers include the entire Napkin Kickline (Cecelia DeBaugh Lucy DeBaugh, Olive Deville, Deanna Dovel, Corinne Ertel, Donna Feher-Hesen, Emma Fronheiser, Julia Hamilton, Allison Layman, Lori Maccia, Nicole Monroe, Emily Pulling, Haley Zawitoski) who perform all sorts of energetic moves all throughout the big-bang showstopper "Be Our Guest" and Emilio Bayarena, Emily Signor, and Sophie True, as the Corkscrew, Spatula, and Whisk, respectively, bouncing, bobbing, and beaming their way through the number.
The orchestral sounds arising from the pit sounds convincingly professional under the conduction of Andrew Zile. With practically perfect rhythm, tempo, pitch, and volume control, Zile guides this orchestra through some of Alan Menken's most beautiful music, doing so in a manner that augments to perfection the performances happening on the stage. Vocal Director Tom Zepp gets the nearly enormous cast harmonizing, vocalizing, and singing as one clear, enthusiastic, and jubilant ensemble, giving them each a chance to showcase their skills. Vocally sound, the soloists and principals are glorious all across the board, making this production the must-see version of Beauty and the Beast if ever there was one.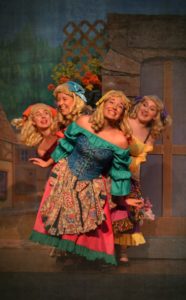 Every detail from the Silly Girls (Lily Ertel, Emily Johnston, Sophia Rampolla, Jenny Yarmis) and their identical bouncing blonde curly wigs and big floppy hair bows to the claw-ripped portrait in the West Wing is appropriately attended to by Homero Bayarena. His casting choices are exceptional and beyond well-suited for the show. The basic theatrical tricks he employs to carry off a great deal of magic are astonishing not only because of their effectiveness but because of their simplicity. Using center-split face paint on the Beggar Woman/Enchantress (Maia DeBaugh) while in profile, so that a simple twirl of her body instantly transforms hideous hag to radiant beauty, is clever beyond compare. So too is the use of fog to cover the transition from Beast to Prince at the show's end (including a lift-hook and spin in the air!) There are far too many wondrous things to print about every detail painstakingly etched into this production, the simplest way to describe it is to say go and see it.
Emilio Bayarena, who is a feature enchanted object dancer, triples up at Prince Adam— whose vocal duet with Belle in the finale is sublime— but more importantly as the grotesque Monsieur D'Arque. With ghastly and ghoulish makeup that gives him an almost undead appearance, Bayarena showcases his versatility in this role, gripping the grittiness of the character for the trio performance during "Maison des Lunes." This number, featuring the foolish LeFou (Mark Quackenbush) with Brooklyn accent and well-timed slapstick, and the odiously boorish Gaston (Casey Gomes) is a chilling number that puts a hint of darker villainy into the otherwise polite and pleasant Disney musical.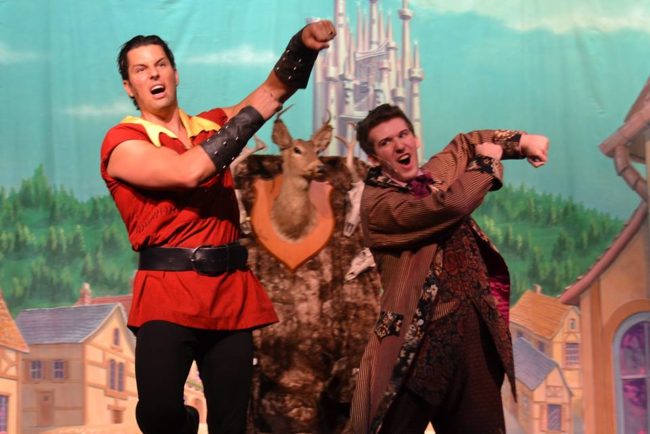 Gomes, playing the hulking, bulking brute Gaston— with muscles so massive you can't help but swoon— is perfectly pigheaded, obnoxious, narcissistically invested, and ultimately the epitome of what Gaston is meant to be, tromping about making advances on Belle. Gomes plays hardball with the audience, winking, flexing, and even seeking approval when he pops a bicep— almost like a character encounter inside Disney World— really giving the audience a taste of his narcissistic persuasion. With a robust and bold voice, "Me" is a heady solo that showcases every vile trait the character has to offer. Seriously villainous, Gomes lays into "The Mob Song" with the same rich and booming vocal quality as previously mentioned, though with far darker intent, truly vilifying his character portrayal.
Enchantment aplenty is running rampant through the castle! With the ever-trilling, shrilling diva Madame de la Grande Bouche (Colleen Esposito), who manages to work in a nod to Sondheim in her perpetual singsong vocalizations, and the extremely cheeky, bordering on raunchy Babette (Lori True) there's all sorts of magical entertainment to enjoy once the audience takes the trek through the woods to the castle. And everyone's favorite talking teacup, Chip (at this performance Ian Jones), has a spectacular appearance as literally just a face in a teacup! And let's not forget the maternal Mrs. Potts (Mary Margaret McClurg), who is simply the sweetest teapot you'll ever see. With a knack for mimicking the cadence Angela Lansbury attributed to the film character in 1991, McClurg puts that heavy English serving class accent over everything she says. But when she sings "Beauty and the Beast" the room slows to a sweet spin, fondly reminiscing the first time Belle and The Beast shared that dance to that tune as old as time.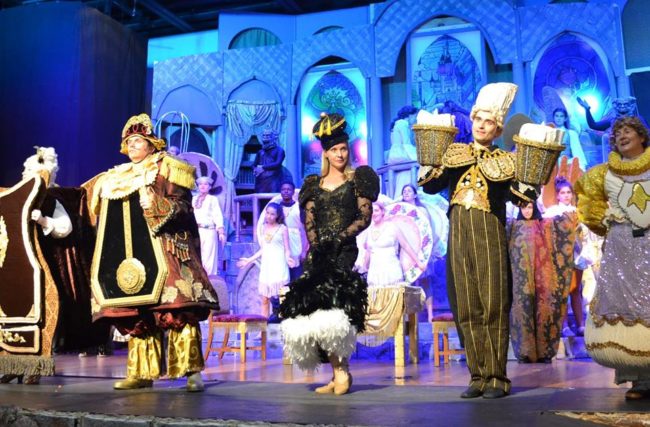 Comic leaders Lumiere (Henry Cyr) and Cogsworth (Cameron Casey) head up the enchanted objects brigade with Cyr being the more outrageous of the two and Casey being the high-strung, brutally antagonized, and tightly wound force of balance. Casey's characterization of Cogsworth is flawless. The barking grumbles, the fusty hollering, the way he waddles from side to side in the enormous pendulous costume, all of these nuances make him perfection incarnate. There's even a delightful moment in the middle of the never-ending dance break in "Be Our Guest" where the stodgy old timepiece escorts Belle across the stage and gives her a dainty twirl, but only after double checking to be sure that no one sees him do it! His accent is flawless and his singing voice fantastic. Cameron Casey is everything you could ever hope or want a Cogsworth to be. Firing up his candlesticks, Henry Cyr leads the castle and the ensemble through "Be Our Guest" with his cunning charm, flaming personality and outrageous accent. The way these two square off, particularly when Cyr's character is misbehaving, makes for some delightful comic inclusion for the production.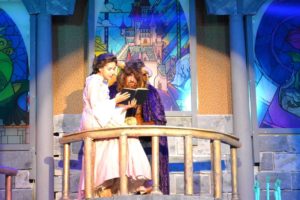 Molded with heart and soul, despite his monstrous exterior, The Beast (Tom Zepp) gives a stellar performance in the titular role of the show. His growling rumble of a speaking voice is well suited to the hideous creature that is on display for the majority of the performance. Well in Zepp's wheelhouse, numbers like "If I Can't Love Her" and "If I Can't Love Her (Reprise)" are passionately put forth with deep resplendence and a heartfelt connection to the lyrics. Watching Zepp transform the character from surly, tempestuous, and immaturely obdurate to this tender, compassionate, and astonishing creation is remarkable. When he sings his verses of "Something There" opposite of Belle, there is truly magic sparking all through the air.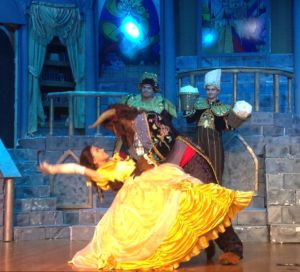 So much more than the provincial town girl could ever hope to be, Ilyssa Rubin is Belle incarnate. Looking practically identical to the animated film version, a felicitous coincidence in a case such as this— for little children will readily see her exactly as Belle should be seen— Rubin still manages to make Belle her own creation and does so with her herculean emotional tether to the words she sings. Flawless of voice, with unfathomably deep passion and indescribable emotion, Rubin gives new meaning to the song "Is This Home?" as she determinedly cries her way through it. "No Matter What"— a touching duet performed with Maurice (Joel Signor, who has the perfectly affected mincing shuffle and sense of his comedic character)— is a small sample of her earnest existence in the role of Belle. The astonishing change of heart that Belle describes in the number, "A Change in Me" ripples over Rubin's face just as she speaks the introduction to the song and then is reflected in waves through her voice as she sings it. With stunning vocal clarity, delightful expressions— of face, voice, and body— Ilyssa Rubin is truly the beauty, truly Belle, and truly wonderful in Glyndon Area Player's Beauty and the Beast.
What are you waiting for? Mademoiselles— and monsieurs— it is with deepest pride and greatest pleasure that Glyndon Area Players proudly presents Disney's Beauty and The Beast so don't miss your chance to be their guest! You'll regret it! And in France you wish to have no regrets! Be sure to catch this stunning summer production and their 20th anniversary celebration before it comes to a happily ever after conclusion!
Running Time: 3 hours with one intermission
Beauty and The Beast plays through August 13, 2017 at the Glyndon Area Players in the Sacred Heart School Auditorium— 63 Sacred Heart Lane in Glyndon, MD. Tickets are available at the door or in advance online.