Is this the place?
Let me check. The map says Baltimore Theatre Project and the ticket says Happenstance Theater— this is the place! The place where imaginative engagement meets clowning around, there place where BrouHaHa happens! A fluid convergence of bodily poetry and auditory movement, this episodic clownesque escapade devised by the ensemble is making its Baltimore debut. Inspired by Samuel Beckett, and a treasury of footage from inspiring films like La Strada and The Seventh Seal as well as Edwardian works and the imagery of refugees escaping on foot, this cyclical exploration of the mortality and fragility of human existence is both humorous and humbling. A remarkably insightful adventure into the end of the world comes to the stage for you to ponder and enjoy. Shall we go?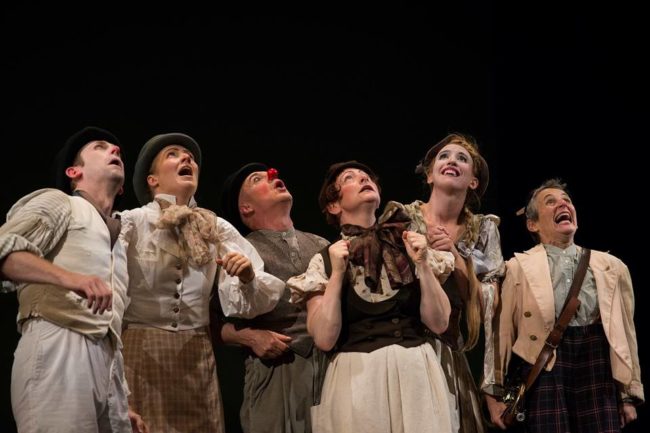 Relying solely on the black box space, the orchestrations and compositions of company member Karen Hansen, and the Lighting Design of Kevin Boyce, six movement-based and mime-informed ensemble performers (Hansen included) craft a series of chimerical moments that ebb and flow from one to the next all revolving around the end of the world as it is known. Boyce takes care to use a minimalist approach in his lighting design, honing in on specific emotional connections or moments of solo expression that fall outside the group to draw the audience's attention into the ephemeral minutia of existing as clown refugees who may or may not be attempting to outrun the end of time.
Hansen's musical compositions and orchestrations are a signature stamp of a Happenstance Theater production. And while she does engage with a squeezebox and one of her numerous horns, it's a surprising delight to see her actively in play as a character with the others. "Big Wanda" is simple, both minded and mannered, but it's her tendency of "touched" that keeps the audience amused in the grander scheme of things. Consistently committed to the character's quirks, there are moments when watching Hansen is all one wants to do— particularly when it comes to the foot race.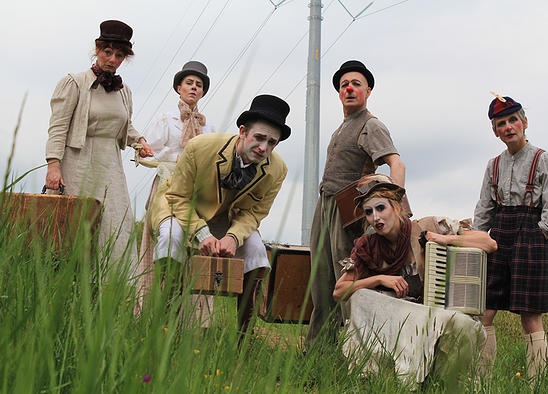 Cloaked not in black but in sartorial selections that somehow outsteps time itself, Company Co-Founder Sabrina Mandell has procured the show's couture under the label of Armageddon. Edwardian in their founding style but distressed with earth tones, and hints of temporal transposition, Mandell's costume work fits each of the clowning characters superbly. The rigid high-waist skirt and button down frock is suited for the haughtily aloof ring leader, Edith, of the ragtag band of clowns. The shiny satin corseted gown is the perfect selection for the eccentric but lovely Pandora. There is something uniquely clownish about the costumes as well, a salty and earthly nature that lends itself to the way they fit the personas constructed within the show.
An earnest hallmark of any Happenstance Theater production is the ability of the ensemble to create with their imaginations wondrous things— henceforth referred to as invisible incarnations— and not only convince themselves that they are seeing and experiencing these invisible incarnations, but do a stupendous job of selling the audience on the notion of suspending our disbelief to see and experience them as well. Butterflies take flight, skulls come unscrewed, and drinks are served all through the gestures and motions and sounds of these astonishingly engaging performers.
Alex Vernon does a great deal of aural landscaping throughout the performance. Providing dozens upon dozens of mouth-made sound effects throughout the show, Vernon's lively soundscape invites the players and the audience into a world of realistic imagination. Synchronized with flawless mimed motion and human body animation, Vernon runs a regular gamut when it comes to versatility and ability in this arena. Engaging on multiple levels with the physicality of his own body as well as the spatial movement and relationships of the ensemble, Vernon delivers one sixth of the flawless fluidity of motion that is ingrained into a Happenstance show.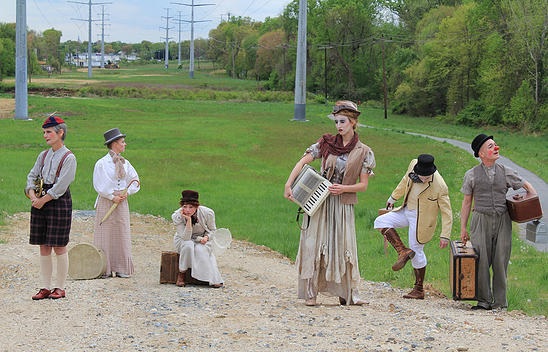 Gwen Grastorf takes up the role of the clown troupe's frigid leader, Edith. With eyebrows that do a great deal of furious emoting, particularly when it comes to reigning in or addressing the more flighty and lofty of her charges, Grastorf commands attention through her sheer presence on the stage. Lending her sweeping operatic sound to the production, Sarah Olmsted Thomas plays the eccentric Pandora and really allows her physicality to be influenced by her wailed aria snippets. With vivid facial expressions that rival the most animated of creatures, Thomas delves into the emotional psyche of her character bringing waves of pathos forward to crash outward from her face, through her limbs, and rush over the audience when engaging directly.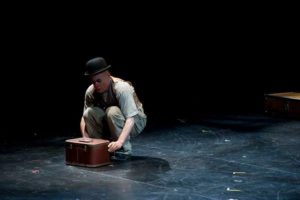 Masters of mime and amusing antics Sabrina Mandell and Mark Jaster take to their sport with panache in this performance. Mandell as the bubbly and effervescent Rose, delivers a sprightly energy which is brighter than the most luminescent star and as infectious as a good belly laugh. Bouncing about the stage and flitting into the house to engage on a direct and intimate level with theatergoers, Mandell welcomes the worlds of observer and participant to collide in a flurry of fantasy and fun. Jaster, who delivers one mind-blowing puppet-body play in a very early scene as Ralph, uses his full body from head to foot and every part in-between to express what his words— of which he has a great many in this production— cannot say.
A marvelous exploration of physicality that mesmerizes the mind when it comes to pondering the end of existence, BrouHaHa is a terrific treat for fans of Happenstance Theater and those who stumble into the theatre by happenstance.
Shall we go?
Running Time: Approximately 65 minutes with no intermission
BrouHaHa plays through May 22, 2016 with Happenstance Theater at The Baltimore Theatre Project— 45 W. Preston Street in Baltimore, MD. For tickets call the box office at (410) 752-8558 or purchase them online.