Ladies and gentlemen, may I have your attention paah-leeeease? Are your bones all aquiver and tingling as well with the prospect of seeing some Sondheim done well? Yes, they are, I can tell! Well, ladies and gentleman, that sensational musical show, with a cast full of talent and musical force, is here in Columbia nat'rally of course, well it's ready to go, and trust me I know. Ladies and gentleman, you can't imagine the rapture and rage on the Red Branch Theatre Company Stage! You'll do more than just attend the tale of Sweeney Todd: The Demon Barber of Fleet Street at Red Branch this spring as they bring an effectively immersive atmospheric extension dripping out into the lobby corridor of the Drama Learning Center with this reimagined and highly gritty production Directed by Walter Ware III.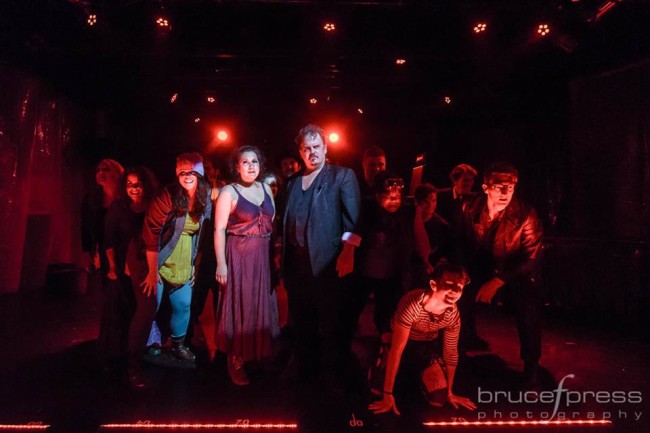 The production's overall aesthetic is a mixed bag when it comes to success. For as impressive as Scenic Designer Chester Stacy's overall construct is, it bristles like sandpaper against steel wool when juxtaposed against Costume Designer Alison Samantha's Johnson's approach to the couture. Throw in the Lighting Design of Lynn Joslin, which is equal parts highly successful and curiously confusing, and there's a jumble of layers happening that gel exceptionally well in some places and feel oddly out of sync in others. Stacy's vision of the modern "east end" London delivers a filthy industrial verve, almost as if the modern urban meat packing district has set up shop on the boards of the Red Branch stage. Where Stacy's work is most successful is in its fusion of the threshold between the theatre and the audience.
Johnson's costumes leave much to be desired in their overall appearance. Though modern and very street savvy, they feel haphazard and accidental, a bit like a trunk of old rags was unloaded upon the cast. This would seemingly fit the bill for the overall reconceptualization of the production, only it feels disconnected particularly for the simplicity of Lovett and Antony's outfits. Johnson does, however, create a striking symbolic piece of "costumery" for every member of the performing cast— a signature Sweeney tattoo that is hidden in a different location on each of the performers. This brings a sense of unity to the cast, as if they've all been branded by the horrors that await inside the tale, and the symbol appears almost like a hidden Easter egg throughout the set several times.
Joslin's Lighting is sublime in certain places but off-kilter in others. Her use of under-lighting, particularly on the ensemble for various instances of "The Ballad of Sweeney Todd" is some of the most intense and well-received mood lighting featured in the production. Joslin sets to using green in places, which feels as if it has slipped into the mix of red and dark lights unnoticed, and this is somewhat jarring from the otherwise smooth palette of luminescent blood hues that appear frequently throughout the performance. Music Director Dustin Merrell, who doubles as the show's Sound Designer, brings the screeching shrill sounds that are expected in this twisted and gory tale to life, and matches them accordingly and often quite purposefully against Joslin's lighting.
Properties Master Kat Fleshman gives the audience the blood they're calling for when it comes to Sweeney's razor. Executed with just the right amount of gore, both the razor and his fully-functioning dismissive chair (designed by Chester Stacy) are brilliant masterpieces that suit the production perfectly. Fleshman takes a great deal of pride in nuancing other little details in the show's properties work; a closer look will reveal an all Italian-pride handled razor for Pirelli. This little delight and others like it give the production an extra zest of attention.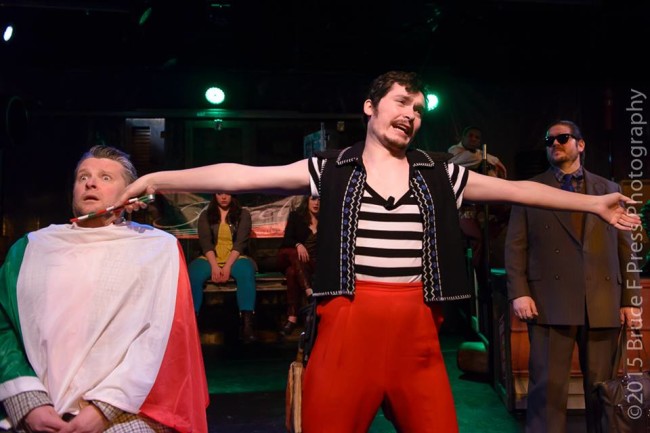 Director Walter Ware III's reconceptualized vision has a great deal of potential and does really drive home a newly envisioned version of Sondheim's bloodiest musical in a variety of ways. Because Scenic Designer Chester Stacy does such an exceptional job of infusing the house and lobby with the show's aesthetic, the random milling about of the ensemble through the house and up on the stage just prior to the show starting feels extremely superfluous and actually disconnects the audience from what's about to happen rather than include them. Ware's decision to attempt various British accents throughout the ensemble and principal characters is also a misstep to his vision as many of the performers do not have a strong enough handle on their delivery and articulation and this ends up pulling the audience's focus from the storytelling element of the show.
Where Ware's vision does succeed, and with remarkable and fascinating clarity, is in the grittier edges and highly sexualized energy of the production. Going so far as to source the original lyrics (with special permission from Sondheim) for the more graphic phrases that appear in various instances of "The Ballad of Sweeney Todd" adds layers of visceral filth to the performance that supports his concept. Pushing the heightened sexuality of characters like The Beggar Woman as well as Mrs. Lovett are strong choices that really unearth the character's baser natures. This can also be said of the way "Joanna/Mea Culpa" is staged and delivered with Judge Turpin's character, as well as the implications received between Anthony and Joanna during "Kiss Me" parts one and two. These more ruthless and pernicious angles bleed a whole new vein of darkness into the production that are both exhilarating and refreshing.
Fully reverberating these gnarly elements in their group numbers, the ensemble of Sweeney Todd brings forth powerful renditions of every incarnation of "The Ballad of Sweeney Todd" as well as "Pirelli's Miracle Elixir" and "God, That's Good!" Their facial expressions as a mass encompasses the nature of an unruly mob, revolting up from the filthy sewers of the London underground and this further carries the overall emotional pulse that Ware has intended for the production.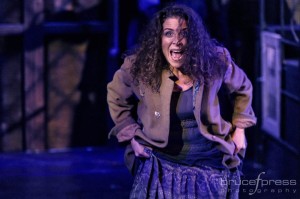 Sexual deviance and madness go hand in hand as far as the Beggar Woman (Santina Maiolatesi) are concerned. Delivering the perfect balance of pitiful woman with wandering wits and a fetidly foul street strumpet, Maiolatesi digs her heels into the grody nature of the character and willfully lashes out the character's insanity and frustrations every time she appears on the stage. With a floating operatic voice that starts her harkening cry of alms in "No Place Like London," Maiolatesi's upper register is divinely haunting for these moments as well as her solo features in "Searching" wherein her full cracked madness erupts onto the scene with true tragedy.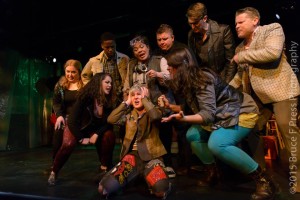 Providing a radiant ball of bubbly bouncing energy, Brian Patrick McNally bursts onto the scene as Tobias Ragg with a contagious enthusiasm that infects each of his big solo numbers. McNally entices the crowd, both on-stage and off, for "Pirelli's Miracle Elixir" and "God, That's Good!" but his true moment to shine comes during his blind pledge of allegiance to Mrs. Lovett during "Nothing's Going to Harm You." With delightful vocals and a stalwart commitment to protecting Lovett, McNally reconciles the character to be a child in earnest. This makes his transformation by the final scene a brutal one to witness, but a remarkable one just the same.
Jesse D. Saywell, who delivers the two most impressive accents in the show, takes the cake as a scene-stealing showboat in the role of Adolfo Pirelli. Gusto, vim, and vigor are all but shooting out of his ears when he bombards his way into the street scene for his entrance. "The Contest" gives Saywell a chance to display his stunning vocal prowess as well as his campy character work, which is later turned on its ear when arriving at the Tonsorial parlor. Saywell delivers one of the most striking sustained belts at the end of his segments featured in "The Contest" and will not soon be forgotten in this role.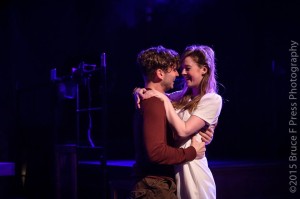 The ingénues, Anthony (Patrick Burr) and Joanna (Laura Whittenberger) have their work cut out for them as they serve as the only glimmer of hope amid the dark and twisting plotline of the tale. Burr is a solid performer, easily connecting Antony's emotional turmoil to the lyrics he's singing, though at times his voice is airy and sounds under-supported. "Ah, Miss" is the perfect example of Burr's ability to fully articulate the emotional conundrum the character is experiencing. The chemistry between Burr and Whittenberger feels authentic, particularly during "Kiss Me" parts 1 and 2. Whittenberger's classical voice is both dulcet and delectable. "Green Finch & Linnet Bird" is carried with her rich soprano sound and contains notes of melancholy as well as jubilation. And her frightened madness that arrives during the "Fogg's Asylum/City on Fire" sequence is indeed startling.
The reprehensible Judge Turpin (Kenneth Derby) delivers chilling doses of evil consistently throughout the production. Derby's maliciously self-gratifying scene featured during "Joanna/Mea Culpa" is hauntingly disturbing. Derby toes the line of corruption and villainy without creating a caricature of the judge. With his Beadle (Dean Davis) in tow, Derby often looks like a 90's business mafia-man, which jives in a strange but not unpleasant fashion with the rest of the production's concept. When Derby's voice blends with that of Sweeney Todd (Russell Sunday) for "Pretty Women," they echo each other's sentiment of merriment divinely.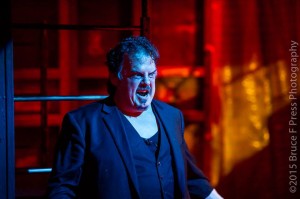 Russell Sunday takes to the title role of the show with a great many rigorous moments. Well suited in his vocal wheelhouse, the character's rich baritone-base line songs are delivered mostly in full voice and well-received. Though Sunday's emotional connection to the character at times feels distant, somewhat aloof even, this could be an intentional choice of Ware's that just needs further cementing into place. "Epiphany" is delivered with striking emotional force and serves up the appropriately harrowing fear that accompanies the intent and lyrics of the song.
Sunday pairs off with Mrs. Lovett (Janine Sunday) to create an insane series of darkly comic moments throughout the performance. Sunday and Sunday go to town for "A Little Priest," the number that is hands down the best performed in the show. Their cheeky wit, flirtatious banter, snarky attitudes, and overall willing playfulness in this song are maddeningly delightful as they overwork each and every clever pun Sondheim has penned into the number. The carefully constructed sexual charges between them are delivered flawlessly and have exacting execution, particularly at the end of "A Little Priest."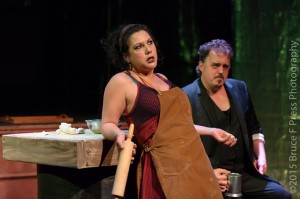 Janine Sunday, though initially appearing too young for the role of the elder matron, takes the part and makes it all her own in a most rewarding fashion. Fully embracing the campy melodramatic humorous nature of the down-on-her-luck pie shop owner, both "Worst Pies in London" and "By the Sea" become hysterical numbers that are imbued with her sensational sense of physical comedy. "By the Sea" becomes exponentially funnier because of the way Russell Sunday delivers his facial responses to her, and the whole song just goes off the rails of the deep end when it comes to comedy. Lady Sunday is versatile emotionally, has a strong handle on the vocal range of the character, and ultimately creates a Mrs. Lovett that is thoroughly enjoyable that the audience can love to hate and hate to love.
The performances are well worth investigating in this production and the concept is unusually unique even if it doesn't work in all of its executions. Definitely attend the tale of Sweeney Todd at Red Branch theatre as it will be unlike any performance of Sweeney Todd that has yet to be seen.
Running Time: Approximately 3 hours with one intermission
Sweeney Todd: The Demon Barber of Fleet Street plays through April 30, 2016 at Red Branch Theatre Company at the Drama Learning Center— 9130 Red Branch Road in Columbia, MD. For tickets call the box office at (410) 997-9352 or purchase them online.