Never a dull moment 'round Helen Wheeler's house! And that's the dag'gum truth, gosh darnit! Making it's east coast regional premiere, Helen on Wheels by Cricket Daniel has sprung up at Best Medicine Rep Theatre under the direction of Kelsey Yudice and it's a doozy. A real comic gem about the aging and grieving process, this delightfully light-hearted comedic romp gives audiences a glimpse into the life of Helen Wheeler, for all intents and purposes the first lady of Crockett in Wheeler County Oklahoma. She also happens to be nearly 75 years of age, drinking whiskey like a cowboy and totin' her rifle like she founded the NRA. Hilarity and calamity ensues over the course of a fast-paced evening. With a proper gaggle of characters, Helen on Wheels is a rib-tickling epic that will cause you to leave the theatre with a lightened heart.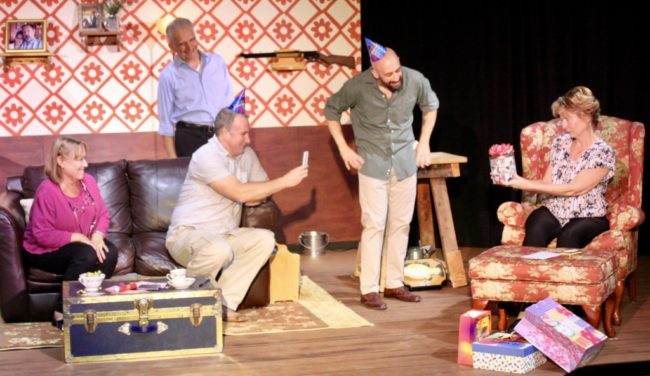 Quaint and charming are generally qualifying descriptors that politely say "you tried" or "good effort." But in the case of the set appearing on Best Medicine Rep's stage for Helen on Wheels, Set Designer Alison Mark has crafted a beautifully quaint and charming set that suits Helen Wheeler to a tee. It's a proper old house, with the faux wall paneling and tacky, dated wallpaper (complete with the most important set dressing for Helen Wheeler, a gun rack!) and the overall ambiance of the house just screams Helen. This of course isn't really apparent until you meet Helen, which thankfully is a few seconds into the play's beginning. Mark has carefully spaced the "porch" just adjacent to the main play space with simple chairs, creating the illusion of this portion of the house's extension.
Lighting and Sound Designer John Morogiello brings forth some fascinating, professional caliber creations for the show. The swirling red and blue lights for the officer's wagon whenever it rolls up or the beeping microwave, ringing telephone, and rifle-shot ducks, all of these components add an air of authenticity to the performance, which really transports the audience into this fictional tiny town of Crockett right alongside all the silly shenanigans of Helen Wheeler and company. Costume Designer Kelsey Yudice, who is also the show's rapid-paced director, gives that bonafide country-bumpkin backwoods couture feeling to each of the characters, excepting Nelson— the hotshot lawyer son from up in Tulsa— and Elmer— the mysterious gentleman caller who still possesses the decorum of southern gentility in his sartorial selection. Yudice outdoes herself when it comes to the dress, the one Zona picks out for poor Helen, a good and proper thrift-store find! Yudice's directorial skills are sharp; the play moves quickly without feeling rushed, and the pauses fall naturally. Even the scenic interludes are populated with hillbilly music (compliments of John Morogiello's sound designer) to engage the audience in the show's locale.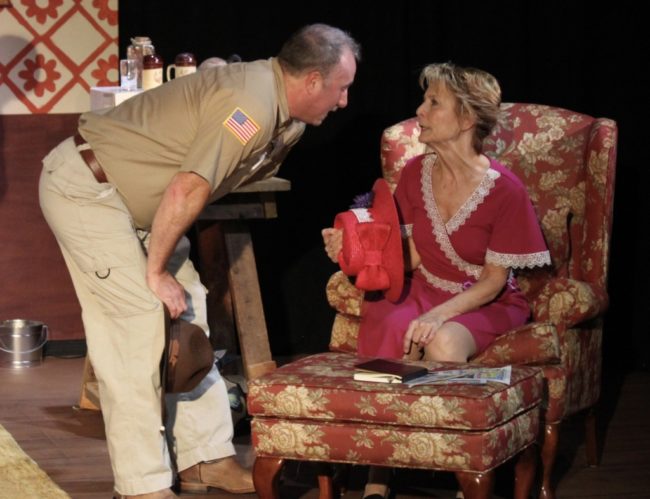 It's hard to imagine anyone else being present on the stage with Liz Weber taking up all the oxygen and atmosphere as the radiant, rowdy and riotous Helen Wheeler. There is an indefatigable wiliness to her ornery spirit that just spits, jumps, and shoots through every moment Weber is on stage. Weber is spunk and gumption incarnate when it comes to playing Helen, her only faulted flaw in this production being one not truly her own. With the intimacy of the venue, Weber doesn't read anywhere near age 75, but that's a fault that every audience member will readily forgive when she's so bombastic and lively in every engaging moment that she's on the stage. With a strong command of that Oklahoma accent, Weber is feisty and fiery and delivers an unrelenting torrent of funny; all of her comedy comes grounded with a natural ease, letting the comic nature of the script and the way Cricket Daniel has penned the character of Helen to shine through resplendently.
When buddied up with her best friend Zona (Carol Randolph), its no wonder the pair get labeled as a proper Thelma & Louise. There is something ineffably beautiful about their friendship; Randolph finds her own footing against the dominating personality of Weber's Helen and even manages to have a few endearing moments with both her own son Seth (Terence Heffernan) and Helen's son Nelson (Nicholas Allen.) Heffernan takes up the role of the bumpkin backwoods sheriff and does a fine job of bungling and bumbling through his official police duties. He's a comic plot device that aids in the humor of the show; Heffernan lives in that caricature with practiced ease. Allen, as Helen's hot-shot lawyer son, finds his own unique ways of engaging with Helen and the others when he rolls into Crocket. There are some facial expressions and character choices that really ring true for Allen's performance, making him noteworthy in a play where the Helen character dominates every scene— even the one's she not in!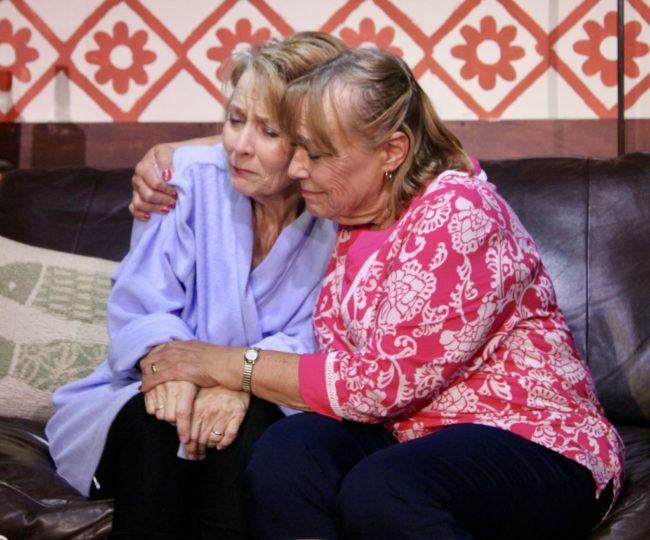 In a play with just five characters, though really one larger than life character and four tertiary moons that orbit her planet, someone like Elmer (Bill Hurlbut) might easily be forgotten if it wasn't for the way that Cricket Daniel has woven him into the fabric of the narrative. Hurlbut, whose character doesn't even arrive until the end of the first act, is filled with that sweet gentility that makes up a fine, southern gentleman. He has a very touching and sincere moment with Helen on the park bench where he recounts a story from his own past that really tugs at the heartstrings. Hurlbut delivers this anecdote so simply but so purely that you can't help but fall just a little in love with him. Hurlbut and Weber's Helen share quite the series of interactions, many of which are rooted in Weber's quick comic timing and heightened reactions to various stimuli in the scene.
Ultimately a feel-good and funny feature, especially every time Helen goes and gets that gun (props to Properties Mistress Lynn Sharp Spears for finding that Red Ryder carbine-action BB gun to give us that 'real deal' look!), Helen on Wheels is just the play you need to boost your mood as we head into the darker months of the year.
Running Time: Approximately 1 hour and 35 minutes with one intermission
Helen on Wheels plays through October 6, 2019 with Best Medicine Rep Theatre in their residency of the Lakeforest Mall (green entrance near Ruby Tuesday's)— 701 Russell Avenue in Gaithersburg, MD. Tickets are available for purchase at the door or in advance online.