While there's nothing that's formal and nothing that's normal, there is something for everyone at Silhouette Stages—a true comedy tonight! Old situations! New complications! Nothing portentous or polite! There may be tragedy tomorrow but, thankfully, there is A Funny Thing Happened on the Way to the Forum tonight! Smartly directed by Conni Ross, with superb Musical Direction by William Georg, and entertaining Choreography by Tina DeSimone and her assistant Maddie Bohrer, Sondheim's classical farce will leave you chuckling long after you leave the theatre. The plot displays many standard elements of farce, including puns, disguises, mistaken identities, and just missed encounters between characters. In your two-ish hours in Rome, you will encounter the servants hysterically running amuck, the lustful, neglected master in the neighbor's bathtub, the sexy courtesans being bustled in and out of the houses, and the beautiful virgin on the roof!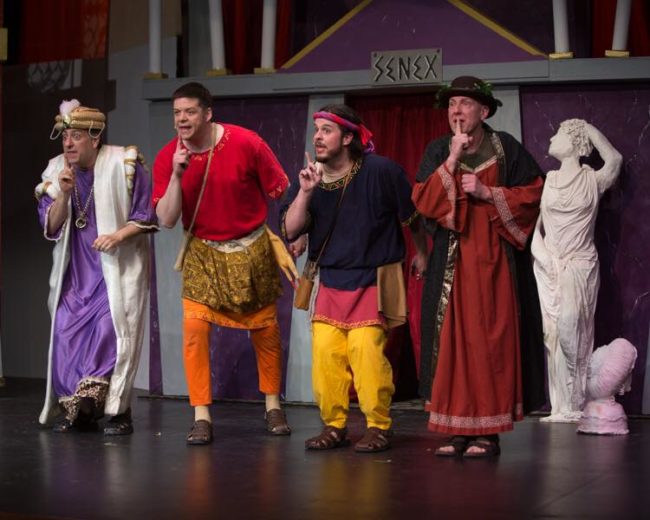 Silhouette Stages rightfully prides itself on its shows' design and technical elements and Forum does not disappoint in these aspects. Lighting Designer Mark Scanga deserves kudos for keeping the lighting vibrant but simple. A special nod to Scanga for the clever use of the red light outside of the house of Marcus Lycus that was indicative of the debauchery that occurred within its walls. Set Designer Alex Porter and Set Decorators Jessie Krupkin and Bill Pond also create a world of construction beauty in their three houses, each one looking different from the others so as to set them, and the personalities of the characters that live within them, apart. Keep an eye out for the multi-purpose frame on display at the house of Marcus Lycus, which leads to one of the sweetest moments in the show. Additional congratulations should be awarded to Stage Manager Donna Hawkes and her assistant Becca Hanauer for keeping up with the fast-paced nature of the show. What a crew!
Costume Designer Linda Swann should be applauded for the sophisticated, period-effective apparel on everyone featured in the production, but especially the Courtesans of the House of Marcus Lycus. Each courtesan's costume is original and indicative of the unique personality that goes along with her. Thankfully, Swann's costuming choices make the courtesan's dance routines, conceptualized by Choreographer Tina DeSimone and her assistant, Maddie Bohrer, much more effective when they're being performed. Additional praise should be given for the colorful costumes adorning the male actors and the voluminous red and amethyst toga-inspired dress featured on Domina (beautifully performed by Ande Kolp.) There can't be enough wonderful things said about the combination of work coming forth from DeSimone and Bohrer's dancing and Swann's costumes particularly in regards to the jingling, jangling Tintinabula (Christine Hurst), the dominant Gymnasia (So-Young Chun), the persuasive Panacea (Jackie Rebok), the gorgeous Geminae (Allie Press & Kelly Nguyen) and the vivacious Vibrata (Maggie Walker.)
In a show that relies on fast, precise action and pacing, the play rolls along nicely and the singing is strong and energetic, delivered with specific humorous intent. Director Conni Ross works through numbers like "Everybody Ought to Have a Maid" with tickled delight, empowering the four featured performers to show their amusement of the song and cheerful little dance routine.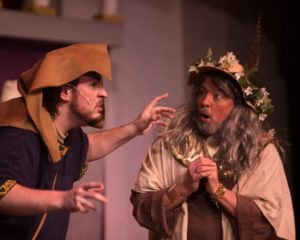 Scene-stealing Erronius (Todd Hochkeppel) deserves quite the nod for his dedicated performance. When he arrives for his laps around the hills, Hochkeppel's hysterical delivery allows him to run (or ski) away with the show in those moments. Ande Kolp, as the severe Domina, has similar moments when it comes to demanding the attention of the audience. Her voice is beautifully on display in "That Dirty Old Man" and her facial expressions are top-notch. The Proteans (Michael Cornell, Jacob Hale, Sean Miller, Bill Pond, Douglas Thomas, and Neal Townsend) carry a great deal of the show's comedy on their shoulders. With Cornell and Hale goofing off a good deal— especially as the falsetto-pitched eunuchs squeaking "into the house" whilst dilly-dallying about at the House of Marcus Lycus— and Miller, Pond, Thomas, and Townsend as soldiers absurdly marching in to introduce Miles Gloriosus, there isn't much this sextet of mischievous funnymen can't do.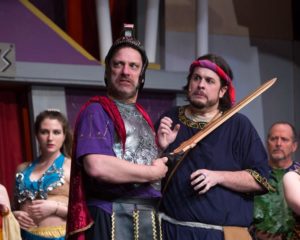 Speaking of, the boldly brash Miles Gloriosus (Rich Greenslit) adds to the hilarity of the production with his bawdy nature and aggressive entrance in search of his conquest. Jeff Dunne takes on the role of the Marcus Lycus and plays him as a kooky businessman as opposed to the sleaziness one might expect from a proprietor of women. Greenslit has some amusing facial expressions throughout his brief time onstage while Dunne's entire cowering in fear and bellowing "unclean" leaves the audience laughing riotously.
There's comedy to be had all around, especially when it comes to the ingénues, Philia (Rachel Sandler) and Hero (Tommy Malek.) Both have robust, rich voices and when they come together for their duet, "Lovely," their chemistry is simply enchanting. Malek also carries the duet "Impossible", a song shared with his father Senex (Don Patterson, who plays the deprived husband role wonderfully.) It's Malek's facial expressions, which are hysterically over the top, that match perfectly to the bubbleheaded blond nature with which Sandler plays Philia that makes the pair a match made on Olympus.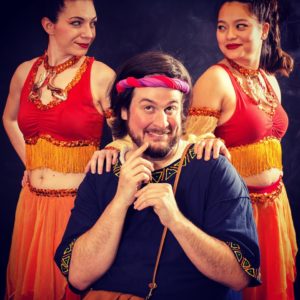 Every good story has a narrator and in this case, Pseudolus (Bob Gudauskas) takes on that role. Constantly scheming and working an angle, Gudauskas gives an original comic life to the well-known character and easily finds his footing when it comes to humorous delivery and pulling faces. Aided by the scene stealing comic calamity, Hysterium (Matt Scheer), there are laughs a plenty every time they end up on stage together. Scheer is an absolute delight in the uneasy, panicky role, taking both the humor and hysterics of the character to new heights. Watch closely for both "I'm Calm" and "Lovely (Reprise)" as they are some of his finest moments on stage.
There really is something for everyone— whether you're looking for a pretty little picture of a love story, an enthusiastic and silly comedy of errors, or even a virgin on the roof! Be sure to take the next chariot to Silhouette Stages and catch A Funny Thing Happened on the Way to the Forum!
Running Time: Approximately 2 hours and 20 minutes with one intermission
A Funny Thing Happened on the Way to the Forum plays through March 25, 2018 at Silhouette Stages in the Slayton House Theater of Wilde Lake Village Center— 10400 Cross Fox Lane in Columbia, MD. For tickets call the box office at (410) 637-5289 or purchase them online.