When you give something away, something better will come your way! That is the heartwarming true moral snuggled in-between zany characters and fantastical music in InterAct Story Theatre's latest production of One Gold Coin— Una Moneda De Oro. Written by company founder Lenore Blank Kelner, and recently adapted to be an immersive bilingual experience featuring dialogue and music in both English and Spanish, this classic story from the InterAct Story Theatre repertoire teaches young audiences and audiences young at heart the importance of giving and sharing, especially when situations don't necessarily lend themselves to the good natured will of putting the need of others over your own. Directed by Ali Oliver-Krueger with Musical Compilation and Arrangement by Cecelia Esquivel and Dani Cortaza, this touching and funny tale will have you singing 'the song of the coin' all through the show and for many days to come thereafter.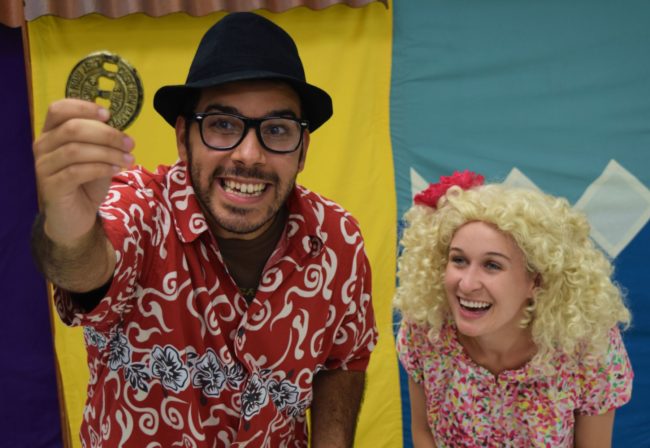 Though the zany whizzbangery that is often experienced at an InterAct Story Theatre production is scaled down to something a bit more basic for this performance, the interactive audience is still present as ever and even find themselves credited in the program as "YOU, the audience…The most important actors in the show!" Working to serve the company's mission of actively involving young audiences in the production in a way that is interactive, Director Ali Oliver-Krueger and her performance team of three achieve the high standard set by this statement and the result is a fantastical time for everyone in attendance. From pre-show Gold-Coin making activities to the chance to be a part of the plot by singing, gesturing, and other interactive moments, Oliver-Krueger ensures that everyone who sees the show gets the maximum InterAct Story experience from doing so.
There is something to be said for whizzbangery and special effects, but also for simplicity and the magic of the imagination, a core tenant of InterAct Story Theatre's performances. This invitation to engage with the imagination is featured throughout the performance, but is noted most particularly in the vibrant costumes (designed by Andrea Schewe) and the clever folding and equally vivaciously colored set pieces (designed by Brian Gillick.) Both of these production elements bring the reality of the Village of Regalo (the Spanish word for 'gift') in El Salvador to exiting life right before the audiences' eyes in Silver Spring.
With just three actors playing a whirlwind of characters the energy required to keep the audience engaged and entertained is unmeasurable, but each performer brings their A-game and enthusiastically presents the story of giving and sharing that is readily found in One Gold Coin— Una Moneda de Oro. Elicia Moran is the performer who only plays one role, Doña Teresa, but carries a great deal of the show's musical weight on her shoulders. Introducing the characters and the audience to the beautiful song of the coin (complete with sing-a-long gestures), Moran showcases her glorious singing voice and makes that important connection between audience and story that is the foundation of an InterAct Story show.
Elle Marie Sullivan is bubbly and bursting with excitement as Estelle Excellente, carrying that typical New York performer verve about her when playing in this skin. Doubling up as the subdued and sickly Vanessa, Sullivan showcases her versatility as a performer. It's her song and dance shenanigans with her performance partner Manfred Magnifico (played by Javier De Pilar, who plays every male role in the show include Théo, young Edgar, and Juan the Thief) that really gets the audience giggling. The musical and Broadway theatre references, which are geared slightly more toward the older members of the audience, come flying out of their interactions and keep the show amusing for everyone.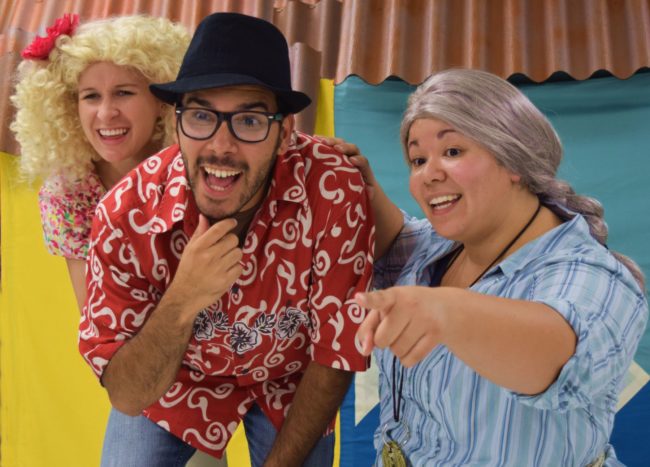 Javier De Pilar is an indefatigable burst of energetic brilliance when it comes to all the running around (and quite physically too) that he does during the performance. As the gritty and street-scary Juan the Thief, De Pilar brings something truly unsavory to this treacherous character. With wild performance versatility we get to see a very silly and marvelous series of antics from the Manny character, as well as a desperate and innocent set of characteristics which De Pilar imbues in young Edgar. Eager to play with his co-stars and with the audience, De Pilar is a sensational addition to the cast.
Don't miss your chance to learn a valuable lesson, enjoy a great afternoon of exciting and heartfelt theatre! Be sure to catch One Gold Coin— Una Moneda De Oro before it travels away to the next village!
Running Time: Approximately 50 minutes with no intermission
One Gold Coin— Una Moneda De Oro plays through September 18, 2016 at InterAct Story Theatre— currently in Theatre II of the Cultural Arts Center on the Montgomery College Campus located at 7995 Georgia Avenue in downtown Silver Spring, MD. Tickets are available for purchase at the door or in advance online.
To read the interview featuring Artistic Director Ali Oliver-Krueger, click here.