Truth is not simply there for the taking. Truth requires proof. And the proof is in the pudding, well…in the milk rather, at Venus Theatre this fall season. Closing out the epic 15th season entitled Feral 15: Feminist Fables— No Strings Attached, a world premiere production of Amy Bernstein's Raw brings sharp focus to the biting and unapologetic work achieved on the Venus stage throughout the season. Directed by company founder and Artistic Directed Deborah Randall, this new play sparks a radical conversation about point of view, ethics, and the overall construct of "good guys" versus "bad guys" when it comes to the simplest aspects of the law.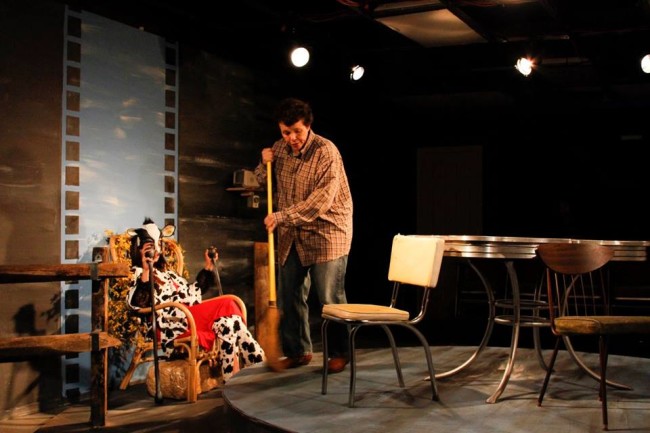 Though the timeframe of the production is listed as 'now' on Red Robin Farm, there is a quaint and rustic charm applied to the scenic aesthetic by Scenic Designer Elizabeth Jenkins McFadden. Preserving elements of time into her scenic display, and working carefully with Deborah Randall (serving as the show's Properties Master) to incorporate vintage props like a 1950's icebox and rusted hand-pumped water spout, McFadden achieves an antiquated look that has struggled through the decade to survive, much like the premise of the farm in the story. The faded yellow wallpaper, carefully painted onto the wall to appear layered serves as a warming contrast to the wood-grained floor painting, both of which are offset with the delicate blue sky paint to delineate scenes that occur outside. McFadden illustrates a rich tapestry of bucolic flavor across the stage, creating something akin to capturing a picture of royal life before time and technology blustered through it.
Because of the dual viewpoints focused in playwright Amy Bernstein's script, both Lighting Designer Amy Rhodes and Sound Designer Neil McFadden work exceptionally hard to execute the sharp and sometimes jagged shifts of reality in the performance. For fear of spoiling the carefully crafted intricacies of the show, it will only be stated that scenes are either 'active in-motion' during 'live-segments' of the documentary video, or they frozen and paused while the narrative figure addresses the audience. Rhodes and McFadden construct a flawless combination of magical sights and sounds to execute these "pause-and-play" moments in and out of existence. These shifts often happen quite quickly and the delivered timing behind these executions is virtually flawless.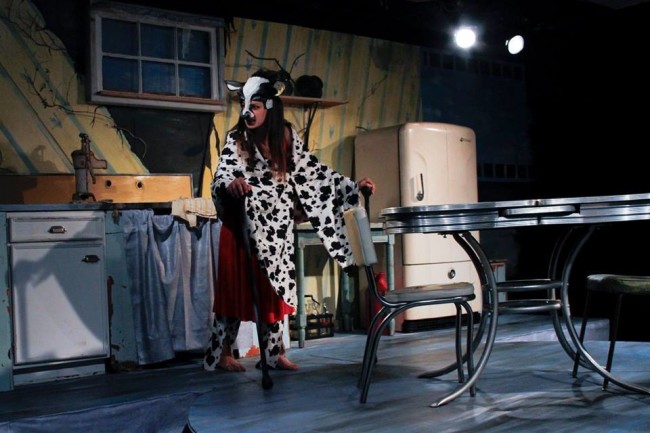 Playwright Amy Bernstein layers a great deal of topical discussion into her work that begs several questions on both the surface and deeper levels of her intellectual constructs. The issues that do float to the surface, much like cream from a freshly milked cow, seem obvious, albeit controversial. Bernstein tackles tough ethical issues— specifically those around the regulation and distribution of milk in the raw— but furthers the conversation of these issues through not only the ethical viewpoint, but with the lenses of economical, emotional, and gender-relatable questions. The play's only struggling point falls into the myopic focus of the character viewpoints. Because there are so many approaches to the themes of the show as a whole, with each character so specifically focused on their own vision, there are times when they all clash together and it becomes impossible to focus on everything.
Bernstein's work is exceptionally creative, however, in the narrative structure that she fabricates. It becomes obvious from the opening of the play that the main viewpoint comes from a furiously frustrated cow (whose facial mask is suited to perfection and designed by Tara Cariaso of Waxing Moon Masks), a Caroline, whose name is actually Wilimena. Given this premise, Bernstein immediately asks a great deal of her audience when it comes to suspending their disbelief, but she works in such a way that enables them to do so readily and without hesitation in order to fully enjoy this dark and warped incarnation of a raw and bitter truth.
Director Deborah Randall masterfully works this high-intensity emotionally-driven play into the intimate ping-pong staging of the space. Moments have clear distinguishable beats, characters explore their emotional heights without falling victim to contrived feelings or expressions that lack depth. Her blocking displays a refined sense of working the non-traditional space and the overall pacing of the shows with startling clarity considering Bernstein's jarring and slightly non-linear approach to the piece. Randall articulates heightened emotion through the use of pause and space, hearing volumes in unspoken moments where one character listens as the other speaks. Randall showcases her understanding of the play's functionality as well, making the slightly superfluous plot-advancing character of Chuck (Patrick Gorirossi) fit snugly into overall experience of the play without artifice.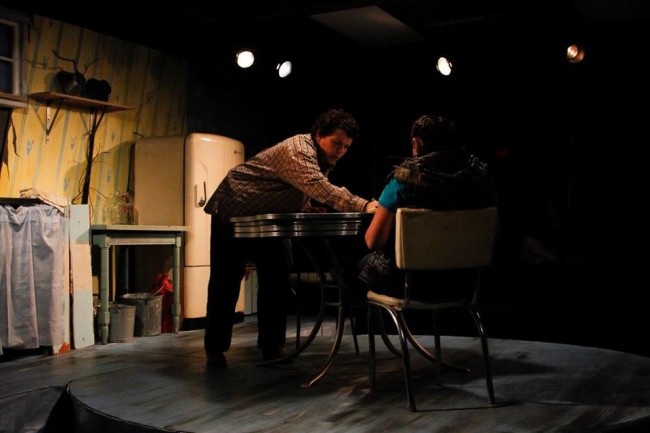 Encountering four ferociously distinct women in this show is no small task, and Randall appropriates each of their personalities with perfection in her casting. Taking on the role of Harriet, the interloping sister who has purposefully displaced herself from the farm and its plight, Jennifer Barry encapsulates the frigid attitude and stubborn refusal of the character's existence with rigorous vigor. The layer of struggling family dynamic which is exquisitely crafted into the play is shown most readily through Barry's portrayal of Harriet, especially with her casually stand-offish delivery of commentary when it comes to the rational and reasoning of the farm as a whole.
Allison Turkel delivers salt of the earth grit in her portrayal of Eliza— a woman who is both sister and mother, farmer and activist. These dueling personalities bound up inside the single character of Eliza make for a challenging role, which Turkel tackles early on displaying a sense of unbreakable strength in her determination. Juxtaposing this rugged and filthy exterior of her personality with a rumble of anger to support it against a truly touching and heartfelt monologue describing her first experience milking a Caroline, exposes the versatility and dynamic range of Turkel's performing abilities.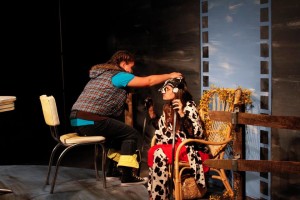 Becca Korn takes on the role of spunky and naïve Jamie. Full of radiant and vibrantly blind optimism, Korn treads the line of ignorantly-hopefully pre-teen adolescent with an enthusiastic energy that makes her character's situation utterly fascinating. The play itself is riddled with foreshadowing and foreboding moments, accentuated by harsh moments ripe with tension and Korn utilizes the character of Jamie to mollify some of those moments. Her scenes speaking with the Caroline (Katie Jefferies) are where the fairytale element of this tale come into play with tangible emotion. Korn embraces the restraints of her character's limited knowledge and experience and plays them whole-heartedly and to great effect.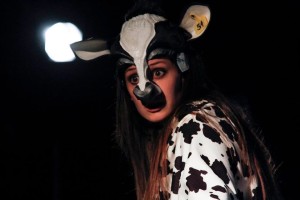 Jeffries, who takes on the role of the Caroline, is in stellar command of the character. Bernstein has written this sentient cow to mimic any rebellious leader bent on a cause be it righteous, vengeful, determined or otherwise. With blazing intensity that reads clear through her eyes, Jeffries embodies the emotional instabilities of this cow-character not only emotionally but physically. Walking upright with 'cow-stick' legs enables Jeffries to adapt the physicality of the majestic beast as well as possess the airs of a wizened leader. Unearthing a raw vein in among the character's flawed perspective, Jeffries exposes a tender sentimentality, albeit in a fleeting ephemeral glimpse, when it comes to the character of Jamie. Her rants are exquisite and powered not by the volume of her voice but by the fury and sheer intensity that fume through her words as she blasts them to the audience. A remarkable portrayal in such a complexly convoluted role, Jeffries finds the issues and drives them home, wielding a red hot poker in her core as she does.
A truly unique experience that begs dozens of questions to be discussed if not answered, Raw is edgy, evocative, and does not apologize for its darkness. Raw work, raw talent, a raw experience, Venus Theatre's world premiere production is one of the finer experiments finding its path on the stages of the Women's Voices Theater Festival.
Running Time: Approximately 95 minutes with no intermission
Raw runs through November 15, 2015 as a part of the Women's Voices Theater Festival at Venus Theatre— 21 C. Street in historic Laurel, MD. For tickets call the box office at (202) 236-4078 or purchase them online.