They are family! They got all their sisters— you'll see! That's right, they're back! All four original Wonderettes— Cindy Lou, Betty Jean, Missy, and Suzie— are back and dreaming on, this time to celebrate their favorite home-room teacher— Mrs. McPherson (watch out, audience!) and her retirement party after 39 years as a Springfield High Chipmunk! Tidewater Players knows how to put on a show when it comes to everyone's favorite foursome; their production of The Marvelous Wonderettes: Dream On is wholesome family fun that features four talented individuals breathing new life and dreams into many iconic tunes of the late 60's and late 70's! Directed and Choreographed by Dickie Mahoney with Musical Direction by Stephanie Carlock Cvach, this blast from the past, fun and funky jukebox style musical (the third or fourth in the timeline series of the Wonderettes musicals by Roger Bean) will give you some musical loving and warm the cockles of your heart right up this winter season!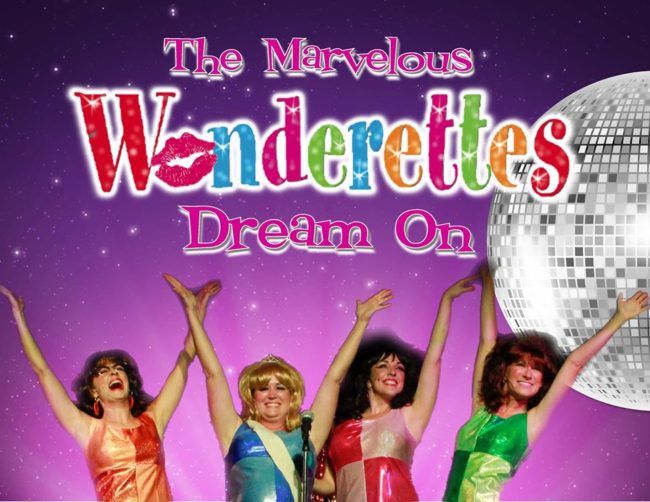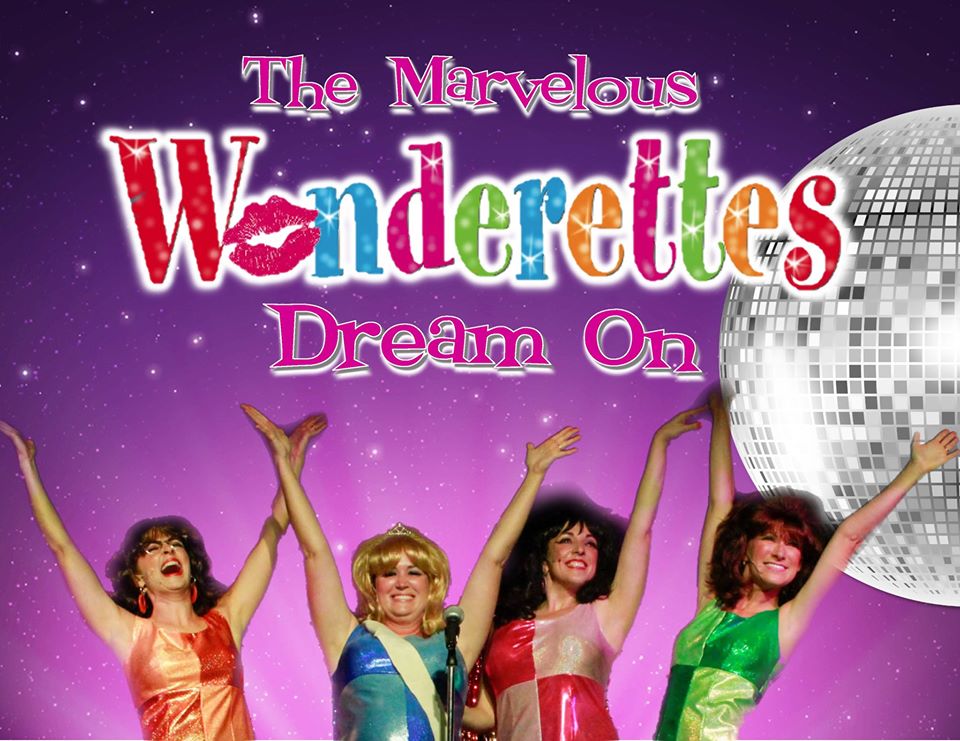 Wearing all the figurative design hats in the production, Set Designer, Costumer, Director, and Choreographer Dickie Mahoney really goes all out for this show. Following the standard format for a Wonderettes' musical, where there's a ten-year time jump after the intermission, Mahoney outfits both the stage and the girls with the flare and finesse of both 1968 and 1978. All set inside Springfield High School, where these "Marvelous Wonderettes" once played their high school prom and 10-year reunion, Mahoney gives the stage a groovy feel that is splotched with vibrant colors. The "mod" flower of the 60's cover the walls and the saturated tones of color soak through to the curtains. Glitter-mod dresses— each in the signature color of the girls (orange for Missy, pink for Cindy Lou, green for Betty Jean, and blue for Suzie)— with matching go-go boots and fashion accessories round out the 60's look in the first act. Mahoney slathers the stage in bead curtains (and Lighting Designer Chuck Bowden's disco colorations) and the girls in sequin jumpsuits for the 70's-coated second act. With matching feather boas to accompany their jumpsuits, everything about these sequin outfits— right down to the dripping color-matched earrings— screams "style of disco/funk." Mahoney is taking you on a magical mystery tour to funky town with his aesthetic and it's perfect for this production.
When he's not fiddling with fabric or stretching out set pieces, Mahoney focuses on the iconic dance styles of the 60's and 70's and pipes them into each routine. While the show opens and closes with a full quartet songs (and is book-ended at the end of Act I and the top of Act II in the same manner), most of the musical numbers are delivered as "solo features" where the other three Wonderettes perform backup harmonies and use their feet, gestures, and body language to display the show's choreographic flare. You see a lot of shuffle-step and box step moves featured in the first act of the show, while the second half features much more arm-rolling of the disco variety and a great many iconic 'disco dig' fingers. There is a balance and a simplicity to the choreography that Mahoney lays down; there is nothing too flashy but nothing too underwhelming and its readily assisted by the fact that he's found four incredibly talented individuals who have a keen sense of the 60's and 70's rhythms and moves to execute it with energy and enthusiasm.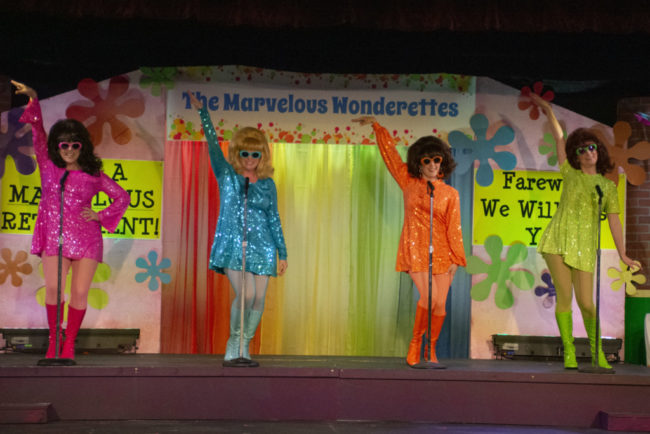 Musically the production is delightful. Not only are the songs memorable and well-recognized (even by younger generations) but they're well performed. Musical Director Stephanie Carlock Cvach fully understands the musical nuances of 60's group-harmony numbers as well as the subtle differences between that style and the one that surfaces in the 70's. With a practiced hand and ear, Cvach encourages the quartet of performers to achieve sublimely blended and superbly balanced backing harmonies. Microphone technology can be a futuristic nightmare at the best of times, but even when some of the sound system acts up, the girls singing backup still sound smooth and balanced and you can hear them burbling their "oohs and aahs" under the lead singer at any given moment.
There is something to be said for the unity and sisterhood bond of four women performing together in roles that they've done before in a sequel to such a fun show. Natalie Knox, Emily Elborn, Stephanie Mahoney, and Sarah Elizabeth Sickels are The Marvelous Wonderettes (hm-hmm!) Having played their respective roles in the 2017 production of The Marvelous Wonderettes at Tidewater Players, there is a unique and fully-formed history that each of these women bring to the stage for this production of The Marvelous Wonderettes: Dream On. And despite the original production's being three years ago, these fantastic four ladies pick up right where they left off as if there hadn't been a three-year gap. The characters have grown but the personalities are the same and Knox, Elborn, Mahoney, and Sickels are just the bees knees in the roles. They open the show together, they close the show together, they snipe at one another, they laugh with one another (and at one another), they share good things and bad, and the audience believes it. There is an undeniably palpable and congenial sororal bond between these four that elevates the overall experience of The Marvelous Wonderettes: Dream On.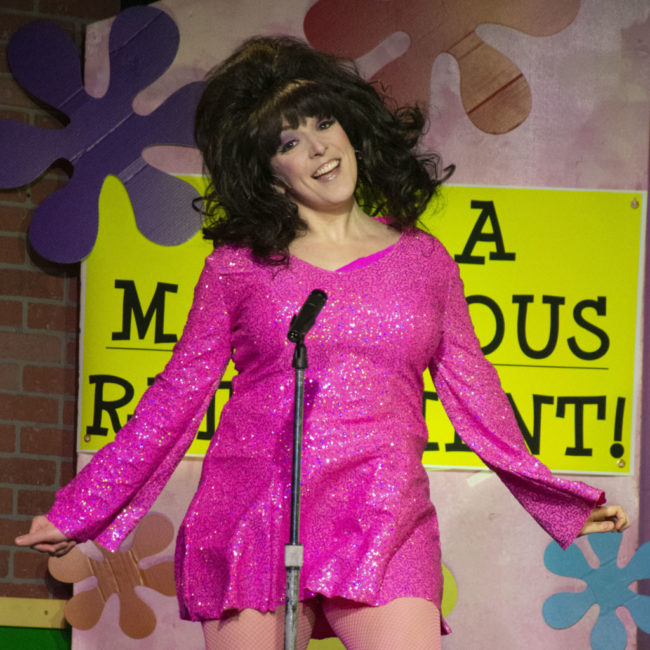 Cindy Lou (Natalie Knox) generally wears the label of slightly pompous with prissy-girl polish; it's okay. She can't help it. Knox lives in the skin of the 'sex-appeal' that is written into the flirtatious character of Cindy Lou and never misses a beat when it comes to her mischievous little zingers. Knox has a gorgeous voice (each of the Wonderettes is exemplary in their vocal talents, each with a different style, flare, and flavor) and it is well-suited for the solos that she gets to deliver. In the first act, Knox' rendition of "You're No Good" is filled with a furious spirit, like a vocal tigress ready to eviscerate the subject of her singing and she puts quite the round of pistol fire into "Build Me Up, Buttercup." With vocal stamina that could outrun a chipmunk. Knox puts her chords to the test with her three-song rock-block in the second act, powering her way through emotional changes as each song shifts.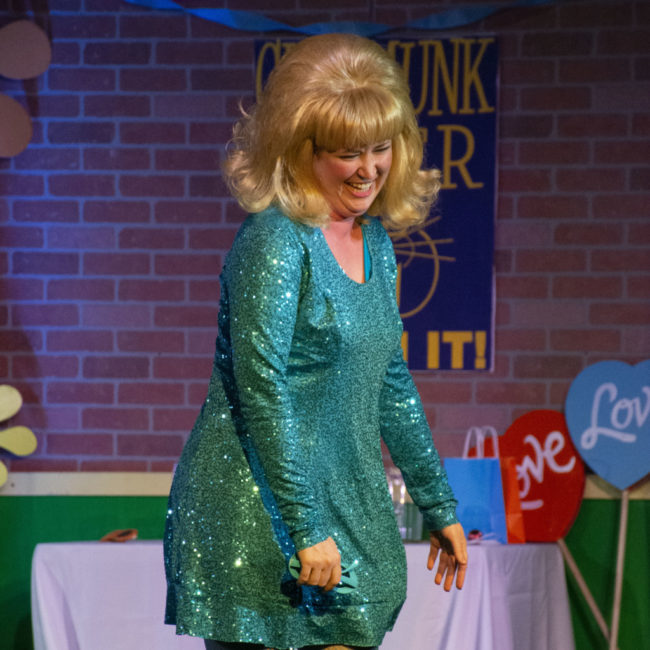 With chipmunk effervescence, Sarah Elizabeth Sickels as sweet little Suzie is just a chipper ball of sunshine lighting up the stage, especially when her hubby blinks the lights all over the place (an on-going joke from the original musical.) Sickels has that gooey-eyed blonde flavor of "60's gal" happening in her performance and it's precious. With melodramatic meltdowns every time her relationship's 'dirty laundry' gets aired out, Sickels brings real emotional gravitas into her blue, sincere rendition of "Hurting Each Other/More Today Than Yesterday", but she brightens up with light for the other half of that two-song segment. Having even sadder and more morose songs in the second act, Sickels really brings the audience along her journey to find her love once more in "Come In From The Rain."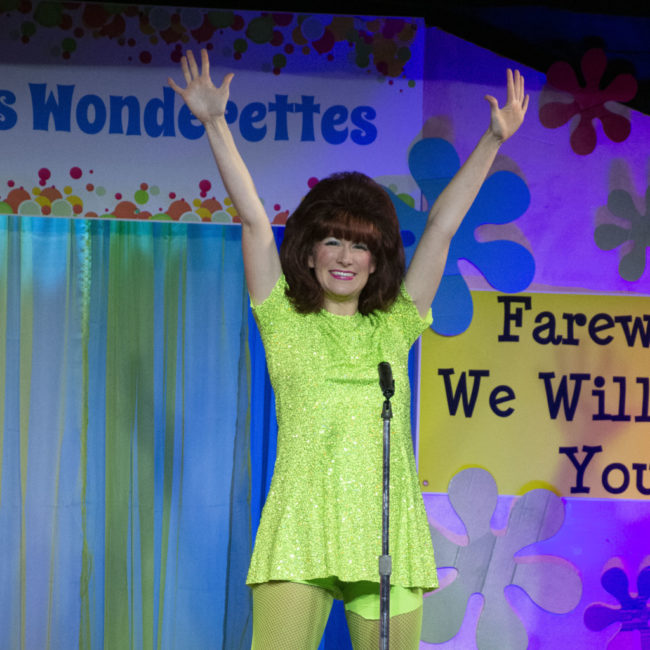 Boldly bearing the banner of girl-power in the second half, Emily Elborn's Betty Jean is a beautiful embodiment of the fiery spirit of the feminist revolution. "I Can See Clearly Now/I Am Woman" become her torch songs that trailblaze a path to the iconic 70's song of strength and survival: Gloria Gaynor's "I Will Survive." Embarking on her own track for that legendary number, Elborn blasts her way through that song with tenacity and a conflagration of strength that really sets the character ablaze in a new light. Even before all of the fire breaks lose in Elborn's second act performances, you can see their sparks igniting clearly in "For Once In My Life" in the first act.
Oh Missy— you're so fine— you're so fine, you blow our minds, hey, Missy! Hey, Missy! Stephanie Mahoney is a triple threat when it comes to the character of Missy Miller Lee (remember when she was crushing on, dating, and then married to Mr. Lee?) With animated facial features for miles, you won't be able to take your eyes off of Mahoney, even when she's just doing her back-up dance steps. And when she gets a taste of fury, watch out because her eyeballs are going to jettison out of their sockets, smash through their glasses, and explode into the audience. Mahoney isn't afraid of anything; she's unapologetic and unabashedly unashamed, especially when she starts her bodily journey to Funkytown during "It's Your Thing." Too much for words, Mahoney is a comic queen in this role. And vocally she's a perfect match for the role as well. With full vocal swoon for "Love Will Keep Us Together", Mahoney melts the sound of that song for the audience. She's emotionally versatile; numbers like "Don't Leave Me This Way" showcase her myriad of expressible feelings while giving you the same lovable, albeit hilariously crazy, Missy.
They are family— get all your sisters together and see! This is one installment in The Marvelous Wonderettes series that you won't want to miss! Be sure to get your tickets to The Marvelous Wonderettes: Dream On while they're still dreaming the dream on Tidewater Players stage.
Running Time: 2 hours with one intermission
The Marvelous Wonderettes: Dream On plays through March 8, 2020 with Tidewater Players, the resident theatre company of the Cultural Center at The Havre de Grace Opera House— 121 N. Union Street in historic downtown Havre de Grace, MD. For tickets call the box office at 667-225-8433 or purchase them online.