Constellation Theatre does amazing work. However, The 39 Steps, while delivering vibrant performances and a reasonable proportion of laughs, does not quite rise to the level of theatre we expect from this company, largely due to an inconsistent vision for this adaptation of a classic film to the stage.
Patrick Barlow's play — a long running success in both London and New York–adapts the 1935 Alfred Hitchcock adventure film, The 39 Steps, to the more intimate medium of the stage, using only 4 actors, minimal set and props, and a hefty dose of parody.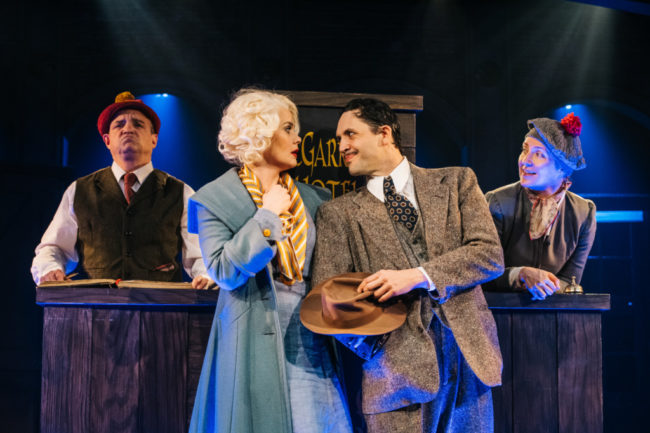 Yet this parody is often puzzling in its purpose. Why do certain aspects of the production— entrances, sound cues, set changes, wigs, props– suddenly go "wrong" on purpose, just to score a laugh? Are we supposed to be watching a comically bad production of a good play? Or are we supposed to be laughing at a brilliant parody of a classic adventure film? There seemed to be elements of each, but neither vision was fully executed, leaving me unsatisfied. Then there were long scenes where it felt as if we were supposed to be taking the whole thing seriously. The comic pace, despite the athleticism, sometimes felt oddly slow and labored, making the timing of what should have been riotous moments of physical comedy just mildly humorous. As for the plot, were we supposed to invest in it, or just laugh it off?
The plot of The 39 Steps concerns a bored Englishman named Richard Hannay (well-played by Drew Kopas) who, while attending the theatre, meets a mysterious woman named Annabella Schmidt (played by Patricia Hurley) who persuades him to take her to his home for her own safety. Once there she reveals that she is a secret agent, hiding from the enemy, who must get to Scotland to prevent secrets from leaving the country. However, she is diabolically stabbed before she can leave his flat, so Hannay valiantly takes up her cause, while also being hunted as the main suspect for her murder. Will he be arrested? Will he be killed? Will he find love? Will he save the country? How will this be spoofed?
Patricia Hurley continues to play the other two potential love interests in the story, while just two actors (Gwen Grastorf and Christopher Walker) play every other character in the show: villains, heroes, women, men, children, all with fast costume changes, varied accents, and actor-showcase-moments when they are enthusiastically playing multiple characters at once.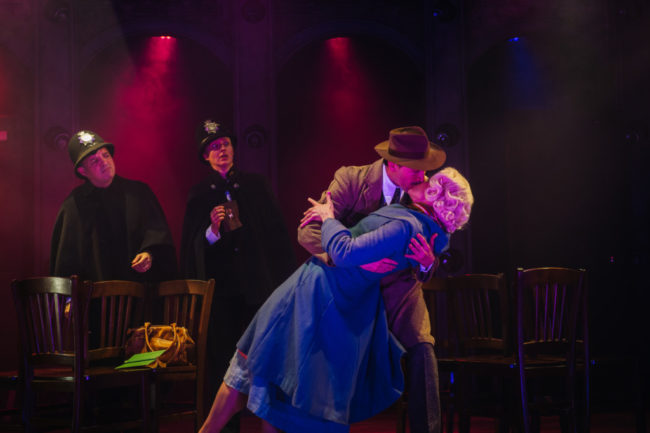 Indeed, all the actors perform the equivalent of a marathon, leaving the stage only to quickly change costumes–and sometimes not even then. Drew Kopas was effectively dashing as the handsome, yet at times reluctant, hero, maintaining the most consistent performance of the evening. Patricia Hurley was appropriately effective in each of her three romantic roles, although cool-blonde Pamela was never quite as iconically cool as one wanted. Christopher Walker delights when he throws himself into character and Gwen Grastorf flexes impressive acting chops, even if she has an uphill battle to climb because of the gender reversal chosen for this production. (In the London and New York versions, two men played all the swing roles, allowing traditional comedy to arise from men playing female roles. Here Ms. Grastorf plays many men, nicely but it's not for the same sort of laugh).
The production, directed by Nick Olcott, is lovely to look at. The costumes by Sabrina Mandell were beautiful if not always as functional as they might have been. Lighting by A.J. Guban (who also designed the set) was effective particularly in the multiple uses of rear projections and sound design by Gordon Nimmo-Smith was delightful in providing us a sense of mood and setting when the staging did not.
In the end, this production lacks a clear vision, but does deliver energetic performances and a pleasant night out.
Running Time: 2 hours and 20 minutes with one intermission
The 39 Steps plays through March 8, 2020 with Constellation Theatre Company in residence at Source Theatre— 1835 14th Street NW in Washington, DC. Tickets can be purchased at the door or in advance online.