Tumble on the stage and they're hopin' and a wishin'! They've poured themselves a cup of ambition— Stand Up For… Theatre! is doing 9 to 5. They're singin' and a dancin'; they got their blood pumping! Dolly Parton's musical will really keep you jumping! I'll say it again— they're producing 9 To 5. Produced by Grant Myers, Directed by Ed Higgins, with Musical Direction by Brandon Seehoffer, and Choreography by Lenore Florez, this Dolly Parton musical, despite its iconic titular number and victorious triumphs for women by the show's conclusion, presents a world of challenges for this— and honestly, every other company— currently producing it.
Based on the 1980 film of the same name, 9 To 5 has a lot of its narrative built around sexist, chauvinistic humor that while it never should have been funny then, was culturally accepted as laughable and now just reads as insensitive and awkward, creating gap moments of silence where the audience no longer laughs at Hart's sexist jokes, or chortles at the self-deprecating nature of the inequitable and hostile nature of the office workplace. With this show, much like Little Shop of Horrors, in 2020 with the revolution of #metoo and the deserved expectation that women be treated as equals, the narrative loses a lot of its levity (there are still some hilarious moments) and the weight of the characters' progresses and triumphs becoe more seriously dramatic. As an expansive theatrical incubation company— often giving opportunities to those who have never previously been on a stage or haven't been in a production in a decade— Stand Up For…Theatre struggles with this concept, though not for a lack of trying. A huge missed opportunity here would have been to turn the Hart character into a certain presidential figure…as the parallels in revolting persona and disgraceful behavior are identical.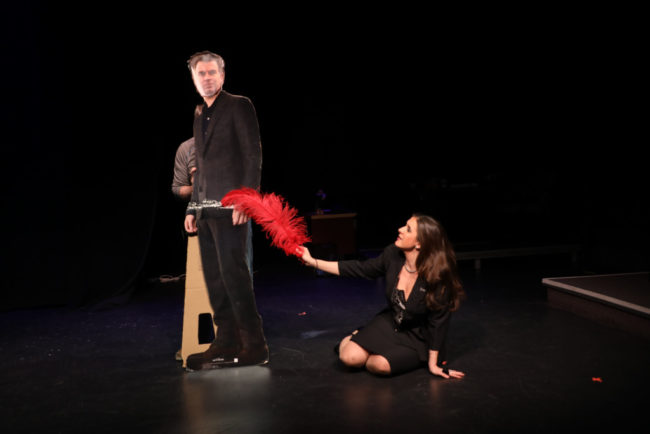 Director Ed Higgins does divide the space neatly and cleverly employs the use of sliding curtains to delineate scenic space. This avoids clunky shifts in scene as there's now no furniture or scenery to really move about, and what rotating pieces do get brought in— the elevator board, the restroom cubicle, etc.— are wheeled in by a well-intended run crew, overseen by Stage Manager David Foster (who doubles up as the new employee as the end of the performance!) The production could use a swift kick in the pacing…second weekend dropsies could be to blame here, but it's mostly hidden costume changes and canned musical hiccups that seem to impede the overall progress of the show. The first act feels longer than it actually runs and could do with some tightening, particularly in some of the text-based delivers. Choosing a suspension harness for Hart (anyone familiar with the show will know why!) is impressive for the black box space but ultimately creates sonic distraction as the winch used to raise and lower it is quite noisy. This is noted most unfortunately during the opening of Judy's solo, "Get Out and Stay Out" as the winch grinds, you can't hear the opening verse. But props to the props in this production as the lifesize cardboard cutout of Hart for all of Roz' nonsense is hilarious and gets bunches of laughter generated from the audience.
The costumes in the show are one of the highlights of the evening. Costume Designers Grant Myers and Jenifer Hollett have really stepped it up when it comes to finding those flashy colors of 1979 and 1980. They do a superb job of outfitting the three main females, Doralee in particular; every single one of her outfits screams Dolly Parton couture, especially that outstanding one-piece high-waisted, cinch-belted cowgirl affair that she wears during "Cowgirl's Revenge." The bugle-bead flapper-adjacent dress seen on Judy during "The Dance of Death" is equally impressive. Myers and Hollet even find adorable little (at this production) Chipmunk and Bunny costumes for Patrick and Tori Rudai, who appear as the charming little woodland creatures in the fantasy number, "Potion Notion." (There is a Blue Bird costume as well for Sam Rudai, who was absent at this performance.) There are dozens of little costume touches all throughout the production— like the French-inspired polka-dot affair featured on Roz (Scarlett Corso) at the end of the performance and the Carmen SanDiego crimson hats on the ensemble during one of the dance numbers— that showcase both the creativity and resourcefulness of Myers and Hollett.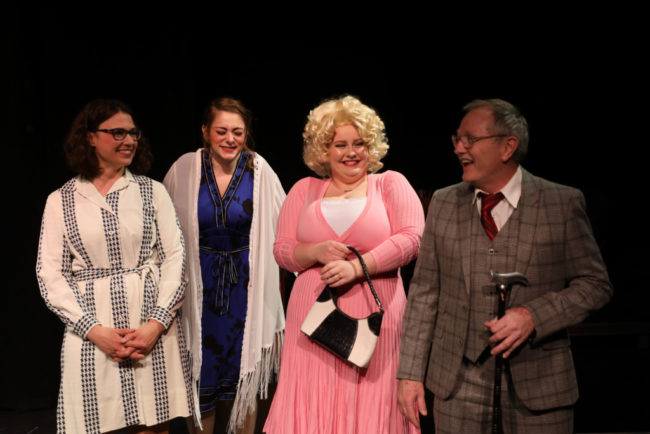 Erin Cassell and Jenna Sharples, respectively playing Violet and Judy (the ring-leader and the newcomer in the office dynamic) have great facial expressions and strong emotional projections. Sharples in particular has mastered the intensity of her woebegone life via animated facial expressions and body language. Watching her transform from troubled, trembling newcomer into a self-confident, radiant woman is an impressive feat. Cassell has a sharp tongue and solid handle on the gusto and guts that the Violet character requires. The pair play well together and with others in the production.
Performers of note in the ensemble include the perfectly placed Angel Benson as Kathy, who is one of the office girls but has epitomized the balance of knowing when to blend in and when to stand out. She gets a simple one-lined zinger on the other side of the intermission and its one of the more hilarious zaps in the production. Fela Langston, given the honor of singing the opening phrase of the titular number, sets the tone for the evening with her strong sound. And Jonathan Halberstam, playing spunky teen Josh, the son of widower-Violet, is earnest and enjoyable in those interactive moments he shares with Violet.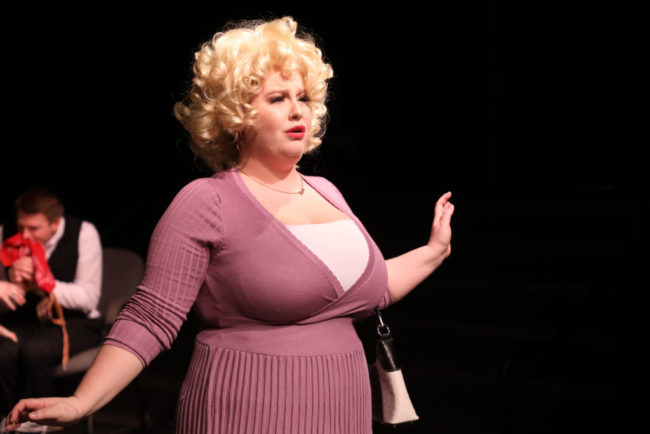 Carrying the show on her shoulders in true Dolly Parton style, Sarah Burrall is a true triple threat on the Stand Up For…Theatre stage. Mastering that sassy countryfied accent as well as the giggly 'backwoods Barbie' attitude, Burrall is channeling Dolly and bringing her own nuances to the performance every boot-step of the way. Her big solo, "Backwoods Barbie" is just worlds of fun and filled with passion; her strong, well-toned and properly pitched voice carries this number as well as numbers like "I Just Might", "Shine Like The Sun", and "Change It" and really gives the audience a sonic boost of glee. The belting sustain she delivers at the end of "Change It" is quite impressive. And much like Cassell's Violet and Sharples' Judy, Burrall's Doralee has hysterical expressions. When she goes off the rails at Hart (Robert Certain) and starts verbally slinging her pistol around, she brings the heat, the comedy, and the vim and vigor that every woman should have to those moments tenfold.
When Director Ed Higgins gives his curtain speech, desperately pleading with the audience to still laugh (and again, there are moments where it feels good and absolutely is appropriate to laugh, so please do) he also mentions that so many of the issues addressed in this production are still happening in our 2020 lives and our 2020 workplace culture. Regrettably, he's not wrong. Take away the triumphs that Doralee, Judy, and Violet achieve from this production and bring them to your workplace culture. It's an important conversation to be having.
Running Time: Approximately 2 hours and 30 minutes with one intermission
9 To 5 plays through February 8, 2020 as a Stand Up For…Theatre production in the Black Box Theatre space of The Chesapeake Arts Center— 194 Hammonds Lane in Brooklyn Park, MD. Tickets may be purchased at the door or in advance online.