The Kennedy Center's Broadway Center Stage series drastically shifts gears but continues to strike gold with their current production of Tom Kitt and Brian Yorkey's Tony Award and Pulitzer Prize winning musical Next to Normal. They have enjoyed great success for the last three seasons mining a pleasing blend of golden age musicals like How to Succeed in Business Without Really Trying and The Music Man and modern age classics like In the Heights and The Who's Tommy, all moderately large scale musicals with big ensemble numbers and feel good messages. Next to Normal radically breaks from that course, not only featuring an intimate six-member cast on a rollercoaster ride of emotional intensity under the taut direction of original Broadway director Michael Greif (Rent, Dear Evan Hansen), but dealing with the sensitive subject of mental illness and its effects on not only the patient but their extended circle of family, friends, and medical providers.
Director Greif, who has the distinct honor of being the only director to have two Pulitzer Award winning Broadway musicals to his credit, returns here with his original Broadway creative team of music director Charlie Alterman (Pippin, Godspell) and Tony Award winning choreographer Sergio Trujillo (Jersey Boys, A Bronx Tale, Ain't Too Proud) and a fresh cast of today's Broadway's best talent to elevate the show to stronger, bolder new heights.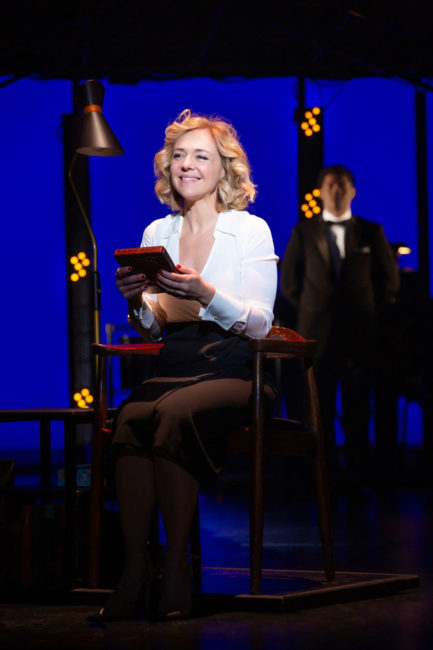 Tony winner Rachel Bay Jones (Pippin, Dear Evan Hansen) is a revelation as she turns in the performance of her acclaimed career (so far) as Diana Goodman, the bipolar mother at the center of the storm. Despite singing an early anthem titled "I Miss the Mountains", Jones misses nothing in a bold, brave performance of the highs, the lows, the treatments, the aftereffects, the healing, and the damage to her and her family her condition causes. Master of a natural loopy comedic talent, here she uses it as a gateway to unlock and gain entrance to a vast array of deeper emotional layers and issues that pour forth from her that most miss when struggling with the demands of the role.
Brandon Victor Dixon is strong and commanding as husband Dan, who struggles with the boundaries of his role as a caregiver making hard decisions to protect his family. Maia Reficco (Encores!' recent Evita) steals many moments of the show as invisible daughter Natalie, who has never been able to compete with the memory of golden brother Gabe (Khamary Grant). Reficco plumbs profound new depths of sympathy and strength in a role that tends to rarely escape "angry neglected teen" tropes. Grant (BET's The Bobby Brown Story) is charming, beguiling, and ethereal as Gabe. Michael Park (Dear Evan Hansen), stellar as the heavy Rev. Shaw Moore in last fall's Footloose, returns as another strong foil in two of Diana's treating doctors. And Ben Levi Ross (Dear Evan Hansen national tour) as Natalie's newfound friend and wishful suitor Henry is a delightful breath of fresh air and normality that grounds not only Natalie's topsy-turvy world (whether she likes it or not) but also this production as a whole.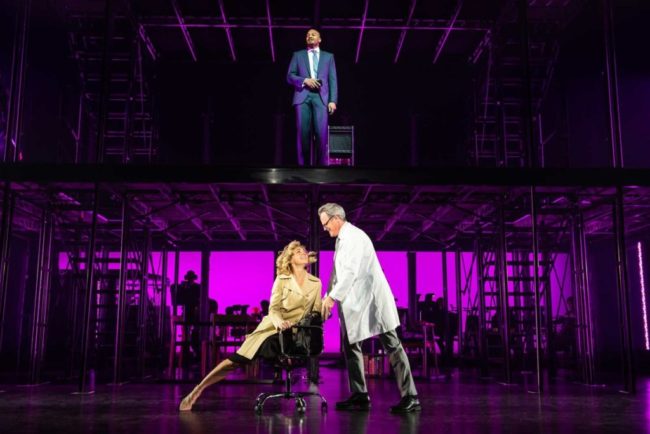 Broadway vets Greif, Alterman, and Trujillo reproduce all their previous New York magic with possibly even tighter results, and the Kennedy Center team of designers enhance it with their now-expected perfect blend of powerful-without-overpowering effects. Paul Tate dePoo III efficiently adapts Mark Wendland's original Broadway set designs. Cory Pattak provides thrilling lighting designs from the shadows and lights of the mind to some rock star moments simulating electroshock therapy. Tony Award nominee Jeff Mahshie (Next to Normal, She Loves Me) wisely mutes his contemporary costume choices to reflect but never upstage the performers in strategic color choices throughout, and Tony Award winner Kai Harada (The Band's Visit) provides his usual crystal, solid sound that has become standard trademark for the Broadway Center Stage series.
Again, let it be clear that this stellar production is not your standard feel-good musical. In fact, it favors the darker, scarier recesses of the mind more than the sunny areas, and may in fact act as triggering for those with sensitivities to the material. But if willing to tackle it head on with determination and take the ride much like the characters within, Broadway Center Stage's Next to Normal is a thrilling, powerful, and even cathartic journey through what it entails to be alive, feeling, and human.
Running Time: Approximately 2 hours and 15 minutes with one intermission
Next to Normal currently plays through February 3, 2020, as a part of the Broadway Center Stage Concert Series in the Eisenhower Theatre at the John F. Kennedy Center for the Performing Arts, 2700 F Street NW, Washington, DC. For tickets call the box office at (202) 467-4600 or purchase them online.