Practical cats, dramatical cats, pragmatical cats, fanatical cats! Oratorical cats, delphioracle cats, allegorical cats, metaphorical cats! And then of course there's the Jellicle Cat. What— you ask— is a Jellicle Cat? Well…no better way to learn than to venture out in the moonlight to Baltimore's Hippodrome Theatre and see them live in action. Cats, the first show of the 2020 calendar to land in Charm City will mesmerize you, enchant you, and have you glowing with delight. Andrew Lloyd Webber's second-longest running Broadway sensation has returned to Charm City for the first time in over a decade; welcoming in the back-half of the 2019/2020 CareFirst Broadway Across America season. Directed by Trevor Nunn, this musical phenomenon is perfect for audiences of all ages, loaded with spectacle, gorgeous music, and a wonderment of visual stimulation, Cats is only in town for one week and you won't want to miss the experience.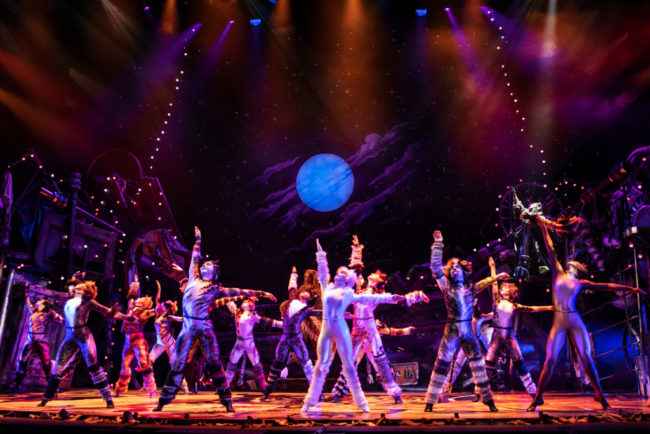 Marvel at the wondrous sounds and the tantalizing sights; those who have seen Cats will revel in this revitalized production under the direction of Trevor Nunn. Those who are experiencing the production for the very first time will thrill to see all of the Jellicle cats leaping about, proudly presenting their personalities to precision-timed music with extraordinary choreography, orchestrated by Choreographer Andy Blankenbuehler based on the original choreography of Gillian Lynne. It is quite the experience for everyone of all ages whether it is your first visit to the Jellicle Ball or say…your ninth?
Scenic and Costume Design come together under the skilled eyes and hands of designer John Napier. The feline couture envelops the performers in such a fashion as to give the illusion that they are not people wearing cat suits but rather extraordinary cats of a rather enormous proportion. Combined with their nimble and swift movements, whether in simple stance or in dance, the experience of Napier's costume work is transformative and by the end of "Jellicle Songs For Jellicle Cats", the show's opening number, one can readily forget that they are watching human performers in highly chimerical cat suits. Napier's scenic work grounds the audience in the mythical back alley where the Jellicles gather for their Jellicle Ball. Combined with the exquisite Lighting Design of Natasha Katz, the stage is a perpetual playground. Katz, who uses a great deal of shadow play in her lighting plots— much to the improved mystical quality of several musical numbers— wends her magic not only across the stage but up and out into the house. This is particularly potent during "Magical Mister Mistoffelees", a song that features the enchanted lights of this magical cat on not only his outfit but all up through the balconies and the orchestra of the audience.
If one remembers that the seemingly convoluted plot is based on Old Possum's Book of Practical Cats by T.S. Eliot, it is easy to enjoy all of the dazzling spectacle unfolding upon the stage, particularly when it comes to Andy Blankenbuehler's recreation of Gillian Lynne's original choreography. Andrew Lloyd Webber's sublime music is impossible to deny; Blankenbuehler does an exceptional job of layering Lynne's choreography onto this cast with gusto and great vitality. The acrobatics alone are stunning and one could spend their nine lives picking out each of the cats by name (which could take even long as each cat has three proper names…) and praising them individually for their twirls, turns, flips, and other fantastical feline moves. As an ensemble, their terpsichorean prowess is sensational. The cast moves smoothly as one and as many simultaneously, executing wildly vivacious routines during company numbers like "Song of the Jellicles and The Jellicle Ball" and "Magical Mister Mistoffelees", which features the aforementioned cat leading the company through an intense amount of mystical movements. Praises on high to Victoria (Caitlin Bond), the white dancing cat, who is notable for her pristine ballet-inspired moves all throughout the production.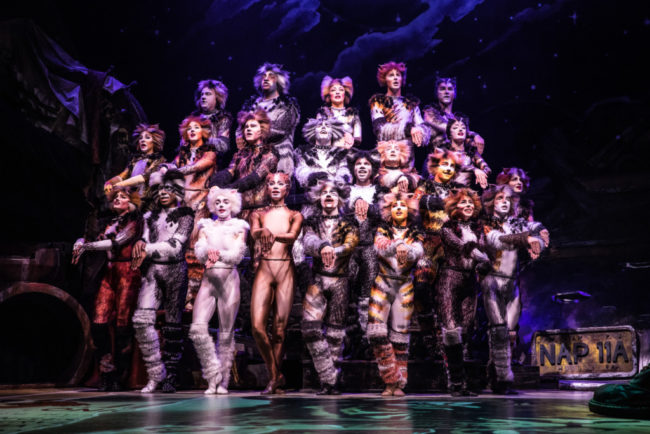 Vocally astonishing, the ensemble of this tour of cats possesses superior blending and harmonizing skills, bringing the mellifluous melodies of Andrew Lloyd Webber's score a swift justice. Featured cats like Jennyanydots (Dani Goldstein) Jellylorum (Annemarie Rosano), who have one impressive featured solo routine, showcase their vocal prowess in combination with their varied personalities. Goldstein embodies a jazzy, 1920's style flapper cat (in vocals, movement, and costume!) while Rosano brings a more soothing and narrative quality to her rendition of "Gus The Theatre Cat." In a tender and caring manner, Rosano guides the doddering elder cat onto the stage so he can relive his glorious heyday. Formally known as Asparagus, Gus the Theatre Cat (Timothy Gulan, who doubles up as the fat-walking Bustopher Jones) gives quite the performance in his fondly nostalgic recollection before delving into one of more abstract numbers of the production, "The Awful Battle of the Pekes and The Pollciles." Gulan, who is filled with gusto and vigor once he steps back into the peak of his memory, is quite the character cat and delivers a delightful performance all throughout this number.
Skimbleshanks (Giovanni DiGabriele), the railway cat, showcases a series of delightful dancer moves as well as sweet symphonic sounds during his feature, "Skimbleshanks the Railway Cat", in much the same way as Mungojerrie (Justin W. Geiss) and Rumpleteazer (Rose Iannaccone) during their self-named duet. The pair tumble and fritter about on stage in a playful and entertaining fashion, adding a lightheartedness to the production early on. With more flash and splash than substance, Rum Tum Tugger (McGee Maddox) is the in-your-face cat with an over-the-top personality that is egocentrically focused. Maddox, despite Rum Tum Tugger's bombastic personality, brings a surprising amount of substance to the performance as he sings, sashays, and sways all through his numbers, a bit like a glammed-up rock star. He and Mukustrap (Zachary S. Berger) take turns being featured narrative cats, protecting the coven of Jellicles when unsavories like Macavity and Grizabella slink by.
With a deep voice that moves with resonant operatic qualities, Old Deuteronomy (Adam Richardson) is the harbinger of hope for the Jellicles. The leader of the pack whose sole decision it is to select a cat to ascend to rebirth, Richardson is sagely and sound in his musical delivery, particularly when singing "The Moments of Happiness" at the top of Act II. There is a terrifically tender moment shared between Richardson's Old Deuteronomy and Timothy Gulan's Gus, where they nuzzle cheeks like two old, fond friends greeting each other for the first, and perhaps the last, time. Richardson commands a presence on stage, even when he is set upon by Macavity (Brayden Newby, who does an exceptional job looking every bit the rogue baddie without ever having to sing a solo to prove his villainy. You know you've made it as a world-class villain when they sing a song about your heinousness rather than making you sing it) or magically rescued by Mistoffelees (PJ DiGaetano, whose jubilant glee is infectious and informs his every movement all through his self-titled feature song.)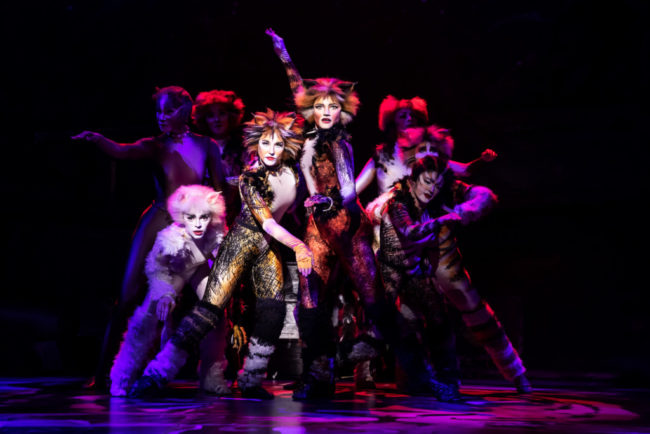 Vying for chief vocal seducer, both Demeter (Alexa Racioppi) and Bombalurina (Emma Hearn) get their game faces (and voices) on during "Macavity", arguably the sultriest, swankiest, slinkiest number in the performance. Both Racioppi and Hearn possess intense vocal prowess, which they readily belt out during this very jazzy, smoky number. Both are featured in other musical numbers, but this is their moment to radiate and they do so like a full moon bright in the sky, lustrous and vocally voluptuous. Another voice of note, though only featured at the top of "Memory" in the second act is that of Sillabub (Nevada Riley), who kicks off the song with sweet hope, only to have it transformed into a stunning, ovation-earning number when Grizabella (Keri René Fuller) takes it over.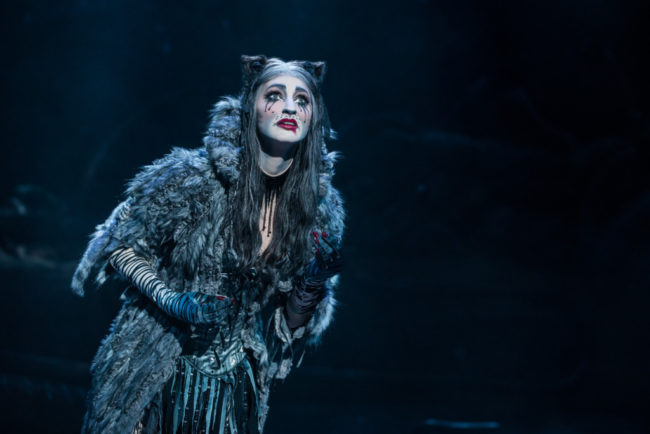 Fuller, as the once-glamourous, fallen-from-grace Grizabella gives a compelling performance with the show's most iconic number, "Memory." When she belts out the latter half of the number in the second act, the audience goes wild and dry eyes are scarce. The passion and raw emotion that permeates her vocalization is stellar. Performing the number at the end of the first act and again quite close to the end of the second act, Fuller captivates the hearts of the audience as well as her fellow felines on stage, persuading changes of heart for all the cats who previous shunned poor, decrepit Grizabella.
An adventure for sure, Cats is not to be missed this winter season, it will brighten up even the coldest of January days, but you don't have long to catch these extraordinary performers and all of their extravagant songs and dances. Don't miss your chance to attend the Jellicle Ball with Jellicle Cats this winter.
Running Time: 2 hours and 30 minutes with one intermission
Cats plays through January 26, 2020 at Baltimore's Hippodrome Theatre in the France-Merrick Performing Arts Center— 12 N. Eutaw Street in the Bromo Seltzer Arts District of Baltimore, MD. For tickets call the box office at (410) 752-7444 or purchase them purchase them online.
For more exciting news on what's happening next season at Baltimore's Hippodrome Theatre, read TheatreBloom's interview with Hippodrome President Ron Legler.