The little black box theatre that could, Street Lamp Productions in Rising Sun, closes out their 4th season with a fan-favorite show that had a short life on Broadway but has quickly become a modern classic staple of community and regional seasons, The Addams Family, directed by Jamie and Andrew DiMaio.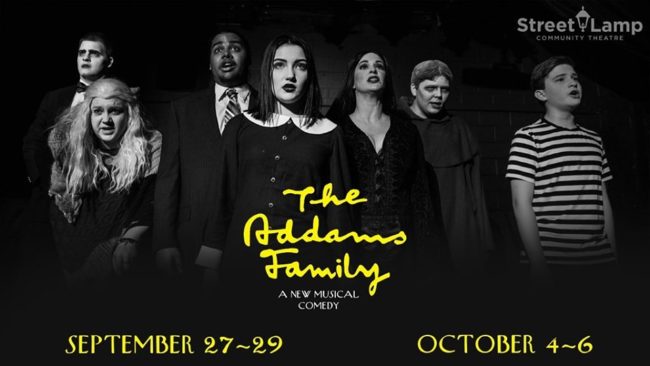 Marshall Brickman and Rick Elice's book may be short on Addams' culture (with 80 years' history of rich Addams pop culture to draw upon—the original New Yorker comic panels, the classic 1960's television show, two major motion pictures, and numerous other pop-up appearances—apparently the best story they could come up with was the plot of Guess Who's Coming to Dinner?) but it is long in droll, funny one-liners that skewer the dark sense of humor, and Andrew Lippa pieces together a fun score with some surprisingly touching moments. In the stock story, Wednesday Addams, now 18 (which also requires breaching the Addams lore wherein she is the youngest child), has fallen in love with a normal Midwestern boy and an ensuing family dinner to introduce the outlandish Addamses to his straight-laced parents provide all the dynamics for the second act fireworks. Brickman and Elise did a massive rewrite of their original Broadway script for the national tour (now licensed here) and the result is more engaging, even if it is less Addams and more Family. If only they had retained a few of the familiar faces for cameos from beloved babbling Cousin It, Morticia's pet Venus flytrap, Cleopatra, and, save for a show opening finger snap, the should-be omnipresent Thing.
It appears, in the end, judging from the reaction of every sold-out audience ever, none of this matters. The characters are so firmly rooted in our collective psyche and sensibilities that they carry themselves if the performances are loyal. Fortunately, the DiMaios have an incredibly game and competent cast at their disposal to carry out their vision. Eric Bray Jr. shows polished comic chops as Gomez at the center of the action, and Jessica Tanner as the every slinky Morticia provides a perfectly droll sense of her macabre humor. Bray excels in his surprisingly introspective numbers as he comes to grips with the fact that his baby is growing up, and Tanner takes command of a fun showstopper or two along the way, especially the ironic second act opener "Death is Just Around the Corner". They are a strong and very solid center of the Addams universe built around them.
Cat Enslan captures the comic anti-charm of princess of darkness Wednesday Addams. She possesses a strong singing voice for the requisite pop belt tunes Lippa gives her (some of the most fun of the score), particularly excelling on "Pulled" and her duet "Crazier than You" with Trent Khanjar as her adorkable fiancé Lucas.
Simon Gusso, Caitlyn Soltow, Jered Price, and Nathan Joseph aptly fill out the secondary tier of the Addams clan as wacky Uncle Fester, new age witchy woman Grandma, imposing butler Lurch, and bratty little brother Pugley respectively. All push all the familiar bells and whistles to provide the necessary familial pallor to the household. It should be of note that Gusso appears as a last-minute replacement to cover an injured performer on just three-days' notice of this review, and one would never know he was not integral to the core from the beginning.
In place of all the MIA Addams characters listed above, the void is filled with Lucas' stereotypically Midwestern parents, Mal (music director Steven Soltow at this performance, Matt Peterson closing weekend) and Alice (LaShelle Bray) Beineke. The potential in-laws are comic foils for the Addams off-center sense of humor. Soltow is solid comically and musically as all-business Mal, but Bray is saddled with the thankless job of having to sell a ludicrous plot device wherein she is so sunny that she constantly speaks in (horrible) rhyme. She makes the best of the silliness and has a powerful voice, but unfortunately the bulk of her songs sit squarely in the center of her transition from strong chest to powerful head voice. Note that this was a final dress rehearsal that was reviewed and she could have been wisely saving her voice for weekend performances.
Ironically, in a musical full of strong, familiar personas that fully engage us, the unexpected stars of the production are the collective ensemble as the ghosts of the Addams ancestors, unleashed for one ghoulish night but kept around by Fester to help assist young Wednesday in her quest for love. Cleverly costumed by Judi Harris and Jessica Harris-Pierce in a pale array of generational tropes from 40's stewardess to 20's flapper to Louis Quinze courtesan, whether draped languidly about Kevin Woods sparse but efficient set observing or actively engaging in Stephanie Peterson's buoyant dance numbers, they add a strong solid sound and ethereal presence to any scene they enhance.
With no fly space or wing space to store set pieces, Woods plays with the natural darkness of the black box and just enough pertinent pieces of furniture shoved in and out by the ancestors to evoke all the cavernous, spooky spaces of the Addams mansion. Harris and Harris-Pierce nail all the iconic looks we expect for the Family in addition to their impressive work with the ancestors, providing a welcome contrast of the iconic characters' dark looks, the ancestral spirits' off whites, and Alice Beineke's accent of daffodil yellow. Music Director Soltow gets strong vocals from his leads but powerful sound from his ancestral corps. The only mild faux pas of the tech is the spotty lighting, which may have been purposely designed to be an eerie mixture of light and shadow, but sometimes the shadow overtakes the scene and muddies the action.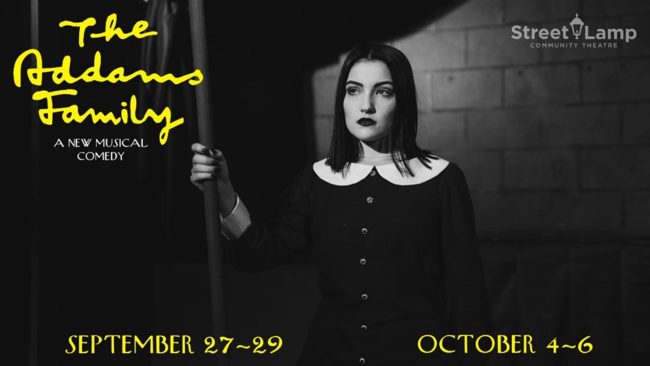 All in all, producer Laura Woods has assembled another enjoyable production to close out her season. It should be noted that Woods' organization provides a valuable service to the Cecil County landscape by providing a viable family friendly and affordable venue for performers, technicians, and audience members who stand strong in their boycott of the ethical and moral void of the administration at the other prominent Cecil County community companies. So take this advice and listen to the classic theme song: Get a witch's shawl on, a broomstick you can crawl on, and go and pay a call on The Addams Family. Now through October 6 at the Street Lamp Black Box.
Running Time: Approximately 2 hours and 30 minutes with one intermission
The Addams Family plays through October 6, 2019 as a Street Lamp Community Theatre show at Street Lamp Productions— 5 Valley View Drive in Rising Sun, MD. For tickets call the box office at 410-658-5088 or purchase them online.