If you long for a simpler time, you're not alone. In that simpler time— in those days— you just spoke to people. Nowadays it's all digital, no one really knows how to connect. If you're longing to connect with nostalgia, or traipse lazily down memory lane— not your own, of course, but one perhaps like it? Then Quotidian Theatre Company offers up a fine ghost of a different past for this haunting autumnal season. Putting Conor McPherson's Port Authority on their stage as the final production of the 2019 calendar year, Quotidian Theatre Company is the ghostly harbinger of yesteryore. While there's nothing frightful about the play itself, memory is but another form of spirits that linger with us, and what better way to experience those spirits fondly than with this emotionally invested theatrical offering?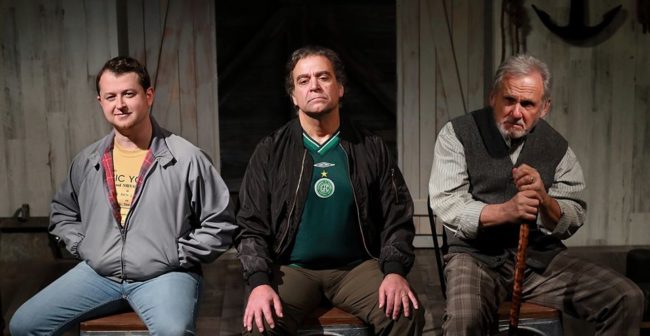 Self-described as a tale of loves lost and missed opportunities across three generations of Dublin Men, the play itself is lengthy, despite only running a bit more than an hour and a half. And this is no fault of the three actors on stage nor of the director; chalk it up to playwright Conor McPherson who rambles and ambles through the nostalgic pickings of the memories and minds of these men. Don't go in hunting for an interconnectivity between the trio, though if that premise is tucked ever so gently in the back of your mind's eye, each of their conclusions might draw you a through-line all the same. Treat each of their meandering anecdotes as an individual tale, almost like a series of drawn-out monologues, interrupted by one another for sake of breath and preservation of the actor's existence on the stage.
Director and Set Designer Jack Sbarbori have nestled the play right at the edges of fantasy and reality. Though the playwright has expressed the note that the show is set in a theatre, Sbarbori has decked out the set a bit like a fishing pier, with various nautical paraphernalia hanging about. Lighting Designer Don Slater and Sound Technician Matthew Datcher hone in on this subtle shift from theatre to portside and add understated touches— including the very symbolic bell ringing at each of the three conclusions— to further set the audiences' imaginations to this locale.
To an unaccustomed ear, an Irish accent, particularly the Dublin sound, can be garbled, harsh, and unintelligible. But Director Jack Sbarbori has coached his three performers— Chris Stinson, Matthew Vaky, and Joseph Palka— to deliver a crisp, concise rendering of this accent in a way that is still strongly flavored and borders just on the perimeter of being questionable understood. The implication of the thick accent well suits McPherson's words while still allowing the audience to understand what's being talked about in great and often vivid detail. The consistency that Stinson, Vaky, and Palka provide with maintaining this accent is also praiseworthy; never once do you hear a lilt listing away in favor of the actors' natural sounding voices.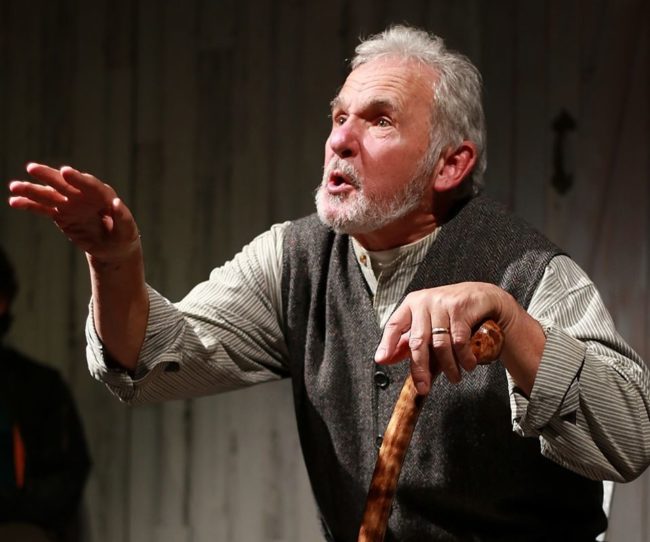 The uniqueness of this particular show is that while all three performers are perpetually on stage— each taking their turn whilst narrating their tales— they never interact with one another. They are always seated apart, evenly spaced in their corner of the stage, except for when they shift from where they are to the 'hot seat' as it were. But if you glance carefully— and McPherson's languid stroll through these piecemeal vignettes of their lives allows for the occasional wandering eye to slip away from the current narrator and over to one of the other two— you will see their passive reactions. This is most notable in Chris Stinson's Kevin, the youngest of the three. While he takes no particular "edge of his seat" attention to what the other two are saying, you will see, from time to time, the inconspicuous looks of curious intrigue flitting across his face, particularly when Joseph Palka's Joe is wrapped up in story. It's a fascinating minutia but adds a layer of dimension and meaning to the production, mapping connections between these characters in the mind.
Palka, playing the aforementioned Joe, is a presence on the stage. For lack of better description, it is terribly difficult not to draw your full attention to him, even when his text runs dry and aground of its more interesting subject matters (again through nobody's fault but McPherson's.) The exacting tremor in his hands, the way he holds and uses his cane, his elderly crippled physique— his Joe could be your grandfather, everyone's grandfather, and yet there is an intensity that sets him outside of this character just enough to isolate him. His Joe becomes this weary elderly soul lost to time, a story you've heard before but have no living connection to; it's astonishing the way Palka brings these two elements together, juxtaposing them in one portrayal of Joe.
The text is filled with colorful, detailed descriptions, some sweeping and elegant like those that Palka's character addresses, others raunchy and exciting, like those that Chris Stinson's Kevin handles superbly. When rattling his words about over his rapturous sexual encounters, there is something electrifying in his stage presence. Each of the performers brings a quality that represents the "stages of man" to life, and Stinson's is the effervescence of youth, which bounds giddily about— vocally as he's nearly always standing still or seated— throughout his entire performance. This is a brilliant foil to the smooth and charming antiquity of Palk's Joe and a precursor to Matthew Vaky's Dermot, who is edgy but mellowed.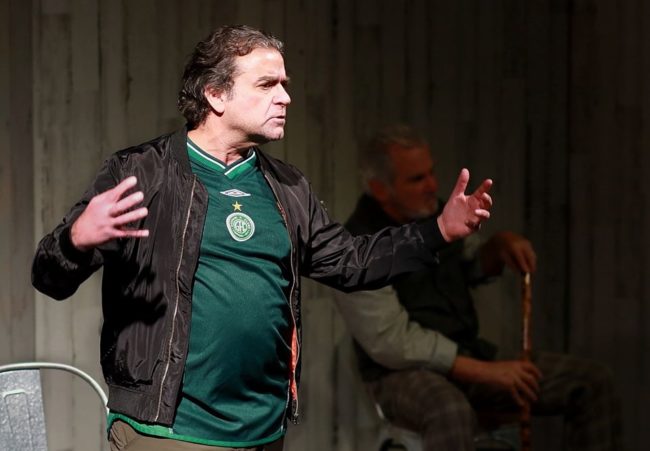 The aforementioned Dermot is that "wrong place, wrong guy" type, whose story is equal parts hilarity and tragedy. There is a coarseness to the way Vaky approaches the character. The words are there, but he brings out a deeper grit from within the character's entrails, clipping along through his "could-have-should-have-been" experiences with this startling sense of peculiar humor.
Again the fascination is to be found in enjoying a good afternoon or evening of slightly nostalgic storytelling. While the play itself prescribes to the philosophy of the "what might have been" the reality that these performers set down is "what was as they might have lived it." And that is a far more fascinating approach, honed and guided under Jack Sbarbori's sagely stage experience, to do justice to the piece.
Running Time: 100 minutes with no intermission
Port Authority plays through November 17, 2019 at Quotidian Theatre Company, the Resident Theater of The Writer's Center— 4508 Walsh Street in Bethesda, MD. For tickets call the box office at (800) 838-3006 ext. 1 or purchase them online.