In the house of Borden, there's a lock on every door. And a story with those 40 whacks— here's your chance to learn much more! About Lizzie Borden— more than just the creepy nursery rhyme about the girl who gave her folks 40-ish whacks with an axe to do them in. Guerrilla Theatre Front is putting up Lizzie as their fall offering to the musical theatre community and it's a stellar show. Directed by Greg Bell with Musical Direction by Megann Baldwin, this thriller rock musical gives you a deep look into the headspace of Lizzie Borden and the other three women featured strongly in her narrative.
The uniquely adapted performance venue found inside Creative Labs guarantees more than just a theatrical show; it's a whole evening's experience with a bar, maker's market, Lizzie Borden Shrine & Museum and then some. Arrive early to experience each of these treasures. Production Designer Lance Bankerd has gone so far as to extend some of the maladies and intricacies of Lizzie right out over the house— just look up at the lanterns and birdies, or poke your head into Lizzie's Shrine and you'll see what we mean.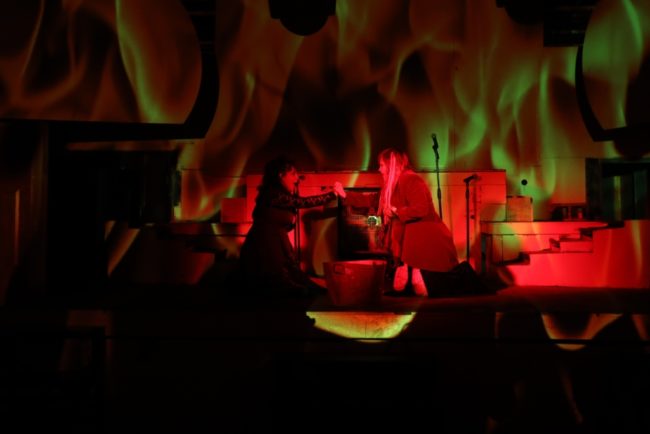 Appealing to musical theatre folk, musical rockers, and true-crime fans alike, Lizzie has a little something for everyone. Projections and Video Designer Chris Uehlinger has outdone himself with the work featured in this production. Some of the most all-encompassing moments are augmented to a level that defies description with the inclusion of Uehlinger's design work. Flames consume every conceivable inch of the stage and those on it during a number called "Burn the Old Thing Up" and this special effect provides a wildly harrowing and strangely cathartic release for those watching and those performing. Uehlinger works in tandem with Lighting Designers Jim Shomo & Charles Hirsch to amplify the rocker atmosphere that accompanies the music in this show. Blazing wheels and flashing spots of multiple colors are used progressively throughout the performance and again serve to elevate the overall experience tenfold.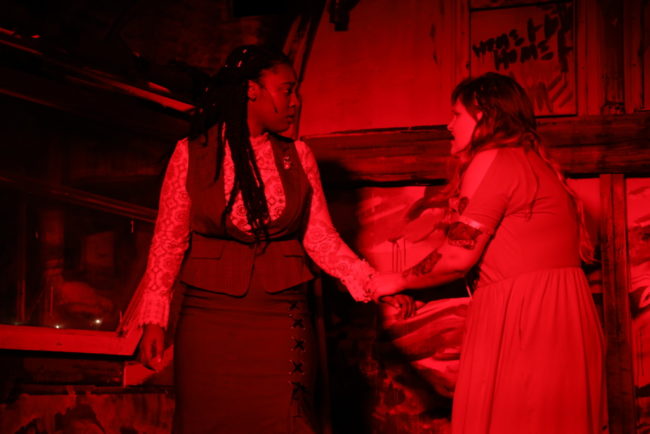 Sartorially speaking, Costume Designer Maggie Flanigan, with assists and consultation from Marie Bankerd and Amy Bell, has set these four female characters in a timeless sense that pays homage to the era of 1892 while still aligning with the rock and punk vibe of the show's score. Flanigan has done a particularly impressive job of furthering the girlish stereotype for the way Lizzie is initially encountered. Most aren't aware that Lizzie was 32 at the time of the incident, not some single-digit aged child from the nursery rhyme. Flanigan's blue, baby doll dress cements this notion to the audience but with good intention; the harrowing and disturbing image it creates given the context of several of the earlier songs really encompasses the overall vision and message of the show.
Musical Director Megann Baldwin stuns the audience with her stellar live band (Elisa Poole on keyboard, Max Wagoner on guitar, Chanel Whitehead on cello, Delroy Gaither on percussion, Ed Eatmon on bass, and Baldwin herself on guitar.) The rhapsodic implosion of vivacity that Baldwin evokes from her pit really surges out of the Gazebo (yes, they're in a Gazebo) through the house and up onto the various staging points with great consistency all throughout the production. Hands down and praises up to Baldwin for keeping the pit balanced with precision; given the unique challenges of the space, this is no simple feat. And her work with the four performers is simply phenomenal, especially when it comes to executing stage directions that result in "swell fuckery" of sound from the singers.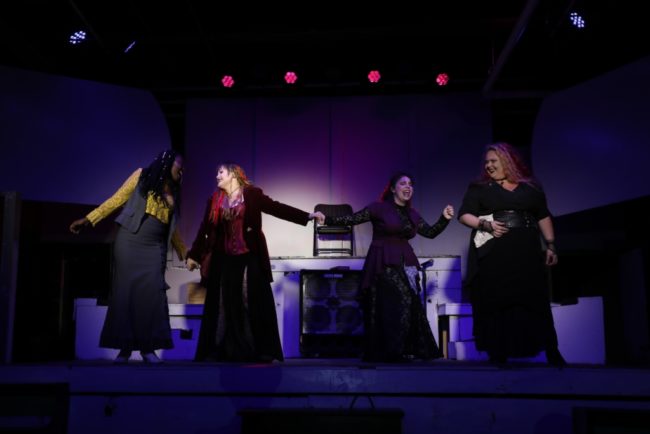 Director Greg Bell demonstrates fully the notion of "passion piece" when it comes to his involvement with the show. Using multiple levels of staging, keeping the sets simple but the way he plays the players upon them complex, allows Bell to bring the story of Lizzie forward. Again projections and imagery and video usage throughout the production is key, all enhancing Bell's vision. (Look for the portraits of the Bordens, as well as the creepy video that opens the production— featuring the Falls River Children: Xander Bell, Nathan Bell, Audrey Bell, Nadya Elson, Kieran Elson, Cadence Vallum, Coraline Weaver.) Watch the dynamic intimacy that Bell crafts between the characters as well; each relationship grows, shifts, morphs, and transforms as the play progresses and there is only ever one moment where all four of the performers are together in unison, physically touching as they sing— this is a striking and purposeful choice during "Questions, Questions."
Each woman is her own individual powerhouse of awesome in this production. But as an ensemble who drives this piece from start to finish, Parker Bailey Steven, Caitlin Weaver, Siobhan Beckett, and JacQuan Knox are a force to be reckoned with, unilaterally eviscerating the House of Borden from the inside out with their talent and raw skills. Coming together during critical moments of dire plot-twist and emotional explosion— like "Questions, Questions" and "The House of Borden", Steven, Weaver, Beckett, and Knox blow the audience away, earning well-deserved ovations at the end of several numbers.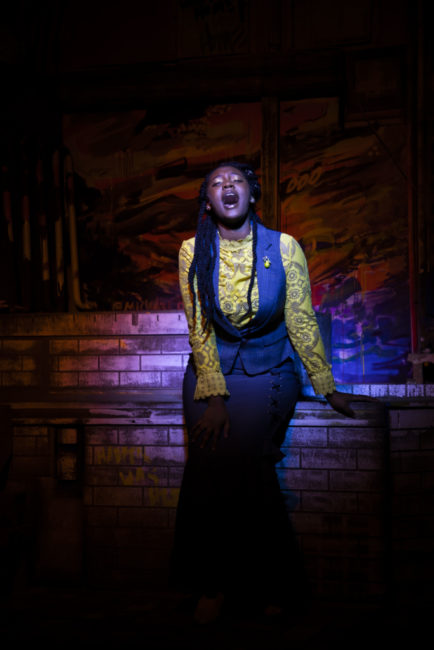 Playing Alice Russell, a covertly coy yet integral character to the Lizzie Borden story, JacQuan Knox slips onto the scene almost serenely, if the heavy subject of her song "If You Knew" wasn't so tragic. Knox provides great depth to the character, in addition to a powerhouse set of vocal chops, which belts, blasts and holds their own alongside the other three ladies in the show. "Will You Stay?" a delicate duet performed with Lizzie, showcases the versatility of Knox's voice as well as her character's emotional demeanor. Knox's sound is so enticing during this number that one could envision all the coarse and gruesome trauma of Lizzie Borden being washed away with her honey-soaked voice.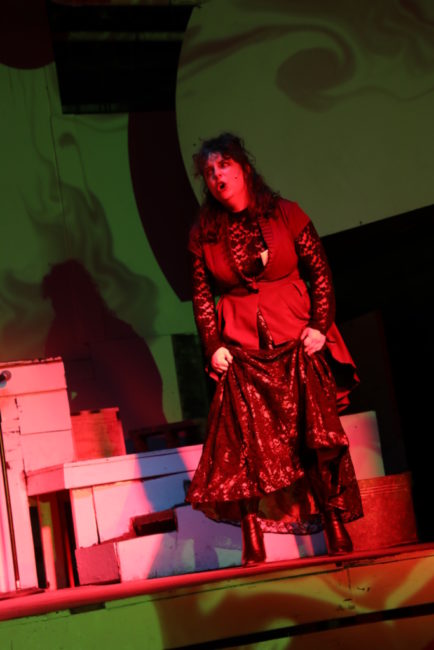 A rare raging bird, Caitlin Weaver steps up to the microphone as the sister, Emma Borden. (Who knew Lizzie had a sister?) And while the Emma Borden character spends a bit of time departed from the tale, Weaver never lets the audience forget her presence. A frantic paranoia possesses Weaver just before she leads into her big Act 1 solo, "Sweet Little Sister" and the song delivered to us pulsates and splatters with a bitter emotional vitriol; the desperation of failing to protect one's little sister warring over the need to preserve one's self all comes raging out of Weaver in this vocally demanding and emotionally challenging song. Weaver will give you chills during her duet with Lizzie in the second act; "Burn the Old Thing Up" sends shocks down the spine when Weaver blends harmonically with Lizzie Borden.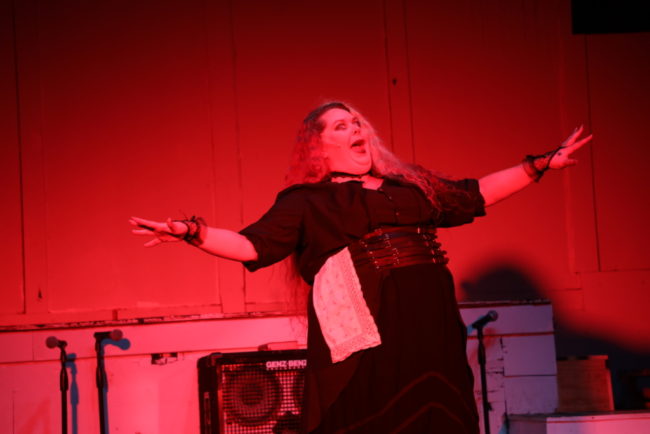 Master belter and thunder rocker Siobhan Beckett plays Bridget Sullivan— the maid who is sometimes called Maggie— and one might readily overlook the household help when it comes to the narrative of Lizzie Borden, if it wasn't for the fact that Beckett seizes the Bridget Sullivan character and transforms her into the ultimate narrative beacon of the show. She sets the scenes, she adds commentary, and there is an undeniably wicked sass that Beckett pumps into numbers like "The House of Borden" and "The Fall of the House of Borden." Beckett's rendition of "Mercury Rising" is haunting and beautiful, one half expects her voice alone with its power and pristine sound to summons spirits from below the stage and above the ceiling straight down into the show. You lose track of how many times Beckett delivers a soul-shattering belt at the top of her lungs, it's a lot to say the least, but arguably some of the most impressive vocal successes of the evening.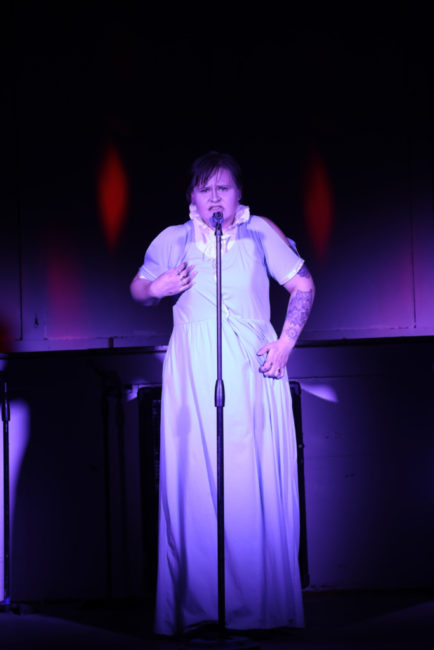 Right from the off, Parker Bailey Steven looks deeply troubled, horribly haunted, and desperately disturbed as Lizzie Borden. The facial expressions accompanied by her vocal prowess allow free-flowing access into the madness of Lizzie in addition to all of her traumas, pain, and suffering. There is a soul-searing sound produced during "This is Not Love", enough to make the skin crawl. One could spend an entire review alone on how perfect this number is executed between Steven's emotional outcries and vocal balance. The evolution of Steven's Lizzie in itself is hypnotic, and one readily finds themselves sympathizing with the character because of the humanity which Steven has infused into her. The vocal roller coaster that Steven rides from start to finish is nothing short of astonishing and her finale song, "Into Your Wildest Dreams" will force you to your feet in admiration and awe.
It's an astonishing show of female power, rich and robust in talent and feeling. Lizzie is the must-see musical of the fall. Don't wait— there are only eight performances. Be sure not to miss it…unless of course…you want 40 whacks?
Running Time: Approximately 1 hour and 50 minutes with one intermission
Lizzie plays with Guerrilla Theatre Front for just 8 performances on October 4th, 5th, 25th, and 26th, 2019 at Creative Labs— 1786B Union Avenue in Baltimore, MD. Tickets are available at the door or in advance online. Advanced tickets are strongly recommended.
SPECIAL PERFORMANCE TIME NOTICE: 11pm showings are available on all nights. This is opportunity is presented for all members of the public, especially others of the theatre community who may be involved with shows of their own who still wish to attend the performance
To read the Interview with Parker Bailey Steven, Caitlin Weaver, Siobhan Beckett, and JacQuan Knox on Lizzie, click here.