Before we plunge into the guts of this review, let me offer an admission: I am not generally a fan of musicals. That said, I am incredibly fond of Robert Louis Stevenson's The Strange Case of Dr. Jekyll & Mr. Hyde. I even reread it in preparation for reviewing Jekyll & Hyde: The Musical, with book and lyrics by Leslie Briscusse and music by Frank Wildhorn. I imagined that my affection for the source material would, notwithstanding other factors, guarantee my appreciation of the musical production — here directed by William Leary with musical direction by Stanley Livengood — I was tasked with reviewing. Yet owing to my general aversion to musicals, I was unfamiliar with this particular incarnation, and I was rather surprised to find how wildly it differed from the book (if not from certain film adaptations). So if, like me, you are primarily interested in this show because you appreciate Stevenson's original novel, let me tell you plainly: this show is not that. For fans of musical theatre, however — and judged on its own merits, absent comparisons to literary classics — this Wolf Pack Theatre Company production is worth a look.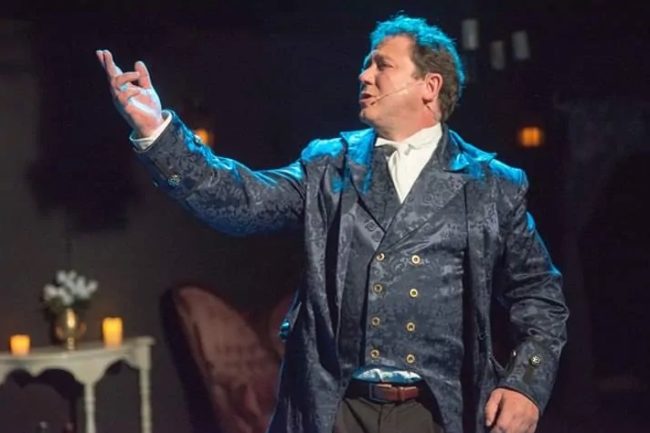 It is often difficult to discern precisely which elements of a production merit special praise for the director, but — as Leary doubles as the set designer — he unquestionably deserves kudos for his set design. Unlike other productions with an abundance of moving parts in accordance with scene changes, the set of Jekyll & Hyde is largely static: the four corners of the staging area are adorned with different furniture denoting a specific location (for example, the chaise lounge on the left side of the stage marked the brothel; a writing desk adorned with various test tubes and beakers signified Jekyll's laboratory), and the positioning of the actors helps to indicate where the characters are supposed to be located in any given scene.
While there were admittedly a few moments when I had difficulty determining precisely where the action was supposed to be taking place, on the whole this approach works surprisingly well and makes for fast, seamless transitions between the scenes. Also instrumental here is Stephen Beitzel's lighting design, as the show boasts impressively effective use of colored lighting to signify both changes in location (for example, red lighting for the brothel and blue for Jekyll's lab) as well as changes regarding the titular character's reigning persona (red lights mean Hyde's loose). In conjunction with Rebecca Overly's costuming, which admittedly sometimes seems incongruous given the apparent Victorian setting (the hospital's board of governors certainly appears a variegated crew) but makes for aesthetically pleasing contrasts during the ensemble pieces, Jekyll & Hyde is, overall — and especially given the limitations of the venue — a decidedly attractive feat of local theatre.
In many ways the production values upstage the actors, though the performances are generally good. Christopher Overly is perfectly serviceable in his role as Jekyll, and he seemed to gain more confidence and steam in his depiction of both characters and particularly of Hyde as Act 2 progressed. Even more compelling in their roles are Alexa Haines as Emma Carew and Lexi Haddad as Lucy Harris; whereas the majority of the voices in this production are merely decent, these two singers possess standout vocal chops and, thankfully, are given the opportunity to shine (so Leary deserves props for those casting choices). But perhaps because of their energy, the combined vocals of the ensemble cast, and Katy Chmura's choreography, I found the ensemble pieces most engaging — somehow "Facade" felt to me like the true opening of the show, and "Murder, Murder" at the top of Act 2 made for a delightfully depraved return to the production following intermission. That latter song (and the way Overly's Hyde gleefully cut down foe after foe during the number) was enough to make me wish that, as in the novel, Hyde had appeared much sooner than the tail end of the first act.
And yet, while Wolf Pack's production of Jekyll & Hyde is a perfectly serviceable production and an innovative staging of the work penned by Briscusse and Wildhorn, my own preoccupations compel me to remind the reader that this script is barely recognizable as an adaptation of Stevenson's novel. Indeed, the majority of these characters are wholly absent from the source text, and Jekyll's motivations in particular manage to be both less interesting and more convoluted than the rationale ultimately supplied by the text. But just as Henry Jekyll sheds his nobler self after imbibing the potion that transforms him into the murderous Edward Hyde, you too must cast aside those lofty literary expectations when sitting down to the show that is Jekyll & Hyde. If you can accomplish that feat — and I own that said feat may be especially difficult to manage — you, like Mr. Hyde and his zeal for those violent delights, might enjoy the production in spite of yourself.
Running Time: Approximately 2 hours and 30 minutes with one intermission
Jekyll & Hyde plays with Wolf Pack Theatre Company through October 13, 2019 at The Greenbelt Arts Center— 123 Centerway in Greenbelt, MD. For tickets call the box office at (301) 441-8770 or purchase them online.