The Biltmore Garage wants a grand, but we ain't got a grand on hand. And they now got a lock on the door to the gym at Public School 84. There's a stock room behind McKlosky's Bar, but Mrs. McKlosky ain't a good scout. And things being how they are, the back of the police station is out! So, come on down to Artistic Synergy of Baltimore 'cause that's where the action is. Shhhhh!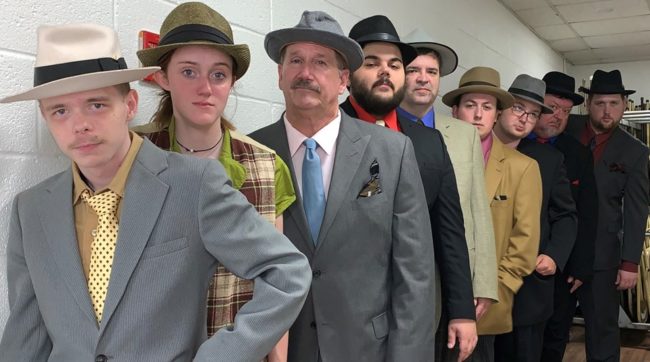 Guys and Dolls, directed by Melissa Broy Fortson, is up and running at Prince of Peace Lutheran Church, but don't let Lt. Brannigan know. In the fairness of disclosure, this project fell unexpectedly into Fortson's lap due to medical issues forcing the replacement of the original director. Not having time to prepare the show with her usual expertise, and wanting to keep the original director's vision alive, Fortson had many hurdles to jump. While the show won't cover a hard 6, Fortson should be commended for putting together 2.5 hours of entertaining theatre.
There are two shows that are near and dear to my heart; Man of La Mancha, my first live theatre experience, and Guys and Dolls, the first show in which I performed. There were a few stand out performances, but for the most part I found the show to be flat. I had questions and I was surprised to find out that the director, assistant director, choreographer, and producer were not available to take my questions. In fact, they were not even in the building.
Rowena Winkler's choreography was basic and unimaginative. There was so much more she could have done, especially with numbers like "Luck Be A Lady" "Havana" and "Sit Down You're Rocking the Boat". Her work with Hot Box scenes, however, was lively and very entertaining. That thread needed to be woven throughout the show. Hot Box Girls Sarah O'Hara and Emily Anna Neubauer brought an energy that was sheer delight.
Music Director LeVar Betts did an excellent job with the vocals of his cast and even more so as he conducted the pit. Aside from a few minor hiccups the entire cast was vocally strong. Additionally, Betts' orchestra was his best to date. It was nice to see them featured during the Hot Box numbers.
Lighting Designer Daniel DeJong continues to make magic with his limited resources. We as critics are all too quick to knock the designer who has thousands of dollars of equipment at their disposal, but we fail to praise the ones who bring the stage to life with imaginative design and a shoestring budget. DeJong is a true magician and does amazing work. Sound design can also be overlooked. If things run smoothly nothing is written because, well, that's your job. Drop a few mics, throw in some feedback and crackling, and you get an entire paragraph. Sound Designer Alicia Celgin delivers a crisp, clear performance. Celgin put together a show that is the best to have come out of ASoB in over two years. Hopefully she sticks around for more productions.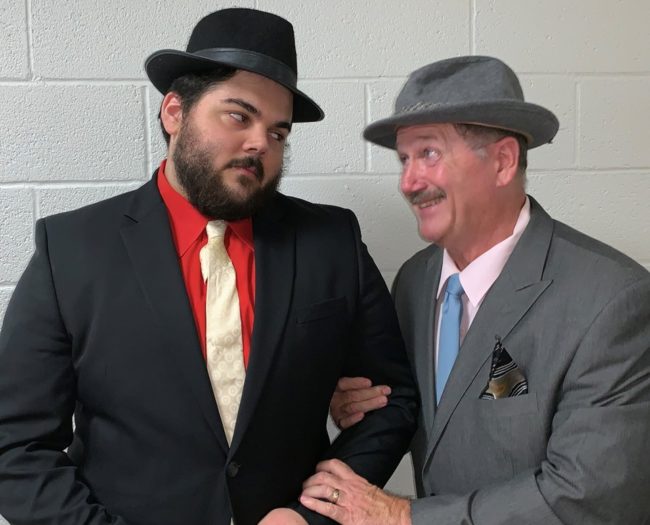 There were several ensemble members that need to be recognized. As a whole the ensemble was good but these few brought more to the performance and it showed. Max Wolf (Liver Lips Louie) and Chip Meister (Big Jule) were on fire. The energy and character development that these two brought to the stage is commendable. Wolf acted, danced, and sang his part showing that he is a true triple threat. While not the mover and shaker that Wolf is, Meister put on a performance as if he just stepped off the train from Chicago. His voice and expression are classic and a perfect fit for Guys and Dolls. Brian Reagan (Lt. Brannigan) and Marshall Gibbs (Benny Southstreet) also rose to the top. Reagan was stern and intimidating. It was nice to see Brannigan portrayed as a well-respected officer of the law and not some blundering cop. Gibbs has several moments where he shines and is a joy to watch. One more person who I thought stood out was Nick Ruth (Arvide). His gentle delivery off "More I Cannot Wish You" will make you want to hug someone.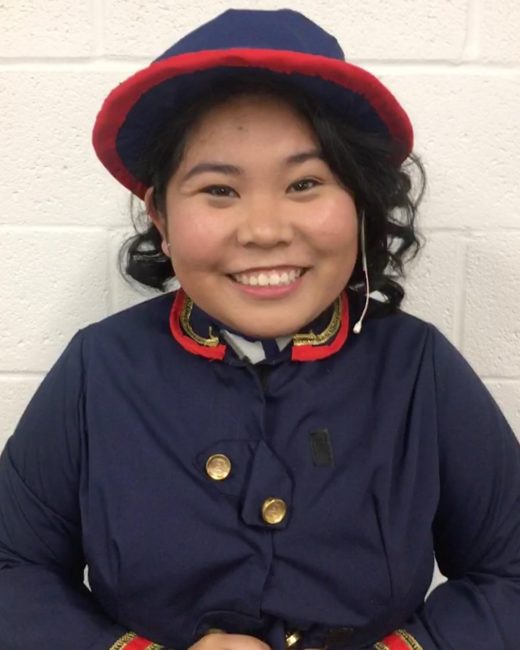 Marela Kay Minosa (Sarah Brown) and Mathew Price (Sky Masterson) were a polar casting as much as Sarah and Sky are a polar couple. Minosa acted the role beautifully. She interacted with the cast and played well against them. Her voice, while beautiful, didn't change from song to song though. "If I Were a Bell" is soft, fun and the first time we see that side of Sarah. Minosa performed it with the same tone as "Marry the Man Today". On the other end Price pleasantly delivered his songs with lovely resonation, determined to tell the story that each called for. There was clear distinction between "My Time of Day" and "Luck Be A Lady". On the downside Price delivered his lines as though he had some other place to be. His impassiveness was very noticeable and hopefully correctable. I was also surprised that Costumer Sally Kahn allowed him to go on with a scruffy beard. It was not period and certainly not the clean cut, suave, debonair, portrayal of Sky to which we are accustomed.
There are two other items that I feel need to be addressed regarding the show. First there was far too much chatter and adlibbing from the actors when they should have been miming. I'm all for a good one liner adlib, but when many people in the cast did not know their lines, or cast members were pausing waiting for cues, there is no place for it. If you don't know what you are supposed to say, then don't add to the script. Secondly, the Hot Box is not a strip club! To see a cast member pull out a wad of bills and start flinging them to Adelaide and the girls was demeaning and disturbing.
Heavy is the head that wears the crown. Luckily in this case, broad are the shoulders that carried the show. Words cannot begin to describe the performances of Jim Morgan (Nathan Detroit) and especially Lauren Lowell (Adelaide). Morgan, who doesn't sing much other than "Sue Me", made the most of his stage time with his brilliant portrayal of Detroit. His dialog was delivered with near perfect accent and voice inflection. (The Gamblers could have been aided greatly by a dialect coach.) Morgan couldn't be any more Detroit than if he rolled of the assembly line at General Motors. He is bold and brash with his compadres, even keeled with Masterson, and nervous when playing against Big Jule or Adelaide. For as good as Morgan was, no one could hold a candle to Lowell. A true pleasure to watch, Lowell commanded the stage in every scene. She was the sure, spitfire, yet loving doll that the show needed. Lowell transformed herself into a woman of the times, meaning as dated as the script is, she did not break character taking the emotional turmoil from her 14-year fiancée with a smile. As with Morgan, she knew her character, delivered the classical Adelaide accent but did it through several featured songs as well. If for no other reason then to see her in this role, you will want to take in this show. She is that good.
While the show is not without its quirks, it is entertaining and enjoyable. As I said it is one of my favorites and I am glad that ASoB put it up. You can count on good old reliable Nathan, Nathan, Nathan Detroit (and his girl Adelaide) to provide a floating crap game… I mean a wonderfully enjoyable evening.
Running Time: Approximately 2 hours and 30 minutes with one intermission
Guys & Dolls plays through October 20, 2019 with Artistic Synergy of Baltimore in the basement of the Prince of Peace Lutheran Church— 8212 Philadelphia Road in Rosedale, MD. Tickets can be purchased by calling the box office at (410) 833-5181 or by purchasing them online.