Have you ever taken one of those intro to acting classes where nobody's really sure they want to be there but they all desperately want to learn all the secrets behind good acting? Then this show might be for you. Have you ever taken one of those acting classes where all of the exercises that are supposed to be revealing all the secrets to good acting feel a bit like the instructor is trying to unload some of their own personal garbage from childhood onto the students? Then this show is probably for you. Have you taken one of those acting classes where you spent a lot of time being an inanimate object while other students groaned when it was their turn to be your inanimate object? Then this show is definitely for you. Theatrical catnip for theatrefolk, Circle Mirror Transformation by Annie Baker is a fluid theatrical expression that might not settle deeply into the minds of non-thespians but has just enough uncomfortable humor and awkwardly touching moments to reach out and bridge the gap between theatrefolk and standard audiences. Directed by Ray Hatch, this cast of five settles into two hour's stage traffic that gives outsiders and insiders alike a glimpse into the world of "acting."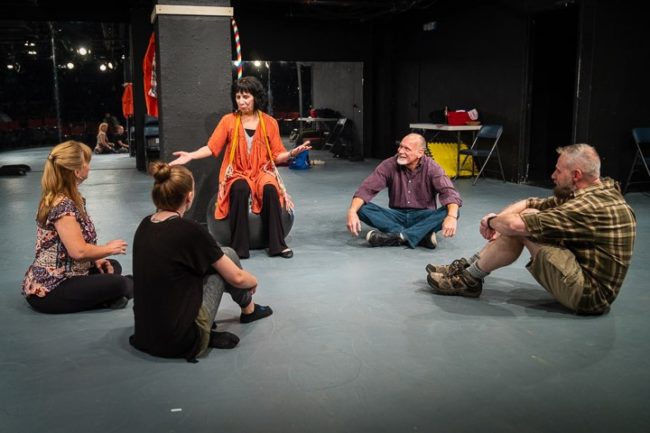 Annie Baker's play is really a collection of scattered fragments and shattered shards of the lives of five people, as viewed through the kaleidoscopic lens of their acting class, which also serves as the cross-sectional for most of the characters. As the scenes progress, tipping and turning, the image transforms and sometimes you can even see little bits and pieces of the previous scenes entwined in the most current scene as the show progresses. Baker has rendered five semi-complete characters, whose stories are never fully explored in this play, giving the drama a focus of unity and strength through progression. Director Ray Hatch chooses to let the ensemble nature of the piece be the front runner, not focusing on any one character for more than a few moments at a time. There are clearly deeper storylines just beneath the surface of these characters, many of which Baker's dialogue never begins to scratch. Hatch doesn't spend much time exploring those potentials either, choosing instead to focus on the organic nature of "being in the moment", a critical component of acting, or so any acting teacher worth their salt will tell you. Ultimately the show feels banal and rather simple for the MET when compared to their edgier and more intense theatrical standards.
There isn't much of a set, or so it seems, because Scenic Designer Doug Grove has opened the space up entirely, letting the MET's main stage untouched (with a few brush-ups to give it more of an 'actor's rehearsal space' feel) serve as the play's setting. Properties Designer Rona Mensah aids in a few of these little touches, a lost-n-found box, hula hoops like the room might be a multi-purpose function room, etc. It's all the minutia that mostly goes unnoticed, simply filling the background and creating a space of authenticity that might actually exist. Grove, who also designs the production's lighting, teams up with Sound Designer Kristin Hamby to craft smooth transitions from one micro-vignette to the next. Up come the lights, out goes the sound, a new scene has opened or closed when the lights and sound move in reverse; it's all very fluid.
Julie Herber, Lauren Johnson, Gené Fouché, Reiner Prochaska, and Tim Seltzer comprise the ensemble for this production; four of whom are long-standing MET company members, with Johnson having just became a full-fledged member after five years of working with them. They play well together, each bringing unique quirks to the performance. There are certainly moments, though this falls into the questionable realm of playwright's fault verses director's fault, where things simply drift along; I won't say drag because the whole piece move relatively quickly, but there are scenes that just drift through their existence. Though this is a bit like actual acting class and real life, so it seems unfair to judge it too harshly, however, there are moments where the audience may find themselves thinking about some of those underdeveloped plot tensions and unexplored character backstories rather than focusing fully on what's happening in the present moment with these five performers.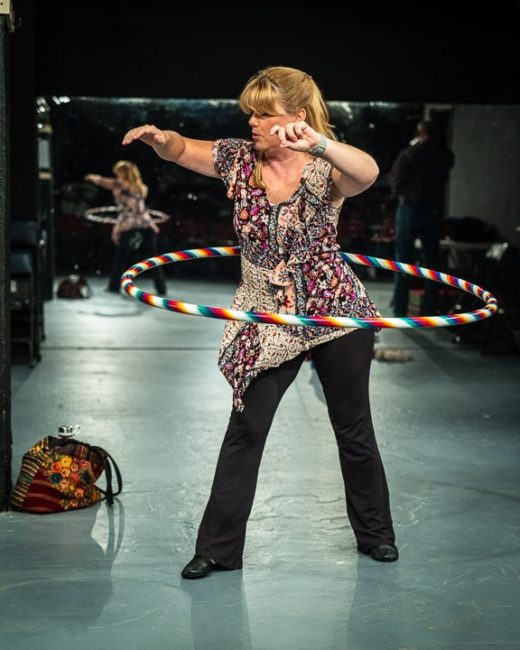 Lauren Johnson play Lauren, the youngest of the acting bunch, who is clearly there to get her fast-pass straight to the front of the "Broadway Star" line. With a slight chip on her shoulder and animated facial expressions that match, Johnson's portrayal of the slightly angst-ridden teen is par for the course when it comes to this moody typical youth stereotype. She's in most polar opposition with the 'aging-out-of-ingénue-roles' character of Theresa (Gené Fouché) who has been to the big city, done the 'real' acting, and is here again, trying to start over. Fouché gives a convincing performance, complete with highly nuanced body language, which is critical for her unresolved tensions with Schultz (Reiner Prochaska.)
The play doesn't allow for a proper exploration of either Schultz or Theresa, so often the interactions between Fouché and Prochaska feel somewhat rushed, as if their whole relationship— from first flirtation through to disastrous burnout— is rushed. This, however, fits with the overall strange pacing of the play itself, and can't be faulted to the actors. Prochaska gives strong emotional responses, particularly when attempting to cope with rejection; he's vibrant and animated both in his facial features and in his body language.
Julie Herber takes on the role of Marty, the instructor for the class. This would seem a fairly uncomplicated role, particularly in the haphazard, au natural approach director Ray Hatch has taken to guiding his ensemble through the work. Herber's character doesn't dominate the scenes, as the script might tend to lean, but rather burbles along in the background mostly, despite being the "leader" of the class. Marty's husband James (Tim Seltzer) is clearly in the class as a favor to Marty, but he's making the best of it. Seltzer delivers a great many of the show's more humorous moments, or maybe those of us who are theatrefolk just find more humor in some of the absurd things that leave his mouth or are expressed with his body. Either way, the tension that builds between Seltzer's James and Herber's Marty is the closest thing to deep drama that Baker's play has to offer. The pair work extremely well together and provide honest moments of raw emotion, particularly toward the end.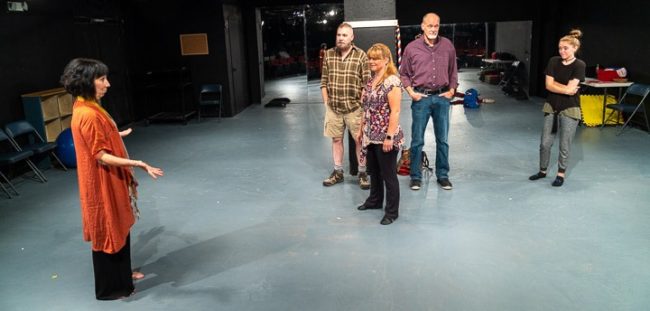 The show has a little something for everyone; it has the most value to audiences that are well-steeped in theatre, and is most definitely targeted at anyone who has ever taken one of those acting classes, particularly anyone who has ever survived it and still gone on to pursue an involvement or a career in theatre.
Running Time: Approximately 2 hours and 15 minutes with one intermission
Circle Mirror Transformation plays through November 10, 2019 on the Main Stage of the Maryland Ensemble Theatre in the Historic FSK Hotel building— 31 W. Patrick street in downtown historic Frederick, MD. For tickets call the box office at (301) 694-4744 or purchase them online.