Sometimes you can only shake your head and ask, "Why?" Why the need to turn everything into a musical? Shows like Pipe Dream, Kelly, and Via Galactica top Smithsonian.com's list of Broadway's Top Ten Musical Flops; also making the list, Carrie the Musical. Carrie opened on Broadway in 1988 and after 16 previews and 5 performances it closed. In 1991, Ken Mendelbaum wrote a book chronicling the history of Broadway musical flops, partially titled Not Since Carrie. I can remember sitting with friends talking about the 2012 revival and joking, "Carrie the Musical, because it can't be that bad the second time."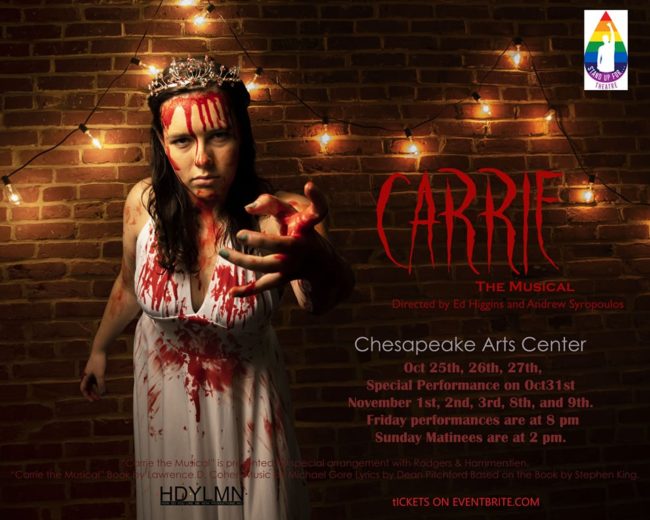 So, when Stand Up For Theatre announced that they were putting up Carrie this season I had to ask, "Why?" Director Ed Higgins, the cast and crew, waste no time answering the question. Higgins et al have breathed life into a dead project. His design (Higgins doubles as set designer) brings the show right in the face of the audience. There is actually a designated splash zone (ponchos provided) for those who don't mind taking the risk of getting bloodied by the actors. The stage is set up as the school's gym ready for prom. Higgins has his crew, lead by Stage Manager Sarah Burrall, quickly whisk in different pieces of the White's home when a scene change is called for. This works well and does not disrupt the flow of the show. Having his actors make entrances from several locations around the theatre is a nice touch to help the audience feel as though they are part of what's happening. Lighting Designer Julia Junges does an amazing job bathing the stage in a shadowy eeriness, blood curdling reds, and chilling flashes. The entire team contributed to some pretty awesome special effects.
Musical Director Brandon Seehofer and Choreographer Lenore Florez had their work cut out for them. At least Florez could add her own touches to the production by bringing something new in the way of dance. Poor Mr. Seehofer had a five-performance libretto that hung like an albatross around his neck. Both took the challenge head on and passed with flying colors. Seehofer gets the most out of his cast and has been blessed with a few stand out singers. Florez's choreography adds to the production not only esthetically but is fun and the actors enjoy performing it. They both prove that they were the right people for the job. They polished a dud and made it a very enjoyable evening.
I have met very few people with the talent set of Grant Myers. First show I ever saw together with him we were looking at the set waiting for curtain. Grant was pointing things out to me like, some clothes that were hung in the closet were not period, or that the mantel clock was period, but the hands had been replaced with a more modern version. The man has an incredible eye for detail and a head with more reference material than Enoch Pratt. Myers' costuming of Margaret, Carrie, and the prom kids is reflective of my previous statement. Where it gets a little confusing is the day to day wear of the students. These clothes stretch from the 80's, and 90's, through the aughts. The Raven shirt in particular didn't fly for a high school in Maine.
The one major distraction for me and other guests that I spoke with, was the sound. Too many times in the show you could not hear the actor speaking or singing over the music. Since that the music is canned, this should be a correctable fix for future shows, and I'm sure a solution can be reached.
As a group the cast performed very well. The show's score allows for rock driven group numbers that give this young cast an opportunity to show their energy. I'm not sure if Higgins intentionally opted for the 2012 revival over the 1988 original, but it was a good choice. One of the people that impressed me both with their singing and acting was Lenore Florez as Ms. Gardner. Florez, while only having one featured song, does not miss the opportunity to swing for the fences and she connects for a home run. Feel free to stand as you applaud after she finishes "Unsuspecting Hearts". It should be noted that this is a tough score to sing through. Michaela Saul (Carrie) holds her own and delivers an enjoyable performance.
The preeminent performance of the production belongs to Sarah Mackin and Jenifer Hollett. Mackin is amazing to watch and even more spectacular to listen to. Her and Hollett share the ability to sing over the music and without any vocal distortion. She transitions seamlessly from ballad to belt. Mackin has an angelic look with the voice to match. Her rendition of "Once You See" is a showstopper. Mackin's acting is tuned in from opening curtain through the end. She is reactive to what is happening around her and you can feel her anxiety as she is being interrogated. She is a rising star destined for greater things in Baltimore Theatre.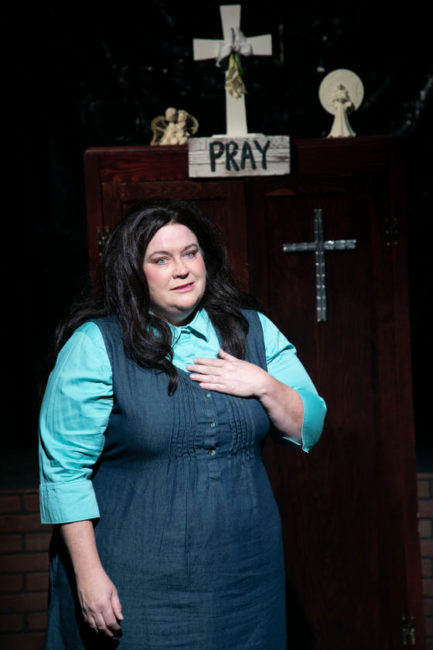 Hollett seemed as if she had been rescued from a religious cult and dropped off at The Chesapeake Arts Center. Her portrayal of Margaret White is one for the ages. I understand that we are talking about Carrie and not Dame Judi Dench as Queen Elizabeth, but when an actor can elevate a production in the manner that Hollett does it needs to be recognized. Hollett opts to feature the maternal side of White and not the evil monster that she has come to be known. This choice forces the audience to toss out any preconceived notions they may have had and see Margaret as a loving mother who is struggling to not only raise Carrie away from the evil influence of the world, but to also protect the world from her daughter. Hollett humanizes her character in song as well as her acting. Her soft, docile tones show the love she has for her daughter and can be heard above the music.
Without a doubt everyone involved with this show has made it a better production. Carrie the Musical may have only run on Broadway for 5 shows, but it is running at Stand Up For Theatre for 6 more performances through November 9, 2019. And why shouldn't it? SUFT does it right!
Running Time: Approximately 2 hours and 30 minutes with one intermission
Carrie plays through November 9, 2019 as a Stand Up For…Theatre production in the Black Box Theatre space of The Chesapeake Arts Center— 194 Hammonds Lane in Brooklyn Park, MD. Tickets may be purchased at the door or in advance online.