I am standing here with poison in my pocket…one eye on the target, one eye on the clock— which is running out— only three more chances to fancify your theatrical endeavors with this refined production of gruesome murder and grisly mayhem. Why, it's A Gentleman's Guide to Love and Murder, a serious undertaking for Dundalk Community Theatre this autumnal season. Directed and Choreographed by Todd Pearthree with Musical Direction by Catina McLagan, this Tony Award-winning musical graces the DCT stage for just two weekends with shenanigans and dark hilarity.
Technical Director, wearing the numerous hats of Scenic, Lighting, and Sound Designer, Marc W. Smith has done his best to pay homage to the original Broadway set (and subsequent touring sets) by replicating it on the stage. Relying a bit on projections to fill in the background, Smith does a decent job of replication. There isn't much to complain about here, though some of the effects of the projections could have been cleaner, but its unclear as to whether or not this was a tech-execution error or initial design error. It's not enough to ultimately detract from the aesthetic experience but will catch the eye of anyone intently focused on the minutia of production values. The costumes are superb and deserve praise, rented from Baltimore's own A.T. Jones' Company.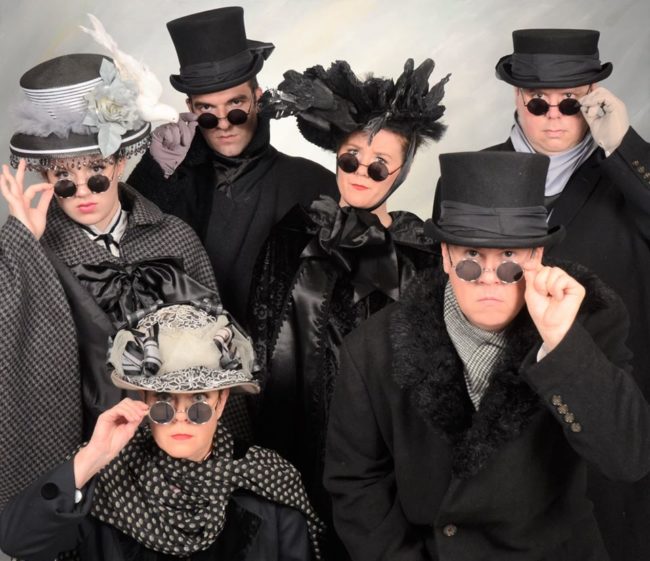 This musical beast is exactly that when it comes to dynamic difficulty. The score is hard. The music is eerie and unsettling. The ensemble masters it divinely when they're singing together in unison. "Prologue", which is arguably the hilariously dark introduction one needs to such a show, is an ear-pleaser when the aforementioned ensemble— Alyssa Bell, Casey Lane, Jane E. Brown, Jim Baxter, Ken Ewing, Joey Hellman— brings it on together. Individual lines that pop out of that number and other numbers like "A Warning To Monty" and "Why Are All The D'Ysquiths Dying?" tend to not pop as well as you would hope after hearing how radiant the ensemble sounds as a whole. There are some pitch issues (and also some volume issues, which is beyond the control of the performers) and they echo strangely against the mellifluous harmonies that the group is otherwise creating. There are also moments, though no fault of the ensemble's, that their "dance routines" are a bit over-choreographed. Trying to push choreography into a show where it doesn't fit naturally detracts from the show as a whole.
Quite the pip with her outrageously put-upon accent, Holly Pasciullo plays the doddering servant figure of Miss Shingle with rigorous aplomb. There is something quirky and ever so slightly off-kilter about her performance that just marries blissfully with the notion of the character. And her singing is quite suited for "You're a D'Ysquith", the number that serves as the catalyst for getting the plot into action. Her antics during "The Trial" scene are also quite amusing.
With two leading ingenues to choose from, no wonder Monty Navarro has his hands full! There's Phoebe D'Ysquith (Mariana Yiannouris), the delicate countryside girl with a simple constitution, songbird soprano sound, and gentle elegance about her that radiates through every scene in which she steps. But whilst considering Phoebe, once must also consider Sibella Hallward (Allison Comotto), the saucy city minx who is a blissful bubble of sin and sultry seductive behaviors. The two could not be more different in their character choices or vocal styles. Comotto brings a bold and brilliant sound to her songs, "I Don't Know What I'd Do Without You" and "Poor Monty" whilst still maintaining the comical airs of a high society woman who is darkly devious. Vivaciously stylistic, especially for her blended duet "That Horrible Woman", Comotto is deceptive and exquisite in the role. Yiannouris is equally pleasing in a different vein, particularly with her peppy cheer that she brings to "I've Decided to Marry You", another duet (trio, technically) which is shared in equal parts by Comotto's Sibella and Monty Navarro. Yiannouris brings the simplistic splendor to "Inside Out" showcasing lighthearted love in its most vulnerable state.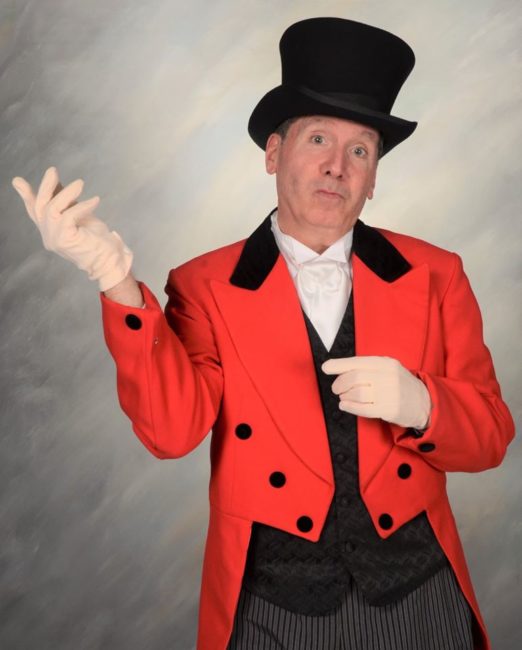 Taking on the entire D'Ysquith family is quite a tall order, one that Patrick Martyn does his best to stand up to, and there are particular characters with which he truly succeeds. One of Martyn's greatest successes is as the venerable Lord Asquith D'Ysquith, especially when singing his solemnly sincere solo "The Last One You'd Expect." Martyn's largest struggle in the 8-role character track is differentiation. While there is a hilarity and a humor to be had in recognizing that they are all played by the same actor (even the two female relations), there has to be distinguishing characteristics to keep from confusing the audience. All too often, though what Martyn does is perceived as funny, his performance is the same from one D'Ysquith to the next. And although the costume changes help, there is something lacking in his shift in voice, physicality, and overall stage presence to really separate the D'Ysquiths from one another. And there feels like a slight disconnect between Monty Navarro and the various D'Ysquiths, even with Cousin Henry during "Better With A Man." This number in particularly feels under-directed, pushing hard for the camp and forcing the humor and innuendo of the song rather than letting occur naturally.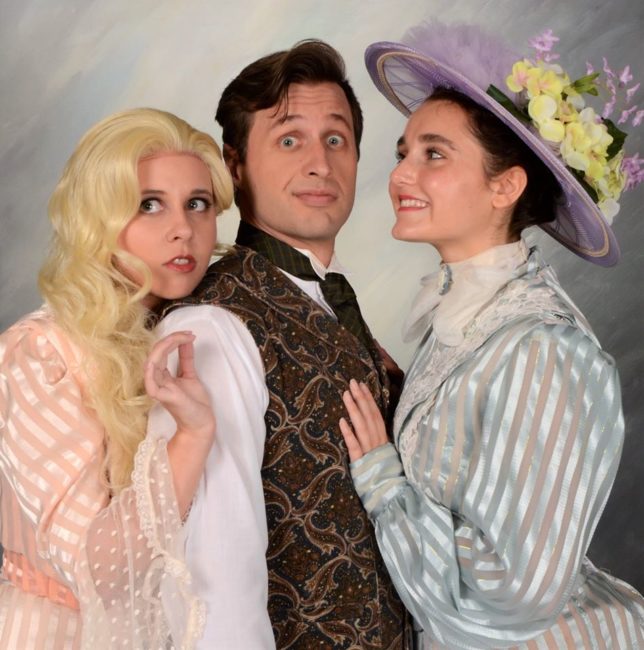 As stunning as his leading ladies, Rob Tucker is a sensational leading performer in the role of Monty Navarro D'Ysquith, the ninth Earl of Highhurst! With exquisite facial expressions that are simply to die for, a goldenly glorious and buttery smooth voice that melts through your heart, charms your mind, and embraces each song with living gusto, Tucker is a dream come true in the role. His precision articulation during "Poison in My Pocket" is perfect; his rich and robust vocals lend such an exceptional sound to the production and his overall characterization of Monty is everything you could hope for whilst still being original and uniquely separate from what debuted on Broadway. When he hangs and swings back and forth during "I've Decided To Marry You", Tucker is hilarious but still upholds the vocal integrity of the number. And "Stop! Wait! What?!" is a triumph of his vocal prowess and his emotional cunning. Ultimately a winning show-stopper, Rob Tucker's Monty Navarro deserves the ascension to the position of Earl.
You must come see why all the D'Ysquiths keep dying; it's a show to die for and well-sung by ensemble and principals alike! Don't miss the community premiere of A Gentleman's Guide To Love and Murder this fall at Dundalk Community Theatre.
Running Time: 2 hours and 20 minutes with one intermission
A Gentleman's Guide to Love and Murder plays through November 3, 2019 Dundalk Community Theatre at CCBC Dundalk in the John E. Ravekes Theatre— 7200 Sollers Point Rd. in Baltimore, MD. For tickets call the box office at (410) 285-9667 or purchase them online.