There is something delightfully universal about a book club that almost anyone can relate to. So believe the characters of Karen Zacarías's The Book Club Play when their perfectly ordinary book club has been selected to be featured in a documentary about the phenomenon. As the cameras roll, and the club members find their lives under scrutiny, their perfect social circle begins to unravel. Silver Spring Stage's production, as directed by Karen Fleming, follows these characters as they look at both their favorite books and their lives from a whole new angle.

After their book club has been selected by a famed documentarian for a featured role, self-appointed leader Ana (Lena Winter) takes it as an opportunity to show the world the magnificence of what she has created. Less enthusiastic about the prospect are Ana's husband, Rob (Spencer Knoll), friends Will (Nicholas Bashour) and Jen (Camille Pozderac), and new member Lily (Jasmine Jones). Months pass, as each member takes a turn choosing a book, and discussions drift away from plot points and into personal revelation. When Jen brings a new addition to the precariously-balanced group in Alex (Andy Greenleaf), things begin to collapse, and the club members must figure out what drew them to book club and to each other in the first place. In transitions between meetings, the documentary is filled out with interviews from a host of characters on their experiences with book clubs, all played by the role of the Pundit (Caroline Adams).
The play, written by DC-local Zacarías, is a light and entertaining look at social connection. While the premise could threaten to drift away from comedy and into darker territory, it manages to hold things aloft and finds the uplifting sentiments that are at the core of these characters.
The set, designed by Silver Spring Stage vet Bill Dunbar, is spectacularly well done. This simple but carefully and cleanly constructed living room is a thoughtful insight into the home of Ana and Rob, where all scenes take place. No detail is left ignored, including a fully built-out kitchen that's only just visible from the audience – a detail that would be easy to skip. The home felt cozy, aided by warm lighting design from Bill Strein. In a cheeky addition, Sound Designer Patrick Hughes filled out the house music with notable tracks from adaptations of books. Most notable was the brilliant use of projection, from Steve Deming. Screens fit seamlessly into the walls of the living room and served as a crisp and constant reminder of the book the characters were at least supposed to be discussing. Costume design, from Eric Scerbo, was likewise sharp; everyone looked trendy and smart, though Ana, who is meant to be a fashion writer and meticulous in her own style, was occasionally quite wrinkled or mismatched.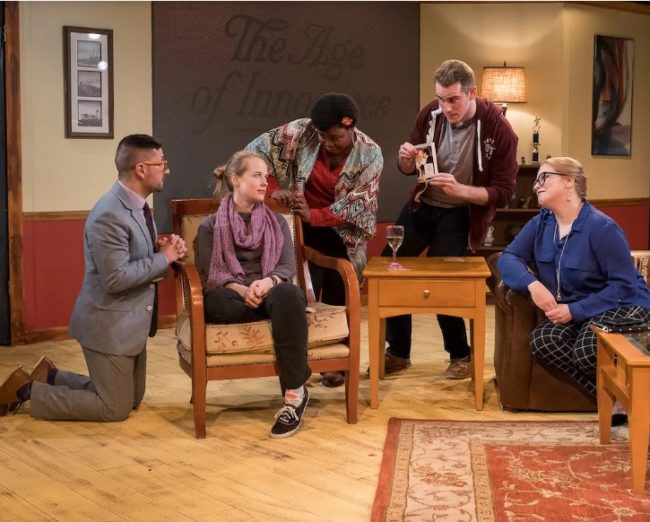 The performances are mirthful and enjoyable, and each actor brings a bright enthusiasm to the production. Bashour was given a thin line to walk between camp and caricature and managed to find an admirable balance. Jones' genuine delight and enthusiasm on stage was infectious. Pozderac was riveting and a draw to watch even when not featured. Winter takes competent command of the characters around her and takes her character on a difficult arc, though at times she seemed to struggle with her style of dialogue. Knoll, as husband Rob, was truly a stand-out, immediately gathering the audience's support and love. Every reaction he gave served to endear the character in a genuine way.
Overall, it is clear that Fleming's direction was cohesive, effective, and joyful. The production made you want to celebrate books, friends, and the stories we have to tell. For a small donation, you can even browse the shelves of Ana and Rob's home and take home a book for your own collection.
Silver Spring Stage's The Book Club Play is a show as drinkable as the wine that flows freely on stage and provides a light and entertaining evening for anyone looking for something to smile about.
Running Time: Approximately 2 hours and 15 minutes with one intermission
The Book Club Play plays through October 12, 2019 at Silver Spring Stage, located in the Woodmoor Shopping Center— 10145 Colesville Road in Silver Spring, MD. For tickets call the box office at 301-593-6036 or purchase them online.