Skilled labor isn't cheap; cheap labor isn't skilled. An innocuous enough statement of truth that might just ruffle the feathers of the pleasantly situated. But isn't that art and theater at its core? Comfort the disturbed and disturb the comfortable? No surprises that politically charged, prescient and topically relevant drama by two-time Pulitzer Prize-winning playwright Lynn Nottage is being produced upon the Maryland Ensemble Theatre stage. Directed by Gené Fouché, this ensemble-driven drama is laced with humor around the visceral edges of political upheaval in the town of Reading, PA between 2000 and 2008. One of Nottage's newer works, Sweat tackles issues of race and class in a potent dramatic examination of small-town, union-worker life.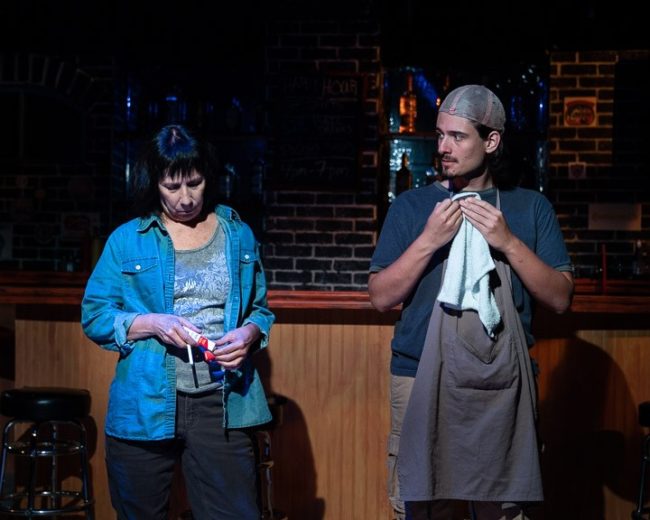 One of the signature elements that sets a production at the Maryland Ensemble Theatre apart from others is the intimacy of its unique staging area. And while the stage space creates intriguing challenges for scenic creations, Scenic Designer Eric Berninghausen has crafted the perfect set for Sweat. Don't' be fooled by the deceptive simplicity that the initial aesthetic generates; Berninghausen's attention to detail is exquisite; every nuanced touch really giving the interior of the bar a note of authenticity. The sponge-printed brick walls are done in shades of soot and coal (and while it's clearly not a coal mine or miner's union featured in the production, the homage to Pennsylvania's union-born nature is thoughtful touch) and the wooden floor boards are hand-painted with precision in their detailing. Berninghausen has carefully balanced the interior appearance of this bar, giving it character and grit without appearing too sloppy or tired. Lighting Designer Doug Grove and Properties Designer James McGarvey add subtle accents throughout the production which enhance Berninghausen's creation.
By way of costuming there isn't much to be said; this isn't' a period piece or a fantasy piece that requires elaborate stretches of the imagination to be engaged in the show's sartorial selection. That said, Costume Designer Ben Kress gives each of the nine performers an outfit that fits the changing seasons of time as well as the tempestuous phases of their lives. Kress does a particularly good job at distressing Brucie's clothing; there is one scene where the shoes are so scuffed, the jeans so tattered and torn that it creates the repugnant aesthetic of a bum who has been roughing it on the street for quite some time. The visual is so simple and yet so detailed, you half expect to smell the iconic 'hobo stench' wafting off the actor in that costume.
It is difficult to praise the impressive work of Fight Choreographer Steve Custer without dipping into the dangerous territory of plot spoilers. But Custer's work deserves as much praise as any designer or director working on the project for his authenticity in executing impressive bouts of fighting in the intimate, confined stage space. When the brawling breaks out, it is a multiple-person engagement with bystanders getting involved in the mix, all of which is played out right in the laps of the audience in the first row. Custer's work is superb when it comes to the clean execution and believability of the punches being thrown; he puts the mark of a professional fight coordinator on the production with flawless ease.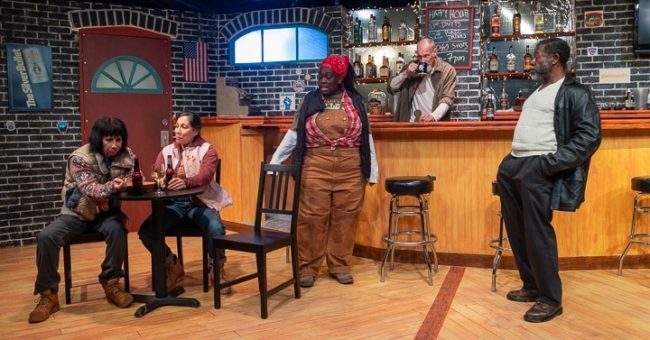 Director Gené Fouché delivers a powerful ensemble for this production. The pacing is swift, though at times too swift— there are instances where beats feel hurried during anecdotal retellings, a natural trapping in a lengthy drama where one fears the plot dragging— and keeps moving from the moment things get underway. Fouché's emotional balance of the production is strong, though not without its wobbling points in places, most notably where Cynthia is involved, though this feels like a deliberate choice, rather than a mishandling of actor outbursts. Fouché nurtures the show's intensity with care, focusing on those deeply moving moments— scenes between Brucie and Chris, scenes that take place in the 2008 time slot— and allowing them to flourish naturally with raw and visceral passion.
One of the production's most difficult sticking points to swallow is Richard Johnson in the role of Evan. Regardless of the actor's real age, he appears to be similar in age to both the actors playing Chris and Jason. With the intimacy of the venue, it becomes a big ask to believe that the parole officer is as young as his two charges, though not an impossible ask. Johnson ends up playing the character with a bit of a greenness to him; he feels young and under-practiced as a parole officer, which might be a deliberate choice to showcase one of the over-arching themes in Nottage's work— that life can change in a moment. Fouché's casting choice of Johnson may be an intentional illustration to show how Chris and Jason's life could have been different, though given the authoritative text, albeit underdelivered by Johnson, this feels like it might not be the case.
Each of the characters have moments where they connect with the other characters in the work. For Jessie (Lia Seltzer) its often through a hazy fog of booze. Scripted to be more of a background-chewing third wheel, the Jessie character is in good hands with Lia Seltzer playing her. Seltzer finds all the little comic nuances of the character, which mostly involve being an ineffectually belligerent drunk. Every character in this production gets a yarning anecdote at one point or another; Jessie is no exception. When Seltzer starts into her fabrication of the happy times she used to know, it devolves quickly from a charming story into a heartbreaking tragedy of a life she never knew.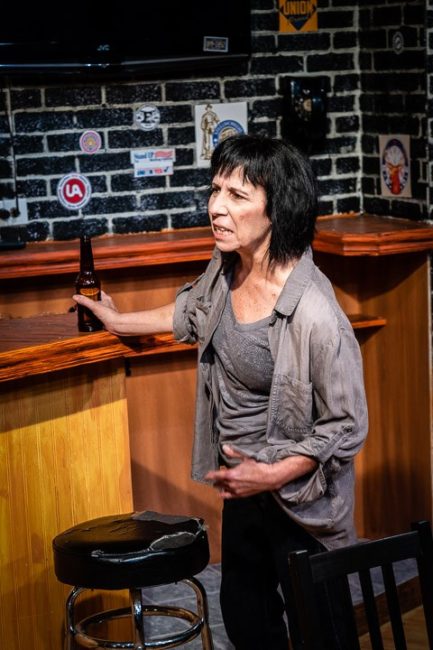 Tracey (Julie Herber), aptly called mouth, is a loaded pistol half-cocked and ready to explode at all times. Dynamic in her portrayal of Tracey, Herber presents a multi-faceted character throughout the production, delivering the ultimate blow as the leading antagonist when the final scenes blaze their way through to the finale. Gritty and full of guts, Herber's Tracey is an engaging character that you can't peel your eyes away from, even when she's making decisions that turn the stomach. Watching her frantically dig through her purse in a 2008-placed scene at the top of the second act showcases her ability to shift the character's emotional headspace without pause. Herber delivers a powerhouse performance in the role and is a solid casting choice for Tracey.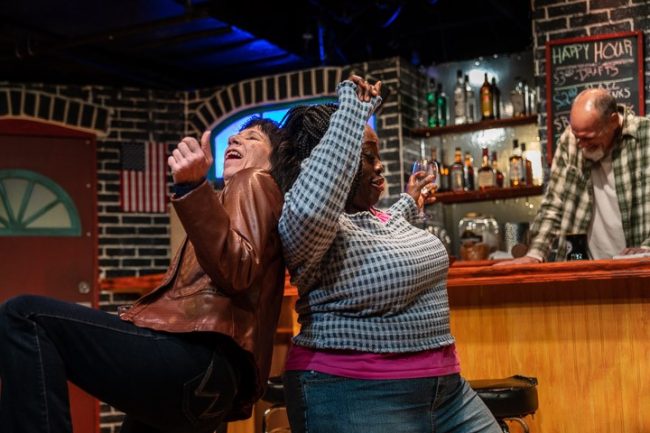 A great many of the tension-driven scenes featuring Tracey are faced off against Cynthia (Rona Mensah.) The racial tension of the play comes to a head between the pair often, with Herber's Tracey often on the offensive, forcibly placing Mensah's Cynthia in a defensive stance. Mensah delivers a mild-mannered Cynthia, never erupting vocally or emotionally the way the text might indicate; she tries to create a low-profile, mellowed version of the character, which at first feels contradictory to the text and overall plot but as the play nears its conclusion, seems to fit with the overall direction that Fouché has set for the production. Mensah has the pivotal turning point of the play, after a wily anecdote from Herber's Tracey, where her tear-filled answer sharply transforms the plot's trajectory and from that moment things quickly tumble downward.
Seemingly existing only in the background, though in a far different fashion from Jessie, Oscar (Daniel Valentin-Morales) is a critical component to the play's racial and class-divided tensions as well. The first handful of encounters that the audience has with Oscar is as a non-existent entity; Valentin-Morales' character is literally the guy that sweeps up the bar; you intentionally don't notice him, except that you do. Valentin-Morales his this way of drawing the audience's eye; watch him when he's tucked up under the bar room tables, scraping— gum? grossness? maybe don't question whatever it is too much— away like a diligent worker doing his job. Once the play's racial tensions really get ramped up, particularly on the back side of the second act, Valentin-Morales is given the chance to showcase his acting skills in a way that really makes you take notice of his versatility as a performer.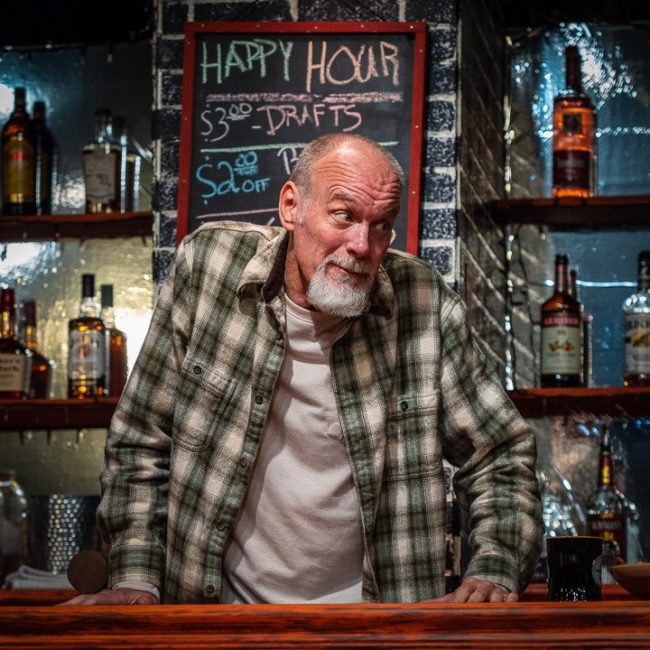 Tim Seltzer is the epitome of perfect in the role of Stan. His final entrance of the show is the most emotionally evocative and brutally harrowing moment in the production. Seltzer carries the balance of tensions throughout the performance, listening, dispensing advice, and acting as a sympathetic ear to everyone's plight. There is a neutrality in Stan that serves the explosiveness between the other characters well; Seltzer finds that balance readily, even when casually observing from behind the bar. His anecdotal retellings suffer from some of the rushed beats and skipped breaths that minutely plague the play in other places, but otherwise his performance is highly impressive. Do not be fooled by his becalmed demeanor; Seltzer has his own catastrophic outburst which startles the audience as much as it startles everyone on stage when it comes down to it.
Jason (Liam Watkins) and Chris (Najee Banks) go hand in hand in this production. The pair are almost exclusively encountered together in all of the scenes that occur in 2000. The more brutal, emotionally exhaustive scenes where they are separated (occurring in the 2008 setting) give you an edgy and dramatic feeling for where they are— the play initially works in reverse, starting near the end and flashing back into the action— and this is a very telling experience for both actors. While Watkins' Jason takes a little while to warm up to— his initial scene opposite the parole officer feels somewhat contrived, but again this may be because of the physical age similarities between the characters— once Watkins gets going in the scenes opposite Banks in 2000, there is a conviviality to his bombastic persona that just does not quit. Watkins is a raging ball of energy, who shifts through erratic waves of pathos, all at the peak of his emotional range. This is a critical element for the success of his big blowup during the bar-room brawl scene.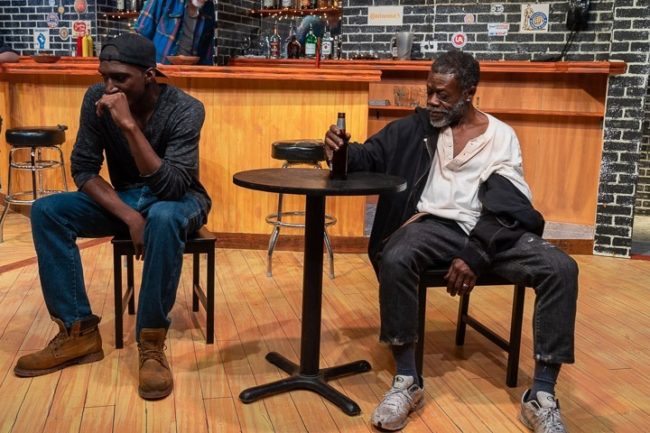 Banks delivers a mercurial performance as Chris. From his jittery, wound-up beginning, through to the humbled end, Banks is an experience well worth praising. The scenes where he plays opposite Brucie (Ray Hatch), are stunning. Both Hatch and Banks have their characters exceptionally well in hand; Banks mastering the emotional turmoil of a kid his age while Hatch flawlessly executes the habits of an off-the-wagon addict who is "trying." There is one scene in particular where they come to blows and it is a gut-punch to the heart that really stings. Hatch, though less bombastic than Banks, has his own emotional gauntlet that he traverses throughout the performance and does so with vigor. Banks rides his own evocative roller coaster of feelings, which often results in a mixed whirlwind of laughs, gasps, and tears from the audience. The pair are perfectly suited for their roles and to play so directly opposite one another.
Human decency is at the core of everything. It's a vital lesson that humanity is still struggling to learn. We can only hope for a time when Lynn Nottage's work is no longer relevant because we've managed to learn that lesson. Until such a time, Sweat is playing on the Maryland Ensemble Theatre mainstage in an attempt to remind us of exactly that.
Running Time: 2 hours and 45 minutes with one intermission
Sweat plays through September 29, 2019 on the Main Stage of the Maryland Ensemble Theatre in the Historic FSK Hotel building— 31 W. Patrick street in downtown historic Frederick, MD. For tickets call the box office at (301) 694-4744 or purchase them online.