What matters most is the music you hear in your head. And as singing is a kind of dreaming in public, you'll want to hear the beautiful music that is being made by Rep Stage as they open their 2019/2020 season with Souvenir, a fantasia on the life of Florence Foster Jenkins written by Stephen Temperley. Directed by Joseph W. Ritsch, this delectable play in memory explores the musical stage life of Florence Foster Jenkins through the vibrant lens of her pianist, Cosme McMoon. Filled passionate tenderness and sentimentality, the show explores the indefatigable optimism that tinted the world views of Florence Foster Jenkins, providing insights and inspiration to those of us living life hearing only the music inside our own heads.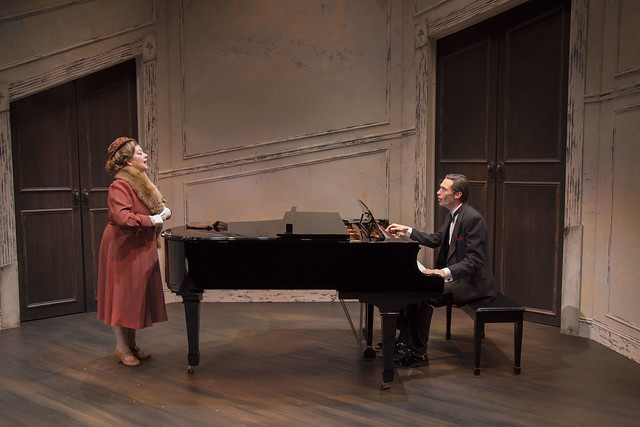 Larger than life is the descriptor one might reserve for Florence Foster Jenkins herself, only in this case the qualifier applies liberally and equally to Mollie Singer's scenic design. The grandiose and upward sweeping nature of the set makes the music room, as it is come to be known, feel enormous. The walls jut skyward at sharp, inarticulate angles; the doorframes rise on slanted slope, skewing the perception of the room's reality ever so slightly, mirroring the uplifting positivity that colors Jenkins' own life. The bleak monochromatic absence of color lends itself to the lurid lighting of the present moment, crafted by Lighting Designer Adam Mendelson. Flagrant flushes of fuchsia highlight Cosme McMoon whenever he is in his present-day moment, recollecting and retelling his memories of Madame Flo, as he often refers to her, to the audience as if they were personably chatting him up at the bar where his piano sits. The precision work in Mendelson's lighting cues— violently snapping into that almost iridescent purply pink whenever Madame Flo closes the doors leaving Cosme alone— is stunning and creates a remarkably comedic effect on the piece as a whole.
Julie A. Potter has requisitioned a fine selection of tastefully outlandish outfits and accessories that suit the Florence Foster Jenkins character perfectly. Potter's sartorial selections border just on the margins of too eccentric to be taken seriously, toeing that fine line of oddly fabulous and deranged decoration. The more absurd costume pieces are featured late in the second act in a revolving series of showings, all of which are centered around a honey-tinted sparkle dress that falls in a flattering column down the actress' figure. Potter captures the curious essence of Florence Foster Jenkins in each of her costume designs, adding that unmistakable air of positive confidence and confident positivity to the performance.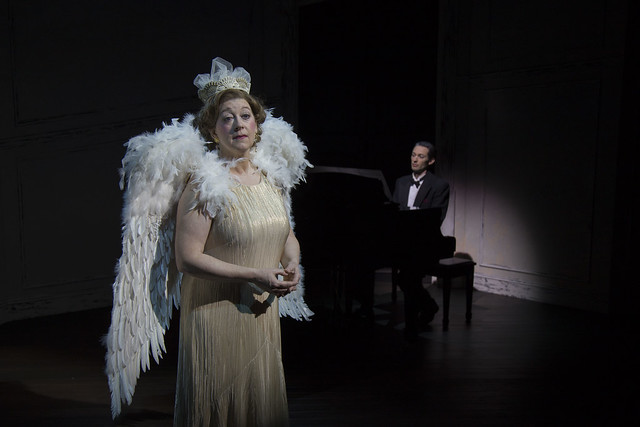 Director Joseph W. Ritsch has delivered a show that is conceptually beautiful, aesthetically striking, and overall a crowd-pleaser that tugs at the heartstrings in all the right ways. With steady, deliberate pacing and a keen sense of spatial use, Ritsch allows little emotional nuggets to wash over the stage and melt into the audience liberally, balancing these more tender, curated moments of sincerity and emotional complexity with authentic and earnest attention to the more comedic elements of the script. There is a risk of pushing the Cosme character into a caricature, but Ritsch deftly avoids that trapping, creating a narrative experience free of artifice.
Florence Foster Jenkins (Grace Bauer) becomes a secondary, supporting character in her own story because of the exquisite narrative command that Cosme McMoon (Alan Naylor) seizes in the play. While the script doesn't tend to favor Jenkins or McMoon, this particular production has completely shifted the narrative focus to more accurately represent the tale of Florence Foster Jenkins, as seen through the eyes of Cosme McMoon. The working chemistry that evolves between Bauer and Naylor is delightful, particularly given the peculiarity of their relationship, strictly professional and musically inclined, of course.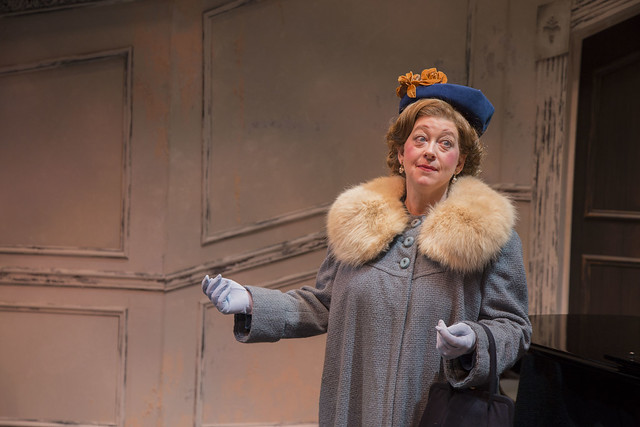 Grace Bauer embodies the fantasia of Florence Foster Jenkins, approaching her as a fantasy rather than as a historical figure or hyper-actualized character. That is not to see that Bauer is not connected to the emotions and experiences of FFJ; she is, most assuredly. Right from the off, Bauer's portrayal is a pip of personality enveloped in eccentricities that only the outside world can see. There is a larger than life quality to Bauer's adaptation of this character but in an oddly believable and grounded way that brings Florence Foster Jenkins almost back down to earth. It's like her characterization of FFJ hovers mere inches off the ground, never fully floating away on the bizarre ideology of optimism but never so grounded that she seems ordinary. Lost in her own sense of music, Bauer delivers a heightened but authentic rendering of this blissfully ignorant individual, fully aware of reality in the way that only she can perceive it.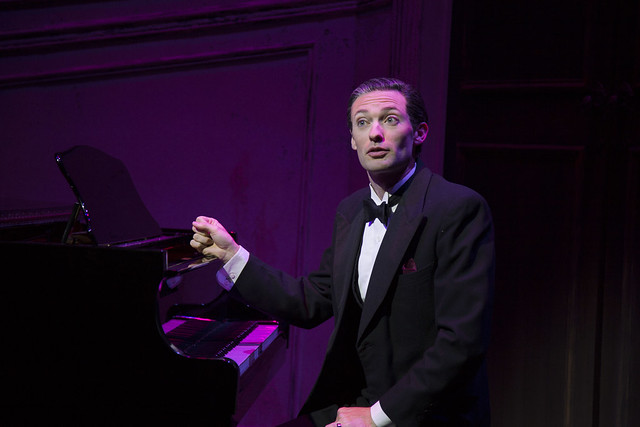 Alan Naylor's Cosme McMoon is one for the books. Superbly animated, particularly when it comes to his active facial expressions, Naylor delivers a chaotic scramble of emotions all throughout the performance without ever treading into the dangerous territory of becoming an unreliable narrator. Many of his direct addresses to the audience are fraught with guilt, which drives the need for his laborious explanations of why and how he fell so deeply into the score for FFJ's life. Tempering the heightened theatricality that must accompany Cosme McMoon with a bold streak of sincerity, Naylor delivers a stunning performance in the role, telling the tale of Florence Foster Jenkins with all of its fantastical flaws. Both Naylor's physical and facial animations drive forth the humor in this production, allowing levity to land honestly without the sense of being manufactured. The magnificently crafted moment of rapturous tragic bliss that Naylor delivers at the conclusion of the performance neatly concludes the evocative light-hearted drama in a way that words fail accurately to describe.
The music you hear in your head is what matters most. It is highly recommended that you hear the music of this Florence Foster Jenkins tale (Alan Naylor's voice is a dreamy gem drifting away with its operatic tones); Souvenir is a one-of-a-kind experience. Rep Stage's production has rekindled a passionately positive play and driven home its timely message to its audience with ease and delight. Be sure to get your tickets as soon as possible for this limited, three-week engagement performance.
Running Time: 2 hours with one intermission
Souvenir plays through September 22, 2019 at Rep Stage in the Studio Theatre of the Horowitz Visual and Performing Arts Center on the campus of Howard Community College— 10901 Little Patuxent Parkway, in Columbia, MD. For tickets call the box office at 443-518-1500 or purchase them online.