Two midnights gone. The slotted spoon doesn't hold much soup but it can catch— well, in this case, the Phoenix Festival Theatre production of Stephen Sondheim's Into The Woods appearing now as a part of LIVE! at Harford Community College. Directed by Dickie Mahoney and with Musical Direction by Terri Matthews, the iconic fairytales of happily after plague the stage in a warped and twisted fashion, craftable only by the depraved mind of Sondheim.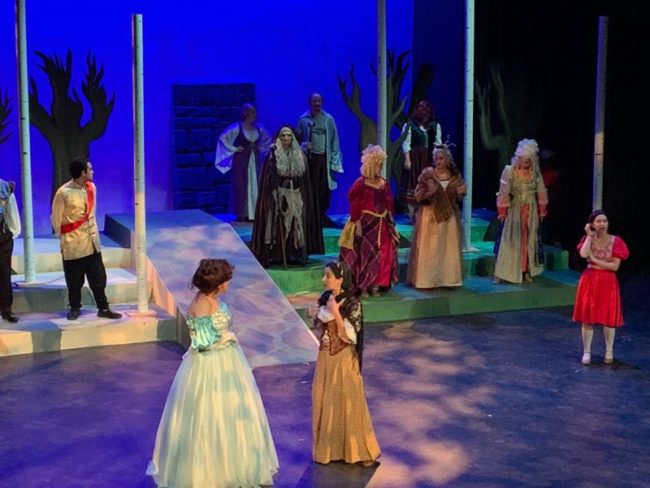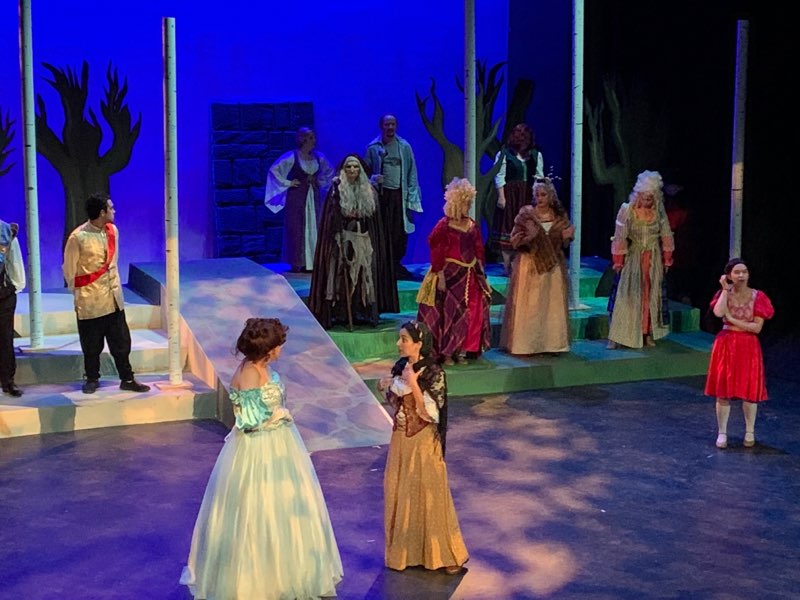 Everybody wants to emblazon their own personal emblem onto a production of Into The Woods; Director Dickie Mahoney is no different from everyone else in this respect. He has crafted a focal lens through which to view the production, which at its core is quite smart and has an emotionally intrinsic value that cannot be beat. Its execution, at times, adds a distracting sense of chaos to the narrative, which honestly has enough distracting elements all on its own, and could use a bit more refining in order to fully achieve the effect Mahoney was hoping to create. The concept itself is strong. Before the show even starts, an adorable little girl (played admirably and animatedly by Julia Beyers) flounces onto the set and approaches a plush armchair which features a storybook. (Only the storybook is the show's script binder, which may be a meta-lens inside of Mahoney's concept.) It is apparent that this little girl is eager for story time, even being so bold as to peak into the storybook, which is the exact moment that the girl's grandfather— the strategically placed Narrator (John Desmone)— arrives, and the story begins as scripted, with the Narrator starting the litany of "once upon a times…"
This production concept goes beyond simply having the little girl invested in hearing the stories that her Narrator-Grandfather is telling. She bounces about, enthusiastically watching each of the stories as they unfold, with both Beyers and Desmone wandering in and out of the scenes, Desmone continuously narrating (by way of lip-sync) even once the characters take over and the scenes play out. This is only slightly distracting at times, as there are occasions where near-collisions almost occur. This youthful investment in fairytales inspires the bright color palette for the costumes featured in the first act; it also aligns with the cheery "happily ever after" conclusion that sums up the first half of the production. When Act II gets underway, the same plush armchair is there, only there's now a photograph laced in a black mourning ribbon, and our adorable little actress has morphed into a grown woman (played by Emily Canady) who cannot cope with the grief of losing her beloved grandfather. This deeply skews her reality, which in turn, tints the aesthetic of the second act. All of the costumes (designer Hillary Glass) take on harsh gothic tones, and Canady watches certain scenes from the sidelines with huge sweeps of negative emotions. It's only the somewhat haphazard execution of this concept that keeps it from being a thriving success.
Mahoney's pacing is somewhat off for the production as well. This becomes notable because of the blackouts and pauses peppered throughout the performance, which hampers somewhat of the natural-charged action. It's difficult to identify the source of these instances; sometimes it appears to be a technical hiccup, other times it appears to be blocking. Mahoney infuses some lively step choreography for the big movement-based numbers at the end of the first and second act, which showcases his background as a dancer. The set (designer Josh Schuman and Dickie Mahoney), while somewhat lackluster in its existence, does follow the darker, more devastating lens of the second act, bereft of color and wonder. A sharper contrast with brightly colored scenic pieces in the first act would have helped cement Mahoney's concept into place by providing a striking visual juxtaposition to match that created in the show's sartorial selection.
Creating a surprisingly nuanced performance in an oft dismissed role, Cathy Koncurat transforms the Jack's Mother character into a secondary supporting role with depth and gravity behind it. Although the solo sung moments for Jack's Mother are few, Koncurat lends a lovely voice the ensemble. Other standout performances include the ethereal sounds of Lisa Standish in the role of Cinderella's Mother, and Shane Lowry and Eric Bray as the princes. Lowry, whose prince doubles as the wolf, finds a humorous jazzy balance to offset his Warren Zevon "Werewolves of London" couture, and puts a solid snarl into his singing voice for "Hello, Little Girl." Bray carries his half of "Agony" and its reprise with that plucky over-the-top gusto that the audience just eats up.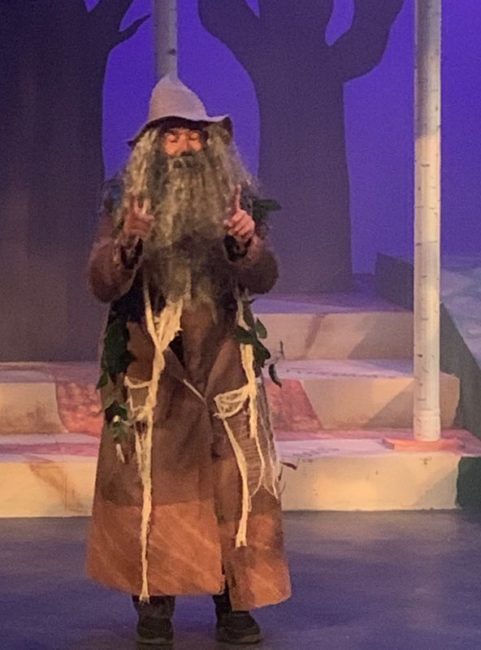 Embodying an eccentric forest spirit, John Desmone— pulling scripted double duty as both the Narrator and the Mysterious Man— transforms the Mysterious Man into this unique hybrid of Yoda meets Gandalf with puzzling logic but a beautiful voice to support his duet with the Baker (Jaysen Rosario), "No More."
The hair as yellow as corn, which turns out in fact not to be Rapunzel's (Emily Machovec) contributing token when it comes to the list of ingredients set down by the witch to break the spell, matters little when you hear her sing. Though the Rapunzel character is slighted somewhat by Sondheim (and has been done no favors to include that insipid number, "Our Little World"), Machovec doesn't let that stop her from producing a prominent sound that resonates all throughout the show. It is a delightful sound, particularly when compared to both the witch and the prince's mockery and mimicry of it.
The slipper as pure as gold; that is Cinderella's (Emily Caplan) realm of expertise. Winsome voice, fair of face, and capable of singing, Caplan fills out the role quite nicely and makes some rather positive and impressive acting choices when it comes to her performance of "A Very Nice Prince." She leads into this segment, sung to the audience of the Baker's Wife (Carol Guarrieri), with perplexing vexation that really unearths some of the character's inner monologue. Caplan's voice is well-suited for the other musical numbers performed by the Cinderella character in the production.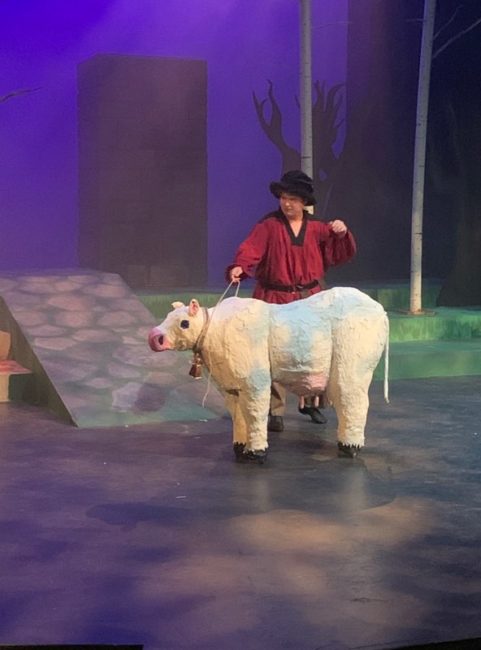 With a giant voice set to fill the sky, Max Wolf tackles the role of Jack with youthful exuberance and ignorant delight. Strongly focused character choices that are readily reflected in his body language and his facial expressions create a fully fleshed individual when it comes to his portrayal of Jack. Racing through the pattered moments of "Giants in the Sky" with crisp articulation, Wolf succeeds in telling his character's story with rigorous glee. The opening line of that number features Wolf vocally bursting onto the scene, drenched in elated jubilation. There is a deeply profound moment, seated atop the tower late in the second act, where Wolf rolls through a mercurial transformation taking Jack from joyous to crushed to blinded with fury all in an instant; it's extraordinary.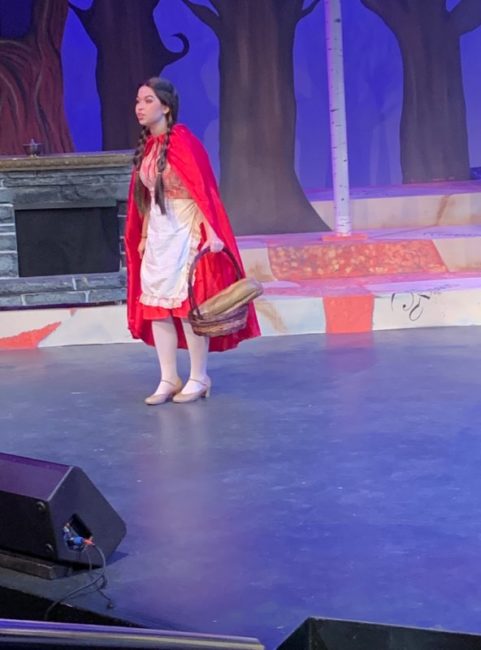 All but stealing the show, Corinne Brock delivers a devilishly delightful Little Red Riding Hood. Her vocal affectation and strong vocal command are well-suited for the character; her youthful appearance only furthers how successful she is in the role. Deftly traversing the vocal Escher's Keep of "I Know Things Know" with superb vocal skill, Brock is a natural when it comes to patter, pitch, articulation, tone, and sustain. Though her face often remains passive, what she lacks in expressive animation she more than makes up for in vocal intensity, especially when delivering text outside of her sung numbers. The duet segment that she shares with Emily Caplan's Cinderella during "No One Is Alone" showcases her ability to easily blend harmonies.
Providing the vocal beacon for the show, Tatiana Dalton leads this production of Into The Woods as the Witch. There is no question that she possesses intense vocal talent and stamina. Some of the acting choices delivered on the backside of her transformation are deeply pressed into the mold of Bernadette Peters, which isn't a fault of the performance, but when someone with Dalton's vocal chops comes along and blows the audience away with her belts and sustains and emotional control during "Stay With Me" and "Last Midnight", it leaves the listener desperate and begging to see what sort of Witch she could have crafted of her own imagination and vices.
With two midnights gone and just three shows to go— be lucky the witch isn't planning to cast a spell on you if you fail to see it before it closes on September 15, 2019. Though if you're not careful, she just might! So be sure and get your tickets lest you find yourself magically compromised for missing this autumnally appropriate production.
Running Time: 2 hours and 50 minutes with one intermission
Into The Woods plays through September 15, 2019 at Phoenix Festival Theater as a part of Live! at Harford CC in the Chesapeake Center of the Harford Community College Campus— 401 Thomas Run Road in Bel Air, MD. For tickets call the box office at (443) 412-2211 or purchase them online.