Rosedale has got itself are real who done it, as Artistic Synergy of Baltimore presents Agatha Christie's A Murder Is Announced. If you have a knack for solving the case before your favorite TV detective, then this is a show for you. But I'll warn you now nothing is as it appears and with Miss Marple on hand, you'll need to be quick.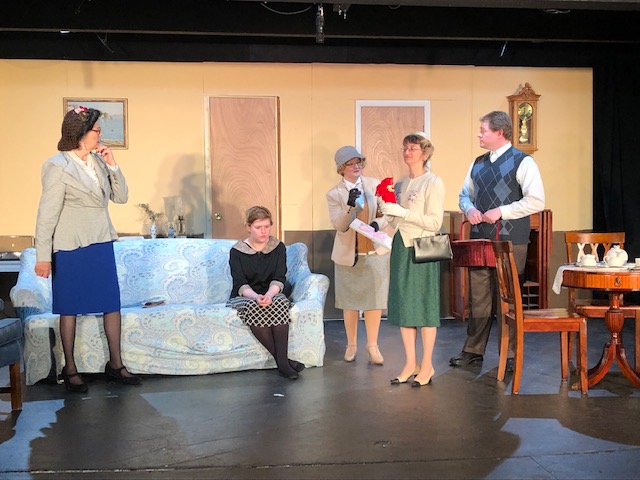 Director Michael Crook's casting works very well with this production. A blend of grizzled veterans, sprinkled with talented new faces keeps the show believable. His spacing and stage direction are to be commended as he takes full advantage of what Set Crew Rachel DiGraizia and Joshua Perry have provided. The set dressing could have been a little more of a true English country home, but the design itself worked well.
It was nice to see some fresh faces on stage. Ann Marie Taglavore (as Julia Simmons), Claire Levine (as Clara Sweetenham), and hot rising star Chloe Scully (as Philippa Haymes) conquered the stage as if they had been performing for decades. Taglavore especially, with her sharp tongue and comedic timing was a pleasure to watch. All three held their own against a more experienced cast and should be proud of their performance.
Mel Tillery (as Mitzi), provides the levity that reenergizes the audience. The show drags at certain times and when it does Tillery gets it back on track. He role of the indignant housekeeper along with that of Donna Zubrowski (as Dora Bunner) is excellent. Zubrowski delivers a character that you just can't help but love. For as important as she was to the plot, I have to question the quickness or almost glossing over her death scene. This may have been a directorial choice and in no way takes away from her performance.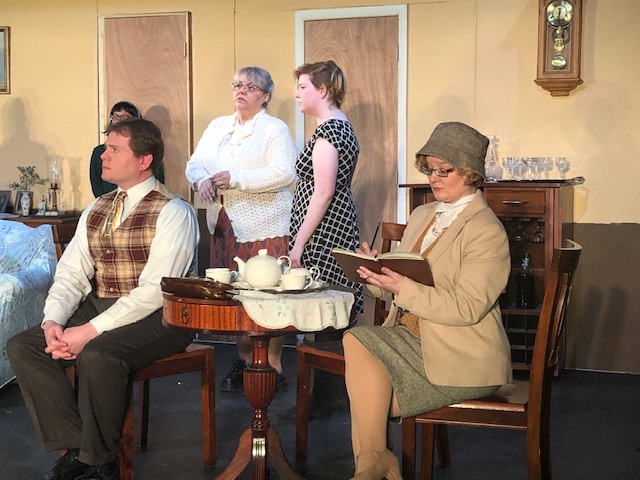 There are certain actors within Baltimore Community Theatre that when you see their names in the program, you know what to expect. Jim Fitzpatrick (as Inspector Craddock) and Jim Gerhardt (as Edmund Swettenham) just plain deliver time after time. Gerhardt plays a man who has never known work and is still under his mother's thumb. His accent is that of a polished, proper gentleman and it doesn't falter. Fitzpatrick seemed as if he had worked The Yard for decades. He is pointed, sure and unwavering. There were times where he could have quickened the pace of his delivery and been just as affective.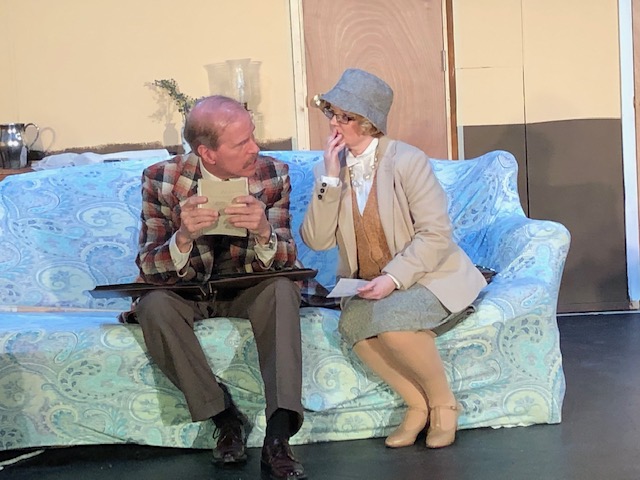 There was one actor who I felt had their work cut out for them right from the casting. To take an actor and put them in an iconic role years before they, in all reality, should be able to play the part, is just not fair. However, if anyone can take on that task and pass with flying colors it would have to be Ashley Gerhardt. Gerhardt transforms herself so well into the role of Jane Marple that it isn't until the next day you realize that she probably should have been older. Most diehard Agatha Christie fans don't even know Miss Marple's exact age. (If you really want to know, in "At Bertram's Hotel", it is said that she visited the hotel at age 14 and almost 60 years have passed since that time.) Any actor that can put on a performance so good that you forget they are playing someone beyond their years… nothing more needs to be said. Brava Ashley!
Just when you thought the performance of this group could not get any better, along comes Catherine Rexford Shinaberry (as Letitia Blacklock). It's as though Shinaberry was packaged up in Chipping Cleghorn and delivered to us in Rosedale. Dialect, mannerisms, dress, you name it and she has our upper crust friends from across the pond down to a, dare I say it, a tea. She just doesn't understand her character, but the entire period for which the piece is set. You see, not only does she put on a phenomenal performance, she is also the Costumer, Prop Mistress, and Hair and Makeup Designer. Each is spot on!
Adding to this pleasurable show are Lighting Designer Daniel DeJong, and Sound Designer Bill Bisbee. DeJong sets the mood for murder with his blend of color. Bisbee understands how to get the most out of his equipment and positions it accordingly.
If you are a fan of murder mysteries or community theatre you won't want to miss what happening at Artistic Synergy of Baltimore.
Running Time: 1 hour and 55 minutes with one intermission
A Murder is Announced plays through May 5, 2019 with Artistic Synergy of Baltimore in the basement of the Prince of Peace Lutheran Church— 8212 Philadelphia Road in Rosedale, MD. Tickets can be purchased by calling the box office at (410) 833-5181 or by purchasing them online.