Big Dogs!
Little Dogs!
Big Dogs AND Little Dogs!
Black & White Dogs!
One Big Dog going in! Three Big Dogs going out!
Go, people, go! To the Maryland Ensemble Theatre FUN Company and see their current production of Go, Dog, Go! Based on the iconic book by P.D. Eastman, adapted to the stage by Steven Kietz and Allison Gregory, with music by Michael Koerner, this zany adventure is a family filled venture, fun for all ages and geared toward the extra little ones! Directed by Julie Herber with Musical Direction by Alison Shafer, six silly actors-turned-canines will keep youngsters and the young-at-heart entertained for 60 minutes with singing, dancing, and a whole lot of go, go, going!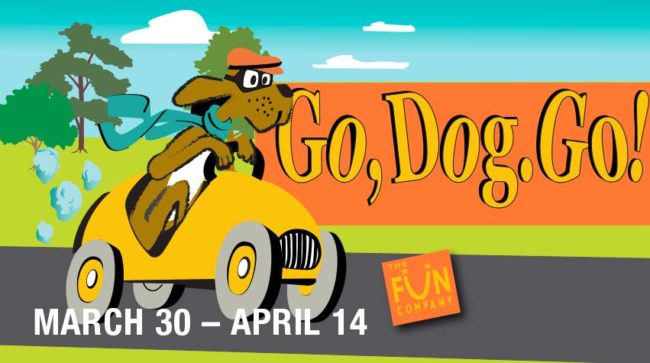 It's a simplistic yet engaging scene that Set Designer Kevin Cole has articulated on the stage. Sketched backgrounds with the looping path from the book's iconic cover art painted on the floor compliments the work of Properties Designer Stephanie Hyder, who has created larger than life objects of work and play for the dogs to use throughout the performance, many of which share the same storybook sketched outline as pieces of Cole's set. Doubling up as the show's costume designer and choreographer, Director Julie Herber gives each dog a similar yet unique style. Everyone wears overalls in their color with matching hat-ears and a pinned-on tale. This no-frills but fully fanciful style encourages the engagement of the audiences' imaginations as actors become the dogs from the story. The show is filled with bright colors, tons of movement, singing, dancing, and lots and lots of fun!
The ensemble of six play together, work together, snooze together, and experiencing colors, opposites, and commands together in a fun and thriving secret-learning environment that looks like nothing but playtime for those watching. With carefully scripted repetition and moments of identification, the production becomes a teaching tool, much like the original book from which it takes its name, and works to entertain and educate the audience as it progresses.
While there is no leader in the show, per say, the first dog encountered is MC Dog (Stephen Craig) and he does a lot of the 'giving of commands' and moving scenes and situations from one moment to the next. In his opening bit where he's alone on the stage, his physical antics earn him roars and roars of laughter from the audience. Red Dog, Blue Dog, Yellow Dog Green Dog (Jeremy Myers, Tori Weaver, Najee Banks, Morgan Southwell, respectively) add lots and lots of variety to the performance as well. Especially when the dogs are at a party on their boat at night. Each of the dogs has a unique way of expressing their hybrid physicality— human being body with dog spirit— and it brings great moments of joy and delight to the show. And in a world quite her own— with the most fabulous series of hats and I don't care what MC Dog has to say about them— Hattie (Kaitlin McCallion) is just aces. She comes rolling in on scooters, and dancing through with great charm and merriment, despite of each of her hats not really impressing MC Dog. McCallion and Craig play well with this interesting little dynamic and create a subtle depth to the show for older members of the audience.
It's a fantastically fun 60 minute stage show that is perfect for the little ones; Go, Dog, Go! will even give you a chance to meet the dogs in the lobby after the performance, which is woof-woof wonderful for furthering the fun feeling that the show produces.
Running Time: Approximately 60 minutes with no intermission
Go, Dog, Go! plays through April 14, 2019 at The Maryland Ensemble Theatre's Fun Company in their Stage2 Performance Space in the Historic FSK Hotel building— 31 W. Patrick street in downtown historic Frederick, MD. For tickets call the box office at (301) 694-4744 or purchase them online.