In ancient Greek mythology, the shy artist Pygmalion expressed no interest in women, but when he created a statue of Galatea so fair he fell in love with it, he made sacrifices to the goddess Aphrodite to give him a woman as beautiful as his sculpture. She does him one better by bringing the marble Galatea to life as his reward. In 1912, master Irish playwright George Bernard Shaw used that metaphor of taking the basest elements of the earth and sculpting them into a real lady in a very literal sense in his masterpiece Pygmalion. Known better in most circles 100+ years later as the source of Lerner & Loewe's quintessential musical My Fair Lady, Shaw's words still ring true and Spotlighters Theatre, in a production Directed by Sherrionne Brown breathes Galateal life into them.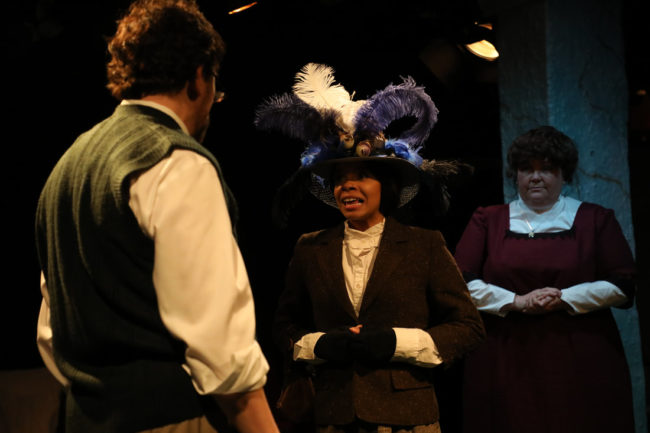 For the ten people who aren't familiar with either Shaw's work or the musical it inspired, his story concerns a vain British linguist, Professor Harold Higgins (Phil Gallagher), who on a whim makes a bet with fellow doctor of dialect Colonel Pickering (Randy Dalmas), that he can pluck a low-class Cockney flower girl from the streets of Covent Gardens and, under his masterful tutelage, mold her mangled English and common manners into a package he can pass off as a lady in real society. Initially insulted, Eliza Doolittle (Linaé C. Bullock) sees the dare as a means to improve herself and earn her passage into better circles with greater income opportunities. She shows up at his door ready to embrace his challenge.
Shaw's script has held up brilliantly, a piece literally written decades, or even a century before its time. But Director Sherrionne Brown keeps the lengthy five-act piece moving at a crisp pace that seems much swifter and shorter. She also doubled as set designer and scenic artist, and streamlined the valuable space she has on Spotlighters' tiny stage to flesh out her comedy of manners exceptionally well, while economizing detail in the process. She has assembled a very talented cast well-versed in the style of the classics to instill life and energy into the humor to keep it on track.
Gallagher's Higgins is abrupt, arrogant, and almost devoid of humanity in his detached approach to Eliza. He deliciously spouts off comically cruel "observations" about his subject as if he were housetraining a street mutt. Gallagher has a vivacious energy and singlehandedly controls the pace of the piece impeccably.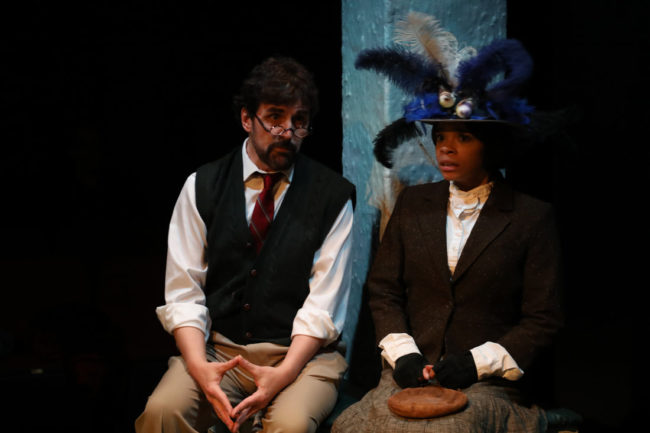 Bullock, as his partially willing protégée Eliza, is up for the verbal sparring matches. She plays both street-feisty and parlour-elegant beautifully, and particularly shines in the scene where Higgins presents her to his mother's (Hillary Mazer) salon as a cultured lady. Although instructed to restrict her conversation to agreed-upon topics, she is led into a salacious story of her family involving alcohol, thievery, and suspected foul play—sordid conversation granted, but all with perfect elocution. Her "new small talk", as Higgins covers for her, garners the attention of young Freddy Eynsford-Hill (Carlo Olivi).
The rest of the spot-on cast add their various comic gifts. Dalmas is a warm balancing presence who is the voice of reason for Higgins—not that he necessarily always hears it. Olivi as Freddy is winsome in his infatuation with Eliza, a delightful, doting puppy in love. But these male characters, sincere as they are, still are all inhibited by their male viewpoint as seeing Eliza as anything but their own plot devices. In a #MeToo-100 way, Shaw has balanced their inadequacies with the ladies who understand that there are implications in this experiment the scientists have not anticipated. Their "subject" is a young woman who will eventually be forced to go back into what world? Too cultured for the one she came from, but not fully prepared for or accepted by the one she is created for, she may be prepared for a life of cultural limbo. Jennifer Grundy Hollett as Higgins' maid Mrs. Pierce and especially Mazer as his mother well provide the feminist sensibilities that are at the heart of Shaw's piece. Hollett also provided the costumes, a particularly lovely array of pieces, and Brad Ranno's lighting design is adequate for the small space.
One actor who steps out of the story with threats to steal it away is Rich Espey's hilarious turn as Eliza's no-good alcoholic louse of a father Alfred Doolittle. Espey is funny, physical, and ferocious. He may be the single player who could potentially wrestle his scenes from Gallagher's otherwise lock-tight stronghold on the piece, and the two shine in their scenes of comic one-upmanship.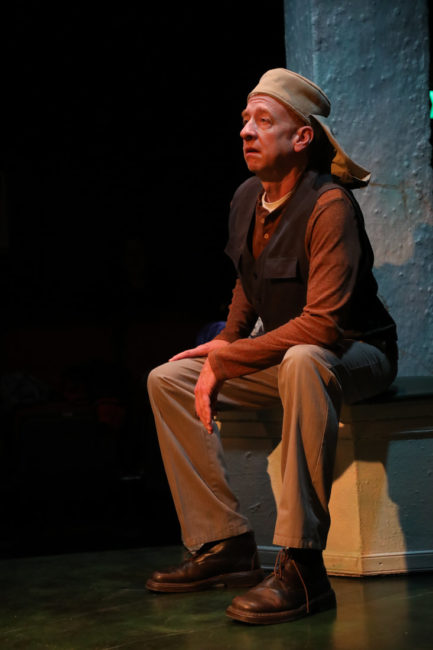 In addition to starring, Gallagher also served as assistant director and dialect coach for the production and deserves great credit for his work there, as the standard mishmash of questionable dialects is what usually sinks your typical community theatre production of a classic. This cast is accurate and consistent in their dialects, and most importantly intelligible. Only Caelyn Sommerville as a Freddy's snobby social-climbing sister, makes the common amateur mistake of adopting the accent with an upper register so airy it borders on shrill at times, often rendering her unintelligible.
In a world where the classics seem sadly no longer welcome or relevant, Producer Fuzz Roark, Director Brown, and company have provided very welcome access to a very important landmark piece of classic theatre. Take advantage of this gem and understand why history is important, if only because it continues to repeat itself.
Running Time: Approximately 2 hours and 45 minutes with one intermission
Pygmalion plays through March 10, 2019 at The Audrey Herman Spotlighters Theatre— 817 St. Paul Street in the historic Mount Vernon neighborhood of Baltimore City in Maryland. For tickets call the box office at (410) 752-1225 or purchase them online.