Freak, slut, burn out, bug eyes, poser, lard ass, loser, short bus, bull dyke, stuck up, hunchback, white trash! Names. Labels. Words used to describe people who are different or don't fit our image of what we consider the "norm." Words that one might associate with high school, but all to often are used far more common in our everyday speech. In fact, if I am being honest, although I didn't speak the words, in my mind I was very judgmental as to a certain casting in the show. As quickly as those thoughts set in, they were dispelled, and I realized the genius behind it all. What better way to communicate the lesson behind Heathers than to make us question ourselves? The good folks at Tidewater Players are thinking outside the box and it works! They remind us, that little box in which we reside, the one that keeps us safe, the place where everything is how we think it should be, is just one of many little boxes in the world; and we need to not only open it up to others, but also come out of it and peek into the other boxes.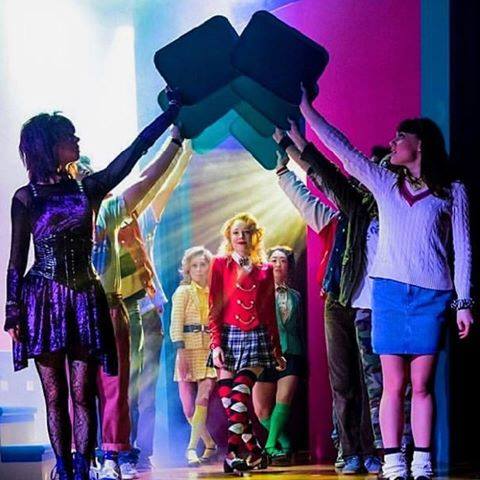 Directors Austin Barnes and Laurie Starkey clearly understand Heathers and its message. (It should be noted that Ms. Starkey announced before the show that her participation was more supervisory, and that the artistic choices belonged to Mr. Barnes.) The use of the entire space was fantastic. I loved it when JD was creeping around and planting explosives throughout the audience. The set design, also by Barnes, allowed for quick scene changes and more audience interaction. Barnes' blocking facilitated your being immersed in the show. Whether in the school hall, cafeteria, the funeral home, or JD's house, you felt as though you were sitting right there with the actors. I look forward to seeing him direct future shows.
Leslie Perry keeps things moving with simple and affective choreography. This doesn't mean that dancing was basic but fit both the show and the space. Perry doesn't overdo it by trying to create something that doesn't need to be created. She understands what is happening on stage and as a result her cast delivers beautiful, fluent movement. Her use of levels is to be recognized as none of her dancers are ever hidden from view. I could not help but notice "New Wave Party Girl" Samantha Jednorski and "Student" Megan Coleman. Their dancing was on point and with a bright smile on their faces for every number. You could tell that they enjoyed what they were doing. Kudos to Perry, Jednorski, and Coleman!
There is nothing that can be said about Music Director R. Christopher Rose that has not already been said. He quietly demands excellence and his cast willingly complies. Anyone in the Baltimore metropolitan community theatre world knows that if you attend a Chris Rose show, the music will be spot on and Heathers is no exception. The cast is on time, on beat, and delivers beautiful harmonies. There are some stronger singers than others in the show, but Rose has them all performance ready. (Question: What happened to the song "Blue"? Why was it cut?)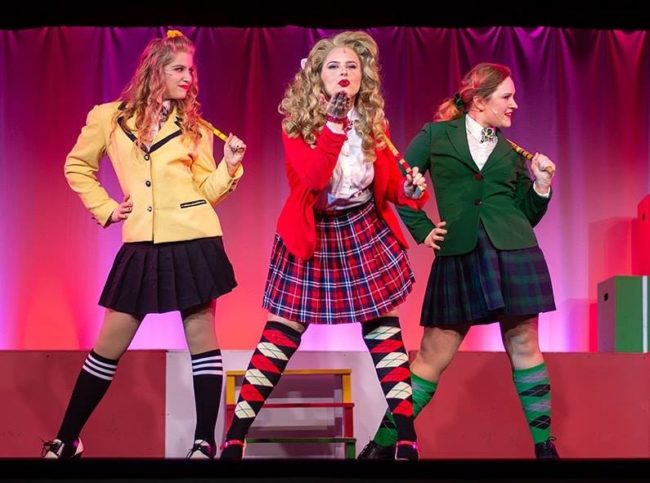 What would Heathers be without the Heathers? Holly Blondheim as Heather Chandler, Mary Cate Carder as Heather McNamara, and Elise Starkey as Heather Duke, are everything you want and expect in this production. Their sass, bitchiness, and sex appeal are only outdone by their singing. You want to be them, and you want to hate them. You hope that they will just look your way, to acknowledge that you even exist, and when they do you want to scratch their eyes out. These girls fully embrace their roles and deliver a spectacular performance. "Candy Store" was amazing! As a soloist, Carder dumps her heart and soul into "Lifeboat." I just hope that the sound issues are fixed so that the audience can get the full impact of her rendition.
Henry Jester as Ram, and Nick Castillo as Kurt, could not have been more the dumb jocks if they scored a three on the Wonderlic. In fact, I'm pretty sure the only thing they got on their SAT's was barbeque sauce. These guys will keep you laughing throughout the show; and it's not just with their scripted lines. Make sure you check out their facial expressions. For me, some of their best material was ad-libbed. They are a delight to watch and bring a bit of happiness to a dark show.
Brian Ruff as the character man playing Ram's Dad/Big Bud/Coach, and Phil Hansel as the character man playing Kurt's Dad/Veronica's Dad/Principal, work well together and separately. There is a clear distinction as to who they are portraying each time they take the stage. Their "My Dead Gay Son" is a hoot. Another shining light is the lady who sings "Shine A Light." Carrie Dill, as Miss Fleming, makes her presence known every time she takes the stage. Dill by no means is scene stealing. She knows when to blend and when to stand out, something many actors don't understand. She delivers "Shine A Light" as if it were written for her. If there is on person who you could plug into any female role in the show it would have to be Emily Caplan. She plays Martha Dunnstock as a believable friend and not overly naïve. Caplan is a triple threat with the vocal chops to stand out however cast.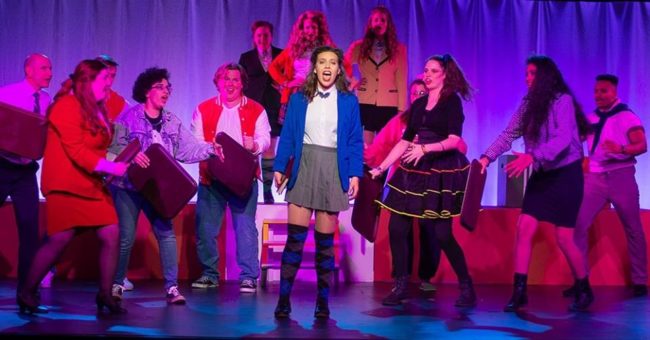 Overall this is an outstanding production. The supporting cast is amazing and work well together, and the Heathers alone are worth the price of admission. However, there are two key issues that need to be addressed. The first being the sound quality. There was way too much feedback and the mics were not always on when it came time for actors to deliver their lines. Hopefully this was an opening night glitch and will be corrected in future performances.
The second, and perhaps the most puzzling, was the total lack of chemistry between the lead characters. The relationship between Veronica and JD is as important to the plot as is the Heathers being mean and well, being the Heathers. There was nothing there.
Let's start with Gabriel Webster, playing Jason "JD" Dean. At first, I thought that possibly he got mixed up with Kurt. Then it occurred to me, "My soul, sit thou a patient looker-on; judge not the play before the play is done." This is genius behind Barnes' casting. I was ready to label because Webster did not fit my expectation of JD. Bam! There it was in my face. The one thing I should have taken away from the show, I almost missed. Webster delivers a fine performance. He plays the role more maniacal and not as much rebel, but that is fine. He struggles a bit with higher notes and he compensates for this by lowering his overall tone. He does understand his character and does a wonderful job acting the part. It is evident that he wants to bring more but is being held back by either his co-star or a directorial decision.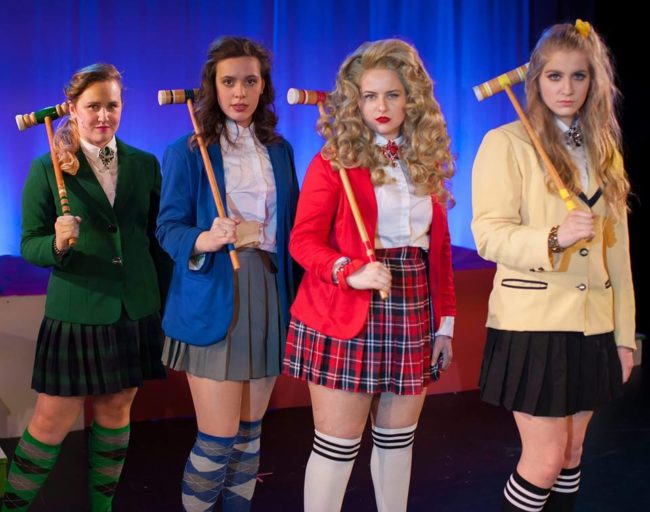 Rylynn Woods, as Veronica Sawyer, has a beautiful voice that you could listen to all night. Listening to her sing "Seventeen" will melt your heart and her "Dead Girl Walking" is sung as powerfully as you can get. She has incredible talent and she needs to have faith in that and take it to the next level. She plays Veronica well but in her scenes with JD she plays her as a Heather. It's almost like she won't even give him the time of day. For as well as her voice sung "Dead Girl Walking," her body did just the opposite. In a production as good as this one, where a large amount of the cast is adult and not 17, you need to not only sing but perform that song. If the chemistry is not there to begin with, it doesn't make her break from JD as powerful or believable.
I recommend making the trip to Havre de Grace and seeing Heathers. Grab some dinner and make it a night. You'll be glad that you did.
Running Time: 2 hours and 15 minutes with one intermission
Heathers plays through March 3, 2019 with Tidewater Players at The Historic Havre de Grace Opera House— 121 N. Union Street in historic downtown Havre de Grace, MD. For tickets call the box office at 667-225-8433 or purchase them online.