Raw emotions and a powerhouse of a production on display!
The 2018-2019 World Stages season opens with Measure for Measure, produced by Cheek by Jowl and the Pushkin Theatre Moscow, a production filled with raw emotions and powerful performances. This production is superbly directed by Declan Donnellan and extraordinarily designed by Nick Ormerod. In the politically charged atmosphere that we are currently living in, this timeless piece is presented in such a relatable, yet not too forceful way to make one sit up and take notice. Audience members react with the characters on stage as the action takes place and live the moments in this almost 2-hour powerhouse production that keeps you riveted in your seat.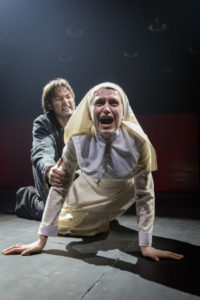 Measure for Measure is one of Shakespeare's problem plays. The play itself delves into concepts of sexuality, morality, and power while showing the consequences of legal surveillance of social behaviors in the bedroom and how hard it can be to expose and condemn the misuse of public power for sexual purposes. The play revolves around the Duke Vincentio, the ruler of Vienna, who leaves and allows Angelo, his deputy, to take charge of cleaning up the bawdiness of Vienna. Angelo takes this to heart, arresting Claudio and condemning him to death for getting his lover Juliet pregnant out of wedlock. Claudio's sister, Isabella, persuaded by Lucio to attempt to save him, travels to see Angelo. Angelo agrees to free Claudio if Isabella gives her virtue to him. Isabella, a nun, struggles with what to do and seeks advice from Lucio and Friar Lodowick (the Duke in disguise) who make suggestions and try to come up with solutions to save Claudio from death and Isabella's virtue. In the end the Friar is revealed as the Duke, Angelo admits his wrong-doings, Claudio is reunited with his lover Juliet, and the Duke proposes to Isabella.
This production of Measure for Measure is entirely in Russian with English Surtitles, but do not let that stand in your way of seeing this amazing show. At first, seeing the action and looking at the words felt disjointed, but within minutes, I was entranced by the actors and looking at the surtitles was almost an afterthought to make certain I was connecting the action to the words. The show is set in modern time with industrial lights hanging from above and a simple set of four large red boxes, a few chairs, a table, and a few microphones. The cast is on stage for the entire production, working as a chorus that moves the action forward from scene to scene. These movements wrap the actors up and "whisk" them away as they deposit another scene in a different location. The wardrobe by Elena Semenova is perfectly crafted to define each character and for easy transitions from one character to another for those actors that play multiple roles. The direction (Declan Donnellan) and choreography (Irina Kashuba) work harmoniously together to create a fast-paced and enthralling production that does not feel like it is almost 2-hours in length.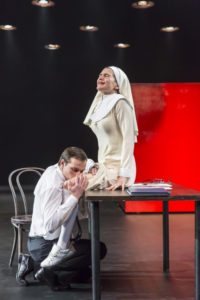 The actors in this production are extremely talented, exude raw emotions, and exhibit dynamic expressions throughout the production. Alexander Arsentyev as the Duke plays the perfect hidden bystander and manipulator as he watches and attempts to change the course of action taken by Angelo. Andrei Kuzichev is profound in his portrayal of Angelo to the point that one could imagine him not here on this stage but rather on our current national stage. Petr Rykov aptly performs the role of Claudio, showing fear of death and a hope for freedom. Anna Vardevanian's creation of Isabella is raw emotion and purely genuine as she struggles with Angelo's proposition and coming to terms with the possibility of her brother's death. The standout performer in this production is easily Alexander Feklistov as Lucio, he is appropriately over-the-top, full of exaggerated gestures, and perfectly-timed facial expressions. Rounding out the cast are: Yuri Rumyantsev, Nikolay Kiskichneko, Ivan Litvinenko, Vladimir Ziberev, Igor Teplov, Alexey Rakhmanov, Elmira Mirel, and Anastasia Lebedeva, all of which add to the production in their own unique ways.
Seeing the production performed in Russian rather than in Shakespeare's native tongue is a unique experience that allows the audience to understand the play more through the actions than the words. Furthermore, the play has been shortened to be a succinct one-act production that pulls no punches. The audience reactions are emotional and fierce as the actions and words connect. There were audible gasps when Angelo asks Isabella to lay down "the treasure of your body, or else to let him suffer." And again, when Isabella responses that she will "tell the world aloud What man thou art." and Angelo reacts simply "Who will believe thee, Isabel?" Audience members were engaged and riveted by the actions on stage as the pace quickened and the story unraveled toward the end which was also enhanced by the excellent musical composition by Pavel Akimkin. When the revelations of actions taken by and against Angelo were finally made know to the citizens of Vienna, the Duke encouraged the audience to clap and audience members were eager to give the Duke what he so desired.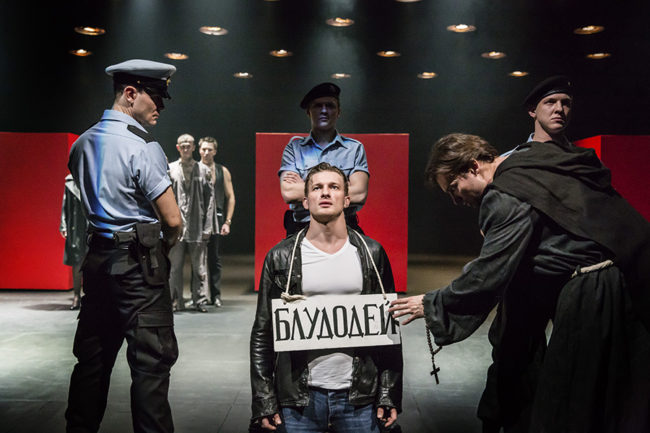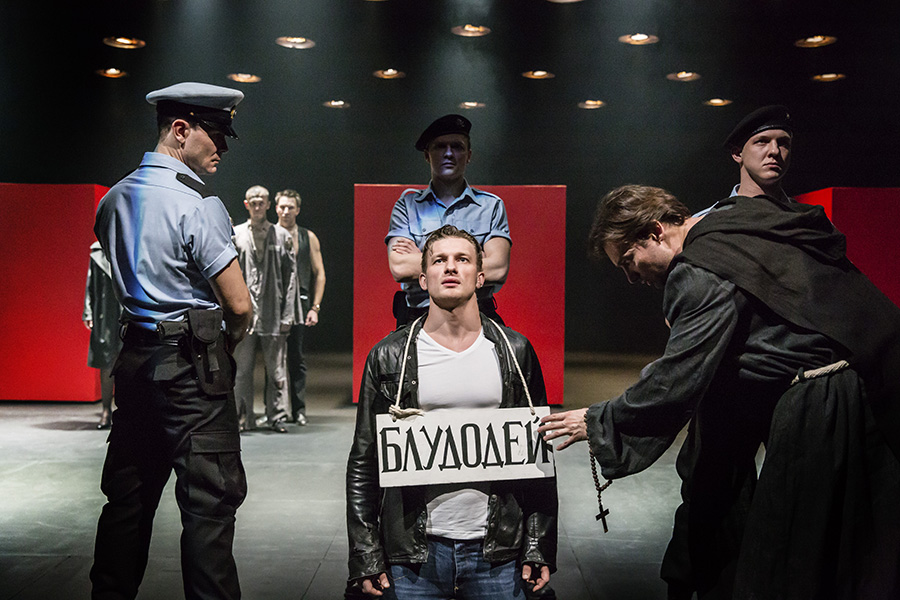 If you enjoy Shakespeare, you will love this production of Measure for Measure. If you have ever thought Shakespeare was hard to understand, or thought that you could not connect with it, you will find yourself drawn in and will walk away fulfilled and in love with this production of Measure for Measure. If you have always avoided Shakespeare, you will walk away wondering why you stayed away from it for so long and will love this production of Measure for Measure. Cheek by Jowl and the Pushkin Theatre, Moscow deserve more than just one standing ovation for the production that is now playing at The John F. Kennedy Center for the Performing Arts. The production is now more poignant given the times we are living in and the cast on stage under the direction of Declan Donnellan deliver a flawless performance.
Running Time: 115 minutes with no intermission
Measure for Measure plays through October 13, 2018 in The Eisenhower Theatre of The John F. Kennedy Center for the Performing Arts— 2700 F Street NW in Washington, DC. For tickets call the box office at (202) 467-4600 or purchase them online.
Contains violence nudity, strong sexual suggestions – recommended for age 16 and up.