It is easy to be afraid of something when you don't know where it is, because if it's not there it could be anywhere. But fear not! There's no need to be afraid of Landless Theatre Company! They're right here— well— here being there and there being in the black-box-found-space of Best Medicine Rep inside the Lakeforest Mall in Gaithersburg. And they're putting on a spooktacular children's affair just in time for Halloween! Landless Theatre Company presents Coraline, based on the iconic Neil Gaiman novel, now adapted to the stage by David Greenspan with Music by Stephin Merritt. Directed by Melissa Baughman with Musical Direction by Andrew Baughman, this oddly intriguing tale of childhood exploration tells the story of Coraline Jones, her house, her boredom, and…her other mother.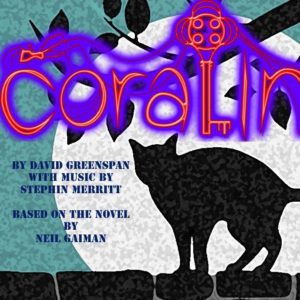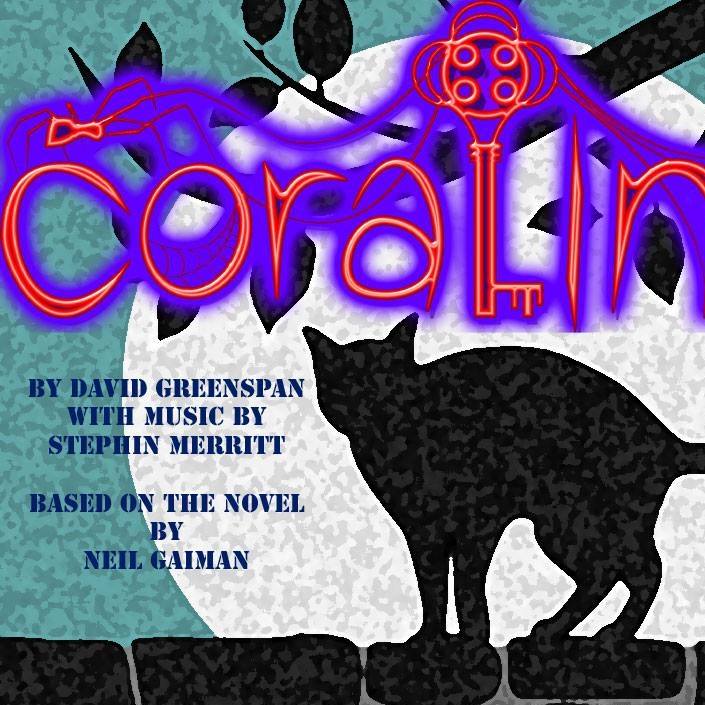 For those familiar with the Neil Gaiman story, the children's theatre stage version is much the same, though without some of the deeper darkness that is infused into Gaiman's work. For those familiar with the 2009 stop-motion film version of the same name, the stage version has dropped Wybie and his grandmother from the story, but essentially follows the same path. David Greenspan's story adaptation is clear; what's slightly lacking is the lyrical component of Stephin Merritt's musical number. The childish and at times saccharine nature of these numbers detracts from the spooky darkness that would otherwise accompany a Gaiman tale (be it film, stage, or book format.) While Greenspan's lyrics are clever in their rhyming scheme and actually quite witty at times, there is a lyrical dissonance that doesn't radiate with enough strength to overcome some of the more sugary tunes.
Director Melissa Baughman doubles up as the show's Set Designer and in essence captures what a novel story of Neil Gaiman's is meant to do: engage the imagination of its reader. Though in this case, Baughman is engaging the imagination of the audience. The furnishings are simple, creating multiple locations throughout the house that Coraline and the others occupy— there's a chalk ring with words on it to indicate the "very deep and hidden well"— and encourage a sense of fabrication from the audience, which ties in with the overall notion of the story. Supported by Properties Designer Liz Johnson-Long and Sound and Lighting Designer Andrew Baughman, the overall aesthetic of the show lends itself to younger audiences ready to create the show in their mind's eye.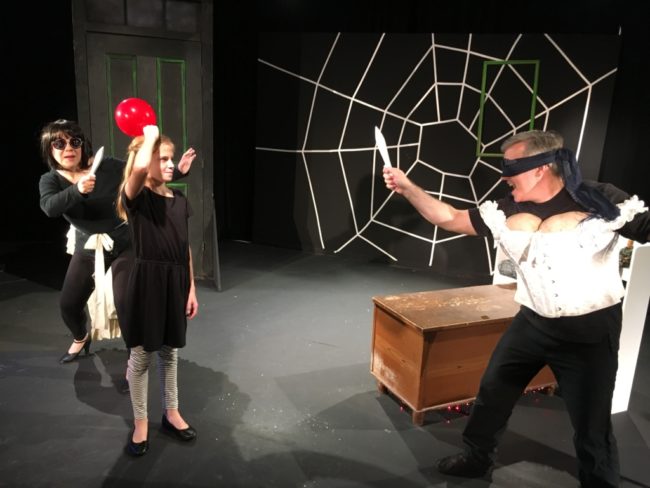 The aforementioned master of props, Liz Johnson-Long, really crafts the connective bridges between imagination and reality for this production. With glove-puppet mice, mop-headed terriers, and fitted bed-sheet cocoons, there is a world of cleverness waiting to be explored in Johnson-Long's creations, particularly when it comes to the animated puppets (who are controlled by various members of the company at varying times.) This is especially true of the morbid yet tranquil Ghost Children, who are not unlike dolls that one might hang from a mobile over the child of a slumbering babe, if one wanted said slumbering babe to have perpetually disturbing nightmares for all of eternity.
Costume Designer Jen Bevarelli follows suit when it comes to creating ways in which the audience can activate their imaginations, but also tackles the critical task of creating two different worlds of characters who often have to change costumes quickly. Bevarelli presents the original characters— those in Coraline's real, original world— in all black and shades thereof. But when Coraline goes through the door into the other mother's house, everyone has flipped to wearing white. This creates a stark contrast and helps younger audiences distinguish between the two world (as they take place on the same set!) But Bevarelli outdoes herself with the creepy element that really makes those in the other mother's house extra odd. The button eyes, a fabulous effect achieved through Bevarelli's imaginative execution, really drives home the difference between the worlds and gives the play's scary-factor a bump up.
Despite David Greenspan and Stephin Merritt's lackluster attempt to transform a truly fantastical and utterly irresistibly magical novel into a stage production, Landless Theatre Company manages to strike up some marvels all their own. The only downfall to the production is the lack of projection from time to time from various performers. This seems to occur mostly with Coraline* (at this performance Ava Nicholas) but it's understandable how a single voice on a young performer can get easily lost in the pell-mell of such an open space. Nicholas is a precocious performer who gives us a sense that this Coraline is fearless, regardless of what she's facing.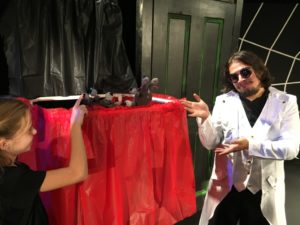 There are lively personalities aplenty in the production, not the least of which is Mr. Bobo (another slight difference for those familiar with only the film production, as this character is named Mr. Bobinski there.) Played by the effervescent and theatrically invest Mikey Bevarelli, Mr. Bobo springs to life as the trainer of the rat circus. There is a vibrancy to the number that Bevarelli performs as the other Mr. Bobo once Coraline encounters him near the end of the show. "Whatever You Want" is a zany, albeit dark, number that gives Bevarelli a chance to showcase his vocal panache while maintaining the overly affected accent which he has created for the character.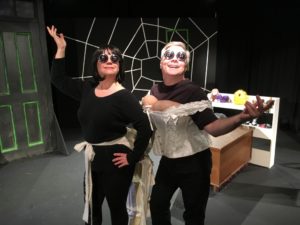 The faintest reminiscence of Spiker and Sponge (a la James and the Giant Peach), Miss Forcible (Timothy R. King) and Miss Spink (Shelly Work) are a pair of perfectly matched stage hams when it comes to outdo one another in their big opening number, "When We Are Young." The same zany antics creep their way into "Theatre is Fun" once King and Work become the other Miss. Forcible and Spink, only with a creepier edge to their shenanigans. King and Work double up as the real Mother and Father of Coraline, and the carefully crafted differential they create between these humdrum, droll parents, is quite noteworthy compared to their largely than life Forcible and Spink. The pair have posh, polished British accents and divine singing voices, with King adding an extra hint of hilarious flavor with his cute counter tenor for one of the two previously named numbers. 
If you've ever owned a cat, you know it is an entity all its own and does as it pleases. Andrew Baughman (the show's musical director and sound and lighting designer) is such a cat, a personality and entity all its own, existing in both worlds as Coraline does. Making the most realistic (and freakishly adorable) cat noises when in the real world, Baughman mimic to the tee behaviors of multiple felines all rolled into one. When speaking, with that arrogant charm we all know cats to have (though he can only speak so that humans can understand him in the other world), Baughman is a riot, and chock full of catty charisma that adds a subtle dark humor to his role. Baughman also plays a live keyboard and guitar for the musical numbers throughout the performance while dressed in his furry cat costume, complete with ears and tail.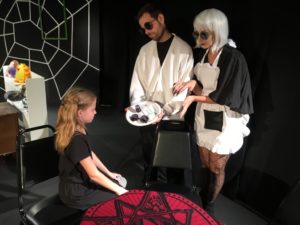 The other world wouldn't be complete without other parents. There's other Father (Matt Baughman) and of course other Mother (Jen Bevarelli) who are just…dying…to meet their Coraline. Baughman has a surprisingly firm handle on being the construct that is other Father. Fabricating into the character the stammers and pauses of an auton gone wrong, Baughman creates a striking versatility in what should otherwise be a monster made of dust, damp, and forgetting. Jen Bevarelli concocts an other Mother that is truly the stuff of nightmares. (Seriously, watch the progression of fingers and fingernails and see if you don't get freaked out.) Quite disturbing in that saccharine-soul-stealing sort of sense, Bevarelli makes a wonderfully wicked antagonist in this adventure.
Remember, a spider's web only has to be large enough to catch flies. You only have to be brave enough to venture out this Halloween season to find Coraline and the other…world…waiting for you at Landless Theatre Company.     
Running Time: Approximately 65 minutes with no intermission
Coraline plays through October 28, 2018 with Landless Theatre Company at Best Medicine Rep at the Lakeforest Mall— 701 Russell Ave., Ste. H-205 in Gaithersburg, MD. Tickets are available at the door or in advance online.
*The role of Coraline is shared across performances by AnnMarie Baughman, Ella LaGrange, and Ava Nicholas.