Terve! Or for those of you not familiar with the Voytto Prime vernacular, Welcome! InterAct Story Theatre hopes you will enjoy your stay on Voytto Prime, a super-cool, far-out, nifty space planet where all the latest gadgets are just a blink away! Artistic Director Ali Oliver-Krueger and Ben Kingsland have written a truly fantastical fable— Voytto Tech: A SciFi Fable. Sparklicious and full of interactive moments, the hallmark of any InterAct Story Theatre production, Voytto Tech is a deceptively complex theatrical experience that engages young audiences (and of course audiences young at heart) with difficult subjects like bullying all whilst creatively exploring the outward bounds of the imagination in a futuristic space society.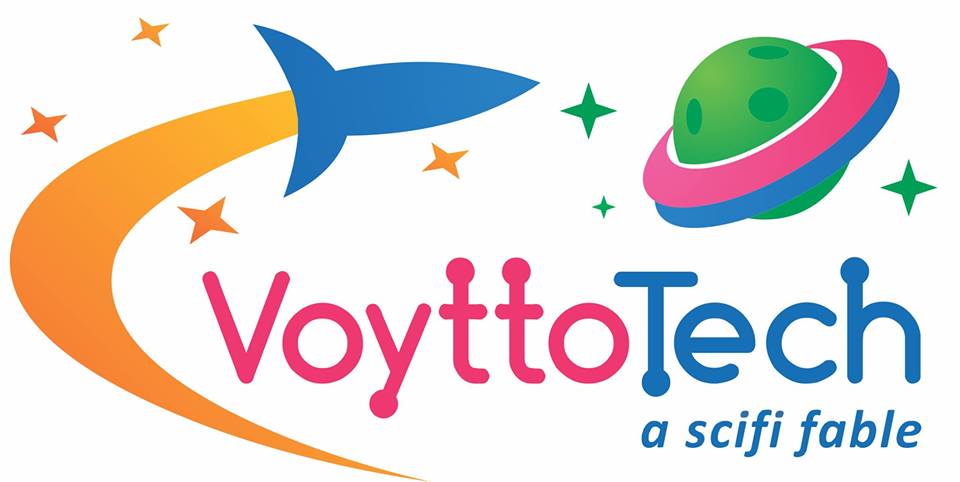 The imaginations of Ali Oliver-Krueger and Ben Kingsland know no bounds when it comes to their masterfully created SciFi story. Wrapped in a futuristic world where everyone where sparkly, shiny kinetic clothing and focuses on the newest of technologies, the setting for Voytto Tech is the ultra-swanky and super science-y planet of Voytto Prime, an original creation from the masterminds of Oliver-Krueger and Kingsland. Of course the true magic of said setting is illustrated and animated to life by Technical Director and Set Designer Peter Oliver-Krueger, who has made yet another signature transformer set. Peter Oliver-Krueger's magnificent and marvelous set helps to augment the periphery plotline of the story— recycling! Modules flip around to reveal dual-sided and fully functional set pieces which allow for ease of scenic transition.
Sound Designer and Composer Tom Teasley enhances the spacy and futuristic feel of these set pieces with some truly innovative soundtracks. Lighting Designer Chris Campanella adds a great deal of the flashy spectacle that one might expect from such a science-fiction type set, including power lights on the set pieces that light and dim whenever the plot calls for their use. Tying together all of these magical theatrical elements is the sartorial selections of Costume Designer Debra Sivigny. While the sets are groovy, the sounds are out of this world, and the lighting is interstellar, Sivigny's costumes defy description in the most astonishing ways possible. There's a great deal of sparkle, a great deal of shimmer, and what's more, Sivigny thoroughly incorporates the "3R— recycle, reduce, reuse" notion into her work directly. The wild space-alien costume featured on Dr. Xanthus doubles up moments later as Klipp Casey's dorm room blanket! (This is extra appropriate for the characters as they share one actor!)
Ali Oliver-Krueger and Ben Kingsland take great care in penning an exciting, interactive space fable, which at first seems to have a primary focus of recycling as its subtext. There's even an interactive pre-show activity where audience members (of all heights and ages) are encouraged to make their very own kinetic clothing in the lobby! But it is quickly revealed in a direct and sensible matter that the play addresses a much bigger issue: bullying. The message behind Voytto Tech is complex but important. Oliver-Krueger and Kingsland write with finesse but still manage to reach their target audiences of young children without floating complicated subject matters over their heads.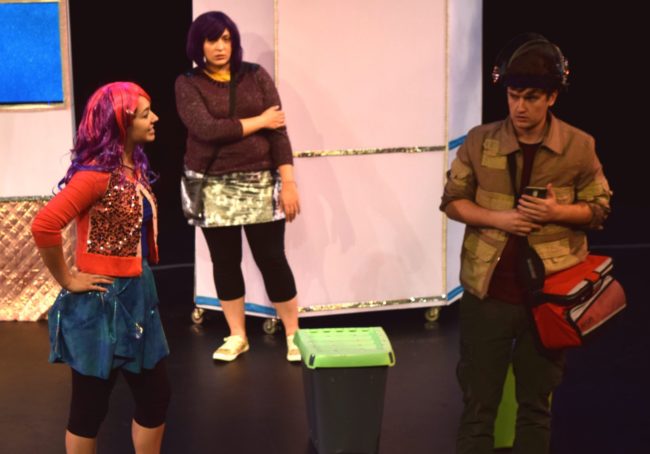 One of the finer points of the production, in addition to honing in on the fact that there is no one magical solution for bullying, is that the adult characters in the show do not always have the answers. Oliver-Krueger and Kingsland mimic real life in this sense because it is often true that adults in these situations do not have concrete answers to these problems but are great resources and even better listeners when children encounter situations that deal with bullying. Keeping with the times, the writing duo even make the principal (a character referenced in absentia) an individual who identifies using 'they' pronouns, to showcase an all-inclusive environment. The writing duo even take their inclusivity one step further, by introducing the character of Dr. Xanthus, an expert on bullying, and making him a space-creature who looks wildly different from everything and everyone else in the production.
Oliver-Krueger, who seems to wear multiple hats in the production, appears both visually and vocally in the show as Stella Supernova— the big time television host in a 'Dear Alice' style program— and as the voice Ms. Wen, the teacher who conducts class via vocal satellite from a classroom somewhere out in space. Like all the performers engaging in the show, Oliver-Krueger has a bubbly, effervescent nature that is well-suited for engaging with young audience members. The use of technology in this show— to create the audio feed for Ms. Wen's classroom and for the "live video stream" for phone calls from Cadmium which feature Klipp's Mom (Julie Wolf) is also extremely impressive as it fully integrates performance and multi-media, a progressive step of the performance future.
Kelsey Yudice, James Morogiello, and Briana Manente comprise the core performers of the program. Each of the actors doubles up their roles, making vibrant differentiations between the characters that they play. Kelsey Yudice, who starts off briefly as the monotone Customs Android Ellen49 and later appears as the lofty and engaging Cloudia von Trapèze, really shows the audience how awful bullies can be with her rendition of Ineka Brendley. This stereotypical mean girl has all the affluence of high society, privilege of fortune, and all the egregious nastiness of a real bully. Yudice does a spectacular job of showcasing how cruel bullies can be just because someone looks a little different or does things in a different way or comes from a different place. Yudice really creates a monster out of Ineka Brendley, but does a fine job of finding her redeeming qualities once the show's major dramatic moment comes to a head.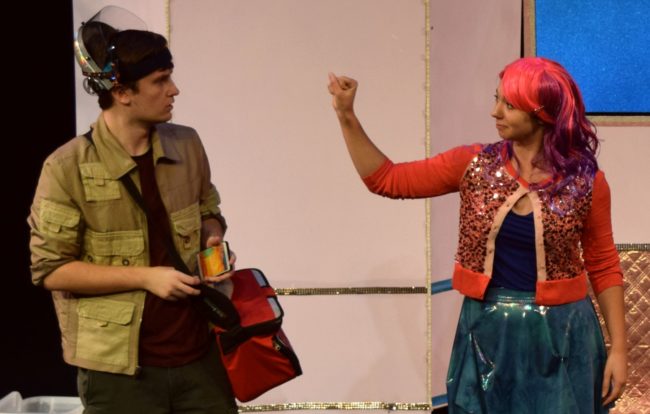 Briana Manente, who gets to briefly showcase her mean-girl side as the vile Vellum with serious mean-girl attitude, gets to take Allie Driscoll out for a spin. The Allie character is the typical middle-of-the-road girl who isn't popular but has managed to avoid being bullied for being different. Sweet and warm, Manente plays a sincere rendition of the character who has to make very difficult decisions when her new friend Klipp (James Morogiello) finds himself the target of bully-attacks from Ineka. Morogiello is an adorable nerd to the core! Nerd here is a term of deep and endearing affection as Morogiello's character is smart, congenial, and really engaging with all the new things that arrive suddenly in Klipp's life. All three performers do an excellent job of getting the show's main and periphery messages across to the children (and children at heart) of the audience.
It's a remarkable and innovative piece of theatre that addresses issues with which all children are faced in this present day and age. How to survive as an individual and what to do when your individuality gets you bullied. InterAct Story Theatre has an extraordinary show on their hands with a powerful message, and together the whole thing is simply out of this world.    
Running Time: Approximately 50 minutes with no intermission
Voytto Tech: A SciFi Fable plays through September 29. 2018 as an InterAct Story Theatre production at the Montgomery College Cultural Arts Center— 7995 Georgia Avenue in downtown Silver Spring, MD. Tickets are available at the door or in advance online.