Things don't have to be true to talk about them. In fact, that's why some people like to talk— gossip and fake news, and really anything they can jabber about, just to make noise. People make noise— with their mouths, with their words— because they can't cope with silence. They can't deal with quiet. But what if all you want is quiet? What if all you need is silent? In the harrowing Tony Award & Pulitzer Prize -winning drama 'Night, Mother by Marsha Norman, the gravitas of life-ending reality comes to visceral exposure in a heated conversation between mother and daughter. Directed by Anne Hammontree, this two-woman evocative exploration of the extremely sensitive subject of suicide is disarming; this production contains adult themes, and intense scenarios that may not appropriate for all audiences.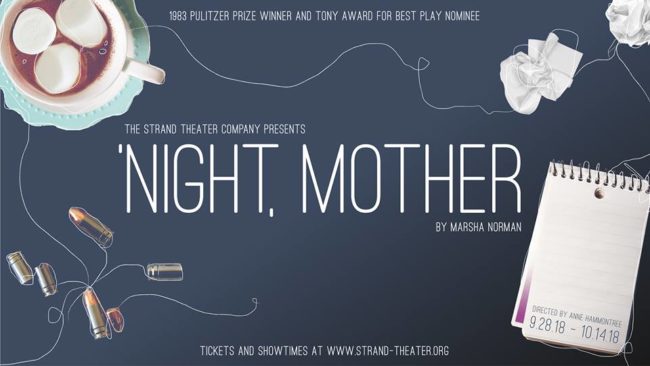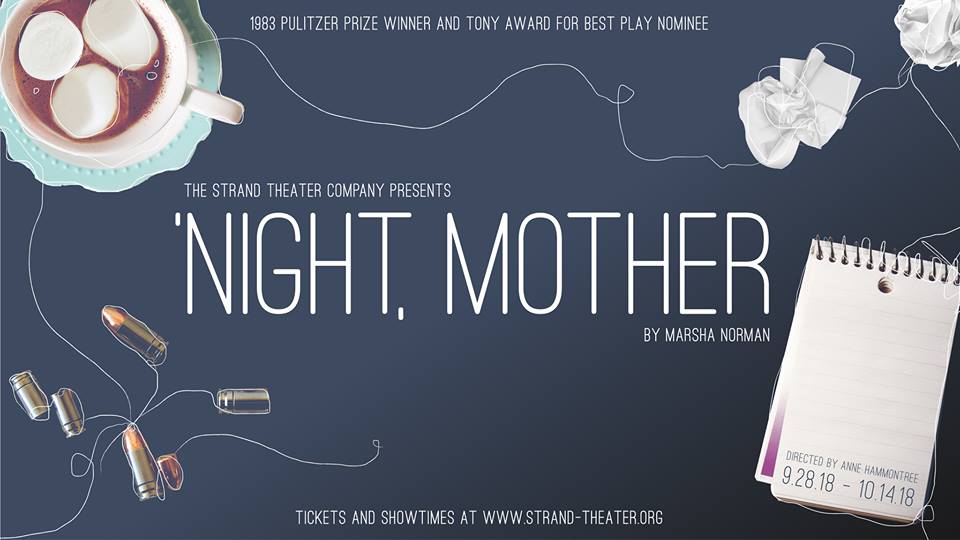 As The Strand Theatre enters its 11th consecutive season, producing 'Night, Mother falls well within the wheelhouse of its mission, giving voices to women and their work. Marsha Norman's heart wrenching story addresses one of the more difficult taboo topics of suicide and confronts it head-on without preamble or pretense. Audience members should be fully aware that the play not only tackles but thoroughly explores the concept and effect of suicide. For the opening night performance, the theatre had a psychiatrist on hand for post-show consultation and counseling and has material and resources available for suicide prevention for its audience members.
Director Anne Hammontree sets a tone and a pace from the word go, keeping the experience heightened and engaging throughout the course of the 90 minutes. The stakes are elevated from the onset, albeit subtly, and the tricky task of raising already elevated stakes is one that comes readily to Hammontree. The slightly Southern vocal affectations are maintained with consistency throughout the performance, which prevents aural distractions from the intensity that the words deliver. The play space is confined, a thematic representation of Jessie's struggle, but Hammontree uses it effectively. Scenic and Lighting Designer TJ Lukacsina has crafted a quaint interior, which is thoroughly decorated and quite realistic in its appearance. The little details in Lukacsina's set create the illusion of normalcy, even pleasantness for the household, which is far from the reality in which Jessie is ensconced, but all the more telling for the contrast that it creates.
A show that rests solely on the shoulders of one individual can be tricky; a show that shared equally between two performers can be exponentially more difficult. The delicate balance of a show like 'Night, Mother requires a shared mindset, almost a psychic level of connection and understanding between the two performers. Kathryn Falcone and Andrea Bush could be real life mother and daughter in the way that they present these characters and share the unwieldy burden of this drama. (Due to an emergency casting change, Falcone stepped into the role of Thelma "Mama" Cates, despite being on par to be Bush's sister rather than her mother, but performs the part with such gusto and invigorated energy that it is easy to overlook their age similarity.)
It is impossible to say in a drama such as this who carries the dramatic weight of the production; with Bush and Falcone it is divided with reverent equality. Bush plays Jessie, the daughter of the pairing, and presents the subject of suicide, introducing it into the situation as a finality. Falcone, with compelling zest, playing Thelma "Mama" Cates creates a wall of fortitude against which Bush's Jessie rails for the better portion of the evening. Both women are indomitable powerhouses of pathos; both are passionate protagonists; both are explosive emotionalists.
Bush's Jessie presents a stoic wall of persistence with steadfast consistency throughout the performance Methodic and almost detached in the way she toils through her checklist, rummaging about the set and fiddling with props in a most naturalistic way, Bush grounds the more menial moments of her character into the tasks she completes. Balancing the mundane with the extreme, Bush has fine moments of emotional explosions that come flying out of her character's mouth when driven in heated argument with Falcone's character. Both women drive the tension of the piece with invigorating heart; both find the harrowing feelings that push their characters forward and expose them in raw earnest.
Falcone's "Mama" is a tour du force, presenting a meager house mother that hardly seems possessed of all her wits. But the versatility that Falcone uncovers in the character is striking. There is humor, fear, and a plethora of other things that come slipping into her existence with precision timing. When Falcone explodes, the theatre all but shakes with her expressions of what can only be described as the precursor of unfathomable grief. Filled with authenticity, and delivering a harrowing encapsulation of a mother on the brink in a fragile situation, there are moments that Falcone creates that all but stop the human heart.
There is a tremendous punch behind the performance; 'Night, Mother should be viewed with caution and sensitivity in mind.
Running Time: 90 minutes with no intermission
'Night, Mother plays through October 14, 2018 at The Strand Theatre— 5426 Harford Road in the Hamilton neighborhood of Baltimore, MD. For tickets, call the box office at (443) 874-4917 or purchase them online.