In the beginning we were one. There was no right and no wrong. But then someone invented right and wrong, where right is for all of us and wrong is just for you. Go to the Maryland Ensemble Theatre to see Hand to God…RIGHT. Skip out on seeing Maryland Ensemble Theatre's Hand to God…WRONG. And you do not want to be in the wrong when it comes to this darkened, irreverent dramedy that explores organized religion and the darker truths that burble beneath it. Directed by MET Artistic Director Tad Janes, this high-octane, intense excavation of devout religion presents raw, unfiltered black humor mingled maniacally with deeply disturbing topics of discussion. MET opens its 21st season with a real doozy on the main stage; Hand to God does as art intends, comforting the disturbed and disturbing the comfortable.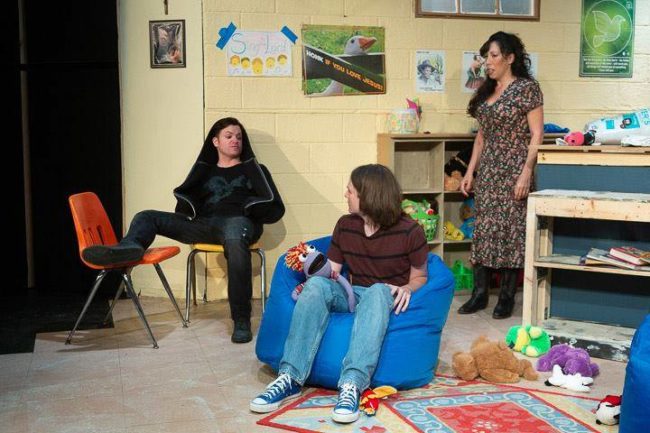 Robert Askins play is a bumpy ride from start to finish; there are puppets, crude language, dark thematic elements, inappropriate behaviors, and an overwhelming sense of devout organized religion as an eighth semi-sentient character in the room. Director Tad Janes tackles the play with a brutal honesty, pushing each of the scenes forward with a sharp sense of timing, both comedic and dramatic. Janes guides the five actors (and their various puppets) through tension-driven moments of hard truths and intense climaxes. Toeing the fine line of delving too deep into the severity that the play's issues present and balancing the comic irreverence of the situations, Janes and the company does a remarkable job of creating a well-balanced performance of this shocking and unsettling show.
Great praises come by way of Puppet Coach Vanessa Strickland for the overall experience that occurs in Hand to God. Strickland's seasoned knowledge of how to move a hand-puppet as an extension of one's body is much appreciated in this production as it creates the character of Tyrone as its own element. Strickland's work with Kevin Cole (playing Jason the human and Tyrone the appendage-puppet) is phenomenal, especially when it comes to scenes where Tyrone starts manhandling Jason and throwing him about. Strickland imports to Cole (and the others who use puppets throughout the performance) the importance of making an earnest connection with the puppets, treating them like individuals with their own movements and personalities rather than just as accessories who assist in the plot's narrative progression. The puppet work is stellar, albeit shocking and at times frightening, in this production, all of which could not be achieved without the sensational work of Puppet Designer Lee Hebb, whose craft-work defies description in the most extraordinary way possible.
Properties Designer Tabetha White, working alongside Scenic Designer Matt Vance, create a wholesome Bible Study classroom and Pastor's office, split across the length of the stage. Vance makes exceptional use of the split staging space to properly articulate Tad Janes' vision of how the story plays out, bringing the audience right into the thick of all the action. White and the unmentioned special effects team, deserves a great many accolades for their visceral blood-core work; the mechanics used to execute some of the gorier special effects are so clean that they look nauseatingly real. The set's decoration is saccharinely wholesome with pithy and pun-riddled faith-posters and overall positive religious sentiment, particularly in the 'Bible Study' classroom. The transformation of the aforementioned space is astonishing— down to every little detail…like the alphabet blocks— but must be praised sans details for fear of spoiling such devilish surprises.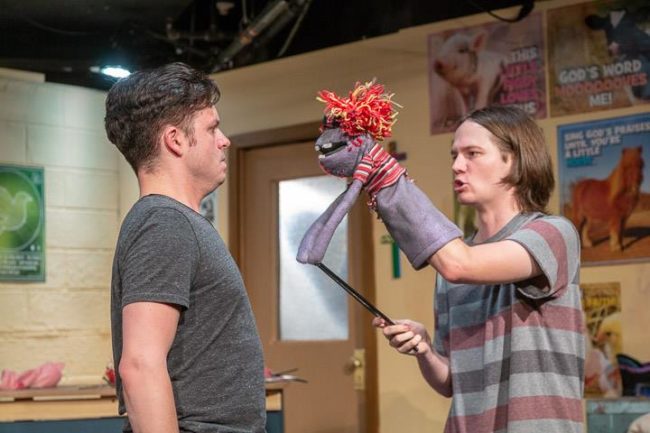 Janes, who doubles up as the show's Sound Designer brings a heightened sense of verisimilitude to the production with authentic sounds sampled for the simplest of moments. During the car scene, Janes fills the background with subtle and low-key driving sounds (this is augmented by Lighting Designer Doug Grove's widening and shrinking spotlight, which replicates passing cars' headlights in the night) as well as the realistic sound of a car door being opened and slammed. Janes' use of cloying Christian's children's music as interstitial transitions further primes the irritation of the audience when it comes to viewing the production as a whole. His use of Johnny Cash's "God's Gonna Cut You Down" to lead into the intermission is impeccable.
True to MET's ensemble nature, each of the five performers is well-balanced against the others in this production. Lauren Johnson, as the sweet and too-dorky-for-words little Jessica, crafts a rather banal, albeit humorous, supporting character in the young girl. Her puppet work, particularly once she arrives late in the second act with Jolene (her less-than-Christian-approved-puppet), is quite impressive. The split that Johnson creates between her character of Jessica and her portrayal of Jolene is sharp, clearly showing the difference between the young, slightly-confused teen and her raunchy, racy puppet. Johnson embodies a typical moody teenage girl with a genuine kindness to her presentation, which helps to provide balance among the more exacerbated caricatures in the production.
Pastor Greg (Thom Huenger) is a mixed jumble of an individual that creates several different opinions among those watching. Huenger is exceptional in the role, digging into the nuances that makes the Pastor quirky, albeit pathetic. The southern sound that Huenger presents is on par with the rest featured in the production. Delivering those cleaned-up 'Christian cursing' moments with true fury, the audience roars away at Huenger when his character starts erupting with expletives like "son of a biscuit!" and "cheese & crackers!" Huenger's overall presence as the Pastor is solid, even if at times it feels like the character oversteps various and sundry boundaries of his role at the church.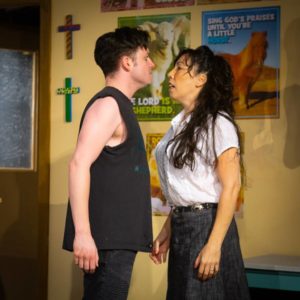 Arrogant, hot-headed, wind-bagging jerk Timothy (Steve Custer) talks the talk and even sort of walks the walk until the nightmare-inducing Tyrone gets right up in his face. Custer is all but unrecognizable in the role, creating such a potent and pungent character out of Timothy that it's remarkable and simultaneously revolting to watch. The hardened distasteful attitude (complete with guyliner and the goth-punk black threads, compliments of Costume Designer Sherry Shaner) is thrown in your face time and again every time Custer barrels into a scene. A great deal of the show's violence, feverish sexuality, and gruesome gore revolves around Custer's character, and Custer does not disappoint when delivering them at varying levels. His in-your-face interface both with Margery (Lia Seltzer) and Jason/Tyrone (Kevin Cole) is bombastic and enthusiastic; Custer powerfully delivers a true antagonistic jackass in Timothy.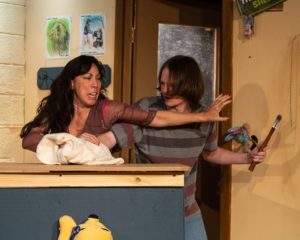 Seltzer, as the mother and widow on the brink of an emotional breakdown, is a driving antagonistic force in the production all her own. When initially fending off various advances, Seltzer manages to speak volume with just a few carefully articulated facial expressions, non-verbal and guttural sounds at the back of her throat, and vivacious body language. This is a stark contrast to the volcanic vocal tantrums which erupt from her character later in the production. Seltzer's character is an emotional disaster, spiraling frantically out of control when she loses herself to grief and its various emotional stages. Like the others in the performance, her southern accent is quite sound, never faltering even when she's at the peak of her emotional outbursts, which are delivered at the top of her vocal capabilities.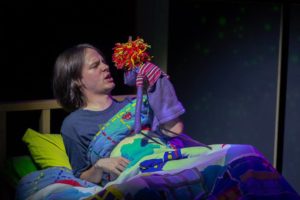 Kevin Cole creates two twisted characters who have been fused together as one, not ironically at the arm-n-elbow joint. Cole chooses very specifically to allow a 'bleed-through' in his vocality when switching from Tyrone (the puppet) to Jason (the human) and back. Although there is a notable and distinctive difference, you can hear elements of both in each of them, which furthers the sinking reality that Jason is becoming Tyrone or that Tyrone is possessing Jason. This is truly a brilliant choice on Cole's behalf and exponentially increases the mind-twist that the plot engages as it unfurls. Cole's physicality, especially when his Tyrone is flinging his Jason about the stage, is distressing to watch; again Cole creates two distinctive characters, only this time physically, that bleed together to the point of melding into one mashed-up monster.
The show is insane, twisted, warped, and ultimately an experience unlike many others, but definitely an experience you will want to say that you've had. It boggles the mind, baffles the spirit, engages and entices, and creates all sorts of nightmares (cannot praise the puppet-construction team enough for "resurrected Tyrone" and all the nightmares he will be causing for those in the audience for weeks to come) for one to contemplate and digest after the show has concluded. Remember…going to MET's Hand to God…RIGHT. Skipping MET's Hand to God…WRONG. Don't be wrong. Do what's right.    
Running Time: Approximately 1 hour and 45 minutes with one intermission
Hand to God plays through September 30, 2018 on the Main Stage of the Maryland Ensemble Theatre in the Historic FSK Hotel building— 31 W. Patrick street in downtown historic Frederick, MD. For tickets call the box office at (301) 694-4744 or purchase them online.