Easy. Simple. They are not identical things. Stories are not equations. Lives aren't either. They don't have answers. Plays are stories; maybe they aren't equations and they don't have answers. Love is magic; life has force; theatre is love; Silver Spring Stage has life. And magic. And love. And equations. And a play. A spark is how The Stage opens their 2018/2019 season. Emilie La Marquise du Châtelet Defends Her Life Tonight, directed by Erin Bone Steele, has force vive and is the appropriate conflagration to ignite the season ablaze with questions, passion, and spirit.


Playwright Lauren Gunderson's work is enigmatic, a charming tour du force that assails both mind and heart with vexing situations and exciting memorable, moments. The struggle of women seeking parity in the fields of math and science, the search for answers to life's greatest questions, the quest for love and happiness— her work winds all of that into one evening's stage traffic which becomes heavily co-dependent upon technical design and intense performances. The Stage delivers well in both arenas for this production.
The stark and almost barren set is a far cry from the lavish and lush sets for which The Stage is known. Set Designer Jeff Asjes keeps the walls void of décor, a two-fold intent which encapsulates the dreamy recollection of the play's existence as well as creates a practical space for Emilie's tallies and formulas. The overt use of grandiose period-appropriate furniture all but overwhelms the void and teeters on the edge of distraction, but the actors use it well enough to keep it minimally focused.
Light and sound, like love and philosophy, go hand in hand for this production. Lighting Designer Don Slater and Sound Designer Jeff Mikoni align their creations to support Gunderson's play that exists in recollection and memory. Mikoni also selects vibrant, allegro pieces of orchestral compositions to accompany various scenes, echoing the period in which Emilie lived stylistically while simultaneously elevating the scene because of the subtle aural soundscape such musical selections create. Slater keeps the lighting plot simple; it is his use of darkness and blackouts that highlight critical moments on stage with sublime ease. Slater's precision timing of these cues also adds a heightened sense of dramatic occurrence to the situation.
Keeping with the show's marked era, Costume Designer Jennifer Georgia crafts an appropriate sense of couture for the show, particularly with Voltaire and the Gentleman. Georgia gives Voltaire that flamboyant flare that his character so desperately cries out for whilst giving him an air of aristocracy that well befits such an ardent poet with just a hint of too much force vive. But the true splendor in Georgia's creations are the teal dresses featured on Emilie and the Ingénue (the sprightly and effervescent Sienna Goering.) While Emilie relives her own life, there are moments where the young Ingénue must step in to take her place. Georgia gives them almost identical costumes, only the dress of the Ingénue and its accompanying lace adornments are brighter, lighter, and more vibrant, capturing the notion that she is youthful and lively.
Director Erin Bone Steele is bold in her choosing of this piece. At first the pacing feels off, almost as if the performers take several moments to find their footing in this dreamlike recall of a world constructed by Emilie. It also seems to take time for the surefire connection between Emilie and Voltaire to be established, but once they make that connection, their momentum stays strong and carries along at an engaging pace. This is true with the feverish pacing of the second act, where the actors feel much more comfortable in the skins of their characters. The disconnects that do occur are readily forgotten by the times the actors find their stride and the show moves forward readily without much issue; the rocky start is well worth the invested and impressive conclusion.
Notable standouts in the ensemble include Kristyn Lue as Soubrette and Nicholas Temple as Gentleman. Lue appears in a heated, emotionally charged scene, playing Emilie's daughter. Although the encounter is brief, it is potent and lingers heavily in the mind once it concludes. Temple, who plays multiple roles, is most memorable in his fiery science academy debate scene, played with heated fervor opposite Emilie. His silent arrival and departure as Newton is laughably entertaining as well. But it's Temple's passionate scenes of amor as the young, new lover that exist near the show's conclusion that are truly impressive. Both Lue and Temple are expressive with their facial features and their body language, creating memorable moments for their characters in the show.
Though the initial spark and connection between Emilie and Voltaire (Kevin Dykstra) is somewhat lacking, once they do catch on to the intricacies of each other's performances, their relationship dynamic is compelling and intriguing to watch as it rapidly unravels. Dykstra is at first more mild than one might expect from the odious and obnoxious Voltaire, but his flamboyance and exaggeration grows with the plot. Dykstra delivers soundly during multiple gripping moments with Emilie and finds his own version of force vive with which to imbue Voltaire.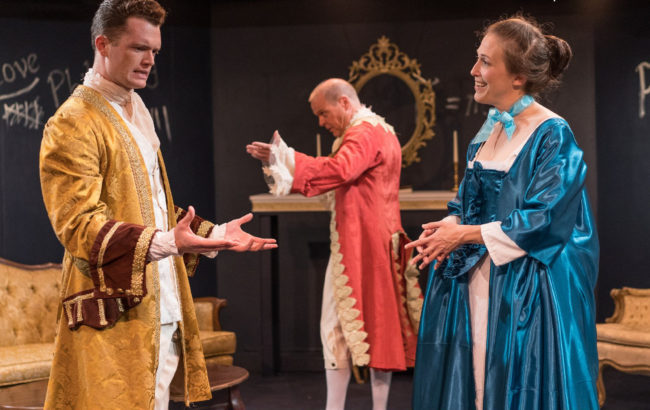 While the show has an ensemble structure, its nature is constructed wholly around Emilie (Karen V. Lawrence) and it is made very apparent very quickly that Lawrence's incarnation of this historical figure will make or break the production. Despite the initial jittery disconnect, Lawrence readily redeems herself and does so early on, finding her stride and hitting the ground running once she does. Creating an interesting and lively individual with an unquenchable thirst for knowledge, Lawrence crafts an Emilie with whom the audience can strongly empathize. Lawrence does due diligence to Gunderson's work, to history, and to Emilie with her performance.
A work well worth considering, as you could walk away from Emilie La Marquise du Châtelet Defends Her Life Tonight questioning everything you know about life and love, it comes highly recommended. Don't question whether or not to take the opportunity, however, and get your tickets before the run— just like life itself— disappears.   
Running Time: 1 hour and 50 minutes with one intermission
Emilie La Marquise du Châtelet Defends Her Life Tonight plays through October 6, 2018 at Silver Spring Stage, located in the Woodmoor Shopping Center— 10145 Colesville Road in Silver Spring, MD. For tickets call the box office at 301-593-6036 or purchase them online.