At words poetic, they're not pathetic; they're always at their best!
They're getting those songs up off their chest
And they've got lots of things to express— The Children's Playhouse of Maryland that is with their fall opener of Cole Porter's Anything Goes! They're a stellar show, they're a must see-n-go, they're the farthest thing from a flop! Yes, baby, they're not the bottom— they're the top! Directed by Liz Boyer Hunnicutt with Musical Direction by Charlotte Evans and Choreography by Amanda Poxon, this zippy musical classic is truly delightful, delicious, why it's— de-lovely! You won't want to miss the way these talented students tap their way through iconic musical numbers and straight into the hearts of the audience.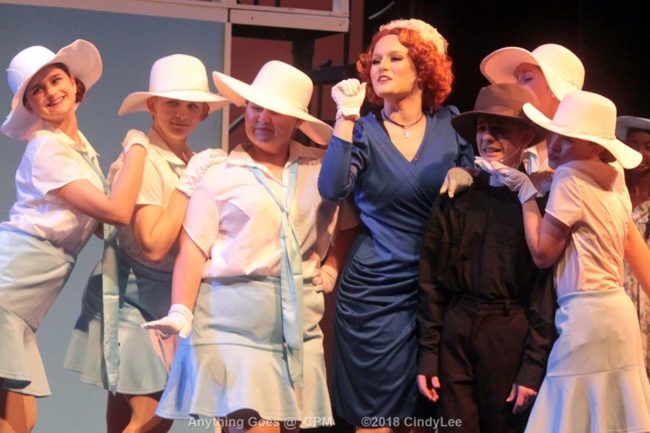 The S.S. American never looked so flashy as it does at the hands of Set Designer Diane M. Smith and Scenic Artist Laura Miller. It's a real showboat of a stage, what with the two-tiered luxury cruiser all ready for play. The house team (Lighting Designer Ed Lake and Costume Coordinator Sharon Byrd) pitch in to give an authentic 1930's verve to the ship and its passengers. Byrd has a knack for really pulling out all the stops when it comes to fancy dresses, hats, and gloves on the ladies and all but outdoes herself when it comes to Reno's multiple outfits. There are specials and bogos featured throughout Lake's lighting plot that enhance the musical numbers, elevate the mood, and ultimately add a flare of professionalism to the show.
Choreographer Amanda Poxon has once again mastered the art of choreographing the masses in tight quarters and making it look clean and crisp. Whether it's the larger ensemble number, like "Bon Voyage" which features the simple block-march of the entire ensemble or the more intricately crafted Vaudevillian duets during "You're the Top" and "Friendship", Poxon's choreography is lively and of the times. The huge, show-stopping Act-I finale, "Anything Goes" is a testament to Poxon's ability to choreograph for all levels of dance ability and really gives the audience something to cheer for as the ensemble taps its way to glory.
Musical Director Charlotte Evans gets great sounds out of her well-populated ensemble. Featuring Erin Acerno, Evelyn Acerno, Maeve Acerno, Nora Acerno, Mara Jade Beaumier, Maura Bohn, Oliver Bressner, Amy Claudio, Sophie Claudio, Jordan Isiah Dixon, Emily Foggo, Molly Foggo, Gabriella Galoni, Cordelia Gusso, Sammy Jungwirth, Julia Morgereth, Ryann Nicole Reich, Maggie Rubin, Claire Schafer, Elliott Whitman, full-company numbers like "Anything Goes" and "Blow, Gabriel, Blow" are full of heart and panache, really rolling with the overall jazzy and jumpy tone of the show.
Reno Sweeney, the only true celebrity aboard the S.S. American, couldn't possibly travel and save souls without her entourage of Angels. Purity, Chastity, Charity, Virtue, Modesty, and Honesty— played by Chloe Davies, Emily Davis, Rose Glennon, Gwendolyn Bohn, Sofia Alvarez, and Grace Glennon respectively— add a lively spirit to Reno's endeavors. They appear in the most adorable cloud-capped sailor stylings for their initial introduction and add great backup support, both vocally and with their dancing, for Reno in numbers like "Blow, Gabriel, Blow" and "Anything Goes."
Comic standouts among the cast include Zach Byrd as the Purser and Ethan Holler as the ship's Captain. Byrd and Holler are oft featured together and their exchanges are quite humorous. The posh Evangeline Harcourt (Kathryn Schudel) plays pleasantly with the stalwart, albeit hilarious, Elisha Whitney (Jared Davis.) While Davis gets a featured solo— "The Crew Song" to showcase his turgid vocal capabilities, it's all the comic scenes the pair shares that helps define them in the performance. Both Schudel and Davis have a keen sense of timing when it comes to their line deliveries, and this well serves a timeless classic like Anything Goes.
The fun and shenanigans continue in this 'farce at sea' with Erma (Dance Captain Rachel Miller) and Moonface (Dylan Morrison.) While Miller only gets one song to showcase all she's got, she completely owns the hilariously alluring song, "Buddie, Beware." Miller creates great moments of situational comedy between her and Moonface, really sticking to the intentionally obnoxious vocal affectation that really gives Erma a pip and punch above the rest. Morrison is a fine comic character man, creating lots of laughs all around when it comes to being Moonface Martin, Public Enemy number…13. While his timing is impeccable, it's his well-placed solo "Be Like the Bluebird" steals the show. Morrison is a great Moonface and really gets the audience rolling with his madcap gangster attitude.
Drippy ingénue Hope Harcourt (Heidi Thiessen) is the gummy gooey lovey element of this high-seas romantic comedy. Thiessen has a delightful voice that is full of warm sentimentality. Her delicious duet, "It's De-Lovely" with Bily Crocker is as its namesake. Her sweet, angelic sound perfectly fills out her Act-I solo, "Easy to Love (Reprise)" and her melancholy solo in Act-II, "Goodbye, Little Dream." Playing the polar opposite of a saccharine ingénue, Lord Evelyn Oakleigh (Matt Byrd) is…how shall we put it…the dog's pajamas! Byrd's well-manicured accent only adds to the perfection of his character's quirkiness. He's got hot-pants for this character and it shows! Byrd is boisterous, bubbly, and thoroughly engaged with the nonsense that befalls the character. And just when everyone assumes his stiff upper lipped stalwart character can't be broken, Byrd busts out into "The Gypsy in Me" and wins the audience over with uproarious laughter.
With sentimental spirit and a fathomless well of talent, Simon Gusso embodies Billy Crocker and wears him like a fine tailored suit jacket. With warm vocal resonance there is a substance to Gusso's crooning. His solo "Easy to Love" will melt your heart. Playing the character with great honesty, Gusso's Crocker is convivial but clever, and not at all without his comic charm. Though most of his numbers are paired duets, Gusso is an outstanding individual who brings brilliant layers of emotional understanding to the character and creates a unique working chemistry with Hope, Moonface, and Reno Sweeney.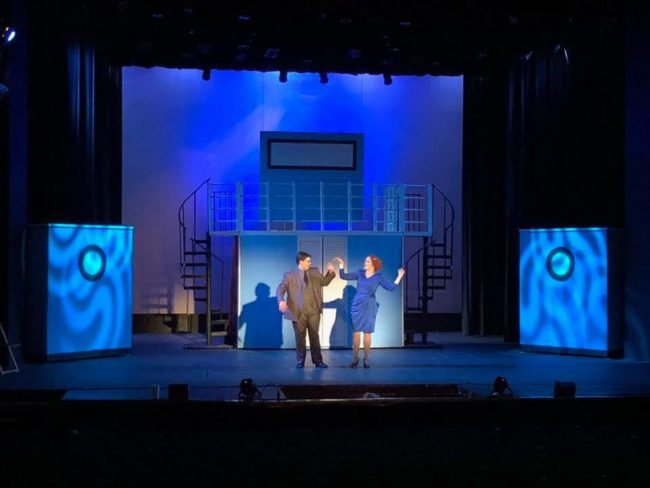 Spunky, gutsy, and the epitome of the classy lounge singer, Hannah Sikes has a vivacious vibe all her own that echoes the great performers who have come before her in the role of Reno Sweeney. Displaying a tremendous amount of talent and vocal technique, Sikes carefully crafts that brassy, brilliant sound that comes expected with numbers like "You're the Top" and "Friendship." Full of pluck, Sikes creates a Reno that has panache and charisma, both in her personality and in her singing. When she hot-foots it through "You're the Top" and "Friendship", Sikes is all but on fire. Radiant resplendence echoes all through her portrayal of Reno and really makes this production of Anything Goes a marvelous one.
So grab your ticket for the S.S. American, say "Bon Voyage" to your friends, or better yet, bring them along to CPM's Anything Goes.
Running Time: 2 hours and 10 minutes with one intermission
Anything Goes plays through September 30, 2018 at the Children's Playhouse of Maryland in the Lecture Hall of the Administration Building at the Community College of Baltimore County Essex Campus— 7201 Rossville Boulevard in Baltimore, MD. For tickets call the box office at (443) 840-2426 or purchase them online.