Hey, sister, whatcha gon' do? Goin' down by the Potomac River, gonna see The Color Purple with you. In a striking reimagination of the iconic novel turned film turned stage musical, The John F. Kennedy Center for the Performing Arts proudly presents The Color Purple, a Menier Chocolate Factory Production. Directed and Conceptualized by John Doyle, with Musical Direction and Pit Conduction by Darryl Archibald, this stunning story is reinvented with simplicity at its aesthetic core, allowing the harrowing and emotional truths of the tale rise to the surface of the performance.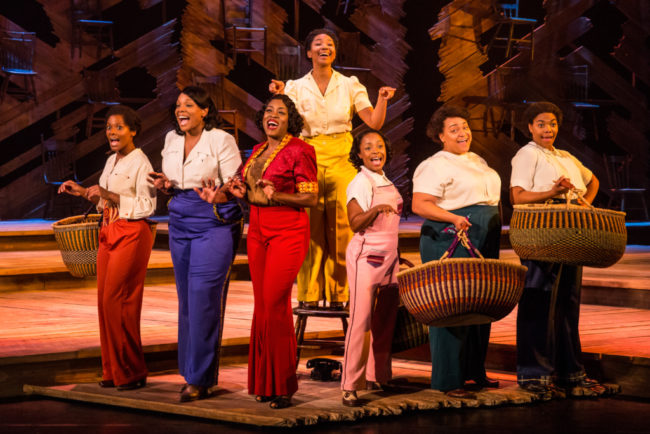 Director and Musical Staging master John Doyle has conceived the show's set, three long slabs of wooden boards that ascend into the unseen heights of the stage's fly tower and are covered with wooden chairs. That's it. While this deceptively basic set design may seem overly simplistic there is something humbling about this setting. It could be anywhere; it opens up a world of relatable possibilities to everyone. Rather than hampering the production with enormous sliding set pieces to transition from Pa's place to Mister's farm, to Africa and Harpo's Juke Joint in the woods, Doyle lets the musical transitions and a few simple props guide the audience on this narrative adventure. In a sense, this splits the story wide open and bares all of the emotional essence to the audience directly, proving once again that a great story doesn't need spectacle to succeed.
Complimenting this approach, Costume Designer Ann Hould-Ward and Lighting Designer Jane Cox add subtle touches of artistic flare to the production. Hould-Ward keeps the focus on simplicity, save for one or two unique pieces— Shug Avery's fancy outfits to give her vivacious character that extra punch of pizazz and the richly saturated primary tones of Miss Celie's Pants during their big debut— and this serves the notion of purifying the storytelling experience. Cox' lighting design is crafted in a similar vein, with nothing too flashy or showy but rather delicate and gracefully providing illumination to critical moments of the story.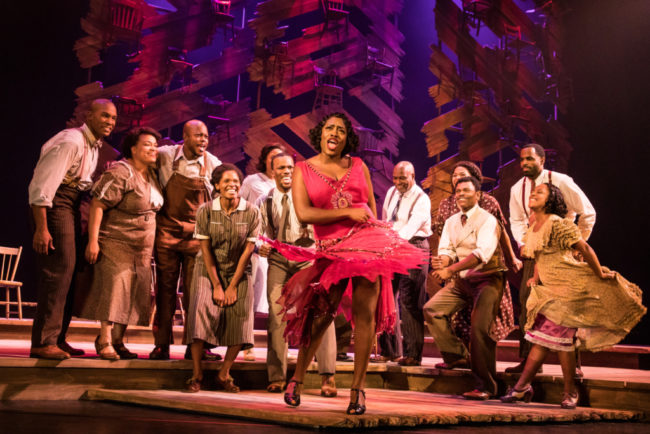 While there is no choreography in the traditional sense— no meticulously metered routines or grandiose acrobatics— John Doyle's staging is in itself a type of dance. The way the characters move through the three upright towers of chairs, the way they navigate the space, creating in their minds eyes the farm, the juke joint, and all the locations of the show for us to see with mere body language and spatial placement, this is a choreographic dream. And of course, "Push da Button" has its own feverish series of movements which brings the steamy nature of this song to a rolling boil.
When the ensemble first sings together during the opening segment of "Mysterious Ways" there is a raw and almost unclean sound; there is a joyful noise that overtakes the scene, rising up with that sentience of gospel to prime the audience for the emotional journey that they are about to take. This echoes throughout the production whenever the ensemble sings together. Punctuating these numbers with pluck and snappy gossipy edges are the Church Ladies (at this performance Nikisha Williams, Bianca Horn, and Brit West), who cluck about like seriously sassy hens trying to get their two cents in whenever and wherever they can.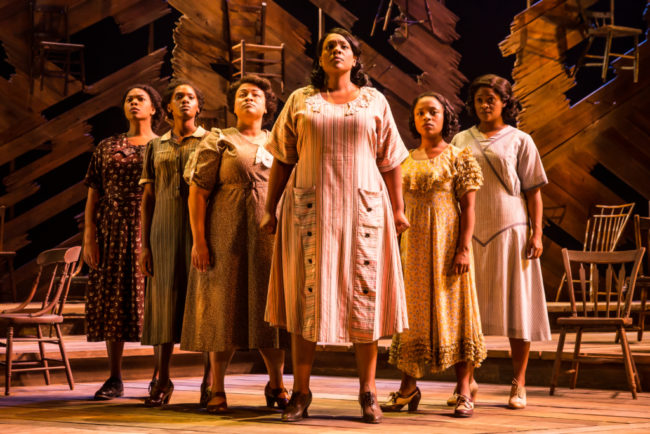 Laying down the law in the performance, standing triumphantly for women's rights is the mouthy, moody, and larger than life Sofia (Carrie Compere.) Ferociously charged with an electrifying intensity, Compere's performance of "Hell No" is enough to incite a riot and have every woman in the house standing proud by the number's conclusion. Fierce and ferociously funny in addition to her unmovable attitude, Compere gives a powerhouse performance in the role. When paired up against meek and mealy Harpo (Jay Donnell), Compere finds the sincerity of their relationship and just goes to town with the fun there is to be had during "Any Little Thing."
Nasty and vile, Gavin Gregory transforms Mister from the monster that is written into the character's core into something rare and human. Gregory presents the most dramatic character arc in the performance. Although the others grow and change, no one character transforms so thoroughly as Gregory's Mister. His oozing voice slinks through "Our Prayer" in the beginning and violates the innocence of the number, solidifying his hot seat in hell early on in the performance. But by the time he's falling out of himself in "Celie's Curse" the fear of God (and an abused woman who has discovered courage and her own self-worth) spins the character completely around, creating a jaw-dropping transformation. Vocally arresting, Gregory's voice gives quite the performance during "Celie's Curse."
Nettie (N'Jameh Camara) is the bright and eager, innocent foil to Celie (Adrianna Hicks.) There is a simplicity, which is strangely vexing to the character. Even though she is learned and well-spoken, there is almost a childlike naiveté to her indefatigable hope, which resonates every time she sings. When singing in letter format, it brings a tear to the eye at how earnest her hopes and faith are. The way she interacts with Celie, though these scenes are scripted to be brief, develops immediately the strong and undeniable bond of sisterly love no matter how much time and distance stands to separate them.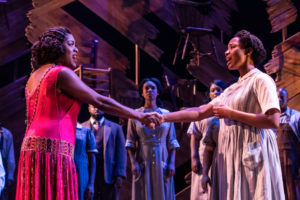 Adrianna Hicks' Celie is unstoppable. Masterfully in charge of the character, Hicks creates a fallen woman, through no fault of Celie's own, that rises to the surface and stands triumphant even in the darkest moments of adversity. Paired up against the smoky and seductively wild Shug Avery (Carla R. Stewart), Hicks' Celie finds herself discovering a whole new world. There is a phenomenal moment of dawning realization that surges through both Hicks and Stewart during "Too Beautiful for Words" even though the song is Stewart's first solo. This moment is also a moment of radiant versatility for Stewart's Shug Avery as the audience is treated to her raw, emotional said here and just seconds later sees her feral femme fatale side as she swishes and hip-pops her way through "Push da Button." Both Hicks and Stewart create dynamic versions of Shug and Celie respectively, which makes their relationship one of the most compelling to experience in the show.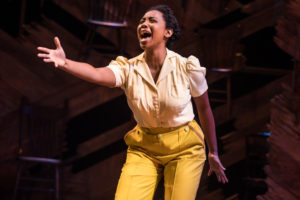 Hicks, as the beleaguered protagonist, is unabashedly raw. This makes for moment of vocal imperfection which honestly serves the show better than pristine sounds when she sings. Make no mistake, Hicks is exceptionally talented and heart-pours into all of her singing and spoken moments, but intentionally lacks polish in moments that further that raw, visceral exposure of her heart and soul. This is readily witnessed in "I'm Here" the eleven o'clock number that all but brings the house down melting with applause and sweeping sensations of the notorious 'ugly cry.' Hicks' emotional expressions are so evocatively present that it is no longer about witnessing Celie's journey, but feeling it first-hand. The anger is a hot coal that burns the skin when she curses God; her sorrow and fear are like ice down the spine; every emotion becomes a tangible and extraordinary feeling as it is belted out through Hicks' impressive pipes. Evocative and thrilling, Hicks brings the story to life.
It's a new way of experiencing theatre, minimal in design, maximized in expression and emotion. John Doyle and the company have a high bar set for their storytelling efforts and exceed expectations with flying colors, predominantly in shades of purple.    
Running Time: Approximately 2 hours and 20 minutes with one intermission.
The Color Purple plays through August 26, 2018 in The Eisenhower Theatre of The John F. Kennedy Center for the Performing Arts— 2700 F Street NW in Washington, DC. For tickets call the box office at (202) 467-4600 or purchase them online.