Shakespeare Theatre Company is in its 28th year of presenting the annual Free for All program, offering free productions every summer. This year features Romeo & Juliet, the STC's most often-produced play, as directed by STC Associate Artistic Director Alan Paul. STC's Free for All emphasizes accessible, relatable Shakespeare, and in that goal, this production excels. For those who have never seen Romeo & Juliet, and indeed, there were some in my audience, this production is absolutely the place to start. With its modern setting, emphasis on the very young ages of the protagonists, and disconnected family dynamics, STC serves up an enjoyable and digestible R&J. In the same breath, there is nothing new, revolutionary, or remarkable about this production, but that doesn't seem to have been the goal in the first place.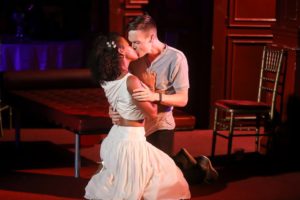 Romeo & Juliet, according to the STC, "presents a world about to combust, saturated with powerful love and powerful hate. Caught tragically between two feuding families, alike in dignity and in enmity, Shakespeare's immortal young lovers try to fashion a new world amid the violence of the old, but cataclysmic choices and tragic twists propel them toward a final confrontation with hate."
The set, a bright red lounge, while visually interesting, dwarfed the few actors who were on stage at any one time and often felt disjointed from the actual play and its setting. The lounge served all as Capulet-owned club, public street, church, tomb, and with some pains to stage a bed, Juliet's bedroom, the result of which felt like the play was staged on a set shared with another production.
The acting was, as you should expect from STC, stellar. Juliet, as played by Danaya Esperanza, outshone the other actors by significant bounds, which occasionally left her relationship with Romeo (Sam Lilja) lopsided. Esperanza found moments to emphasize Juliet's genuine childishness, often lost in the character's language and choices. Her talent, coupled with staging choices such as keeping her on Romeo's level and not on a balcony during the iconic (not-so-)balcony scene, brought more agency on Juliet's part to the table in a play fraught with gender imbalances. As a whole, the production was keen to do so, giving additional lines and moments when possible to Lady Capulet (Judith Lightfoot Clarke) and Lady Montague (Shanara Gabrielle).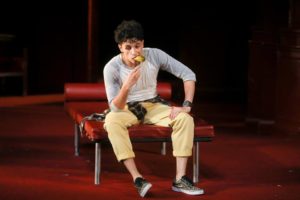 Other high points were Benvolio's (Sebastian Chacon) opening scene with Romeo, and Chacon was hard-pressed not to steal any of his scenes in an easily overlooked role. Likewise, Ron Menzel as Friar Laurence brought new insight to the character, and masterfully played the balance between his genuine concern for these children and how ill-equipped he is to deal with the magnitude of the situation.
Conversely, while adeptly-performed by Jeffrey Carlson, the interpretation of Mercutio was both flat and predictable, played sedately at unexpected moments, and uniformly foppish the rest of the time. Likewise, the interpretation of the Nurse (E. Faye Butler) relied far too heavily on race-based stereotypes in an attempt to distinguish her from the other women and garner quick laughs.
At least a third of my audience was seeing their very first Shakespeare play, and I can think of few better productions with which to begin. STC's Free for All Romeo & Juliet is entertaining, moving, and accessible, and for those with the time or luck to score a free ticket or two, it is well worth the effort.
Running Time: 2 hours and 40 minutes with one intermission
Romeo & Juliet plays through September 2, 2018 at Shakespeare Theatre Company's Sidney Harman Hall— 610 F. Street NW in Washington, DC. To learn more about STC's Free-for-All ticketing options, click here.