Halloween. Ghosties and Ghoulies.  Scarecrows and Skeletons.  Pumpkins and Poe.  Yup.  Poe.  We all know Poe…master of the macabre, father of the modern murder mystery…and ravens…and tell tale hearts…and black cats.  Some of us love him.  Some of us would be happy to hear him nevermore.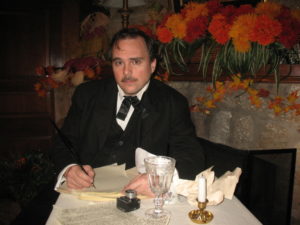 Poe and Halloween – they just seem to go together.  Poe's legacy has become a tribute to madness, moodiness and morosity.  We forget the rapier wit, the dry humor, the ability to poke fun at himself and others. 
Enter the annual offering of Poe's Last Stanza, a tribute to Poe and all of his facets. Picture yourself in an 19th century tavern.  Now picture Edgar Allan Poe in the same tavern, drinking and passing the time.  Picture the poor, beleaguered barmaid tasked with seeing to his needs.  Picture an evening where Poe steps off his pedestal and engages you directly – sharing laughter, poetry and a bit of Halloween spookiness.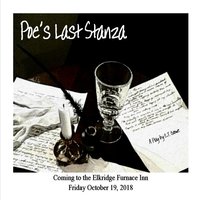 This is the fifth year Poe's Last Stanza has been offered up for Halloween.  It is a show that people return to again and again.  There's even a fan group dubbed the Poettes.  The thing we hear over and over is that Poe's Last Stanza makes Poe accessible to everyone – from aficionado to those who only know the name.  Everyone leaves feeling as though they have spent time with Poe.
This year, in addition to the usual production at Sunset Restaurant, Poe's Last Stanza is offered at an exciting new location.  On October 19, Elkridge Furnace Inn, an historic location offering a unique fine dining experience, will host Poe's Last Stanza.
Intrigued?  Want to know more?  Here's a video snippet to whet your appetite…