"When someone in your social circle becomes so melancholic that they stop moving, it is your duty as a human being to go find them." So proclaims Tilly, the lead character in Sarah Ruhl's Melancholy Play: A Contemporary Farce, currently being produced by Constellation Theatre Company. Directed by Nick Martin, the play takes the audience on an abstract dive through sadness, happiness, and the social contract. Constellation's production perfectly captures the spirit of melancholy, absurdism, and comedy that will have you falling in love right alongside the characters.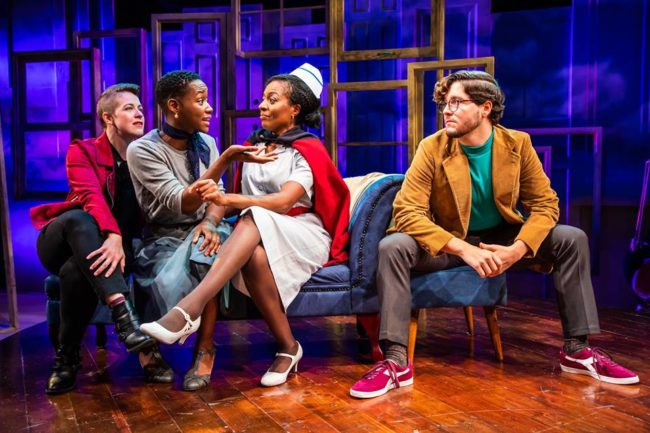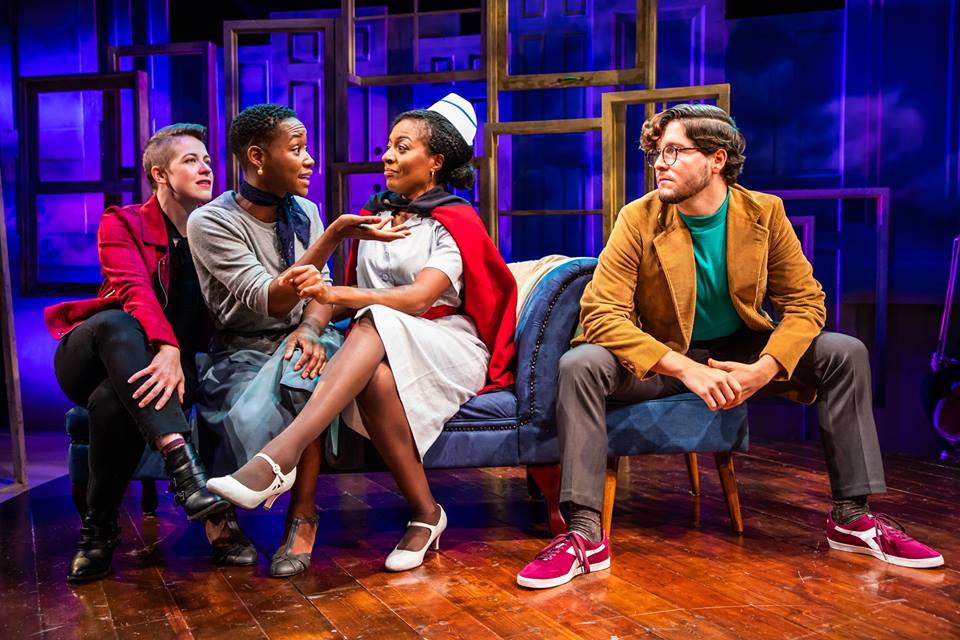 Melancholy Play captures the story and feeling of overwhelming emotion and desire to connect. Writes Constellation, "Tilly, a bank teller in a small Midwestern town, is consumed by melancholy. But not just any melancholy: Tilly's is a bold, sassy, sexy, hopelessly romantic melancholy that recalls the glamour of glossy-eyed European film stars from the 1950s; the kind of sweet sadness that prompts her to gaze out of windows, speak in sighs, and swoon onto divans. In fact, Tilly's melancholy is so exquisite that everyone she meets becomes infatuated with her – her tailor, her hairdresser, and ever her therapist succumb to her perpetual sadness. But all havoc breaks loose when Tilly inexplicably discovers happiness, leaving her would-be suitors despondent."
Playwright Sarah Ruhl excels at absurdism, and while an early work of hers, Melancholy Play is no exception. Consequently, Director Nick Martin and Technical Director Mike Salmi rise to the challenge. Every detail, from the ever-changing, bottom-up lighting to the floating windows of the set to the ever-present cello accompaniment, as played masterfully by Kate Rears Burgman, conspires to keep the audience in a mindset outside of reality. Likewise, the performers' movements as whole carry the staccato uniformity you would expect of the style, as though each moment were choreographed like a dance, leaving the audience no room to step back and question the silliness of Melancholy Play's events.
Tilly, as played by Billie Krishawn, stole the hearts of the other characters and the audience, as both rode the tides of her changing moods and whims. Christian Montgomery as the vaguely-European Lorenzo, nearly stole the show from his opening monologue about being about being abandoned in a candy shop in an unspecified European country. John Austin, in the role of Frank the tailor, excelled at physical comedy; likewise, Mary Myers as Frances and Lilian Oben as Joan brought a touching mix of comedy and heart that had our audience rooting for their happiness by the end. However, the cast shined brightest in their ensemble scenes, each playing off one another to brilliant and hilarious effect as these unique characters came together for each other.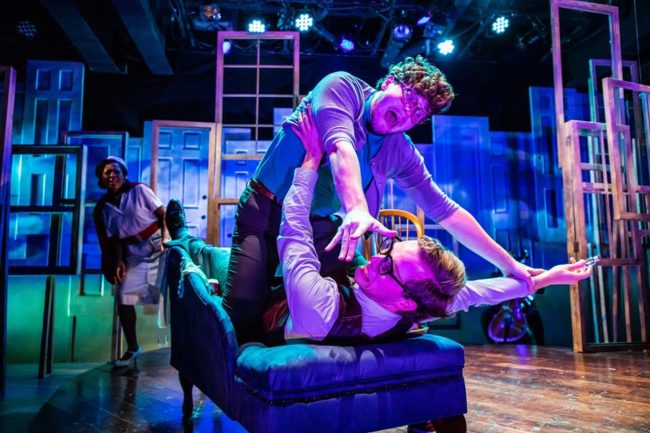 The only moments that could possibly be called weak were perhaps the two vocal musical numbers, which only paled when held against the bombastic performances across the board. Music, however, was a highlight of this production, such that Burgman on cello is eventually brought into the plot as Julian, A Cellist, breaking any remaining inklings of reality left in this play by the end.
Constellation Theatre Company's Melancholy Play is a force to be reckoned with and presents a comedy that will leave you laughing and loving your whole night, and, most importantly, shows exactly how absurdism should be done.
Running Time: 95 minutes with no intermission
Melancholy Play: A Contemporary Farce plays through September 2, 2018 with Constellation Theatre Company at Source Theatre— 1835 14th Street NW in Washington, DC. Tickets can be purchased at the door or in advance online.