For me, the theatre is not a slice of life but a piece of cake. And there is a tremendously foreboding and utterly delicious cake of terror awaiting to delight the masses at Fluid Movement's annual water ballet. This year they're modeling their efforts after one of the silver screen masters of the macabre, the true prince of filmed darkness and serving up a whopping splash of Alfred Hitchcock Presents: The Water Ballet. Produced by Rachel "Squeegee the Peephole" Kassman (with Technical Producer Justin "Master of antici-" Sabe and Assistant Producer Marta "Spreadsheets" Zoellner), this darling homage to Alfred Hitchcock and all of his iconic screen-gems-turned-water-ballet is truly too good for words.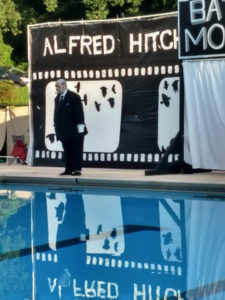 Fully encompassing the company's mission, the water ballet is all inclusive and showcases some 100 swimmers of varying capabilities and degrees of all ages, backgrounds, and theatrical interests, all brought together by their unbending love of water performance and glitter. This year's theme, set down by the talented writing staff— Lynda "We all go a little made sometimes Del Genis, Todd "The Quip Keeper" Gardner, Rachel "Words?" Kassman, Justin "-pation" Sabe, Rick Wilson, and Marta "ONE day to get this RIGHT" Zoellner— Fluid Movement has created a black and white masterpiece that is a spooky sendup to one of the greatest dark-masters the silver screen has ever seen. The writing is clever (and with Charm City's notorious punster Todd "The Quip Keeper" Gardner on staff it's no wonder the lines are groan-laugh-worthy) and the concept is deeply entertaining. Pulling from the most well-known Hitchcock films, and in this tempestuous climate of female equality in the workplace, the writing team comes up with an enjoyable script that really "sticks it to the man" and creates humor for everyone while paying tribute to such screen-greats as Psycho, The Birds, Dial M for Murder, North by Northwest, Saboteur, and Rear Window.
With glorious black and white painted scenery, Set Designer Danielle "Stage Far-Left" Nekimken has paid proper tribute to the scenes from the aforementioned iconic movie. There's the Bates Motel, silhouettes of birds attacking, even a fully-functional cyclorama, which— albeit human-powered— moves the scenery during the segment "The Running Man" a combo-scene that blends together the plots of North by Northwest and Saboteur. Augmenting and assisting the aesthetically pleasing 'on-deck' scenic elements, Sound Designer Justin "You have to say 'Hit It Carlos'" Sabe queues up various and sundry iconic clips, sound effects, and musical interludes to align with these watery scenes. Sabe also intersperses cleverly matched music to the scenes to enhance the audiences' enjoyment and give the performers something to move to as they swim. One of the best alignments of this nature is Sabe's infusion of "Telephone" by Lady Gaga featuring Beyoncé during the Dial M for Murder sequence.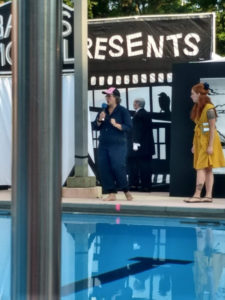 Setting up the scene, and moving from scene to scene are the on-deck acting crew (two thirds of whom this year end up in the swimmer's league and eventually enter the water!) Bea L. Eagered (Ashley "Vertigoing Swimming" Ball) plays the stereotypical pretty, eager actress who desperately wants a part in any one of Mr. Hitchcock's shows. Shot down again and again by the ruthless bordering on misogynistic Hitchcock, Ball does not give up her hopes, and stays peppy and positive with the most obnoxiously stereotypical starlet-wannabe voice of the times right through until she proves her point. Kelly "Ragin' Sage" Quinn serves as Sage Addison, Stage Hand, the on-deck assist with the microphones and scenic prompts to get things rolling. 
The incomparable V "The Chameleon" Lee is Hitchcock incarnate. Filling out the costume— complete with authentically shaved head and delicately darkened graying-shadow of hair horseshoed in around her skull— mastering the mannerisms, and even capturing the essence of the heavy with pause breathing, Lee is truly masterful in the role. Everything from the deliberately slowed speech to the vocal affectation used to deliver it creates the perfect illusion of Hitchcock resurrected right before the audience's very eyes. It's truly astonishing and only adds to the humor once Bea L. Eagered finds a way to get what she wants.
Psycho directed by Rory Flanagan, Jan Pumphrey, Rick Wilson
You'll never want to shower again after seeing the Fluid Movement version of the iconic horror film that was years ahead of its time! (Don't worry, they don't wash any chocolate syrup blood into the pool!) With our peephole peepers at one end, watching the shower-capped swimmers on deck from afar, everything gets creepy in a hurry as they slip into the water prepared to chase after the showercappers once they take a dive into the pool. Naturally once the two groups collide (on course, of course) and the iconic 'queee-queee-queee-queeee' sound plays, the real synchronized swimming gets underway. Including Jennifer "Bathtub" Burdick, Gabrielle "Gab-ree-ree-ree-elle" Elkaim, Liberty "Stark Bathing Mad" Grayek, Margaret "Be Still My Beating" Hart, Mindy "Janet Leighthal" Morrell, Julie "Splish Splash Slash" Murphy, Carrie "Bloody Carrie" Older, Laura Smith, Joy "Sushi" Sushinsky, Ann "Creeper" Tabor, Mara "Resting Hitch Face" Veraar, Barbara "Wash Me" Wilgus, and Kat "Killer Claws" Waters, the swim-team for Psycho washes all your worries down the drain. They even include some 'jazz-hands' water treading when "Norman My Love" starts playing.
Dial M for Murder directed by Beth Marshall, Valarie Perez-Schere, April Pink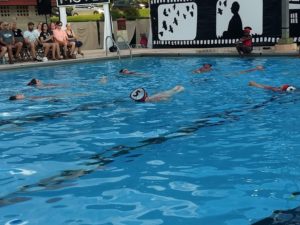 This routine might just be too cute for words as it features the junior swimmers of Fluid Movement's annual water ballet. Including Ibhade "StopCallin'" Asikagbon, Semirah "Twizzler" Asikagbon, Sage "Dial8243" Kulpinski, Makayla "KindaBusy" Gregory, Charlotte "Scissorlotte" Marshall, Winslow "B'Dancin'" Marshall, Ellie "Dial35543" McGinley, Aniah "The Backstabber" Meekins, Gracie "OnHold" Pendall-Jones, Dashiell "TheCollector" Perez-Schere, Violet "NoSignal" Perez-Schere, and Madeline "Dial M for Maddy" Weber, these adorable swimmers start their routine on deck with old fashioned telephone receivers and curly cords attached to their bright red swimming costumes. (They almost absolutely win best costumes for the show, and definitely do up until that point in the show!) With big number circles on top of their heads, the junior swimmers leap fearlessly into the water and float water ring formations, which creates the illusion of the antique rotary-dial style telephones, perfect for the real Dial M for Murder.
The Running Man directed by Valerie "The Riveter" Perez-Schere, Regina "Pull-Over" Shock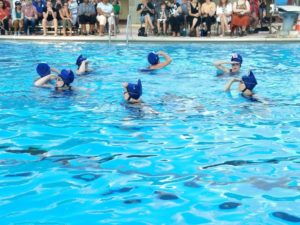 Creating a hybrid combination of two of the lesser recognized Hitchcock films, Perez-Schere and Shock pull North by Northwest and Saboteur into one big scene entitled The Running Man. This features the most 'on-deck' work of perhaps all the scenes with the officers in their bright glittery blue costumes and swimming caps, getting in and out of the water to chase the fugitives across land and sea. The police and riot-squad style swimmers creative horizontal and vertical synchronized lines in the water when they swim in for the capture, creating barriers in the pool, it's pretty wild to witness This scene also engages the cyclorama on deck for maximum dramatic effect and includes a great many inverted 'foot-up' kicks. The swimmers of this routine include: Krysten "Keeping the Peace" Adler, Nikki "Lady Liberty" Cobbs, Janelle "I Spy" Diamond, Annie "Five-Ohhh" Embertson, Eva [redacted] Farrell, Emily "Double Agent" Gohlinghorst, Delana "Cary Grant" Gregg, Alaina "Inspector Gadget" Grim, Holly "Virginia Hall" Grunebach, Cathy "Keystone Cop" Johnson, Allison "Good Cop" Jones, Katie "Double Agent" Leser, John "Big Leaker" Leszczynski, Ian "Secret Stasher" Leszczynski, Leah "Agent 99" Marcus, Beth "Leading Lady" Marshall, Stefanie "The Cadet" Ogar McKenzie, Kelly "Decoder" Quinn, Jane "Blond on Blonde" Shock Osborn, and Rebecca "Best Boy" Starr.
The Bird directed by Caitlin "Hot Wings" Bouxsein, Faith "Googly Eyes" Savill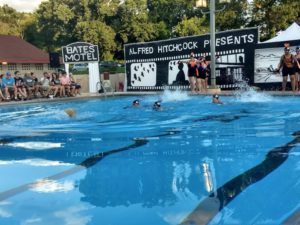 One of the most inspiring, hilarious, and frightening pieces featured in Alfred Hitchcock Presents: The Water Ballet, this scene is for the birds! Featuring 15 unique avian individuals, each swimmer-bird had the task of "be your own bird" and was to design their own avian creation. In purple or orange, of course, to bring those birds back home to Baltimore! The creations were endless, with huge googly-eyed eyeballs on swimmers caps, fluffy tufts of orange and purple 'feathers' all over swimsuits in various places, beaks on faces, and of course a skyfull of glitter. Featuring Lauren "Bird Flu" Beal, Ife "Nevermore" Cade, Yana "What Birds?" Cascioffe, Jodi "Turducken" Feldman, Jessica "Pheasantly Fab" Feldt, Susie "Clusterflock" Hinz, Nicole "Free Byrd" Jassie, Stephanie "Lady Black Bird" Johnson, Hilary "Big Bird" Judis, Magpie, Lori "Flockin' Awesome" Travis, Lizzie "Tweety" Travis, Carolyn "Bird Smith" Turgeon, Rochelle "Rocking Robchelle" Underwood, and Lisa "Clam Slam" Wiseman, these birds came straight for the actress dressed in avocado green like Tippie Hedren (and the transformation of full green suit into bloodied face and arms and green swimsuit was wild!) and made a true and frightening chase straight into the pool. With moves like the scrunching and contracting star bridge and the floating concentric circles which trap the Tippie Hedron character, this routine flies away with 'best in show.'
Rear Window directed by Suzy "Queen Bee" Kopf, Marta "Tutu Suspicious" Zoellner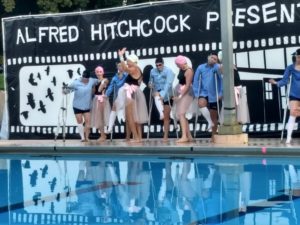 Starting out on deck, with half of the swimmers posing as banged-up and on-crutches Jimmy Stewarts, the swimmers (William "Steward of Stewart" Archer, Ashley "Dancing in the Dark" Ball, Sarah "Dog in a Basket" Bare, Lisa "Where's Thorwaldo?" Beach, Carol "Haper's Bizarre" Bishop, Sue "Foreign Correspondent" Borchardt, Lisa "Crutch Shuffle" Broadhead, Leah "Jimmy Too-Hurt" Christopher, Raha "Glad to be part of the CAST" Dastgheyb, Jan "Grace Like Kelly" Keadle, Carrie "Injured Again" McCracken, Joe "Juggling Wolves" Meduza, Ali "That's What She Said" Pearson, Lilly "Little Dog" Perez-Schere, Drew "Disappearing Act" Robison, Mirat "Scullying Jimmy" Shah, and Fyza "Jimmy Jam" Shaikh) shake things up once they're done with their crutch dance and head into the pool. Forming water windows and buddy-switch tilt bridges that float in rotation, this scene has some of the more advanced moves that are quite entertaining. There's even a lasso line with half the swimmers forming the loop and the other half forming the line-handle, showcasing someone being caught after being stalked through the water.
Finale directed by Laura "THE END" Knapp
Adding everyone back to the water— with featured swimmers Sarah "Thing1" Bare, Sue "Thing2" Borchardt, Carol "Barrel Roll" Bishop, Ife "Inversions" Cade, Suzy "Clam Surprise" Kopf, Kelly "Egg Roll" Quinn, Celia "Last Minute" Wallace, Barbara "Skillz" Wilgus, and Marta "Power Dive" Zoellner— Laura "THE END" Knapp brings the show to a strong and fun-filled conclusion, including getting the on-deck action between Alfred Hitchcock and Bea L. Eagered all squared away. Sending a truthful message with "Stronger" by Christina Aguilera, this send-up is sticking it to the oppressive patriarchy, in this case, the Hitchcock who was trying to keep our eager ingénue out of the water. (See if you can't spot Ashley Ball swimming in this one!)
Ultimately a real splash of fun and creative genius, Fluid Movement's shows are truly for everyone and Alfred Hitchcock Presents: The Water Ballet is no exception.
Running Time: Approximately 60 minutes with no intermission
Alfred Hitchcock Presents: The Water Ballet (A Fluid Movement Production) has performances on August 3, 4, and 5, 2018 at The Patterson Park Pool— 148 S. Linwood Avenue in the Patterson Park neighborhood of Baltimore, MD. Tickets can be purchased at the door or in advance online. Reservations are strongly recommended.