There's a place for you. At Shenandoah Summer Musical Theatre— there's a seat for you. To celebrate Leonard Bernstein's 100th birthday, they're holding a seat for you— at their production of West Side Story. Directed by Jacob Brent with Musical Direction by Thomas Albert and Choreography recreated from the original Robbins' choreography by Michael Jablonski, the SSMT production of this 'musical Romeo & Juliet' seems more relevant now than ever, when all the scared young lovers in love want is to get along despite their differences.
At first the subtly backlit set with a skeletal silhouette of the streets of New York doesn't appear to say much for Scenic Designer Michael "Jonz" Jones, but the versatility of this quick-switch street scene speaks volumes for his capabilities. Jones true scenic gem is the drop-down highway overpass for "The Rumble", which bares striking resemblance to an actual highway overpass. The show's aesthetic is complimented by the continual flood of color washes, by way of Lighting Designer Andrew Carson, who uses primarily pink and blue (with the occasional blend of purple when Tony and Marie find themselves together.) Wrapping up the triumvirate of designers, Costume Designer Jennifer Flitton Adams creates vivid visualizations, especially on the vibrant purple jackets of the Sharks, the brilliant baby blues of the Jets jackets, and every dress seen at "The Dance" whether it's on the Sharks and their gals or the Jets and theirs.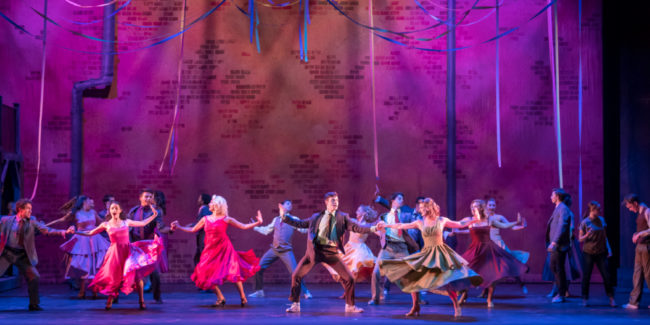 Arguably the most impressive thing about this production is Choreographer Michael Jablonski's ability to mimic Jerome Robbins' original choreography. Move for move, routine for routine, all of the iconic snazzy snaps, sweeping side-steps, and air-vaults are put into place for various routines all across the show. The Jets and Sharks get this play-fight-dance menagerie well underway during the Overture and Jablonski's copycat work is hard at play from then on, with each series of dance moves leaping higher than the last. There's lots of skirt swishing for "America" and frilly flitting of the gals during "I Feel Pretty" as well.
Vocally the production is strong, and as a whole the cast performs with vigor. At times some of the supporting casts solo numbers fall short of the expectations that the larger group numbers put into place; a few dips in energy and wavering pitches create a slight uneven nature to deliveries in songs like "America" and the solo segments of "Tonight" but otherwise the vocalizations as a whole and from the two principal characters is quite impressive. The other issue that the show has, while not entirely being the show's fault (but rather the fault of Bernstein and the original creators of the story) is the "Ballet." Despite the delicate dancing, and rather impressive showcase of ballet dance moves, the entire number is superfluous at best and detracts from the overall plot as an overdone interpretive dance recap of the entire first act. Notable stage veterans in the production include Nick Nerangis as the wizened 'Doc' as well as Zac Collum as the infamous Officer Krupke and Jordan Stocksdale as Lt. Schrank and Gladhand, with the latter being worthy of caricature-style comedy praises.
Jenna Barricklo as the dreamy-eyed Rosalia (one of the Shark girls) gets a chance to put her spirits forward and into full motion during "America" as she leads the counter in this song against Anita (Kristin Rebera.) While Rebera is slightly mismatched vocally in this number, her dancing more than makes up for it. Watch her hips and her legs as she leads the shark girls all around the stage in a fun and feisty number. Rebera finds vocal and character redemption in "A Boy Like That" where she all but burns the stage down with her vocal fury and frustrations. This duet, a layered counterpoint opposite Maria, is one of the most emotionally charged in the production.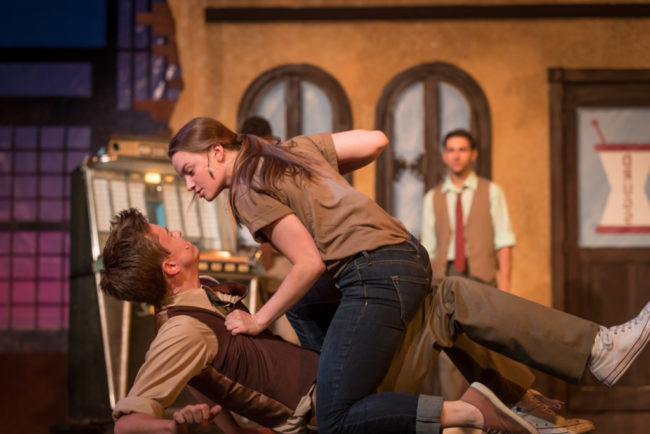 Stevie Bovo as Bernardo, though never a true singing solo does he receive, gets plenty across when it comes to being the leader of The Sharks. With a street-savvy attitude, he sets an easy example for Chino (Desmond Montoya) to follow. Bovo, as well as the other Sharks, move smoothly through their dancing and their choreographed fighting, especially when it comes to the show-downs at "The Rumble." Rough-n-tumble Anybodys (Kelly Donah) may be a girl but she thinks she's a Jet, so naturally when it comes time to get moving, her precocious gumption gets going.
The libretto is unbalanced in the sense that they give The Jets more material and stage time than they do The Sharks, potentially attempting to sway the audience to the side of the 'home team' as it were. But because of this, the audience is treated to a hilarious, albeit completely superfluous, number "Gee, Officer Krupke" which features Action (Tyler Dema) at the head of it all, with A-Rab (Mason Zaroff), Baby John (Travis Flynt), Diesel (Eddie Falshaw), and Snowboy (Michael Canu) all taking turns clowning around and goofing off throughout the song's entirety.
Second in command when it comes to the Jets is Riff (Timothy Foszcz), who has no direct parallel in the Sharks. Foszcz sings with a voice matured beyond his years and a vocal intonation that sounds oddly advanced for the character, but it makes his solo features, in both "Jet Song" and "Cool" sound smooth as ice, and well-fit the musical styling of the show. The fraternal bond that Foszcz shares with the Tony (Steven Telsey) character is quite telling of their deep seeded "womb-to-tomb" relationship.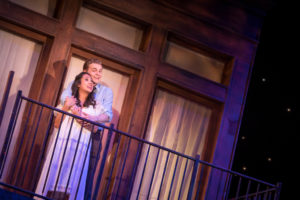 Telsey, spry of voice and filled with hope, is a determined and outstanding Tony. Paired exceptionally well against Amy Arevalo as Maria, the pair make an iconic Bernstein-Sondheim R&J couple. Arevalo is alight with wonder, gently bubbling her excitement into "I Feel Pretty" with a contrary burst of vocal power to belay her enthusiasm. Telsey has superior vocal command both of his tone and his volume, murmuring through "Something's Coming" to give it an authentically natural feel. When the pair have their light-frozen-meet-cute, it is rather breathtakingly innocent and sweet. And when Telsey harmonizes with Arevalo during "One Hand, One Heart", it all but melts your heart. The pair are perfect together on stage creating a believable chemistry between them with a vibrant hope for their potential future.
So make it— tonight, tonight! Be sure to go to Shenandoah Summer Music Theatre tonight to see their fine production of West Side Story.    
Running Time: Approximately 2 hours and 40 minutes with one intermission
West Side Story plays through July 15, 2018 at Shenandoah Summer Music Theatre in the Ohrstrom-Bryant Theatre on the Shenandoah University Campus— 1460 University Drive in Winchester, VA. For tickets call the box office at (540) 665-4569 or purchase them online.